SPOTLIGHTS
411 MMA Fact or Fiction, 04.04.13: Arlovski/Johnson Controversy, UFC Roster Cuts, Invicta Moving to PPV, More
Posted by Wyatt Beougher on 04.04.2013

Should Anthony Johnson's win over Andrei Arlovski be thrown out because of a timekeeping error? Will the UFC's roster cuts hurt fighters on the bubble? 411's Larry Csonka and Alex Rella debate these topics and more!

Welcome back to week 4 of 411's MMA Fact or Fiction spring tournament! For those who missed it yesterday, we started our semifinal round with the West semifinal, and today features our East semifinal! Next Wednesday will mark the finale of the entire tournament and also a return to the usual once-per-week format that has been the standard of this column. Today, though, we've got fifth-seeded Larry Csonka taking on sixth-seeded Alex Rella, and while it might not be quite as compelling as yesterday's underdog story of a 7th seed trying to topple a top seed, today's lower-seeded competitor isn't nicknamed Alex "Cinder" Rella for nothing, as his first few Fact or Fiction appearances were nothing short of sensational, and all coming against far more experienced competition. Will he be able to pull off the upset today against the Boss?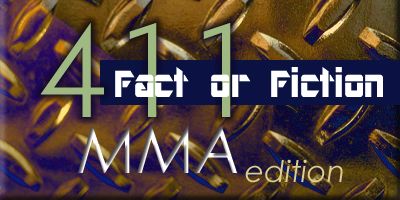 Here are the brackets, which have been updated to reflect all of the preliminary and quarterfinal contests. Now that we're down to the final four, I can't stress to you enough how important reader participation is in the polls, so remember to vote! As always, voting will remain open until midnight on the third day after the contest goes live on the site, and you can still vote on yesterday's contest between Samer Kadi and Jonathan Butterfield here. Let's get to the action, shall we?




TALE OF THE TAPE



Red Corner
Larry Csonka (#5 seed, East)
'The Big Bossman'
Editor, 411 MMA and 411 Wrestling
3-1-0

VS

Blue Corner
Alex Rella (#6 seed, East)
'Cinder'
Columnist, The 411 MMA Top 1
4-5-2

---

Will recent cuts change fighters' styles/strategies?



1.) With the spate of UFC roster cuts continuing after nearly every event, fighters who are "on the bubble" will actually end up worrying more about their contract status than their opponent and end up costing themselves their fights (and, in some cases, their UFC careers).

Larry Csonka: FACT - I call it "the mind fuck". Fighters have enough to worry about in preparation for a fight. They have to train, they have to be on weight and they have to pass their piss test. Other fighters, lower level guys, are very hands on with their sponsors and other things. I can only image the amount of stuff on a fighter's plate during the 6-9 week camp that they are in for their fights. So to add in the mind fuck of, "lose and you're out," I know that some will say that it is a motivator, but I do not see it that way for the majority. A lot of the on the bubble guys are the lower tier guys, with a lot of stress already as mentioned, and I really think that it will lead to bad performances, poor choices, and unfortunately, lost jobs.

Alex Rella: FICTION A lot of fighters have actually talked about this recently. Fighters who are "on the bubble" like Tom Lawlor and Matt Mitrione have commented that they are in must-win situations. They may end up worrying about their contract status, but I don't see how this will negatively affect them. Most fighters in this situation (two or more fight losing streaks) will acknowledge that they have to win and may fight even harder than usual because they're desperate. Even if they lose in exciting fashion, they may end up getting another chance to prove themselves in the UFC. These are high level professional fighters, I don't think they'll spend more time sulking or worrying about their situation than preparing for their opponent. And if they do spend more time worrying than training, then they don't have the mental toughness to hang in the UFC anyway.

---

Was it wise to stay on iPPV, or should she have taken advantage of Cyborg Santos' debut to do a traditional PPV?



2.) Shannon Knapp made the right decision in opting to keep Invicta's fifth show on internet PPV, rather than making the jump to traditional PPV.

Alex Rella: FACT Making the jump to traditional PPV is a huge jump up for her promotion and Knapp has been very smart to acknowledge that she doesn't know if Invicta is ready for it yet. They need to prove first that they can make a profit at the iPPV level first. Right now the company has gotten off to a great start, but there is more to being a successful MMA promotion than the amount of views you get for free shows. There were problems with the iPPV stream at the last show and they decided to air it for free and give refunds rather than turn off fans. Knapp even said a large amount of fans decided to donate the ten dollars. But they need to gradually increase how they generate revenue. Their ticket sales are only in the hundreds right now and most of their money could come from iPPV buys. They're moving to a satellite feed for this show, so it'll be their first real test to see if they can be successful. Knapp has said that they have already started talks with TV deals and other partners. So this is a big show for them as they move forward and they were wise to take it slow.

Larry Csonka: FACT - In 2013, traditional PPV is a money loser for anyone that doesn't have a major TV outlet. Now there are exceptions. Boxing can pull off a big PPV with Manny and Floyd, while TNA was doing anemic numbers even while airing on Spike TV. But in general, traditional PPV is a money loser, due to the fact of the live carriage fees as well as the fact that the provider will take around 50%. So unless you're WWE or UFC, you will not do well. Wrestling companies like ROH, EVOLVE and DGUSA have made shows with anemic attendance moneymakers due to the iPPV business. Most iPPV companies will have you pay for the set up, which is said to be nominal) and then will take a much smaller fee (roughly 15% unless you have an in-house setup for the iPPV). So I commend them for sticking to iPPV, simply for the fact that they will have a much better chance at turning a profit by doing so. My concern with Invicta is the fact that I feel that they have picked the worst weekend to run an iPPV event. While some will argue about the MMA-Wrestling cross over, it has been proven that there is enough to make a difference. Over the same weekend that they will run, they will be competing with a TNA taped PPV, WrestleMania, ROH, EVOLVE, Dragon Gate USA, NJPW and other events running iPPVs on the same weekend. Also OneFC has an MMA iPPV. That's a lot of competition. I hope they do well that weekend, but they might have done a bit more research when it comes to picking a date.

---

Was it after the bell?



3.) If Anthony Johnson's flurry of punches at the end of the first round that twice knocked down Andrei Arlovski and broke his jaw actually came after the bell should've sounded, the fight should be declared a No Contest and a rematch should be scheduled for as soon as Arlovski is healthy enough to fight.

Larry Csonka: FACT - I will keep this simple. If the reports are correct, and Johnson and Arlovski fought for nearly SIX MINUTES in that first round, then yes. That is not something that should be happening in modern MMA. I mean, judging is one thing to complain about, but what monkey cannot operate a stopwatch properly? This is something that just should not happen in modern MMA when there are athletic commissions overseeing events. This isn't some Indian reservation show or one of Bob Sapp's flop jobs in India, this happened in New Jersey, who until this mistake, had a pretty good record. I mean, considering that in 2001, it was the NJSACB's rules that become the de facto standard set of rules for professional MMA across North America. How this happened is something I cannot even fathom in 2013. I know some will say that the fight will not change and that Johnson would still win, but to me that isn't the point, the point is that the commission completely screwed the pooch here, and they need to make good on it.

Alex Rella: FACT I'm saying fact for the first part of this statement, the second part is kinda iffy at this point. WSOF is still a new promotion and they had trouble earlier in the day with their canvas and corner pads. But it is unacceptable that they screwed up the time in the first round and it should be declared a No Contest. I would imagine timekeeping is one of the simpler parts of putting on an MMA show, you just sit someone down next to a clock with a buzzer or horn. Arlovski's jaw had to have been broken at this point and he fought through it, but he had nothing past the first round. Unfortunately though, while it should be changed to a No Contest, the damage has already been done. Arlovski's hope to return to the UFC is now over as Dana White and almost everyone else saw him get beat down by a former welterweight. And the broken jaw will keep him out of action for an extended period of time which will further hurt his career and his ability to make money. Arlovski is a guy that fights three or four times a year and now who knows if he'll fight for the rest of the year.

As for the rematch, I just don't care enough to see this fight again and I don't think anyone else does either. It was an ok fight, and it made sense for WSOF to make it at the time as they are probably their top names. But I don't think the fight was good enough or the controversy big enough that the rematch will be a draw at all. It'll be interesting to see if Arlovski could win with proper timekeeping, but Anthony Johnson said he doesn't want to keep fighting at heavyweight. He really needs to continue to work hard at light heavyweight if he wants more big fights and eventually get back in a top promotion.

---

Can he kill the Zombie?



4.) In spite of being the Vegas favorite in their upcoming fight, Ricardo Lamas will not defeat Chan Sung Jung.

Alex Rella: FICTIONThe Korean Zombie has this really exciting almost wild card fighting style that will get him wins over most featherweights, but I don't think Ricardo Lamas is one of them. Jung's last fight was considered to be Fight of the Year by many, but it was also very sloppy. Jung's striking was good, but it had obvious holes in it, his grappling was subpar with the exception of the final submission, and his cardio was lacking too. Still a great fight, but there were clear areas in which Lamas can capitalize on.

Lamas on the other hand has been perfect since he dropped down to featherweight. He submitted another top contender in Cub Swanson, who is one of the best strikers at 145 lbs. Then he pulled off the huge upset against Hioki who was considered to be the number 2 featherweight in the world for awhile and Erik Koch is still missing his eye from when Lamas wrecked his face in January. I expect this to be a very exciting fight, but I don't see how Lamas loses.

Larry Csonka: FICTION - Listen, let me be truthful here guys. I am not Samer Kadi. I am not known for my "expert fight breakdowns" and I will not try and pretend that I am an MMA expert and break this down and tell you who will win and why. I will tell you the truth. Both guys are on a streak, Lamas with four big wins in a row, and the Zombie with three wins in a row. I know that the smart money is on Lamas to win, and I respect that, and that is why I am going that way. Lamas last fought in January, while by the time they fight Zombie will be suffering from the Mir layoff of over a year. If all things were even, I would have picked Zombie, but I think that the layoff will hurt him, allowing Lamas to take the fight. To tell you the truth I hope I am wrong, because I am a big Korean Zombie fan, but the history of guys coming off long layoffs, unless you're GSP or some shit, is generally not good.

---

Rough start to his 2013



5.) Melvin Guillard should have ensured that he would be able to return to Jackson-Winklejohn MMA before cutting ties with the Blackzilian camp, and between not having a camp and two pending assault charges stemming from a 2010 incident, it's not likely that he'll fight in 2013.

Larry Csonka: FACT Ok, I do not mean to be rude, but Melvin Guillard does not come off well here at all. Let's see if I got this right. Leaves team Jackson-Winklejohn. Goes to Blackzilians. Pisses off team Jackson-Winklejohn in various interviews. Bails on the Blackzilians and claims he is returning to team Jackson-Winklejohn. Team Jackson-Winklejohn takes a vote, and according to reports, unanimously votes to not allow him to return. Then, the news comes out that Guillard has two pending assault charges stemming from a 2010 incident? Honestly, if he gets into a camp and gets a fight by the end of the year, consider it a Christmas miracle.

Alex Rella: FICTION It was announced today that Guillard will be facing Mac Danzig on the July Fox 8 show and is now training with Team Grudge in Colorado. In regards to the two pending assault charges, I doubt the UFC didn't know about these and if they didn't; they still clearly don't care about them as they just booked him for a fight. It's unknown whether or not he burned his bridges the Blackzillians before leaving, but I agree with leaving first and then reaching out to another camp. I'm not a fighter, but I would find it to be disrespectful if one of my training partners already set up that he would be going somewhere else and was hiding it.

---


So it's all on you guys now, and draws are off of the table, as there must be a winner in these tournament bouts! In the event of a draw in voting, I will cast the deciding vote.







---


And that's it for our semifinals! I'll see you next Wednesday for the finals! Again, voting will remain open until midnight on the third day after each bout takes place. And if you haven't done so, make sure you sign up for the comments system, so that you can let us know what you think about the tournament thus far! As always, if there's anything you'd like to see featured in a future edition, leave your statement in the comments and I'll add it in. Let us know what you thought in the comments, on Twitter, or on Google+.


comments powered by