SPOTLIGHTS
411's MMA Roundtable Preview - UFC on Fuel TV 9: Mousasi vs. Latifi
Posted by Dan Plunkett on 04.05.2013

Gegard Mousasi takes on Ilir Latifi in the main event of UFC on Fuel TV 9! Plus Ross Pearson fights Ryan Couture, Matt Mitrione battles Phil De Fries and more! Check out the full roundtable preview for all the details and join 411 for LIVE coverage of the event Saturday night!




WELCOME:
Gegard Mousasi takes on late replacement Ilir Latifi in the main event of UFC on Fuel TV 9! In the co-main event, Ross Pearson battles Ryan Couture. At heavyweight, Matt Mitrione looks to get back in the win column against Phil De Fries. Then at bantamweight, Brad Pickett faces off with Mike Easton. Plus, Diego Brandao fights Pablo Garza, Akira Corassani vs. Robbie Peralta, and more!

THE STAFF:


From MMA's 3R's, Jeffrey Harris!


From Occupy The Throne, Jeremy Lambert!


From The MMA Juggernaut News Report, Jonathan Solomon!


From MMA on Tap!, Jon Butterfield!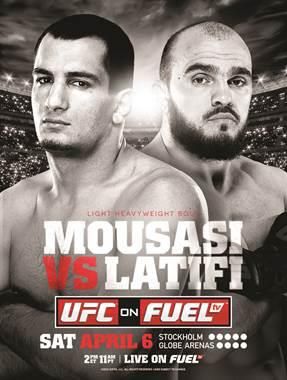 THE PRELIMINARY CARD:




All prelims air on Facebook.




Welterweight Bout: Papy Abedi vs. Besam Yousef



Jeffrey Harris: Papy Abedi, TKO, Round 1
Jeremy Lambert: Abedi, TKO, Round 1
Jonathan Solomon: Besam Yousef, Submission, Round 2
Jon Butterfield: Papy Abedi, TKO, Round One
The staff picks Papy Abedi, 3-1.



Middleweight Bout: Michael Kuiper vs. Tom Lawlor



Jeffrey Harris: Michael Kuiper, Decision
Jeremy Lambert: Lawlor, Decision
Jonathan Solomon: Tom Lawlor, Decision
Jon Butterfield: Michael Kuiper, Decision
The staff calls it a draw, 2-2.



Welterweight Bout: Ben Alloway vs. Ryan LaFlare



Jeffrey Harris: Ben Alloway, TKO, Round 2
Jeremy Lambert: Alloway, Decision
Jonathan Solomon: Ryan LaFlare, KO, Round 1
Jon Butterfield: Ryan LaFlare, Decision
The staff calls it a draw, 2-2.



Featherweight Bout: Marcus Brimage vs. Conor McGregor



Jeffrey Harris: Marcus Brimage, Decision
Jeremy Lambert: Brimage, Decision
Jonathan Solomon: Marcus Brimage, Decision
Jon Butterfield: Marcus Brimage, TKO, Round Two
The staff picks Marcus Brimage, 4-0.



Welterweight Bout: Chris Spang vs. Adlan Amagov



Jeffrey Harris: Chris Spang, TKO, Round 2
Jeremy Lambert: Spang, Decision
Jonathan Solomon: Adlan Amagov, Decision
Jon Butterfield: Adlan Amagov, TKO, Round One
The staff calls it a draw, 2-2.



Middleweight Bout: Tor Troeng vs. Adam Cella



Jeffrey Harris: Troeng, Decision
Jeremy Lambert: Tor, TKO, Round 2
Jonathan Solomon: Tor Troeng, TKO, Round 2
Jon Butterfield: Tor Troeng, TKO, Round One
The staff picks Tor Troeng, 4-0.



Lightweight Bout: Reza Madadi vs. Michael Johnson



Jeffrey Harris: Michael Johnson, Decision
Jeremy Lambert: Johnson, Decision
Jonathan Solomon: Michael Johnson, Decision
Jon Butterfield: Michael Johnson, Decision
The staff picks Michael Johnson, 4-0.

---




THE MAIN CARD:




Featherweight Bout: Akira Corassani vs. Robbie Peralta



Jeffrey Harris: Corassani looked to be a rather flaky and unimpressive contestant on season 13 of The Ultimate Fighter. He faces Robbie Peralta who comes in with much better experience and more time in the Octagon. Peralta would be 3-0 in the UFC if not for an inadvertent head butt against Mackens Semerzier at UFC on Fox 1. Corassani is a decent kickboxer, but he lacks the power of a fighter like Peralta. I think Peralta dominates this fight or knocks out Corassani.

Winner: Robbie Peralta, Decision

Jeremy Lambert: Corassani is on this card because of his Swedish heritage, not because he's any good. Peralta might not be much better, but he's had some good showings in the UFC. Corassani's best chance is to get the fight to the ground, but I don't think his wrestling is good enough to takedown or consistently keep Peralta down. On the feet, I like Peralta to out strike Corassani and put him away with a series of punches.

Winner: Peralta, TKO, Round 2

Jonathan Solomon: All Peralta has to do is mix in a few well-timed takedowns and we have not seen enough from Corassani to believe he can consistently return to his feet. The potential issue there is Robbie has not been one to utilize wrestling often in his UFC run, but that's the most obvious weakness in Akira's game. For the Swede to win, he probably wants more of a brawl which would allow him to do damage from the clinch and earn points in the eyes of the judges.

Winner: Robbie Peralta, Decision

Jon Butterfield: Robbie Peralta is one of those guys who has been quietly amassing a pretty decent résumé. With a No Contest breaking up a pair of wins, Peralta just hasn't caught the eye but make no mistake, he's a solid all-rounder with good striking. Peralta should be able to keep this on the feet and pick apart Akira Corassani, who will be looking to change levels in order to win on points, because he isn't scoring a submission.

Winner: Robbie Peralta, Decision

The staff picks Robbie Peralta, 4-0.

---




Featherweight Bout: Diego Brandao vs. Pablo Garza



Jeffrey Harris: The fight's a tough call. Brandao has some good power and toughness, but at the same time his gas tank and takedown defense don't look like they are all there. Case in point, his loss to Darren Elkins in his second UFC fight. Either way, I think this should be a fun fight. Garza's gotten back on the winning track with a strong and dominant win over Mark Hominick. I'm predicting Garza edges out a close decision.

Winner: Pablo Garza, Decision

Jeremy Lambert: I really like Garza, but he just hasn't put it all together on a consistent basis. Brandao is an exciting fighter but his gas tank is very questionable. If Garza fights smart, which means using his reach on the feet, tying up Brandao when he moves forward, and working his superior ground game than I think he wins this fight with ease. But I can't expect Garza to just suddenly do those things. Instead Brandao will likely get in some good shots early and put Garza in trouble. If Garza can weather the early storm, then I think he takes over late and possibly submit Brandao, but it wouldn't shock me if he gets caught in the first couple of minutes either. I'll go with Garza late though.

Winner: Garza, Submission, Round 3


Jonathan Solomon: Pound for pound, Brandao is one of the most exciting fighters to watch because of his mix of powerful strikes and impressive jiu-jitsu. Plus, he's only 25-years-old (with a 16-8 record) with plenty of room for improvement. Against Pablo Garza, he should have advantages both standing and on the ground. "The Scarecrow" is best known as a grappler but there's no reason to believe he'll have success against Brandao off his back. The only issue standing in Diego's way will be his own gas tank and pace because I cannot recall Pablo regularly becoming winded in his battles.

Winner: Diego Brandao, Submission, Round 2

Jon Butterfield: I like Garza, because he's got the skills and athleticism to pull off some pretty funky finishes, but his performances have been every bit as inconsistent as his finishes have been flashy and sudden. The old adage states that styles make fights, and that partially explains how Garza has been able to beat Yves Jabouin and Mark Hominick but not anybody with an ounce of grappling capability (ie, Tiequan Zhang) – and that doesn't bode well for him against Diego Brandao. Brandao, while known primarily for his striking, is certainly no stranger to the ground game, picking up his only finish in the UFC by first round armbar submission. I foresee a repeat of that, with Brandao clocking Garza on the feet and finishing ruthlessly on the ground.

Winner: Diego Brandao, Submission, Round One

The staff calls it down the middle, 2-2.

---




Bantamweight Bout: Brad Pickett vs. Mike Easton



Jeffrey Harris: A great bantamweight fight that is being way overlooked for this card. Pickett always comes to fight and lost a close fight to top contender Eddie Wineland who simply used more movement to outpoint him. Easton is a tough and durable fighter who has never been straight knocked out before. Pickett is a better striker here and Easton tends to show a lack of aggression and has a bit of an awkward fighter. I see Pickett outworking Easton to win the decision.

Winner: Brad Pickett, Decision

Jeremy Lambert: Pickett is one of the better bantamweights who has unfortunately come up short against the more elite guys. Luckily for him, Easton isn't one of the more elite guys. If Easton is going to be able to win this fight, he'll need to put Pickett on his back and keep him there for an extended period of time, which is going to be very tough to do give that Pickett is no slouch on the ground and at least knows how to hip escape and wall walk. On the feet, Pickett has the vastly superior hands and is one of the better boxers in the division. I think he'll have a slight edge in speed and he'll use that to get in and out with combinations while Easton remains a step slow on the counter. Easton is a tough out so I don't think Pickett will be able to put him away, but I do think he'll handily out strike him en route to a decision.

Winner: Pickett, Decision

Jonathan Solomon: In a busy bantamweight division, this fight may hold the greatest importance of any on this show. Both were considered among the many top contenders before each suffered a loss in their last times out. Pickett suffered a split decision loss to Eddie Wineland in December while Easton was on the losing end of a unanimous decision to Raphael Assuncao that same month. From top to bottom, Pickett is the more reliable fighter considering "The Hulk" has been criticized for fighting in lulls and not being consistent. The Brit certainly has an impressive array of combinations and is not afraid to mix it up. Easton, perhaps, offers a more varied attack between knees and his wrestling. Pickett only has one loss from strikes on his record (it was his second professional fight in 2005) so you have to like his ability to brawl with Easton if it comes to that. The big question is whether Mike will find success with takedowns and his groundwork. If not, he's in for a long night.

Winner: Mike Easton, Decision

Jon Butterfield: Prior to his loss at the hands of Raphael Assuncao, Mike Easton had been racking up some pretty solid wins, with Ivan Menjivar the jewel in his crown. Those that expected the powerful and dynamic Easton to handle Assuncao were proved wrong, though, as Easton failed to stuff even a single takedown against the Brazilian. Luckily for Easton, Pickett won't be interested in takedowns (or getting taken down), so we should have a solid striking battle to look forward to. The more Easton can instigate the clinch the better, because he's stronger than Pickett and should be able to control things from there, but he's going to get picked apart for as long as they're separated. I don't see Pickett hitting his 'One Punch' as he did against Jabouin, so it's a decision for me.

Winner: Brad Pickett, Decision

The staff picks Brad Pickett, 3-1.

---




Heavyweight Bout: Matt Mitrione vs. Phil De Fries



Jeffrey Harris: The lone heavyweight fight on the card could mean a pink slip for either guy who comes out of this with a loss. Mitrione lost a disappointing decision to Cheick Kongo and then was knocked out by Roy Nelson. So a loss here would be three in a row for Mitrione and he could be dangerously close to getting cut depending on how he performs. Phil De Fries has generally been an uneventful heavyweight in the UFC with a 2-2 record. He submitted Oli Thompson in a dull and sloppy fight at UFC on Fox 4. In his last fight he was knocked out by the returning Todd Duffee. Provided Mitrione is smart enough to not get taken down and keep this standing, I think he eventually gets the knockout.

Winner: Matt Mitrione, TKO, Round 2

Jeremy Lambert: Mitrione is in the upper echelon of mediocre heavyweights. So at least he has that going for him. If nothing else he has good cardio for a heavyweight so that gives him an advantage over 95% of the division. De Fries will have to get this fight to the ground to win, but Mitrione has shown improved takedown defense since his time on The Ultimate Fighter and isn't completely clueless on the ground. On the feet, Mitrione will likely out strike De Fries, do some taunting, drop his hands a lot, and eventually put away his opponent with a quick combination.

Winner: Mitrione, TKO, Round 1

Jonathan Solomon: Perhaps both men are fighting to keep their UFC spots and neither man has been to a decision since the fall of 2011. Mitrione is on a two-fight losing streak to Cheick Kongo and Roy Nelson (the latter having been knocked out) while De Fries was knocked out by Todd Duffee in December. Out of England, Phil is a submission grappler which will leave him vulnerable to Mitrione's powerful striking. The American is the bigger fighter, too, with about 10 more pounds to his frame and a three-inch reach advantage. Unless De Fries can get the fight to the ground, and maintain control, I don't see a way he can win.

Winner: Matt Mitrione, KO, Round 1

Your Name: Can you imagine if these guys were featherweights? Would they be ANYWHERE NEAR a main card? Well, the answer is no, but just so long as there is plenty of action, nobody should care too much. Phil De Fries is pretty much a grappler, but he's going to have a hard time taking Mitrione down given Mitrione's frame and solid takedown defence. Mitrione is most definitely the better boxer, and so De Fries really needs to press forward and clinch against the cage in order to neutralize that advantage. I can see De Fries achieving that for, say, one round, but as both heavyweights inevitably tire, it becomes a case of 'how well do you finish when you're tiring'? So far, Mitrione has done pretty well, with four finishes from five wins, so I'm confident he gets the job done against De Fries as well.

Winner: Matt Mitrione, TKO, Round Three

The staff picks Matt Mitrione, 4-0.

---




Lightweight Bout: Ross Pearson vs. Ryan Couture



Jeffrey Harris: On paper, unless Pearson has a really bad night, I don't see any way Couture beats him. Pearson, while I wouldn't call him an elite world class striker, he is talented and he is a much better overall fighter and striker than Couture. Couture's coming off an undeserved win against KJ Noons where he looked to be completely out-striked and dominated. Provided the judges in attendance aren't idiots, my pick is a Pearson win.

Winner: Ross Pearson, TKO, Round 3

Jeremy Lambert: If Couture were like his father, this would be a good fight for him. He could clinch up with Pearson, rough him up a bit, and expose his British wrestling by taking him down and beating on him until the ref stops things. But Couture is not his father. His wrestling is average at best and, even though he's a good grappler, he's not likely to get Pearson down long enough to work anything. On the feet, Pearson should starch Couture as he's the vastly superior boxer. Pearson does get hit a lot though so it's possible that Couture catches him, but I wouldn't bet on it. Couture has a lot of heart and seems to have a good chin, but Pearson should be able to box him up over the course of 15-minutes and take a dominating decision.

Winner: Pearson, Decision

Jonathan Solomon: Couture received a hell of a match-up for his UFC debut because Ross Pearson is perhaps his toughest opponent to date (K.J. Noons may be on a similar level, I'm willing to hear that debate). Ryan is 6-1 and won a controversial split decision over Noons in January. He's not a prolific striker or a hellacious submission artist, but he makes up for that with toughness and the ability to fight at a relatively high pace for 15 minutes. Generally, he tries to break his opponent's will and enforces his own in the second half of a fight. The problem for him in Sweden will be the fact that Ross Pearson is a technically strong striker, capable of keeping the fight standing. He fought in December and finished grappling ace George Sotiropoulos via third round knockout. The only way Couture wins this is if he can keep the distance close while tiring Pearson with effective clinch work and takedowns. I don't see that as a realistic sequence and Ross picks up another win.

Winner: Ross Pearson, TKO, Round 2

Jon Butterfield: Ryan Couture isn't silly enough to think he got here on merit alone, as he describes his name as both a blessing and a curse. Here, it appears to be a curse, as Couture is thrown the wolves (well, wolf) in Ross Pearson. Pearson is beatable, particularly for a mobile striker, and he hasn't been in the best of form, but he's too solid and experienced to drop a fight to Couture Jr. Couture is going to need a few more fights under his belt before he beats top level gatekeepers like Pearson, unless of course he can surprise us all with an astonishing improvement. His win over KJ Noons remains his best to date, and that's going to stand for as long as UFC keep asking him to punch above his weight.

Winner: Ross Pearson, Decision

The staff picks Ross Pearson, 4-0.

---




Light Heavyweight Bout: Ilir Latifi vs. Gegard Mousasi



Jeffrey Harris: Hard to really analyze this fight not having seen any of Latifi's previous fights. All I know is that he has a 7-2 record and he previously lost to Emanuel Newton and that he trains with Mousasi's original opponent, Alexander Gustafsson, in Sweden. With all that in mind, this should be an easy win for Mousasi unless all this last-minute chaos is destroying him mentally and he cracks under the pressure of his UFC debut.

Winner: Gegard Mousasi, TKO, Round 2

Jeremy Lambert: The president of the UFC doesn't know anything about Latifi, including is name, so why should I? Apparently he's a training partner of Alexander Gustafsson and was an original Blackzilian. I expect him to go out there and put it all on the line, but I doubt it'll be enough against Mousasi, who is one of the better light heavyweights in the world. I expect Mousasi to make this look rather easy, which means a quick takedown and some violent ground and pound. It'll look good but won't mean anything.

Winner: Mousasi, TKO, Round 1

Jonathan Solomon: UFC jitters, at least for successful veterans, is a false equivalence. Mousasi is clearly a better fighter than Ilir Latifi and the only way he will not win is if, due to the inability to prepare properly, he gets caught with a big punch and is knocked out. However, because of the fact "The Dreamcatcher" has never been finished by strikes in his career, that's as unlikely to happen as the State Assembly in New York voting to legalize this sport in April (ARGH!!!). Despite the unfortunate turn of events this week, Gegard is finally competing inside the octagon and a motivated Mousasi can wreak havoc at 205-pounds.

Winner: Gegard Mousasi, TKO, Round 2

Jon Butterfield: Ilir Latifi is the Swedish number two, and a national wrestling champion. Karlos Vemola is a Czech national wrestling champion, however, so I wouldn't put too much stock in that, save for the fact that both can clearly complete a takedown and stuff a reasonable shot. Latifi defeated Tony Lopez in 2012, which is nothing to sniff at, but let's be perfectly honest – if Latifi was really on the UFC's radar, surely they were looking for him to build on that win with another couple of results. And even then he wouldn't have been facing Gegard Mousasi right away, unless Mousasi was fighting for his UFC career.

Gegard Mousasi, for the uninitiated, is an excellent middleweight-cum-light heavyweight (yes, he actually moved UP a weight class!) with a very sharp all round game. Lethal on the ground, Mousasi is a solid wrestler and an accomplished striker. King Mo Lawal beat him last, exposing a weakness against dominant powerhouse-style wrestlers, but I'm not sure Latifi is quite on the same level – and given that Mousasi has beaten everyone from Melvin Manhoef and Mark Hunt (yes, the heavyweight contender), to Ronaldo 'Jacare' Souza and 'Babalu' Sobral, to Jake O'Brien and Ovince St Preux, it's clear you have a guy adequately equipped to beat pretty much anyone in the UFC light heavyweight division – save maybe the elite three or four.

Winner: Gegard Mousasi, Submission, Round One

The staff picks Gegard Mousasi, 4-0.








---
Remember to join 411's coverage of UFC on Fuel on Saturday!
comments powered by