SPOTLIGHTS
411 MMA Fact or Fiction 04.10.13: Gegard Mousasi, Ryan Couture's UFC Future, Cyborg/Coenen Rematch, More
Posted by Wyatt Beougher on 04.10.2013

Did Dana White make the main event of UFC on FUEL TV 9 unsalvagable? Did Gegard Mousasi's win over Ilir Latifi actually hurt his title aspirations? Will Ryan Couture be cut from the UFC after his debut loss? 411's Samer Kadi and Alex Rella debate these topics and more in this week's Fact or Fiction: MMA!

This is it! After four weeks of intense competition, we've reached the finals of the 411Mania MMA Fact or Fiction spring tournament. Our final match-up is an excellent one, pitting the number one seed from the West against the the number six seed from the East! Will Samer Kadi continue his dominant Fact or Fiction run and win his second straight tournament, or will "Cinder" Rella be able to build on knocking off the Boss and take out the competitor that most people believed would win the tournament as soon as the brackets were announced?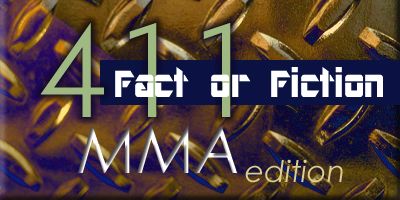 And here, for the last time, are the brackets, which have been updated to reflect all previous tournament match-ups. We've had as many as 127 votes on previous contests, so make sure you make your choice for the Fact or Fiction spring champion and let's crush that number! As always, voting will remain open until midnight on the third day after the contest goes live on the site. With the formalities out of the way, let's get to the action!




TALE OF THE TAPE



Red Corner
Samer Kadi (#1 seed, West)
'The Immortal'
Co-columnist, Occupy the Throne
5-0-0

VS

Blue Corner
Alex Rella (#6 seed, East)
'Cinder'
Columnist, The 411 MMA Top 1
5-5-2

---

Did a win actually hurt his title chances?



1.) Gegard Mousasi's win over Ilir Latifi at UFC on Fuel TV 9 actually put him further away from light heavyweight title contention than he was going into the fight.

Samer Kadi: FACT Unless something absolutely mind-blowing had happened, even an impressive win over his previously scheduled opponent, Alexander Gustafsson, would not have guaranteed Mousasi a title shot. Despite sporting an impressive professional record and undeniable talent, Mousasi's exploits outside the UFC – while impressive – didn't exactly leave fans clamoring for a shot at UFC gold (with the exception of a short stretch a few years ago when the Dutchman was a middleweight). In other words, Mousasi didn't come in with quite the same fanfare that Alistair Overeem enjoyed, or even Gilbert Melendez for that matter. Nevertheless, a win over the highly touted Gustafsson could have only edged Mousasi closer in a nearly cleaned out division.

Unfortunately, Gustafsson's untimely injury was always going to hold Mousasi's march back – a fact that was further enhanced when a relative unknown was named as the Swede's replacement. When Mousasi turned in a pedestrian performance against his last minute opponent, his chances took another hit. Reports of a knee injury that will require surgery could excuse Mousasi's less than stellar display, but in reality, being sidelined for a few months is only going to put him further away from a title shot. Naturally, this does not spell a death sentence to Mousasi's title aspirations, as a win over a recognizable name in his next fight makes him 2-0 in the UFC and provides him with the Octagon breakthrough he needs, but for the time being, "The Dreamcatcher" will have to wait.

Alex Rella: FICTION He's literally farther away if you look at it with a timeline perspective. Mousasi has to have knee surgery and he still has to have a fight with a top UFC light heavyweight, but as far as rankings I think he's in the same exact spot he was in before the fight. Mousasi is only 27 and has an awesome record of 34-3-2, but it's been a couple years since he's fought a really high level fighter. The fight with Latifi wasn't exciting, but it wasn't a bad fight either and you can't blame Mousasi for fighting the way he did. He prepared for weeks for a completely different fighter stylistically and came in with an injured knee. So he jabbed Latifi's face for three rounds. Dana White usually rips on people for having boring fights, but he had nothing but good things to say about Mousasi after the fight. So the win over Latifi didn't really help him, but it certainly didn't set him back at all.

---

Will he have another chance in the Octagon?



2.) In spite of the issues with his father and a rather decisive loss to Ross Pearson, the UFC will give Ryan Couture at least one more fight before showing him the door.

Alex Rella: FACT First off, I don't think Ryan Couture is that bad. He will never come close to a title shot, but you don't have to in order to have a profitable career in the UFC. One of the last smart things Strikeforce did was build him up slowly on the Challengers and prelims cards and not rush him into bigger fights because of his last name. I think the fight with Pearson was a little too much for him at this point in his career. Couture is a respectable 6-2 and he deserves one more chance. Give him a fight against a recent TUF lightweight alumni and if he loses that, cut him.

Also I don't think the White/Randy Couture issues will get him cut at this point. Ryan was given the chance to leave for Bellator and he opted to stay, leading White to say that he respected Ryan for being his own man. I think he's even more likely to get another chance because White won't want people to accuse him of being petty after cutting Randy's son after one fight and letting their dispute carry over. Finally, I think there's a little money in having Randy's son competing in the UFC. Ryan has that name value and people are going to want to tune in and see him fight to an extent. He's a more of a draw than other lower to mid-level lightweights who may be better than him. I don't think he should be put on a PPV, but he's a solid fighter to keep on the televised prelims or another Fuel show.

Samer Kadi: FICTION It's tough to say, really. Keeping Couture around would hardly be inexplicable. In fact, it would be completely understandable. However, the UFC's recent trigger-happiness in handing fighters their walking papers would suggest otherwise. It doesn't help that Couture finds himself competing in one of the deepest divisions in the world -- a weight-class that is almost too competitive for its own good -- where winning two fights in a row is considered an accomplishment in and of itself if you're not among the division's absolute elite.

The Hall of Famer's son is certainly not an elite fighter, and at 30 years of age, he is not exactly a rising prospect either. Despite being an overall decent fighter, Couture's ceiling is just not that high. And while there is nothing necessarily wrong with that, the UFC will see a little point in keeping him around, as his father's name can only take him so far. Never mind the fact that Dana White is not especially good at dealing with grudges, and his current relationship with Randy doesn't spell good news for his son. However, Ryan's chances of keeping his job would improve if he were to inform the UFC of his intentions to drop to the featherweight division.

---

Did Dana make his own job harder?



3.) Between assuring the media that Alexander Gustafsson would be fighting and potentially mishandling Wanderlei Silva as a replacement (and likely mandating that Silva pass it off as an April Fool's Day joke), Dana White made it impossible to salvage the main event of UFC on Fuel TV 9.

Samer Kadi: FACT If you've read last week's edition of "Occupy The Throne" (an admittedly horrible title for a column), you know my opinion on this matter. The UFC's handling of the entire situation is in line with their typical poor media management and PR skills. And yet, this would have been somewhat forgivable if it weren't for the fact that they handled the situation equally as bad internally.

Judging by his tweets and comments to the media, Gegard Mousasi had no idea what was going on. In fact, when Silva "announced" that he would be replacing Gustafsson, Mousasi took it for face value, and wasn't informed of the "foolish" nature of the tweet (excuse the pun) until the next day, which highlights some serious communication issues within the UFC. Had the UFC mishandled the situation strictly on the media front, the main event could have been salvaged. However, by misinforming even their own fighters, and worse, choosing to wait on Gustafsson until the last possible second when it looked pretty clear that the commission would not allow him to fight, the UFC shot themselves in the foot.

In their defense, they found themselves in an unenviable spot, and they absolutely needed Gustafsson to headline the card in his home country. Additionally, it is very possible that even had they handled the situation properly, through no fault of their own, they would have failed to come up with a suitable replacement on such short notice anyway. Unfortunately, the way they chose to go about it almost ensured that they would fail. They took a huge gamble by waiting on Gustafsson till the last possible moment (three days before the fight), made matters worse by assuring everyone that he would compete, and paid the price for both their mistakes.

Alex Rella: FICTION All of those things certainly exacerbated the situation, but it was impossible to salvage the main event once Gustafsson couldn't fight. Dana White handled the situation poorly and who knows what really went down with the Wanderlei Silva nonsense, but all things considered their best option the entire time was Ilir Latifi. Not only are all the top light heavyweights tied up (or hurt), but it was impossible to find any fighter that could get their paperwork in order and fly to Sweden while trying to cut weight in under a week. It also didn't help that this was the only light heavyweight fight on the card. If there was another 205 lb fight, one of the two fighters could have moved up so at least it was a UFC level fighter in the main event, but it didn't work out that way. Had this show been in North America or even Brazil, they would have been able to find a somewhat suitable replacement, but the fight happened in Sweden and Latifi was the best option. Plus the actual fight wasn't that bad. Mousasi probably would have finished it earlier if he wasn't injured, but it happens. Luckily it wasn't a big show and they'll learn from this while planning shows in different countries in the future.

---

Is the rematch the best Invicta has to offer in the featherweight division?



4.) Cyborg Santos/Marloes Coenen is the best possible match-up Invicta could've scheduled for their initial featherweight title bout.

Alex Rella: FACT Invicta has done a great job so far in matchmaking and this is the best possible matchup for their initial featherweight title bout. Santos is quickly going to become the company's top draw and she looked just as good as ever this past weekend. This would be a rematch of their previous title fight in Strikeforce three years ago. That was a great fight and Coenen was able to really push Cyborg for three rounds until she fell to strikes. If built up properly, this fight can appeal to the average fan. They are the two best featherweights in the company and in the world. The women's featherweight division is the probably the shallowest in Invicta and all over the world really. So there pretty much isn't any other fight they can make. Ediane Gomes and Julia Budd are solid fighters, but they'll probably be in the next wave of challengers and they could use another fight or two to build themselves up as well.

Samer Kadi: FACT The featherweight division is the shallowest women's division in MMA. Therefore, even under optimal circumstances, there is very little to choose from. Cyborg Santos is undoubtedly the most recognizable name in Invicta, and happens to be the best fighter to boot. The real question was always about who she would be competing against in her first title fight. Based on merit, a case can be made for Julia Budd, who is 3-0 in the company. However, not only is Coenen the more recognizable name, but her exploits outside the promotion are more noteworthy. While she has already locked horns with Santos almost three years ago, the rematch aspect could be beneficial as at least people are aware who Coenen is -- making the fight a touch more credible, as opposed to having Cyborg beat on another poor soul again. The outcome won't be in doubt, but Coenen is simply a better fighter than Julia Budd, and will be taken more seriously. This also provides Budd with the opportunity to rack another win under her belt before a fight with Cyborg.

---

Best outside the UFC?



5.) Pat Curran is the best active fighter outside of the UFC right now.

Samer Kadi: FICTION There's just no way to claim one way or the other for sure. Curran is undeniably the best featherweight outside of the UFC banner right now, but calling him the best overall fighter is far more debatable. While his Bellator run has been absolutely terrific, and wins over Warren, Freire, and Sandro are nothing to sneeze at, Curran may not even be the best fighter in Bellator, as he faces fierce competition from Michael Chandler and even Eddie Alvarez for that honor -- in fact, the latter holds a win over Curran himself. Alvarez's loss to Chandler may have given his stock a bit of a hit, but his run before that fight, as well as impressive wins over Aoki and Freire after it cannot be overlooked.

And at the risk of being technical, Jon Fitch deserves to be part of the debate. Sure, his recent run isn't quite as impressive as that of Curran, but he was fighting better competition in the UFC. Therefore, while current Bellator featherweight champion is "in the mix" for being the best fighter outside of the UFC, it remains difficult to irrevocably award him the label.

Alex Rella: FACT Pat Curran has been on a tear the past few years. Curran is 10-1 in his past 11 fights and the one loss was to Eddie Alvarez outside of his natural weight class. Curran is the first fighter to win two Bellator tournaments in two different weight classes and has defended his featherweight title twice now. He's the clear number two featherweight in the world and has to be in the top fifteen pound for pound fighters list. There are some other top Bellator fighters that aren't that far behind, but I give the edge to Curran as he has been more active and more dominant lately. He wrecked Joe Warren, had a great battle with Pitbull Freire, and made quick work of Shamhalaev (I admit I had to copy and paste that name). It's a shame a Curran vs Aldo fight is unlikely to ever happen.

---


So it's all on you guys now, and draws are off of the table, as this tournament must have a winner! In the event of a draw in voting, I will cast the deciding vote, but having only had to do that once in the entire tournament thus far, I sincerely hope the final match-up doesn't come down to my opinion, so make sure you vote!







---


And that's it for our spring tournament! I'll be back next week with the results, as well as a special return from someone you probably never thought you'd see around Fact or Fiction again! Thank you to each and every one of you who participated in these tournament bouts, whether it was as a competitor, a judge, or both - I literally could not have done it without all of you! Also, a huge thanks to TBerg for putting together the initial "Tournament of Great Significance" - I never would've tried to make this happen if he hadn't blazed the trail for me! And if you haven't done so, make sure you sign up for the comments system, so that you can let us know what you think about the tournament thus far! As always, if there's anything you'd like to see featured in a future edition, leave your statement in the comments and I'll add it in. Let us know what you thought in the comments, on Twitter, or on Google+.

comments powered by