SPOTLIGHTS
411's MMA Roundtable Preview - UFC on Fox 7: Henderson vs. Melendez
Posted by Dan Plunkett on 04.19.2013

Ben Henderson defends the lightweight title against Gilbert Melendez in the main event of UFC on Fox 7! Plus Frank Mir faces Daniel Cormier, Nate Diaz battles Josh Thomson and more! Check out the full roundtable for all the details and join 411 for LIVE coverage of the event Saturday night!




WELCOME:
UFC is back on FOX with four big bouts! Ben Henderson defends the UFC lightweight title against longtime Strikeforce champion Gilbert Melendez! In the co-main event, Daniel Cormier makes his UFC debut against Frank Mir. Plus, Nate Diaz battles Josh Thomson, Matt Brown vs. Jordan Mein, and more!

THE STAFF:


From MMA's 3R's, Jeffrey Harris!


From MMA on Tap!, Jon Butterfield!


From Occupy The Throne, Jeremy Lambert!


From The Blueprint, Patrick Mullin!


From The MMA Juggernaut News Report, Jonathan Solomon!


From the 411 MMA Top 10, Alex Rella!


From Locked in the Guillotine, Robert Winfree!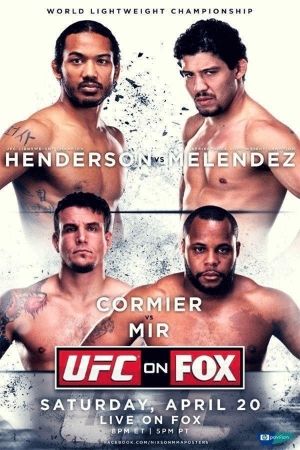 THE PRELIMINARY CARD:




First two prelims on Facebook/YouTube, rest air on FX.




Middleweight Bout: Clifford Starks vs. Yoel Romero



Jeffrey Harris: Clifford Starks, Decision
Jon Butterfield: Yoel Romero, TKO, Round Two (Don't base your prediction on the Feijao performance)
Jeremy Lambert: Starks, Decision
Patrick Mullin: Clifford Starks, Unanimous Decision
Jonathan Solomon: Yoel Romero, TKO, Round 1
Alex Rella: Starks, Decision
Robert Winfree: Yoel Romero, Decision
The staff picks Clifford Starks, 4-3.



Lightweight Bout: Anthony Njokuani vs. Roger Bowling



Jeffrey Harris: Anthony Njokuani, TKO, Round 1
Jon Butterfield: Anthony Njokuani, Decision
Jeremy Lambert: Njokuani, TKO, Round 1
Patrick Mullin: Roger Bowling, Decision
Jonathan Solomon: Roger Bowling, Decision
Alex Rella: Bowling, Decision
Robert Winfree: Anthony Njokuani, TKO Round 3
The staff picks Anthony Kjokuani, 4-3.



Bantamweight Bout: TJ Dillashaw vs. Hugo Viana



Jeffrey Harris: TJ Dillashaw, Decision
Jon Butterfield: TJ Dillashaw, TKO, Round Two
Jeremy Lambert: Dillashaw, Decision
Patrick Mullin: TJ Dillashaw, TKO, Round 2
Jonathan Solomon: Hugo Viana, Decision
Alex Rella: Dillashaw, Decision
Robert Winfree: TJ Dillashaw, Submission Round 1
The staff picks TJ Dillashaw, 6-1.



Lightweight Bout: Tim Means vs. Jorge Masvidal



Jeffrey Harris: Tim Means, Decision
Jon Butterfield: Jorge Masvidal, Decision
Jeremy Lambert: Masvidal, TKO, Round 2
Patrick Mullin: Team Means, Split Decision
Jonathan Solomon: Jorge Masvidal, TKO, Round 2
Alex Rella: Masvidal, Decision
Robert Winfree: Jorge Masvidal, Decision
The staff picks Jorge Masvidal, 5-2.



Flyweight Bout: Joseph Benavidez vs. Darren Uyenoyama



Jeffrey Harris: Joseph Benavidez, Submission, Round 2
Jon Butterfield: Joseph Benavidez, Decision
Jeremy Lambert: Benavidez, Decision
Patrick Mullin: Joseph Benavidez, TKO, Round 2
Jonathan Solomon: Joseph Benavidez, Submission, Round 3
Alex Rella: Benavidez, TKO, Round 1
Robert Winfree: Joseph Benavidez, TKO Round 2
The staff picks Joseph Benavidez, 7-0.


Lightweight Bout: Ramsey Nijem vs. Myles Jury



Jeffrey Harris: Myles Jury, Decision
Jon Butterfield: Myles Jury, Submission, Round One
Jeremy Lambert: Nijem, Decision
Patrick Mullin: Myles Jury, Submission, Round 2
Jonathan Solomon: Myles Jury, Decision
Alex Rella: Jury, Decision
Robert Winfree: Ramsey Nijem, Decision
The staff picks Myles Jury, 5-2.



Middleweight Bout: Francis Carmont vs. Lorenz Larkin



Jeffrey Harris: Francis Carmont, Decision
Jon Butterfield: Francis Carmont, Submission, Round Two
Jeremy Lambert: Larkin, Decision
Patrick Mullin: Lorenz Larkin, TKO, Round 2
Jonathan Solomon: Lorenz Larkin, TKO, Round 2
Alex Rella: Larkin, Decision
Robert Winfree: Francis Carmont, Decision
The staff picks Lorenz Larkin, 4-3.



Featherweight Bout: Chad Mendes vs. Darren Elkins



Jeffrey Harris: Chad Mendes, Decision
Jon Butterfield: Chad Mendes, Decision
Jeremy Lambert: Mendes, Decision
Patrick Mullin: Chad Mendes, Split Decision
Jonathan Solomon: Chad Mendes, Decision
Alex Rella: Elkins, Decision
Robert Winfree: Chad Mendes, Decision
The staff picks Chad Mendes, 5-2.

---




MAIN CARD:




Welterweight Bout: Matt Brown vs. Jordan Mein



Jeffrey Harris: A very tough match-up and one I could see going to a split decision. Both guys come to fight and doing mind throwing the leather. Jordan Mein's stock has raised after making a successful UFC debut against a seasoned veteran in Dan Miller. Brown's looked on fire as of late as he was the only UFC fighter to go 4-0 in 2012. All things being equal, I am going with Brown here to win a gritty fight as he has more Octagon experience and was more active with some tougher opposition last year.

Winner: Matt Brown, Decision

Jon Butterfield: Matt Brown is a gatekeeper. He's a very difficult obstacle to overcome for inexperienced or undertalented fighters. Jordan Mein is not an inexperienced or undertalented fighter. Where Matt Brown can school a rookie on the feet or on the ground, he doesn't posssess any serious weapons for seasoned, well-rounded opponents. Mein, despite his age, is exactly that. He'll outclass Brown on the feet, and he'll keep it there. Brown, if he's smart, will come out with a heavily wresting-oriented strategy, but I don't see it working. Mein has seen this calibre of opponent before, and disposed of them pretty easily. This is the kind of test he'll pass with flying colours. And that's why the UFC made this match.

Winner: Jordan Mein, Decision

Jeremy Lambert: We all know that Brown isn't very good, but he's somehow on a four fight win streak and always comes to WAR! On the feet, Brown moves forward and takes three to give one. His wrestling isn't good and his submission defense is even worse, but he has a sneaky good submission game against weak grapplers. Mein is the better fighter though. He's the better striker and grappler and as long as two fights in as many months doesn't catch up to him, he should be able to dispose of Brown. On the feet, Brown definitely has a chance given his chin and power, but I don't expect Mein to hang out too long standing if things aren't going his way. Brown is a tough guy and I'm not 100% sold on Mein's submission game at this level, but he should dominate the fight wherever it goes.

Winner: Mein, Decision

Patrick Mullin: Since his loss to Tyron Woodley, Mein has been uber aggressive looking to take guys out. Matt Brown is a tough guy who doesn't go away easy. I expect this one to be evenly contested through the first round and a half before Mein starts to take control and eventually brings Brown to the mat and works him over one-sidedly for a TKO in the third round.

Winner: Jordan Mein, TKO, Round 3

Jonathan Solomon: Jordan Mein is now the next big thing in the UFC on the heels of his impressive TKO win over Dan Miller a month ago. The 23-year-old has more in-ring experience than Matt Brown (which definitely makes you worry about whether he'll burn out as a younger man than you usually see in fighting), having fought professionally since he was 16-years-old. Now, he finds himself fighting on national broadcast television in the United States against a brawler hell bent on taking his head off.

Brown's four-fight win streak is the largest of his career coming off his knockout win over Mike Swick in December. There's reason to be concerned for him in this fight because one of his weaknesses, historically, has been submissions (nine of his 11 career losses have come by submission) and Mein is a Brazilian Jiu-Jitsu black belt. We need not forget Jordan's escape from a tight Dan Miller armbar last month to figure out he's calm under pressure. So, even though both men are capable of brawling, the Canadian has never been knocked out which leads you to believe Brown will be swinging for the fences until he's taken down and defeated.

Winner: Jordan Mein, Submission, Round 2

Alex Rella: I expect this to be a completely brutal fight. Jordan Mein is a rising prospect that just wrecked Dan Miller looking to continue take down another veteran. Matt Brown has been with the UFC since TUF season 7 and seems to finally be making a push to that next level of welterweights. Mein has been overly aggressive since his split decision loss to Woodley in Strikeforce and Brown will be more than willing to brawl. Brown has been susceptible to submissions in the past, but he has shown huge improvements in his ground game in the past couple fights. I'm going with the veteran, but I expect this to be really close.

Winner: Brown, Decision

Robert Winfree: Matt Brown is a tough veteran, he has solid all around skills and a hard nosed attitude. Unfortunately he also can't seem to beat talented fighters. He is a gatekeeper at this point, nothing wrong with that, but I don't like his chances here. Jordan Mein did something that Chael Sonnen, Michael Bisping, Demian Maia, and Nate Marquardt couldn't do, he finished Dan Miller. Mein excels in the striking department, he goes to the body and head very well, and he's not out of his element on the ground. I don't think Brown has the wrestling pedigree to get Mein down consistently, and striking he'll be at a disadvantage. Brown will need to put Mein against the fence and fight in the clinch if he wants a shot at grinding down Mein. That said, I don't think he'll be able to.

Winner: Jordan Mein, TKO Round 3

The staff picks Jordan Mein, 5-2.








---




Lightweight Bout: Nate Diaz vs. Josh Thomson



Jeffrey Harris: I see this as a winnable fight for Nate Diaz, though Thomson with his background getting an upset here wouldn't surprise me. Diaz provided he can keep this standing and doesn't get takedown I think will eventually out punch and submit Thomson.

Winner: Nate Diaz, Submission, Round 3

Jon Butterfield: Now this is a tough fight to call. If you're thinking of betting, this is the one to avoid. Nate Diaz looked like a wrecking machine prior to his dismantling at the hands of Benson Henderson, and Josh Thomson is definitely the kind of fighter who could repeat that - but who knows how good Josh Thomson really is, or which 'Punk' will show up. Thomson pushed Gilbert Melendez to the brink very recently, which suggests he'll wipe the floor with Diaz, but Nate is an unpredictable monster in his own right. While I think fighting the likes of Takanori Gomi undoubtedly flattered Diaz (Gomi really isn't the force many thought he was), there's no denying Nate's accomplishments in beating Donald Cerrone and Jim Miller. Still, his record is littered with defeats to strong wrestlers with solid submission defence, and that's Josh Thomson all over.

Winner: Josh Thomson, Decision

Jeremy Lambert: This should be a very good fight given the durability, at least inside the cage in Thomson's case, of both men. Diaz is going to do what Diaz does, which is throw a lot of punches and work the body while offering up very little defense. Thomson will have to find a way inside, use kicks, and try and keep Diaz off balance by changing levels and keeping the takedown in his mind. On the ground, Diaz is very active off his back, but Thomson isn't likely to get caught while in a top position. If I'm Diaz, I'd actually think about clinching up and trying to put Thomson on his back since overall Diaz has the grappling advantage. Diaz has to watch out for Thomson's little push/trip takedown that he used against Melendez. Donald Cerrone was able to effectively use it against Diaz, who stands much more flat footed than Melendez, meaning Thomson should have success with it in this fight. This fight is a coin flip in my mind, but I'm slightly leaning towards Thomson as I think he'll be able to keep Diaz off balance enough to avoid falling into Nate's game, score with a couple of takedowns, and slightly out-work Diaz over the course of the 15-minute fight.

Winner: Thomson, Decision

Patrick Mullin: Ignore the grappling match these two had because it doesn't matter. This is a fight. Thomson is getting a little more hype than I think he deserves because of how well he matches up with Gilbert Melendez. He doesn't do well against long and rangey strikers, and with Diaz's improved takedown defense I see this looking similar to his fight with Marcus Davis. Thomson will survive, but he won't win.

Winner: Nate Diaz, Unanimous Decision

Jonathan Solomon: Diaz struggles against fighters who can take him down and Josh Thomson figures to be one of those men. Assuming "The Punk" is healthy enough not to be working with a bum knee, expect to see a healthy dose of wrestling in this bout.

Nate is coming off the disappointing performance against Benson Henderson in December and has the benefit of training alongside Gilbert Melendez, who has fought Thomson a total of three times. What he has to do to secure the win is keep Josh at a distance and pick him apart with strikes. If this becomes more of a clinch battle, I like Thomson's chances of getting the better of the exchanges.

Expect this to be a three-round war between two men who do not lose steam within a 15 minute fight, making this an easy pick for fight of the night.

Winner: Josh Thomson, Decision

Alex Rella: I think a lot of people are forgetting how good Josh Thomson can really be. He's been wrecked by injuries the past few year and it's really slowed down his career, but this is his chance to take down one of the top lightweights in the UFC. This makes for an interesting fight if he is healthy. Diaz has had trouble against strong wrestlers in the past, while Thomson has struggled against strikers that know how to effectively use their reach. I think this is Thomson's fight as he had some time off and appears to be healthier than he has been in years.

Winner: Thomson, decision

Robert Winfree: This is going to be a great fight. Nate Diaz has never been in an unwatchable fight, and he always comes to fight and fight hard. Josh Thomson is coming off of a split decision loss against Gilbert Melendez where he actually managed to look decent for the first time in a while. Thomson has been sidelined by injuries, but he claims he's healthy and ready for this fight. Nate Diaz is coming off of a loss to Benson Henderson, but before that fight he'd been wrecking some of the best the division could offer. I think Diaz wins this fight, his volume striking style and his submission game, which is actually different than his brothers, will lead him to another victory. Hopefully Thomson is able to have a good showing, but I don't like his chances in the fight itself.

Winner: Nate Diaz, Submission, Round 2

The staff picks Josh Thomson, 4-3.








---




Heavyweight Bout: Frank Mir vs. Daniel Cormier



Jeffrey Harris: On paper, this looks like a horrible match-up for Frank Mir. Daniel Cormier just seems to be the type of match-up that is a nightmare for Mir in tough, aggressive wrestlers that can hit hard. I see this going not unlike Mir's match-ups with the likes of Brock Lesnar (second time) and Shane Carwin. Mir has never had great takedown defense against strong wrestlers. We know Cormier is very tough and durable, can keep a fast pace, and hits extremely hard. I believe he can deal with Mir on the ground and survive anything he has there. I think Cormier crushes Mir.

Winner: Daniel Cormier, TKO, Round 2

Jon Butterfield: While it's definitely true that Mir has struggled with heavy-handed wrestlers in the past, it's also true that few are as experience as Mir in dealing with such opponents - hence is learning curves were anything to go by, Mir would be as well-positioned as anyone to halt Daniel Cormier's streak. Sadly, Cormier appears to be an extremely talented striker who is near-invincible when it comes to getting taken down. He'll have comfortable advantage on the feet against Mir, which is astonishing given the disparity between the experience levels of the two, and he'll be able to maintain verticality all day long. Mir, for all the love in the world, you're going to sleep again, son.

Winner: Daniel Cormier, KO, Round Two

Jeremy Lambert: This is a pretty perfect fight for Cormier. Yes, if the fight hits the ground and Cormier is a little too relaxed, Mir can snatch a hold of a limb and rip it off. But if the fight stays standing or Cormier gets a takedown and stays tight to Mir, he should be able to scramble the eggs that have already been scrambled multiple times. Cormier's striking seems to improve with every outing, and while it's not technically great, he'll have a distinct speed advantage and does put together pretty fluid combinations. Mir has decent power, as do most at heavyweight, but looks smartly out of his element on the feet. Cormier's best advantage might be in the clinch, where Mir is prone to getting roughed up with uppercuts. I think Cormier plays it safe early, but as the opening round comes to close, starts to open up a bit and follows that up with a finish in the second.

Winner: Cormier, TKO, Round 2

Patrick Mullin: The only edge Mir has are his submission skills. Cormier is a MUCH better wrestler, better striker, tends to be in better shape, hits harder, and he even takes a good strike to boot. Unless Cormier is brain damaged he'll win this fight by backing Mir up and unloading right hands on him. As we all know when Mir gets hit, he mentally just gives up and the fight ends rather quickly. Cormier probably fights respectfully for the first round before letting his hands and kicks go in round two and finishes Frank off.

Winner: Daniel Cormier, TKO, Round 2

Jonathan Solomon: Daniel Cormier is one of the elite heavyweights in the sport and matches up extremely well with Frank Mir. Why? The former UFC champion is not a more skilled striker and will struggle when he attempts to get the fight to the ground. Cormier has never been on his back in an MMA fight and boasts immense power in addition to sound technique with his striking. Plus, the Strikeforce heavyweight grand prix champion will not sit back, he is an aggressive competitor and that does not bode well for Mir.

His only shot at winning is under two conditions. First, if he is able to land a big blow which rocks Black Fedor, or if somehow, he's able to secure a sweep and end up on top. He would still have to keep Cormier there, which doesn't seem like a logical prediction at all. This is Daniel's fight to blow up and become one of the UFC's top fighters, whether he calls out Jon Jones after the fact or not, he's here for a long time.

Winner: Daniel Cormier, TKO, Round 1

Alex Rella: This is the easiest fight of the night to pick. Frank Mir is one of the best heavyweights of all time, but it appears that the division has passed him by and it doesn't help that he's going up against the fastest rising heavyweight in MMA. Daniel Cormier has been nothing short of awesome the past couple years and I expect him to continue on this weekend. Mir may be able to pull off an upset if it goes to the ground, but he's lost to wrestlers nowhere as good as Cormier before. I'm just hoping Cormier stays at heavyweight after this.

Winner: Cormier, TKO, Round 2

Robert Winfree: This will be at least interesting. Daniel Cormier has been on a hot streak, and has emerged as a great heavyweight prospect. He's getting a rude welcome into the octagon, because Frank Mir is no joke. We might make fun of Mir, but the guy has the most wins in UFC heavyweight history, is a former champion, and has some scary submission skills. That said, he's proven himself vulnerable to power punchers that can find his chin, or strong wrestlers who neutralize his ground game. Cormier falls into both of those categories, he's quick and light on his feet and has serious power in his hands, and his wrestling is world class. That isn't an exaggeration either, the guy might be the best wrestler in MMA, and easily the best at heavyweight. I think Cormier has the advantage anywhere this goes.

Winner: Daniel Cormier, TKO Round 1

The staff picks Daniel Cormier, 7-0.








---




UFC Lightweight Championship Bout: Ben Henderson vs. Gilbert Melendez



Jeffrey Harris: A very tough fight for both guys. Melendez has such great striking and boxing not to mention experience, a win here for him would not surprise me. That being said, I think Henderson has a sizable reach and size advantage against Melendez that I think will make it difficult for El Nino. Henderson has amazing cardio, submission defense, and he can is relentless at just trying out to outwork his opponent. I think Henderson's wrestling and top game will give him an edge for this fight. I would be very surprised if we saw a finish here since neither guy has ever been knocked out. Bendo was submitted I think once very early on his career and Melendez has never been a big submission guy.

Winner: Ben Henderson, Decision

Jon Butterfield: Without being obtuse, I don't really see what Ben Henderson has that Gilbert Melendez doesn't - outside of leg kicks, that is. Henderson is obviously a phenomenally well-rounded fighter whose limbs appear to be made of rubber and his jaw cast from strongest steel - but Melendez is a guy who has lost just twice in his career, and he's come back to avenge both defeats, handily. Melendez has the movement and the speed to counteract Henderson's striking, and though it's unlikely anyone will ever dismantle the UFC Lightweight Champion, Melendez certainly has as good a chance as anyone. What's more, if Melendez is clearly ahead in terms of striking, I'd rate his takedown defence that much higher than I'd rate Henderson's - I don't believe I've ever seen Melendez embroiled in a grappling war against his will, whereas Henderson certainly had to endure the submission expertise of Jim Miller. Yes, Henderson came out well ahead in that fight, but will that happen against the Strikeforce Lightweight Champion? I say no.

Winner: Gilbert Melendez, Decision

Jeremy Lambert: I'm pumped for this fight. Henderson is never in a boring fight and Melendez is a great foil for him given his skills. Melendez needs to slow it down, ala the second Henderson/Frankie Edgar fight, if he hopes to win because Henderson is one of the best at fighting at a high pace. That's easier said than done though because Henderson rarely stops pressuring and Melendez doesn't have the footwork or boxing of Edgar. Melendez likes to work off his jab and use the straight behind it, but he's not really a combination puncher. Henderson's boxing has improved a lot since his WEC days, but he still relies a lot on his kicks, which isn't a bad thing due to his length. I expect him to throw a lot of leg kicks to try and slow Melendez down while also feeding him a steady diet of body kicks, as long as Melendez isn't catching or countering. Both guys have good wrestling and I doubt either will be able to dominate that portion of the fight enough to have any significant impact. That said, if it does turn into a wrestling match, I'd favor Henderson just because of his ability to scramble and end up in a dominate position. Melendez has a bad tendency of giving up his back when trying to regain his feet, which isn't the smartest move in the world against someone as quick and clingy as Henderson. I expect this to be a competitive fight, but over the course of five rounds, I think Henderson will be able to take at least three of them with his aggressiveness. I think he'll land the cleaner, more effective strikes, and end have more positional control on the ground en route to a decision.

Winner: Henderson, Decision

Patrick Mullin: My full breakdown is available in this week's Blueprint. Ultimately what this comes down to is the combination of Melendez's lay-off, his need to fight at a slower pace, and his tendency to give up bad positions all playing directly to Bendo's strengths. I don't think he'll survive those bad positions the way he has against lesser opposition.

Winner: Benson Henderson, Submission, Round Five

Jonathan Solomon: Melendez has been one of the best lightweights in the world for too long and now that he'll step inside the octagon, people who have refused to give him credit may change their tune. The last time he fought in a non-title fight was in Japan on New Year's Eve in 2007 when he lost a decision to Mitsuhiro Ishida (he avenged the loss years later). He's a versatile athlete capable of powerful exchanges in the clinch, his wrestling is strong and he has proven to be a durable competitor in the cage. That's not to say he has not been dealing with a bum shoulder for the better part of the past five months. Is it still a pain for him, we do not know.

For Gil to beat Benson Henderson, he needs to do what Frankie Edgar, Nate Diaz and Clay Guida all could not: dictate the pace of the fight. The UFC champion is routinely able to fight however he chooses because he need not worry about being placed on his back. He's a strong lightweight with perhaps the best physical base in the division, we have not seen anyone power him around the cage. I'm not sure that Gil will be able to do that, especially considering his past two fights were lackluster against Jorge Masvidal and Josh Thomson (whether part of that was being discouraged by fighting in Strikeforce, injury, or just how those bouts turned out is up for debate).

Henderson is coming into this fight with a ton of momentum having looked tremendous over the past two years, never leaving any doubt that he is the top UFC 155-pounder. Melendez has wanted that spot for years and Saturday night is his time to make it happen, if it's to happen at all. However, I'm not too confident in Gil's chances to take the fight to Benson and beat him on points like Anthony Pettis was able to do over two years ago.

Winner: Your WINNER and STILL UFC Lightweight Champion, Benson Henderson, Decision

Alex Rella: I'm really pumped for this fight, but I'm also really torn on it. Even just from a fan's perspective I'm excited to finally see Gilbert Melendez get the respect he deserves in the UFC but then again Henderson really won me over in his last fight. I do expect Melendez to do much better competition against Henderson than his training partner Nate Diaz. Henderson is becoming one of the most well rounded fighters today, but there is room for Melendez to win if he stays focused. Melendez has to use his movement and speed to control the pace of the fight. This will be hard to do, but a focused and determined Melendez is very dangerous. Melendez has always been effective in the clinch so that could be a huge edge for him. I don't expect there to be a finish in this fight and I'm curious to see who is better on the ground. I'm giving the slight edge to Melendez in this one, but I wouldn't be shocked if Henderson pulled out another dominant performance.

Winner: Melendez, Decision

Robert Winfree: I am excited for this fight, as I usually am for Benson Henderson fights, but this also has Gilbert Melendez, which does amp up the intensity. Gilbert Melendez has wanted to be in the UFC for a while now, and wants to fight the best guys to solidify himself as the best lightweight in the world. Well they don't come any better at 155 than Benson Henderson. Henderson has been on an absolute tear since he lost the WEC title to Anthony Pettis in the last WEC fight ever. Since then he's beaten Mark Bocek, Clay Guida, Jim Miller, Frankie Edgar twice, and Nate Diaz. Henderson posses incredible submission defense, apparently limitless cardio, an absolutely otherworldly calm and awareness of his situation, a monster clinch game, and a drive to surpass Anderson Silva's record of title defenses. The only fighter who had a modicum of success against Henderson was Frankie Edgar, and Gilbert Melendez is very different from Frankie. Frankie used footwork, movement, and patience to fight Henderson. Gilbert isn't known for any of those things. I think Melendez can win, if he moves in and out quickly, doesn't let Henderson dictate the pace of the fight, and avoids prolonged grappling or striking exchanges. I don't think he'll be able to fight that disciplined, I'm not sure how he'll respond to the pressure that Henderson will bring, and I don't know if he'll be able to negate the size and strength of Henderson. I think Henderson uses leg and body kicks to keep Gilbert off balance, roughs him up in the clinch, and breaks Gilbert down over the course of the fight.

Winner: Benson Henderson, Deicision

The staff picks Ben Henderson, 5-2.








---
Remember to join 411's coverage of UFC on FOX 7 on Saturday night!
comments powered by