SPOTLIGHTS
Man Cave Thoughts 4.24.13: Say It Ain't Sonnen
Posted by Jeremy Lambert on 04.24.2013

Jon Jones battles Chael Sonnen this weekend in a fight that has under-delivered in terms of hype and probably won't be competitive in the cage either! 411's Jeremy Lambert takes a look at the failure of the fight from all angles!

Samer Kadi was so appalled at this Jon Jones vs. Chael Sonnen fight that he decided to take the week off. So you're stuck with me.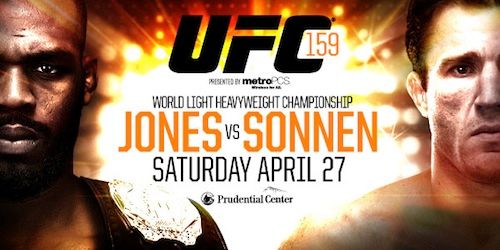 A Light Heavyweight Fight



In a year of undeserved title shots, nothing beats Chael Sonnen fighting Jon Jones for the UFC light heavyweight title this weekend. Sonnen, coming off a loss at middleweight where he was finished by champion Anderson Silva, hasn't competed at light heavyweight since 2005 and is 0-1 inside the octagon at 205.

Jones is the most dominant champion at light heavyweight since Chuck Liddell and already considered to be the best light heavyweight of all-time. He's run through the division like a chainsaw cutting through bone, dispatching of every known name and top contender with ease. Chael Sonnen will be no different.

This fight was made so the UFC and FX could use them as the coaches on The Ultimate Fighter in hopes that they would save the fledgling ratings. It didn't work. Now we're stuck with a fight that won't be competitive following a build up that has fallen way below fan expectations.

On the show, Jones and Sonnen played nice the entire time. Those who were expecting Rampage and Rashad type confrontations were left severely disappointed and when it became obvious that the two would not engage in any heated arguments, fans became even less interested.

Sonnen has been falsely labeled as "the greatest trash talker in sports" because he's great at recycling and memorizing pro wrestling promos. A great trash talker can come up with insults on the spot and say them while his opponent is standing in front of him. Sonnen rarely does either.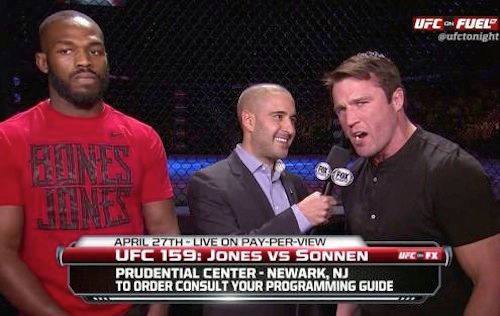 Case in point, the last two UFC events. At the Ultimate Fighter 17 Finale, when Jones and Sonnen were standing face-to-face, Sonnen basically admitted to the world that he had absolutely no chance at defeating Jon Jones. The usually brash and confident Sonnen cowered, praising Jones, admitting that he doesn't know how the fight will play out and that he may lose, and calling himself "the silver medalist from a weight class down." A week later, at the UFC on FOX 7 event with Jon Jones nowhere to be seen, Sonnen was back to his usual ways, taking shots at the champion and doing his best to clown the 205 king with material that he stayed up all night working on.

Things got worse on a recent media call when Sonnen went back to trash talking Anderson Silva, a guy he's 0-2 against and will likely never face again. The worst part was Chael saying that Jones is "considerably better than Anderson." Whether that's true or not is irrelevant. Silva beat Sonnen twice, so now we're supposed to believe that he has a chance at beating a guy who he considers to be a considerably better fighter?

For everyone who thought that Sonnen would sell this fight like he sold the Anderson fights and that it would easily top a million PPV buys, they're wrong. Sonnen hasn't sold the fight, he's sold himself, but he's always been a master at doing that.

To be fair, Jon Jones hasn't done his part either. After taking criticism for giving Sonnen the silent treatment at the TUF 17 Finale, Jones went on record to say that Sonnen has been on steroids his entire career. Not only is that a weak attack, but it's not exactly groundbreaking given that Sonnen has been popped for steroids and is a known TRT user. To make matters worse, Jones quickly apologized for his comments. So to recap, Jones not only used the lamest insult in the book, but he backed away from his insult a day later. Not exactly the best way to sell a fight.

It's quite sad that Jones has wasted his last two title fights competing against middleweights. At least the Vitor Belfort fight was partially excusable given the circumstances. A bout against Sonnen not only makes no sense, but leaves Jones with nothing to gain. When he crushes the former Gladiator and Danger Zone light heavyweight champion, he's just doing what is expected of him. But if he turns in a methodical and less than impressive performance, he'll draw criticism from many fans for not ending it sooner.

Jones wanted this fight for two reasons: 1. He figured it would do better on PPV than a rematch with Lyoto Machida or a bout against Dan Henderson. 2. He wanted to shut the mouth of Sonnen.

The first reason is valid to an extent. Jones vs. Machida 1 drew 485,000 PPV buys. Given how "Bones" dispatched of "The Dragon" in that bout, it's reasonable to think that the rematch would do worse numbers. A bout with Henderson is a different story though. While not a high-end PPV draw, Henderson is still a well-known name with his fair share of highlight reel KO's. It's fair to think that Jones vs. Henderson would've done around 500,000 PPV buys.

Will Jones vs. Sonnen draw higher than 500,000? That remains to be seen. Sonnen isn't the draw that he and his fanbase make him out to be. He drew great against Silva twice for different reasons. Leading up to the first fight, his trash talk was new and a breath of fresh air from Silva opponents, who, for the most part, had been very respectful towards the champion. Given how the first fight played out, with Sonnen dominating Silva for 23 minutes, the trash talk leading up to the second fight made sense, wasn't all that far from the truth, and had people believing that he could do it again.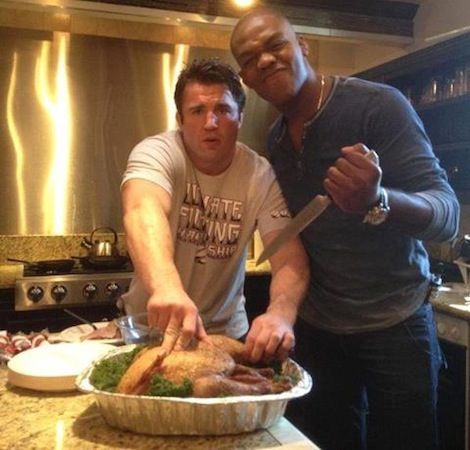 After looking foolish in the second bout and being one-upped by Anderson, both in the fight and in the post-fight interview, Sonnen's talk doesn't seem so big given his failure to back it up. The UFC made this fight and Jones took this fight on the premise that Sonnen would be at his trash talking best and that would lead to a huge buyrate. Not only has Sonnen failed to be at his best, but his shtick has grown increasingly old in the last three years. On top of that, people adored Anderson Silva. Even if he turned in some lackluster fights, no one truly disliked the guy outside of the cage. So they tuned in to watch Silva shut this guy up once and for all. And if you didn't like Silva, you believed that Sonnen could be the guy to end his reign.

People don't like Jones, but they know that Sonnen won't be the guy to end his reign and seeing as how Silva already made Chael look stupid in their last contest, they have less reason to watch Jones do it again.

And no matter what happens on Saturday, Jones isn't going to shut the mouth of Sonnen unless he does so permanently, which I'm not sure I'd completely rule out. "The Spider" defeated Sonnen twice and yet he's still on the receiving end of Chael's verbal abuse. As long as someone puts a microphone in front of Sonnen, and don't expect that to stop happening anytime soon, he's going to speak his mind and take shots at anyone he feels like taking shots at, especially if they're not around to confront him.

In the horrendous promo to promote this fight, Sonnen called this, "the biggest fight in light heavyweight history." It's a shame that the UFC would actually acknowledge and promote that comment given the rich history of the division. Jones defending the light heavyweight title is no better than Fedor's title defense against Mark Hunt in PRIDE.

We all know what we're paying for this weekend. It's Gordon Gekko vs. Joffrey Baratheon with the fight playing out like Apollo Creed vs. Ivan Drago. If Chael dies, he dies.

For more from the Occupy The Throne duo you can follow Samer Kadi and Jeremy Lambert on twitter. You can also check out ManCaveThoughts.com for more writings and podcasts.
comments powered by