SPOTLIGHTS
The Blueprint 4.26.13: UFC on FOX Review
Posted by Patrick Mullin on 04.26.2013

In this edition of The Blueprint we take a look back at the main card of UFC on Fox 7. We're going to examine the critical mistakes made by fighters on the broadcast from top to bottom. We'll tell you what they did wrong, how it affected the fight, and what they could have done to make things different and possibly changed the outcome. Join us for an education right here in The Blueprint.


Happy Friday everybody and welcome to another jam packed edition of The Blueprint! We correctly predicted last week that Ben Henderson would retain his championship over a game but slightly underwhelming Gilbert Melendez. We're not going back into the prediction well this week. The card happening this weekend features the most one sided on paper match up in a main event that I can recall since Anderson Silva's walk in the park against Stephan Bonnar. Quite frankly I don't think anyone is interested in me breaking down that fight and trying to make a full column out of saying, "Sonnen's only way to win is to hold Jon down for five rounds and avoid taking any damage in return."

Instead we're going to rewind things a bit. Last week produced what was for the most part a very entertaining night of fights on the FOX network, heavyweights aside. We saw upsets, thrills, close fights, and were bored by sluggish heavyweights. However in each of those fights there's some perspective to be had from each of those bouts in terms of the fighters and performances. That's why we're all here so let's see what happened in those fights that could have or should have gone differently.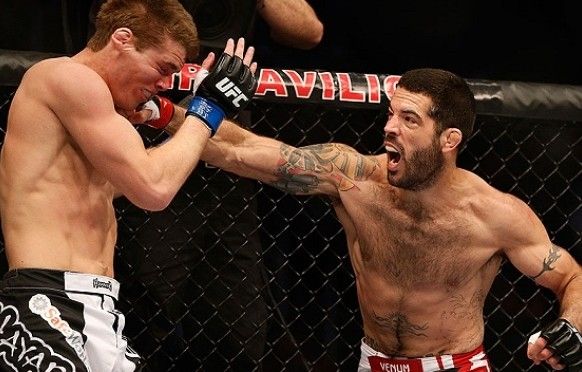 Matt Brown vs. Jordan Mein

Without a doubt this was the fight of the night. You had the old veteran Brown on the best run of his career going up against the hungry and experienced youngster Mein. Early on Brown was the aggressor and went after Mein with overhand rights that broke his orbital bone. Mein was hurt and almost out of it early but he showed a fighter's heart by coming back and hurting Brown with his new trademark, the left hook to the body. He went after Brown following him to the ground and his enthusiasm unfortunately let Brown back into the fight and had him almost secure a triangle choke on Mein and hurt him with a hook and an elbow to close a crazy round.

Brown had basically taken the fight out of Mein and in the second round marched over him with a series of knees and then elbows on the ground to force a stoppage as Mein stopped defending himself. While watching this card with a few friends one of them had the poignant observation that this fight was like watching a skilled kid fight a tough man. Even though the kid may be more skilled than the man, the tough man who's been fighting longer has a certain indomitable will and it tends to overcome the youngster because they haven't developed that yet. That's one of the reasons Mein lost but I saw a principal reason elsewhere.

It's not very often that you see Matt Brown hurt by strikes, his main weakness has always been a susceptibility to submissions. However Mein dropped Brown with a vicious left hook to the body. Rather than force Brown to stand back up with him, Mein followed him to the ground and began trying to grapple with him after landing two elbows and almost got submitted by a fairly obvious attempt at a triangle choke. When you get hurt by a body strike its very different from being hurt by a head strike. A head strike will daze and stun you, but a body strike will cause you intense pain that causes you to be unable to get back up quickly.

Now Mein chose to follow Brown to the ground and a lot of other guys who are older and have more years in MMA make that same mistake. When you hurt a guy with a body shot you are an absolute moron if you do not signal to the official to make your opponent stand back up. They don't have a 10 count like in striking combat sports, they have to rise when the referee tells them to. If they can't do it then the referee has no choice but to call the bout and rule it a TKO victory for you. Mein had the chance to win the fight and his youth and lack of fight intelligence gave it away.





Josh Thomson vs. Nate Diaz

This was the upset of the night. Thomson has always been a guy who was seen as a good but not elite level lightweight, but Nate Diaz has consistently been ranked as one of the top five following his bludgeoning of Donald Cerrone. Nate apparently didn't learn anything from his brother's loss to Georges St. Pierre. St. Pierre had claimed that part of the key to beating Nick, whom Nate happens to fight an awful lot like, was to stay in kickboxing range and not allow the fight to get into boxing range.

This always seems silly if you look at the fighters and don't know anything about them, because Nate Diaz has extremely long limbs and thus you would think a natural ability to control distance behind kicks in addition to his jab. However the Diaz brothers have still not learned to utilize kicks effectively or the clinch game. Thomson effectively used low kicks from the outside and elbows on the inside in the clinch and never engaged Diaz in a boxing range. His elbows cut and blinded Diaz on his right side forcing Diaz to lean to the left to try to better evade attacks toward his right side. This led to him leaning into a Thomson head kick(set up by the low kicks) that spelled the beginning of the end and the knockout.

There were several things Nate Diaz could have done to avert this. Nate needs to learn how to make the most of his size and how effective kicks could be by someone with his frame. He also needs to stop trying to reach low to catch kicks aimed at his legs and needs to learn how to check them. Were it not for his reaching defense his head wouldn't have been so wide open for the head kick of Thomson. He also needs to learn some Muay Thai or get a new boxing coach to learn close quarter defense so that he won't be ripped apart by elbows that blind him in one eye due to bleeding.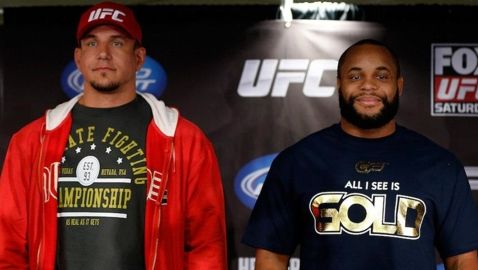 Daniel Cormier vs. Frank Mir

There are a lot of people who will think I'm picking on Daniel Cormier by criticizing a winning performance. Just because you win doesn't mean you fought a perfect fight though. Cormier had fleeting moments of success in the fight when he was able to back Mir against the cage with quick punch combinations, and rather than follow up he chose to lean up against Mir and keep him pinned to the cage. Had Cormier instead chosen to stay at punching range rather than smother Mir and his own effective attack he may have made his life easy and knocked Mir out or made him quit. He also had success punching with right shovel hooks to the body that he gave up on all too soon.

Mir on the other hand fought the typical Mir fight when faced with someone he couldn't steamroll. Mir claims he went to Jackson's and improved his striking and conditioning a great deal. Why wouldn't he have tried to work on his takedowns and trips so he could try to get in some submission attempts? What conditioning did he work on when he looked gassed out during pre-fight coverage? Mir may have more wins at heavyweight in the UFC than anyone else, but that's because he's coasted off of soft opposition in the heavyweight division for years and his longevity mixed with that has made him relevant to the fools who see him as a good fighter.




Benson Henderson vs. Gilbert Melendez

This was a great fight and I don't care if it didn't appeal to everyone. I saw the two best lightweights in the world fight hard for five rounds. Each man had his moments, it was entertaining, and the right man walked out with his hand raised. One of the mistakes Ben Henderson made early that made the fight closer than it had to be was getting off to a slow start. That slow start allowed Melendez to have a better first round because of the deliberation in the pacing and allowed him to build confidence in his abilities to hang with Ben throughout all five rounds. Ben also allowed Gilbert to come forward and even while the aggression was not effective, it should be known there are terrible judges out there who score aggression for the sake of aggression.

Gilbert Melendez also didn't fight mistake free. Like teammate Nate Diaz, he failed to check the leg kicks of Ben Henderson. Melendez has a heavier upper body than his lower body build and so his thinner legs are more susceptible to damage from leg kicks. He was even dropped in the third round by a leg kick from Bendo. Melendez had most of his success with his right cross to the head, but failed to follow it with anything. He never really looked to put a left hook to the head or body behind it, nor did he try to double up on the right hand. We may have had a different fight for him with how close the cards were if he'd have been more active and landed more strikes while coming forward.

Those are just some of the mistakes that our competitors made that could have turned around the results we saw Saturday. We'll be back next week and don't forget to join us on Sunday when we break down the results from UFC 159: Jones vs. Sonnen and talk up all the relevant news of the week at 9pm EST on Sunday night. Heck why not call in at (323) 657-0901?!

Till then we'll see you next Blueprint, same Pat-time, same Pat-channel.

comments powered by