SPOTLIGHTS
411 MMA Fact or Fiction 05.01.13: Chael's Future, Cormier/Nelson, More Diaz Delusion, More
Posted by Wyatt Beougher on 05.01.2013

Should Chael Sonnen retire from active competition? Will Dan Cormier and Roy Nelson have an exciting fight that decides the next heavyweight title contender? Is Nate Diaz more deluded than his brother? 411's Patrick Mullin and Robert Winfree debate these topics and more!

And we have a winner! In the rubber match of voting for the 411 MMA Spring Tournament Finale, Alex Rella picked up a 31-29 win over Samer Kadi in a contest that was neck and neck the entire time voting was open. Congratulations to Mr. Rella, and my apologies for the need for repeated votes to determine a winner, but I wanted to be fair to both Alex and Samer and after the initial voting turned out suspiciously inflated, I felt that it needed to be done. As for last week's contest, Mark Radulich doubled up Todd Vote, earning 52 votes to Todd's 26, with 5 people scoring the contest a draw. This week, we've got a great contest between regulars on the 411 MMA Ground and Pound Radio show, as Patrick Mullin takes on Robert Winfree!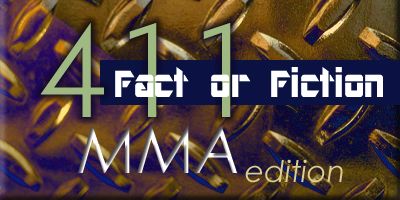 TALE OF THE TAPE

Red Corner
Patrick Mullin
'Star'
Columnist, The Blueprint/Guest Host, 411 Ground and Pound Radio Show
4-1-1

VS

Blue Corner
Robert Winfree
'The Last Rider'
Columnist, Locked in the Guillotine MMA News Report
2-5-0

---

Should broadcasting or coaching be Chael's new focus?



1.) With decisive losses to both the middleweight and light heavyweight champions, Chael Sonnen should turn his focus to broadcasting and coaching.

Patrick Mullin: FACT There are two reasons in this world to be a professional fighter. The first is to make money (hence why it's referred to as "prizefighting"). The second is to prove you're the best fighter in a specific weight class by becoming champion. Chael Sonnen is not good enough to be a champion. He's proven that with losses to Anderson Silva and now Jon Jones, and even as far back as choking in the WEC against Paulo Filho. Chael has made very good money fighting and invested wisely in outside ventures and is collecting a very good paycheck while taking no damage to his body working as an analyst, and a decent one at that. There's no reason for Chael to keep fighting other than brain damage he doesn't need to take.

Robert Winfree: FACT I don't like Chael Sonnen, that's absolutely no secret, and the sooner he drops the stupid delusional promos, the better for everyone. Sonnen has said, more than once, that he fights to be the champion and if he can't be the champion, he will do something else. Well Sonnen, you fought Anderson Silva twice, were finished both times, and just got smashed in the first round by Jon Jones. You will never make welterweight and unless there's some kind of plane wreck you won't get a shot at heavyweight. You managed to talk yourself into a title fight at light heavyweight that you didn't deserve and now you've finally been pushed out of even remote title contention in any weight class. When Sonnen isn't on a promotional kick he's a decent talking head for broadcasting purposes and he should focus on that. Unless he wants to fight Junior dos Santos for charity, in which case I will pay tons of money to see JDS rearrange his face to support a charitable cause.

---

Ready for Cormier en route to the title?



2.) Roy Nelson/Daniel Cormier should be an extremely enjoyable fight, with the winner likely only needing one more fight to earn a title opportunity.

Robert Winfree: FACT I can only think of two fights involving either man that I found not especially enjoyable, both of those being against Frank Mir for each man. Cormier had some issues with his performance against Mir, but that could have been for any reason and I think his next fight will be a bit more telling about his future at heavyweight in the UFC. As for Nelson, he's rarely in a bad fight whether he wins or loses. I would love to see how Cormier would handle the power of Nelson, how Nelson would react to fighting someone with incredible wrestling, it would be a good fight to see where each man stands. As for earning a title shot, that's unlikely for either man. Cormier won't fight Cain Velasquez, so unless JDS beats Cain to reclaim the title, he won't challenge for the heavyweight strap. As for Nelson, Dana doesn't like him and will do everything he can to keep him away from a title shot, so Nelson would likely need at least two more wins before his shot becomes undeniable even to biased Dana White.

Patrick Mullin: FICTION If I could I'd call this half fact and half fiction, but we need a hard line answer here so I'm going fiction. I do think that if these men fight the winner realistically would only need one more win(at most) in order to have earned a title shot. However when these guys do fight I don't think its going to be very competitive. Cormier should likely steamroll through Roy en route to a championship. His wrestling is going to be extremely problematic for the slow footed Nelson, his strike defense is very good and Roy's KO blows are big looping shots that smart fighters can counter and avoid, and he's the better conditioned athlete. Roy's big KO wins are generally against guys with less than stellar chins and defense. Cormier is about as bad a match up as there is for Roy and this will be one sided for as long as it lasts, which will probably be a while because Roy is pretty tough. Watching one guy get hit repeatedly and fight back ineffectively for 15 minutes isn't really that entertaining.

---

Will he finish out his contract extension?



3.) Anderson Silva will never complete the ten fights on his recent UFC contract extension, thus ensuring that he retires from the UFC and preventing him from going the Ken Shamrock/Jens Pulver route and sullying his legacy.

Patrick Mullin: FACT I actually had a hard time answering this. Certainly the biggest factor here is that Anderson is pushing 40 and fighters at that age, especially at an elite level, are few and far between. If anyone however is capable of being MMA's version of Bernard Hopkins, it's Anderson Silva. More than physical ability, it's Anderson's mental prowess in the cage that allows him to dominate his opposition. That being said, I don't think Anderson is tremendously motivated to keep on fighting for another 10 bouts which could take him into his mid 40's, so I find it unlikely he completes his current deal. More than anything, this is a safeguard by the UFC that if Anderson retires and wants to come back, they have a legal leg to stand on should he try to fight elsewhere.

Robert Winfree: FACT Ten fights is a lot for any fighter, it's an absolute minimum of two years, and even then, five fights in a year is a crazy pace to maintain. Anderson currently fights a couple of times a year, in fact the last time he fought three times in one year was in 2008, since then it's been twice, which means at that pace it will take Silva five years to complete his contract. I don't see Anderson being the best, even at middleweight, for that long. While a few athletes have had success well into their later years, MMA is a very different ball game, because it is still evolving and covers so much territory. I just don't see Silva wanting to keep fighting for another five years. This seems, as Pat said, more of a legal safeguard to keep Silva from possibly fighting elsewhere should his relationship with Zuffa take a bad turn. That said, part of me hopes he does indeed stay active and dominant for the remaining ten fights just because watching him beat guys silly is always a pleasure to watch.

---

Did this kick damage Nathan's brain?



4.) Nathan Diaz saying Josh Thomson didn't beat him because he (Thomson) was running away the entire fight is even more ludicrous than Nick Diaz' assertions regarding the Carlos Condit fight.

Robert Winfree: FACT and I don't think it's that close. I thought Nick Diaz was crazy to point out that Condit was "running away" when he landed a higher volume of shots, landed cleaner shots, and beat up Nick Diaz for five rounds. Condit fought moving backwards, which is worlds different than running away. Nate's claim is even dumber because he was finished. Nick was essentially lobbying against the judges' decision, which plenty of fighters have done before and will do in the future. Nate was finished. I know both Diaz brothers can take a ton of punishment, but Nate was clearly finished, the referee stepped in and his corner threw in the towel, saying that Thomson "ran away" is stupid. Thomson fought smart, moved away, and refused to fight the way Diaz wanted him too. I have been a supporter of Nate Diaz, but this level of stupidity has me seriously reconsidering my stance. I thought Nick was stupid for claiming he won a fight he clearly lost, I think Nate is bordering on delusional for claiming he "won" a fight he was finished in.

Patrick Mullin: FACT To be fair to Nate against Robert's point, Nate isn't actually claiming he won, he's just claiming Thomson won by running away. He is however nuttier than squirrel droppings for making that claim. Thomson used the same fight plan that GSP and Carlos Condit used against Nick Diaz. He stayed in kickboxing range, refused to stand in front of Nate, and controlled him in the clinch. Diaz was beaten up as evidenced by his eye that was bloodied and swollen courtesy of elbows, which were landed on the inside so I'm not quite sure how you can run when you're fighting on the inside and throwing elbows. He was hit with a kick that made him stagger like a drunkard and then unmercifully pounded on the ground with Thomson on top of him, again not sure how running comes into play there other than Thomson running RIGHT AT the staggered Diaz to go for the finish. It was such a pounding that Nate's own corner tossed in the towel to signal the referee to stop the fight.

Diaz making this ridiculous claim has topped virtually anything from the Cesar Gracie camp. It tops the Strikeforce: Nashville melee. Its more ridiculous than Nick making these claims about Carlos Condit. It's even outright dumber than Nick no-showing events constantly because hell he got rewarded for that behavior. Nate was not only beaten, he was beaten up, beaten down, bloodied and battered. I think this statement is solely coming from the brain damage that he took from Thomson in this fight.

---

Would "Big Frog" be a good addition to the flyweight division?



5.) If Jeff Curran is able to pick up a few quality wins at flyweight, then he is absolutely correct - the UFC could benefit by adding him to their flyweight division.

Patrick Mullin: FACT This was also difficult to answer. You see, as highly as I think of Curran's cousin Pat, I've never had the most positive things to say about Jeff as a fighter. In 10 fights between the UFC, PRIDE, and WEC, he's only managed to win 2 of them, and against nondescript opposition. He loses to seemingly any halfway decent fighter he faces. That being said flyweight is an extremely thin division and with Demetrious Johnson needing fresh faces to challenge him (if he beats Moraga there's really no great next option), a veteran who can put a few wins together is something the flyweight division could absolutely benefit from. This has less to do with Jeff and his abilities and more to do with flyweight being sorely in need of bodies who can consistently win fights.

Robert Winfree: FACT Curran was cut after a couple of tough fights in the bantamweight division after the UFC first introduced it, and had been long considered a staple of that weight class. The flyweight division is new, and incredibly thin right now as far as the UFC is concerned. At this point, any decent fighter is a benefit to their division, and Curran more than fits that description. I was honestly a little surprised when the UFC cut him from bantamweight, which could use the bodies, but at flyweight he should easily be in the top level of UFC fighters.

---


And now it's time for you to pick your winner! Voting will be open until midnight EST on Saturday, so make sure you vote and make your voice heard!










---

Will MMA ever have an annual "tradition" event?




Bonus) MMA will never have an annual "tradition" event like the Super Bowl or Wrestlemania.

Robert Winfree: FICTION I don't think it will happen soon, but make no mistake that it will happen. The big issue right now is that all of the UFC events are numbered and they've avoided the type of name branding for events that other professional sports, professional wrestling, or even PRIDE to an extent used. The big annual shows for the UFC right now tend to be around New Years, the Super Bowl, and their near fourth of July show. The UFC doesn't have a name for these events, they're just UFC whatever, but once the sport is more firmly established I wouldn't be surprised to see the UFC begin an annual tradition on one of those dates, complete with its own name and branding.

Patrick Mullin: FACT Unfortunately MMA is never going to have a true annual supercard. Due to MMA being an individual sport with no off-season, we have too many factors that will be a hindrance to that type of booking situation. Between fighter injuries, the need to spread out talent to sell the other pay per view cards that run monthly, and potential hold outs and guys renegotiating contracts there are just too many variables that will ever allow this type of situation to happen. MMA would basically need a second organization to become as prominent as the UFC and agree to a talent share in order for something like this to happen, which never will.

---


And that's it for this week! As always, if there's anything you'd like to see featured in a future edition, leave your statement in the comments and I'll add it in. Let us know what you thought in the comments, on Twitter, or on Google+.


comments powered by