SPOTLIGHTS
Occupy The Throne 5.08.13: Examining UFC Business
Posted by Jeremy Lambert on 05.08.2013

Dana White was riled up over the weekend when the UFC was accused of "losing its edge." Does he have reason to be concerned and will the UFC ever become mainstream? 411's Samer Kadi and Jeremy Lambert take a look!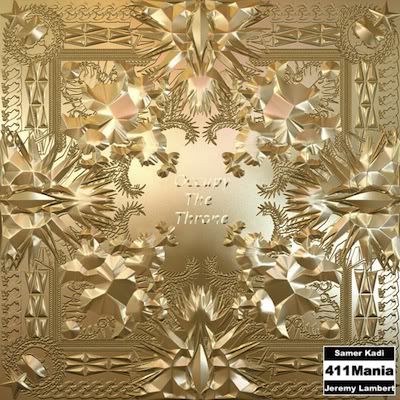 Private Business



Jeremy Lambert: Last week ESPN sports business reporter Darren Rovell tweeted out that, "The UFC is starting to lose a bit of its edge. Might need fewer events." This led to a back and forth between Rovell and UFC President Dana White, which essentially accomplished very little as White provided numbers straight from a FOX TV press release while Rovell wanted hard numbers complete and net profits. White balked at releasing the information by stating the UFC is a private company and then moving on.

Rovell, while sometimes coming off like a pessimistic snob, was just trying to determine whether or not the UFC was in a better place now than say 2010, which is a fair question. The FOX deal hasn't lit the world on fire and with the organization running so many events, fighters have gotten lost in the shuffle and have failed to stand out.

The early PPV numbers have been average to strong, but one buyrate can be attributed to the novelty of women headlining a PPV and the other can be attributed to Georges St. Pierre being the biggest draw in the sport. And, for a fight of its magnitude, Jose Aldo vs. Frankie Edgar under-performed.

Perhaps the biggest concern is the latest FOX ratings, which were down from the Demetrious Johnson vs. John Dodson show despite having a significantly better card and some returning television fighters. On top of that, the FOX deal has yet to produce a PPV draw, which was one of the original goals when the ink was dry.

Things aren't doom and gloom by any means, but Rovell's original point, which was that the UFC might be losing some of their mainstream edge, isn't all that far fetched.

Samer Kadi: Certainly, compared to where it stood in 2010, the UFC has lost some ground. The past two years weren't the strongest on PPV, and their relative struggles were also reflected in unusually slow ticket sales for some of their bigger events. Their international expansion has come at the expense of the oversaturation of the product, but that was a risk the UFC deemed necessary.

The most recent episode of "Dana vs." on twitter was hardly surprising, as the UFC president is notoriously defensive when faced with any remotely negative report regarding his company. In fairness, Darren Rovell's tweet was too vague, and left too much room for interpretation. The main premise however, is one that very few would argue against: The UFC needs to put on fewer events. Whether that alone is enough to bring them back their "mainstream edge" is debatable, but as they learned in 2011, the novelty aspect of the UFC had worn off, and they have since had to work extra hard to secure strong buy-rates.

The past two years have shown that 300k buys is no longer the basement, and multiple cards fell short of that number. To their credit, the UFC have rebounded well this year, albeit not without some match-making controversy. Jon Jones vs. Chael Sonnen and Georges St-Pierre vs. Nick Diaz were widely criticized, and rightfully so, but it would be hard to deny that they served their financial purpose. 2013 may not exactly turn out to be "the year of the super-fight" as Dana White promised, but it is the year in which the UFC bids to make a strong return on PPV, and they have so far been successful.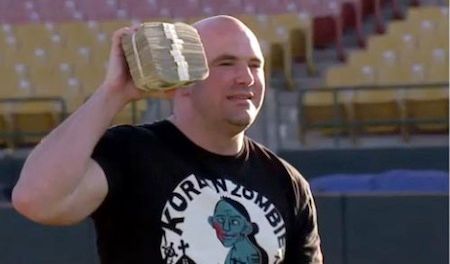 Jeremy Lambert: The financial success of the early UFC 2013 PPVs is undeniable, but let's not forget who was involved. Georges St. Pierre could draw 700,000 against any generic welterweight in the division, so when matched against an enigmatic figure like Diaz, it's no surprise that the buyrate came close to a million. The numbers on Jon Jones vs. Chael Sonnen aren't back yet, but it should do a minimum of 550,000 given the two competitors involved in the main event. And, depending on who you ask, Ronda Rousey's PPV debut, which drew 450,000 was either a major failure, a major success, or about what people expected.

To me, the concerning number is the 330,000 buys that Jose Aldo vs. Frankie Edgar pulled. In what was the only legitimate super-fight in "the year of the super-fight," the organization failed to properly promote the fight and the numbers reflect that.

While few will deny that the FOX deal wasn't a good thing for the UFC, thus far it has yet to pay PPV dividends. It's hard to argue that Junior dos Santos didn't become a bigger star following his victory over Cain Velasquez on the inaugural UFC on FOX event, and his PPV numbers have backed that up, but Ben Henderson and Demetrious Johnson have almost been regulated to television champions. The UFC is starting a scary trend with those two champions of putting them of TV for free and then expecting fans to pay $55 to see them headline events in the near future. This might work if Henderson and Johnson were producing spectacular fights, but thus far they've underwhelmed in their performances on FOX.

Event ratings, whether the show has been on FuelTV, FX, or FOX, have been relatively strong, but there hasn't been much growth and, again, none of these ratings have translated to more PPV buys.

Rovell's initial point, that the UFC is losing some of its mainstream edge by running too many shows, has merit. Unless it's a monumental event, like the first ever women's fight headlining a UFC PPV, the mainstream coverage has definitely dwindled over the years.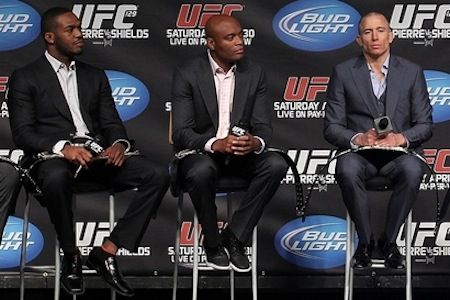 Samer Kadi: The string of injuries that hampered some of the UFC's bigger draws in the past couple of years certainly left a glaring scar, and significantly brought down the buy-rate average over the course of the last twenty-four months. Brock Lesnar's battle with illness and subsequent retirement handed a strong blow to the UFC's everlasting quest for mainstream acceptance, as the kind of attention the former heavyweight champion was able to amass remains unparalleled.

While the self-proclaimed "fastest growing sport in the world" has certainly slowed down in terms of its previously near exponential rise, this was to be expected. In many ways, the UFC has now hit a "maturity phase" where they are an established entity with a large fan base, but aren't quite reaching new target audiences stateside with the same rate. The FOX deal could yet change that, and it remains too soon to weigh in on its consequences, but any PPV effect FOX may have had has so far proven to be mild.

Nevertheless, with the return of St-Pierre, the continuous rise of Jon Jones, the potential appeal of Cain Velasquez, and the undeniable mainstream attention that Ronda Rousey triggered, things are looking up for the Zuffa brass. My partner raises a good point about the PPV numbers being a result of the names involved, but that's the way things have always worked in the PPV industry, and it is hard to hold the fact that St-Pierre can trigger such numbers against the UFC. However, their failure to properly promote Jose Aldo since his acquisition from WEC, especially in his bout against Edgar, is a valid criticism point, and highlights the shaky state of sub-170 pound divisions in the UFC.

As it stands, the UFC needs to fulfill one of its longtime goals to make a significant mainstream splash, be it a show in Madison Square Garden, the Cowboys Stadium, or simply the often discussed and nearly beaten to death superfights of Anderson Silva against either Jon Jones or Georges St-Pierre.

Jeremy Lambert: Beyond PPV numbers, it's slightly worrisome that the UFC has failed to secure a major sponsorship. Bud Light was supposed to be a major coup for the company, but that failed to produce anything significant and now Miller Lite has swooped in and produced a strong commercial featuring Chuck Liddell, leaving the UFC out in the cold. Otherwise the organization has partnered up with failing energy drinks and mobile companies, neither of which has helped their mainstream appeal.

A rumored deal with Reebok would be a major boost for the organization, although problems could then arise between them and certain Nike sponsored fighters. Plus it remains to be seen whether or not this Reebok deal comes to fruition as Dana White is always "working on big things" that rarely seem to pan out.

Of course, none of us will ever know just how well the UFC is doing. Rovell put it best when he said, "because you are a private company and always profess everything is great, it's hard to take things at face value anymore."

Or maybe Dana White put it best by saying, "U shouldn't tweet shit that is FAR from the truth when I don't have facts."

For more from the Occupy The Throne duo you can follow Samer Kadi and Jeremy Lambert on twitter. You can also check out ManCaveThoughts.com for more writings and podcasts.
comments powered by