SPOTLIGHTS
The Juggernaut MMA News Report 06.13.13: Dan Henderson Guns for Rashad Evans
Posted by Jonathan Solomon on 06.13.2013

Rashad Evans and Dan Henderson will face off at UFC 161, but which former champion has the edge? 411's Jonathan Solomon checks in with his preview of the main event! Plus a look at tomorrow's WSOF 3 event, news on Bellator's new night and more!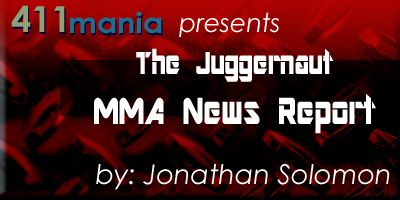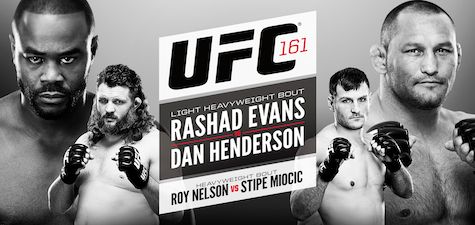 UFC 161: Evans vs. Henderson Preview



The UFC makes their debut in Winnipeg, Manitoba on Saturday and while injuries have plagued several fights on the card, a main event pitting perennial contenders Dan Henderson and Rashad Evans against one another is profusely intriguing.

Both men are former champions, Evans a UFC titleholder as recent as 2009 and Henderson a Strikeforce champ (2011) and multiple time Pride champion (2005-08). However, presently, each have been forced to deal with sour defeats in February. Henderson was unable to deal with Lyoto Machida's unique style and lost a split decision. Rashad put forth the worst performance of his career in a unanimous decision loss to Antonio Rogerio Nogueira, his second consecutive loss following his title fight with Jon Jones.

Now, a lot of all that bad will can be flipped on its head for the victor Saturday.

Hendo will turn 43-years-old in August, but he remains one of the more dangerous light heavyweights on the roster. Thanks to his patented overhand right, he has sent many opponents into la la land and perhaps to his disadvantage, is definitely guilty of head hunting more often than not. Still, thanks to his outstanding wrestling, he is able to keep the fight standing when he wishes. This strategy didn't do him much good against Machida because the Brazilian was able to frustrate him with distance and movement while landing enough strikes to woo the judges.





Rashad Evans, while he does not boast the international success as an amateur wrestler, was an accomplished collegian at Michigan State. Since then, he has developed a submission game and perhaps most famous, a potentially-dangerous boxing skill set. I say potentially, because when things get tricky for him, he almost always relies on his base, his wrestling. You saw it in his 2010 fights with Thiago Silva and Quinton Jackson. Tito Ortiz and Phil Davis were simply overmatched and were never a threat when they fought the former light heavyweight champion.

This fight will see Henderson look to unload that right hand and knock Evans out, while Rashad will undoubtedly look to keep the pace of the fight more active. His footwork, his agility, movement, all will be key to avoiding Dan's most prolific offense. As far as the wrestling is concerned, I'm tossing my hands in the air because it's impossible to say with certainty how that will play out. If Evans was able to successful shoot and score takedowns, perhaps Hendo will tire out by the middle rounds and become a more simpler opponent to attack.

Should that fail, it's a battle between Evans' speed and combinations against Henderson's overhand power.

Who do you want to bet on?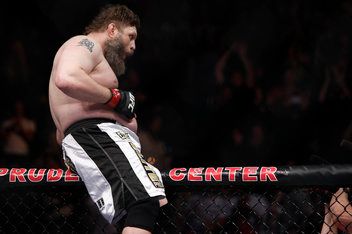 In the co-main event, "Big Country" Roy Nelson is back in action about six weeks after we last saw him knock out Cheick Kongo in New Jersey at UFC 159. The fight this weekend between the big-bellied heavyweight and Stipe Miocic is noteworthy because it's the final bout on Nelson's contract that kicked in following his stint on The Ultimate Fighter.

Heading into Saturday, no agreement has been reached to extend a deal regardless of the outcome of the bout and Roy's representatives will seemingly get down to brass tacks with UFC officials next week. Risky? Sure, but it's Roy Nelson and how can you dislike the man?

Based on wins, Roy is in the middle of the best run of his UFC career thanks to three consecutive knockout wins against Dave Herman, Matt Mitrione and Kongo. He has not had a similar streak since 2008 when he was the IFL champion.

Miocic has lost a lot of steam since being an undefeated 30-year-old prospect last fall. He was finished by Stefan Struve and has not seen action since September. While the Ohio firefighter is best known for being a former Golden Gloves champion in addition to his time as a Division I wrestler, it's fair to say he has never fought against someone in MMA with quite the power that Nelson possesses.

Stipe will have the height and reach advantage, but that does not automatically mean Nelson will struggle to close the distance and find his chin. It only means that the Ohio native has the tools to make Roy's work all the more difficult. Still, if the Struve fight taught us anything, it's that his chin can be touched and he can be knocked loopy. That spells trouble when the man is stepping inside the octagon to fight Big Country.

Roy has a way of being able to throw combinations and hurt opponents no matter how much they prepare to avoid his power. Historically, he has made a career in the UFC out of violently finishing mid-level heavyweights (Brendan Schaub, Struve, old Mirko Cro Cop, Herman, Mitrione, Kongo) while hitting a wall against established top level opponents (Junior dos Santos, Frank Mir and Fabricio Werdum - though it should be noted he was ill in the fight with Mir).

Is Miocic in the first class or the latter? It's not difficult to see why he's an underdog heading into Saturday night.




MISCELLANEOUS UFC 161 NOTES



- (17-2) Ryan Jimmo returns to his home country, where he has lost only once. He suffered a decision loss to James Te-Huna in February in London, bringing an end to his 17-fight winning streak. His opponent is Croatian Igor Pokrajac who is likely fighting for his job as he has not won in over a year. We last saw him lose a decision to Joey Beltran in December, although it was overturned to a no contest due to Beltran's failed drug exam.

- In women's bantamweight action, Ontario-native Alexis Davis will look to build on her Invicta success after winning two fights since last summer by submission. Her only recent loss was a split decision against Sarah Kaufman in 2012 which could have gone either way. Out of France, Rosi Sexton is 13-2 overall and has only lost by knockout to Gina Carano and Zoila Gurgel.

- Do you know the last time that Pat Berry won consecutive fights? Not since 2008 when he was 4-0. Seriously, he's 4-5 since then, but still perhaps the most likable character in the sport. On the bright side for his sake, he was victorious in December when he knocked out Shane Del Rosario. He's up against a Greg Jackson student in Shawn Jordan, a member of the 2007 LSU Tigers national champion football team. In January, he finished Mike Russow with strikes to earn his second UFC win (now 2-1) and will look to exploit Barry's weakness with defending takedowns.

- Headlining the FX portion of the action is a welterweight bout between Jake Shields and Tyron Woodley. Grappling master Shields has had a rough stretch over the past couple of years. His father passed away in 2011 and professionally, he was knocked out by Jake Ellenberger and most recently failed a drug test and is just now back from suspension. It's been a long time since Jake was considered one of the best fighters in the weight class. On the opposite end of the spectrum is Woodley who had a magnificent UFC debut in February when he knocked out Jay Hieron in just 36-seconds. When the Missouri fighter is not knocking guys out quickly, he tends to rely on takedowns and top control to take him to victory. Saturday, that may not be the smartest game plan against Shields and his fierce submission game.

- Sam Stout is preparing for his 13th consecutive fight inside the octagon (7-5) following his February decision win against Caros Fodor. He's fighting UFC newcomer James Krause (19-4 overall) who has an active seven fight winning streak including a win over Toby Imada earlier this year (avenging a loss suffered in Bellator in 2010). Prepare your ears for some talk of OCTAGON JITTERS on FX.

- Roland Delorme may be the only Winnipeg-native on the entire card and he looks to extend his record in the UFC to 3-0 (there's a no contest in there thanks to Francisco Rivera failing a drug test). In his first two bouts, he finished Josh Ferguson and Nick Denis with rear naked chokes and has never been finished in his career. Texan Edwin Figueroa lost by TKO to Rivera in February (and he did not fail any drug tests then), so he'll look to get back above .500 (2-2) in the octagon.


---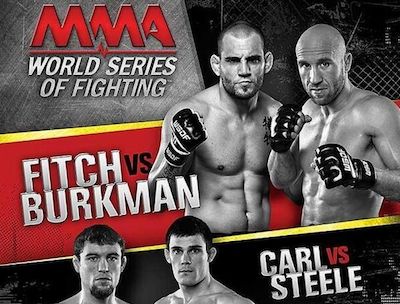 World Series of Fighting 3 Preview



The WSOF returns with their third show tomorrow night on NBC Sports Network live from Las Vegas. While it's disappointing light heavyweight stud Tyrone Spong chose to work the Glory Kickboxing show next week in New York instead of this event, there's still some interesting match-ups to see.

The main event is a welterweight scrap between Jon Fitch and Josh Burkman, in a rematch of their 2006 UFC fight which saw the former win by rear naked choke. Now, Fitch is no longer with the UFC and this will be his first fight outside the octagon since 2005 when he was taking bouts outside of the country.

He was released because he made more money than the company wanted to pay him and he lost to Demian Maia by decision in February. Regardless of that, he's still a bulldog of a wrestler and if he is able to get his way, Burkman will be helpless on his back for most of their fight.

Josh is 7-1 since 2009 and on a four fight winning streak. He thought he would be fighting for a new WSOF championship after he knocked out Aaron Simpson in March, but those won't come into play until later this year.

This is not to say Burkman is a bad fighter, he is not. However, to say he will be able to keep Fitch standing is going out on a limb. He will have to keep the American Kickboxing Academy fighter at a distance for the entire fight or else he'll risk being taken down. Standing, while the former top UFC contender is not a knockout artist, he finds a way to use his boxing to set up his wrestling. Out of Team Quest, Burkman will likely find himself in a situation where he has to swing for the fences late and although he has just two knockouts over the past seven years, if he's backed into a corner, the MMA-version of the hail mary pass may indeed be his only significant hope.





In other welterweight action (perhaps the winners of these two fights may meet in the fall), Steve Carl and Tyson Steele will each look for their second win in WSOF. Out of Iowa, Carl is a name you may recognize from his Bellator stint a few years ago in which he fell short in two tournaments (he went 2-2 in the promotion). Since then, he is undefeated in five fights, winning each by first round submission.

Saskatchewan's Steele does not have any major experience fighting in front of an American television audience (his one loss to Curtis Demarce in MFC did air on the former HDNet, now AXS TV, in 2010), and he's coming off of an impressive win in November. On the first WSOF preliminary card, he survived the ground game of Gregor Gracie and knocked him out inside the first round.

Both men are well rounded fighters, able to transition with explosive movements from striking to the ground game. They are similar in that they are more than capable in the submission aspect and each man is prone to finish the opposition (of their combined 33 pro fights, 25 have been wins by knockout or submission).

Assuming that since Gregor Gracie had trouble finishing Steele, Steve Carl may be in the same boat, we know the kind of power Tyson can deliver with his ground and pound. Will it be the difference? If it is, Carl may be in for a longer night than he is used to.


The next two fights are lightweight bouts with intriguing match-ups. First, undefeated prospect Justin Gaethje looks to topple another veteran as he fights Brian Cobb.

Working out of the Grudge Training Center in Colorado, just 24-years-old, Gaethje emerged quickly in March when he was ruled the winner after opening up a nasty cut on the head of Gesias "JZ" Cavalcante. Now, 8-0 as a professional, he looks to continue his ascent up the lightweight rankings. The undefeated fighter and former All-American wrestler displayed powerful strikes to go along with his firm base in the JZ fight.

Cobb is 32-year-old veteran of the sport with a 20-7 record and over the years, he has fought on shows from a litany of MMA organizations. In his one UFC fight, in 2009, he was finished by strikes in a bout with Terry Etim, the only time he has suffered a TKO/KO defeat. The majority of his victories come by submission, but it's difficult to see him implement that game unless Gaethje makes a mistake on the ground. Although, on paper, they're about the same size (5'11), based on his performance from March, you have to assume Gaethje is working with more power in his strikes.

If that is indeed the case, then Cobb may want to get to the ground, but can he take down the gifted wrestler?

Lastly, there are two lightweights best known for stints in the UFC and Strikeforce, respectively, in this next television bout as Jacob Volkmann (15-4) will fight Lyle "Fancy Pants" Beerbohm (21-2).

Volkmann, a welterweight at one point, is 6-2 at lightweight but was cut following his submission loss to Bobby Green at UFC 156 in February (his second loss in his last three fights). The former Division-I wrestler and All American has never been knocked out, but three of his four losses have come by submission.

Fancy Pants, an export out of Spokane, Washington, is a Brazilian Jiu-Jitsu black belt and has won 50% of his wins by submission. His two defeats came in 2011 in Strikeforce as he lost a decision to Pat Healy (their fight was spectacular, by the way) before being submitted by neck crank against Shinya Aoki. Since then, he has reeled off six consecutive wins around the United States on smaller shows.

We have not seen Beerbohm against anyone considered a top lightweight since 2011 (while he beat Marcus Aurelio in 2012, the Brazilian's days as a big contender are long gone) and Volkmann has proven to be an extremely durable fighter. But, if Beerbohm can maintain his energy for 15-minutes, he may be able to prevent Jacob from picking him apart late.



---



- UFC president Dana White says the long awaited welterweight title scrap between Georges St. Pierre and Johny Hendricks should happen in October.

- Bellator on Spike TV had a pleasant premiere season in the first half of 2013, but for their return in the fall, it will be more difficult to build on that success. After the summer series, with Wednesday airings beginning June 19, concludes in August, the promotion will move to Friday evenings. Sports Illustrated's Loretta Hunt reports their ninth overall season will kick off on Saturday, September 7 (it will also mark the finale of their reality series, Fight Master). Following that, the season will shift to Fridays beginning September 13 from 9-11 p.m. eastern.

As you should be well aware if you've read this column when the UFC was forced to have The Ultimate Fighter on FX's Friday night line-up, it's a terrible night for live mixed martial arts. Hunt cited Spike's desire to avoid scheduling conflicts opposite NFL regular season games on Thursdays. Saturday is way too busy a night for sports in the fall (with college football, there's also MLB playoffs starting in October), while Wednesdays are being turned into a UFC night thanks to the Fox Sports 1 network beginning this summer. By process of elimination (and not wanting to go earlier than Wednesdays), it was Friday or Saturday nights and to be frank, they went with bad option 1 instead of bad option 2.

- Unfortunately for Mark Hunt, the loss to Junior dos Santos two weeks ago was not the worst thing to happen to him recently. The UFC heavyweight not only broke his toe in the fight but has since been dealing with a serious case of staph infection in his left leg. He has already undergone one surgery to fix the infection and will apparently need at least two additional surgeries. He's staying as positive as can be, check him out on Twitter (@MarkHunt1974) to stay up to date on his condition.

- In the most bizarre story in recent memory, Antonio "Bigfoot" Silva says he will pursue a way to make 205-pounds so he can fight Thiago Silva (the cause of his anger at Silva is not public knowledge at this time). That's right, the giant who walks around at about 280 pounds and has to cut to make heavyweight, says he will speak to physicians about whether it's a viable idea. You don't need a medical license to know the answer to that one.

- Welterweight slugger Paul Daley has booked his next fight and it still will not be with Bellator. Instead, he's competing against Lukasz Chlewicki at Cage Warriors 57 in England on July 20. Forced to remain in his home country due to visa problems, he has been vocal in his displeasure with Bellator for preventing him from taking certain fights. However, apparently the Cage Warriors promoters have doled over money to Viacom (Bellator's parent company) in terms of a booking fee to be able to feature Daley.

- Two fights added to the UFC on Fox Sports 1 #2 show on August 28 feature Takeya Mizugaki vs. Erik Perez and Hatsu Hioki vs. Darren Elkins in bantamweight and featherweight action, respectively.

- On Twitter, Jon Jones teased an announcement will be coming soon regarding his next fight. It's believed to be against Alexander Gustafsson around October. The question then becomes whether the UFC will want to stack a card with two title fights (say Jones' contest and a GSP title defense, for example) to celebrate their 20-year anniversary in November. Odds are they won't do something akin to that because they have plenty of shows and the need for legit main events is too great to horde a pair of main events for one card.

- In potentially big news out of California, according to Zach Arnold, the state will no longer allow new fighters to use testosterone replacement therapy. Such a policy will continue until the state develops a law which details specifically what must be done to implement testosterone replacement therapy.

- As of late Wednesday, Democrats in the New York State Assembly did not meet to discuss the bill to legalize MMA in the state. If they do not do so later today, it would have to happen sometime between next Monday and Thursday (their calendar ends then). Speaker Silver (the most powerful Democrat in the legislature) will call for a vote or not based on how much support there is amongst his peers. Only 76 (of 150 total Assembly members) votes are needed to pass and there are 64 sponsors (between both political parties), but Silver is likely to only call for a vote if his party alone can pass it. You have love politics.





TWITTER

http://www.twitter.com/411mania
http://www.twitter.com/411wrestling
http://www.twitter.com/411moviestv
http://www.twitter.com/411music
http://www.twitter.com/411games
http://www.twitter.com/411mma




comments powered by