SPOTLIGHTS
All The King's Men 6.21.13: Week 67 – Should Velasquez Face Dos Santos or Werdum?
Posted by Larry Csonka on 06.21.2013

While Fabricio Werdum is coming off of an impressive victory, Junior Dos Santos will be the next opponent for Cain Velasquez, giving them their big rubber match. But would we rather see Velasquez vs. Werdum first? The 411 staff takes a look!

ALL THE KING's MEN!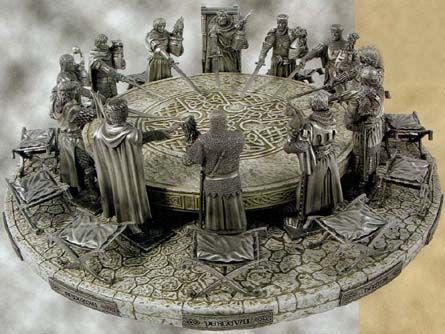 The Concept
The concept of the column is simple. As the "King" of the 411 Roundtable, I will pick a topic for discussion. The staff, or "Knights" of the old roundtable will then have the opportunity to state of they are FOR or AGAINST the week's topic, and then will have the chance to defend their position. Lets get to it…



Who SHOULD Be Next For Velasquez – Junior Dos Santos or Fabricio Werdum?
While Fabricio Werdum is coming off of an impressive victory, JDS got the nod and will face Cain Velasquez in their big rubber match. You would rather see Cain Velasquez vs. Fabricio Werdum before Cain Velasquez vs. Junior Dos Santos III.

Jonathan Solomon - AGREE: I am at a point where I rather not see rematches so often. There are only a few exceptions when one is warranted to begin with and while I understand the UFC's thought process here, Fabricio Werdum has done more than enough to warrant a title fight. Clearly, a third fight between Cain Velasquez and Junior dos Santos is better for business, and that's the only reason we will be seeing that bout in the fall. Of course, I have no direct economic stake in such a philosophy, so it's easy for me to say they shouldn't book it. Purely as a fight fan, I like fresh match-ups and while I doubt either challenger will be able to unseat Velasquez, it's a new style to see the champion face.

Junior received such a beating in the rematch in December and that's also a significant reason why my interest in a trilogy is pretty low right now. Some may feel differently, under the guise that JDS clearly won the first match-up and it's a logical thought process, too. Plus, perhaps it's just the bad taste left after Antonio "Bigfoot" Silva got his rematch with Cain. On the bright side, assuming Werdum is not put in a position where he has to earn a fourth consecutive UFC win to get the next title fight, whether it's Cain or JDS who is champ, Fabricio offers interesting match-ups with either man.

Of course if Junior were to win the third meeting, it offers a different question. What's stopping Dana White and Joe Silva from booking the next fourth-meeting between fighters since the unfortunate Andrei Arlovski/Tim Sylvia fight in the Philippines last summer? Please, no.



Robert Winfree - AGREE: You know, for as much as we've all said about the UFC that they should make the matches when they can, another meeting between UFC heavyweight champion Cain Velasquez and former champion Junior dos Santos is inevitable. Cain is the only man to beat Junior in the UFC and Junior is the only man to beat Cain period. No one else in the division comes close to the skill level those two men have. These two are likely to meet a lot, in the neighborhood of five times or so, over the course of their UFC careers so why are we rushing into this next fight?

When Cain Velasquez earned his title rematch he decimated Antonio "Bigfoot" Silva in the first round in an absolute blood bath. Not only that, there wasn't another top contender available at the time. Alistair Overeem was serving a suspension, Brock Lesnar was retired, JDS had just defeated Frank Mir, and after the way Cain ran over Bigfoot people were interested in a rematch. Cain went on to thrash Junior dos Santos over the course of five rounds to regain his title. Cain then obliterated Bigfoot Silva again in the first round while JDS finished Mark Hunt in the third round of their fight. The fight itself was fun enough to watch, and the spinning heel kick finish was pretty awesome, but the reality is that Junior dos Santos shouldn't have looked like he did against Mark Hunt. Junior dos Santos should have been much more dominant, shouldn't have been hit nearly as much as he was, and should have got people talking about him fighting for the title. Had the fight with Hunt gone differently I might have a different opinion on this, but with what I saw from dos Santos in that fight I don't really think a third fight with Cain would go any differently than their second fight.

The other factor here is Fabricio Werdum. When Cain got another shot after just one win there wasn't another clear contender in the discussion at that point, in this case Fabricio Werdum has earned a title shot. He's won his last three fights, and just submitted Minotauro Nogueira. Junior dos Santos taking another fight before a title shot wont do anything to hurt his drawing power, he's incredibly unlikely to lose to anyone not named Cain Velasquez, and Cain would get another successful title defense. Yes Werdum has earned a shot but I don't think he's got much of a chance against Cain. The fans aren't clamoring for JDS and Velasquez for a third time, so give each guy another fight and let the fans build that desire because right now we're on the verge of taking these two incredible heavyweights for granted.



Jon Butterfield - DISAGREE: Never before has there been such a clear 'top two' in the MMA heavyweight division. Even when Fedor Emelianenko and Minotauro Nogueira ruled the roost, there was always Mirko CroCop waiting in the wings to try and take their heads off - but now, it's Cain Velasquez vs. Junior dos Santos, with Fabricio Werdum a distant third. Of course, that could have all been very different had Daniel Cormier committed to the division and opted to fight long-time friend and training partner Cain Velasquez - but we can't have everything, can we?

So now, the crux of the issue... I believe Joe Rogan really nailed it when he said these two were "destined to meet each other five or six times" during their careers - and I believe the sooner we accept that, the better. This isn't a case of simply rematching two fighters because they had a relatively close bout, this is the rematching of two fighters who are isolated a long, long way ahead of the rest of the pack. I know we're all bored of seeing Frankie Edgar rematching guys simply because neither could either finish or comprehensively outwork the other, and the same can be said for Benson Henderson. On a different note, most of us were mortified that Bigfoot Silva was getting fed to Cain Velasquez a second time after barely putting up a fight in the first bout, and surprise, surprise, the rematch was more of the same.

And that's been the thing that's given rematches a bad name lately - so many of them have been more of the same.

But was Cain Velasquez-Junior dos Santos I the same as Cain Velasquez-Junior dos Santos II? Was it even SIMILAR? No. And will number III be different once again? I don't honestly know, but I'm excited to find out. No disrespect to Fabricio Werdum and his 'fresh match', but let's get chapter three done so one of these phenoms can go away knowing EXACTLY what they've got to improve in the next year or two, before they inevitably lock horns again. This is one series I'm buying, and I'm buying it because it's the ultimate heavyweight match up at present.


Jeffrey Harris - AGREE: In terms of fresh match-ups, I'd rather see a new match-up put together in Werdum against Velasquez. Werdum has gotten a lot better proven himself since the knockout loss to Junior dos Santos. That being said, I don't really have a problem with Velasquez/JDS since they are the two top heavyweights in the world and have beaten the better list of opponents. JDS is the one that knocked out Werdum already in 90 seconds. So while I rather would see a new match-up in Velasquez/Werdum now, I'm also OK with getting the trilogy with JDS/Velasquez out of the way first. Werdum, while though I don't think would beat Velasquez, has a great grappling skill set that definitely makes it an interesting match-up. Werdum's striking and stand-up game has improved a great deal since the JDS knockout. His problem though is he tends to look out of shape after long layoffs and gasses quickly.


Evan Zivin - AGREE: I think Fabricio is more deserving of a title shot at the moment than Junior is. Since returning to the UFC, Fabricio has racked up a three fight win streak. All the wins have come against top 15 ranked heavyweights and two of them were top 10. All three fights have been dominant wins for Fabricio, which included his Muay Thai clinic against Roy Nelson at UFC 143 and his grappling clinic against Minotauro Nogueira, one of the greatest ground fighters in MMA history (and Junior dos Santos's jiu-jitsu teacher), at UFC on FUEL 10. Junior has a one fight win streak. It was a win against Mark Hunt, which was a good rebound win for Junior with an incredible finish but it wasn't the most amazing win Junior has had and it seemed like he could have done a lot more to stop that fight sooner than he did. It wasn't the most impressive statement Junior could have made, especially if he wants another shot at the man who brutalized him for 25 minutes back in December. Seriously, I have a lot of respect for Junior and I think he's one of the best fighters on the planet but he took a massive beating at UFC 155 and he shouldn't be afforded the luxury of getting another shot at the title so soon because of it. He needs at least another win or two before making a challenge for the title and then I'd still be apprehensive because I like Junior and don't want to see him look like a bloated troll doll again. Junior is probably going to get the third fight with Cain eventually anyway so why not have Junior take another fight to really cement his case for the title rematch while Fabricio, with his more impressive wins and win streak, gets a shot at the title he was probably going to challenge for years ago before some punk kid named Junior dos Santos went ahead and messed that all up? Also, once we get Cain-JDS III, we probably aren't going to get a Cain-JDS IV and one of these guys is going to be stuck in Jon Fitch Purgatory for as long as the other is champion. C'mon, it's the last fight these two top heavyweights are going to have against each other. It could be one of the biggest heavyweight fights in MMA history and could do huge numbers on PPV if the UFC take the time to really market and promote it. I want to be able to appreciate this moment in MMA history and I want to see it be recognized for how special it will truly be when it takes place, so let's not rush into it so fast, okay? All right, see you for Cain-JDS III in October. Jerks.


Alex Rella - AGREE: Finishing the trilogy before one of them loses does make sense. They're the two best heavyweights in the world and finishing the trilogy should do solid numbers at the worst. Nobody should really be upset or outraged if it happens, but it's not the best possible title fight right now. Fabricio Werdum has just as much of a claim for a title shot as JDS. Yes JDS knocked out Mark Hunt, but he didn't look very good and I don't see how it won Fight of the Night. JDS beat an older, slower, and tired looking Mark Hunt who is nowhere near Cain's level. Their second fight did good numbers, but they weren't so good that they can't take the risk with Werdum. The only downside to picking Werdum over JDS is the lack of other fights for JDS then. He's already defeated or is currently training with every other top heavyweight. The only guy left is Miocic and after he wrecked Roy Nelson, that could be a good fight. And they wont give him Cormier cause it's not worth risking him against somebody who doesn't want a title shot. A show with Velasquez vs. Werdum and JDS vs. Miocic will do just as good numbers as a show main evented with the trilogy. Yea you might lose the potential third fight for the immediate future, but worst case you give JDS one more fight to improve or Miocic as a new number one contender. They'll probably finish the trilogy and it's not a bad move, but it's not the only one out there.



Wyatt Beougher -AGREE: Look, I'm one of those people who actually wants to see Cain/JDS III, but it's just too soon. I still think they did the first rematch too soon as well, but that's a matter for another discussion and another time. The UFC, in my opinion, tries to rush trilogies like this in hopes of recapturing the Chuck/Randy magic. And there are times when certain circumstances, be it injuries or drug suspensions or simply a paucity of championship-worthy talent in a division, can make a rematch or rubber match make sense; however, as it currently stands, none of those situations currently apply in the UFC's heavyweight division.

Sure, it isn't the deepest division in the UFC, but right now, the UFC has a clear-cut challenger for the title who is not only a fresh match-up for the champion, but has also never challenged for the UFC heavyweight title before. That was enough to get Gustafsson the nod against Jones over Machida, so why not Werdum? Add in the fact that it would give JDS a chance to add another win to his resume against the likes of Josh Barnett or even Dan Cormier (who hasn't officially decided to drop to light heavyweight because he doesn't really want to), and then you've either got a new match-up for the title or at least a rematch with some build behind it. There's honestly no good reason JDS is getting this shot over Werdum, so I agree with this statement completely




WHAT DO YOU THINK?




Have you checked out the Csonka Podcasting Network? If you haven't, you should We run anywhere from 15-20 shows a month, discussing pro wrestling, the world of MMA, the NBA, general sports, popular TV series of the past, bad movies, battle rap, interviews, MMA & Wrestling conference calls and more! Around 10 different personalities take part in the various shows, which all have a different feel; so you'll likely find something you like. All of the broadcasts are free, so go ahead and give a show a try and share the link with your friends on the Twitter Machine and other social media outlets! Running since May of 2011, there are currently over 330 shows in the archive for you to listen to.



Your heart is free. Have the courage to follow it…TO CSONKA'S TWITTER!

http://www.twitter.com/411wrestling
http://www.twitter.com/411moviestv
http://www.twitter.com/411music
http://www.twitter.com/411games
http://www.twitter.com/411mma



comments powered by