SPOTLIGHTS
411 Fighter Profile 07.22.13: Anderson Silva (Part One)
Posted by Jon Butterfield on 07.22.2013

From the early days of his career in Brazil through his move to Japan, his beginning in Pride and more, 411's Jon Butterfield begins a multi-part look at the career of the one and only Anderson Silva!



Anderson Silva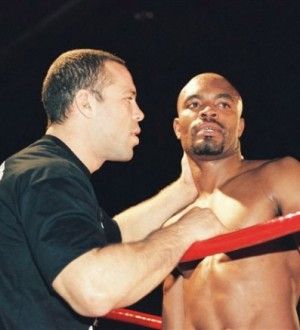 Anderson Silva with Wanderlei Silva at Chute Boxe



Nickname: The Spider
Record: 33-5
Weight: 185 lbs
Height: 6'2
Home Town: Sao Paulo, Brazil
Ranking: 2nd in the Middleweight Rankings
Association: Black House
Organization: UFC



Humble Beginnings



Anderson Silva, like many Brazilian MMA fighters, did not come from a wealthy background. The future number one pound-for-pound fighter of all time could not afford proper lessons with a qualified instructor in his home town of Curitiba until the age of twelve – but that didn't stop Anderson learning the ins and outs of Brazilian Jiu Jitsu from other, more fortunate children long before that age. Then, when Anderson's family was finally able to afford tutelage, he took up Tae Kwon Do, then Capoeira, and, finally, Muay Thai at the age of 16.

Six years on, the 22-year old 'Spider' got his first opportunity to showcase his skills in the relatively unknown and unglamorous world of Mixed Martial Arts. Brazilian Freestyle Circuit 1 was a show starting out that offered fighters from a variety of backgrounds the opportunity to compete against one another much in a similar vein as the Ultimate Fighting Championship in the United States – and to put things in the context of a timeline, BFC 1 took place on June 25, 1997, sandwiched in between UFC 12: Judgement Day (Dan Severn vs Mark Coleman) and UFC 13: Ultimate Force (Vitor Belfort vs Tank Abbott). Anderson would start out competing at welterweight, entering a four-man, single-elimination tournament. His first ever opponent? Raimundo Pinheiro (1-1).




The debut of Anderson 'The Spider' Silva – Highlights



With a slight build and rangy frame, the young, slender Anderson Silva may appear distinctly recognizable to our eyes even 16 years on – but as the highlights of his debut show, his fighting style was very much a work-in-progress. There would be no front kick KO's, no backwards-stepping jaw-breaking jabs, and no weaving, head-bobbing movements to baffle his opponents. Anderson, at this point, was still very much a BJJ player only too happy to grapple and throw submissions. Even with six years of Muay Thai training under his belt, his game was essentially quite evenly balanced.

And so, though Pinheiro initiated the first takedown, easily unbalancing Anderson, it was 'The Spider' who looked to unleash an arsenal of submission attempts. An early triangle attempt was surrendered for a toe hold opportunity, and when Pinheiro neutralized that by fishing for a kneebar, Anderson began to move to top control, throwing a couple of punches for good measure. Transitioning to mount, before taking Pinheiro's back, it was clear Anderson's rudimentary ground and pound was little threat in itself – it was more the kind of ground and pound you'd find from a Demian Maia or a Roger Gracie – little more than a transitional aspect of the fight intended to disorient his opponent and force him into a mistake. It worked perfectly. Anderson Silva sunk in a rear naked choke and claimed his first scalp.

On the other side of the bracket, fellow future-UFC standout Fabricio Camoes advanced with a first round TKO of fellow debutant Eliezer Silvestre, progressing to meet Anderson in the finals, with both fighters relatively unscathed. Though Camoes would later drop to 155 lbs and Anderson would move up to 185 lbs, the two finalists were a good physical match for each other at the time, and put on a fast-and-furious display.




Anderson Silva defeats Fabricio Camoes



Though Camoes was evidently more willing to stand with Anderson than Pinheiro had been, it didn't serve him well. An early knee to the head knocked Camoes down, though Fabricio recovered soundly. The two would then jockey for position by the ropes, before Anderson performed an unusual Tajiri-esque, Tarantula-style move that saw both men sail over the top and out of the ring. Not to worry – they'd soon re-engage in the ring, fighting back and forth for over 20 minutes. Anderson would eventually stuff a takedown attempt easily, before taking Camoes down himself, seeking out a heel hook whilst simultaneously punishing him with hard heel shots to induce a retirement at 25:14 when Camoes appeared too exhausted to get up and continue. 'The Spider' had successfully advanced to 2-0, claiming the victory in the single-night BCF tournament.

But it would be three years before he would re-emerge as an MMA fighter...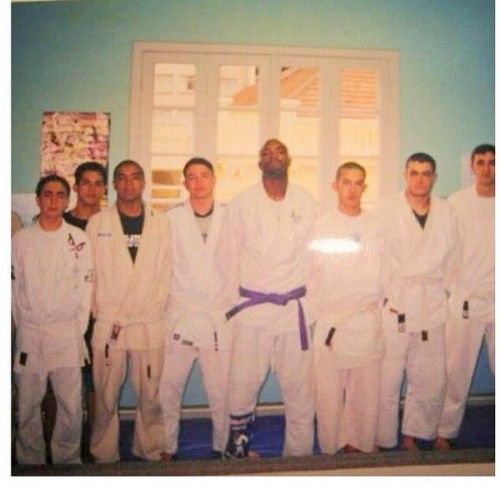 Anderson Silva circa 1997 – a purple belt Jiu Jitsu Practitioner





Anderson Meets the Judges



When Anderson returned to the ring, he appeared as a mid-card attraction for the debuting Meca World Vale Tudo promotion. Meca 1 on May 27, 2000 was to be a fateful day in the career of 'The Spider', his bout with future PRIDE standout Luiz Azeredo (2-1) marking two distinct firsts for the future great: he would not only find himself at the mercy of the judges for the first time, but would also find a 'loss' on his résumé at the conclusion of the bout...




Anderson Silva vs Luiz Azeredo



In a bizarre foreshadowing of his most recent staredown with Chris Weidman, Anderson kissed Azeredo on the lips prior to the start of the bout, before refusing to touch gloves. He then came out very aggressive – unlike the Weidman bout! Confident in his ever-improving skills on the feet, Anderson easily avoided a leg kick, before swarming forward with a flurry of punches that had Azeredo on the run – Azeredo, who looked very small compared to his foe (and he would, like Camoes, eventually drop to lightweight), initiated a clinch, and despite being seemingly overpowered, wound up on top after a sweeping trip. Anderson would now endure a full two minutes on his back, as Azeredo proved a highly competent grappler, too solid for Anderson to take apart. When Anderson did get back to his feet, he began to showboat for the very first time in his MMA career (around 3:30 of the video). Having tagged Azeredo with a sweet jab on the break, Anderson put his hands on his hips, taunting his opponent with a cocky swagger. Anderson then went on the hunt. When Azeredo tried to strike, Anderson would counter efficiently; when Azeredo was backed into the corner, Anderson would get aggressive – though a slip off an attempted head kick gave Azeredo a golden opportunity against his increasingly confident foe. This time, Anderson would not get back to his feet, Azeredo effectively smothering him for a good five minutes. Only the bell saved Anderson's blushes.

Despite having effectively been schooled for the majority of the first round, Anderson came out even cockier in round two. Standing perfectly still and crouched, Anderson dropped his hands, stooping so low as to touch the canvas. It may have been to defend any potential takedown attempts, but there can be no doubt it was a mocking of Azeredo's striking skills – and with Azeredo refusing to get drawn in by such antics, the chimp-impersonation continued. And yet, when Anderson threw, he failed to land. Azeredo did his part, moving around the ring just out of range, coming forward every now and then for a jab or a leg kick, but it was Anderson who eventually who finally got aggressive, landing several head leg and body kicks amidst a flurry of rights and lefts. Azeredo was on the back foot, but not for long. Getting peppered in one corner, Azeredo stooped low to complete a single leg that effectively earned him the win. A long period of top control was enough for the judges to declare him the winner in a fight where, for the first time in his career, Anderson was overmatched on the ground, and far ahead on the feet – a distinct contrast to his debut fights three years previous. Outwrestled and out-grappled, Anderson, showboating antics and all, had been defeated. He was now 2-1.

But Meca would soon become a successful hunting ground for 'The Spider'. Hapless debutant Jose Barreto (0-0) would find himself annihilated by Silva in just 66 seconds – a TKO by head kick and punches underscoring the defeat in his only MMA appearance. Claudinonor da Silva Fontinelle (5-4-1) would last a little longer, with Anderson putting him away with punches and knees at 4:35 of the first round, but it was clear he was also overmatched. Within four months, the loss to Azeredo was well behind him, and Anderson was attracting foreign interest with his newly-improved record of 4-1.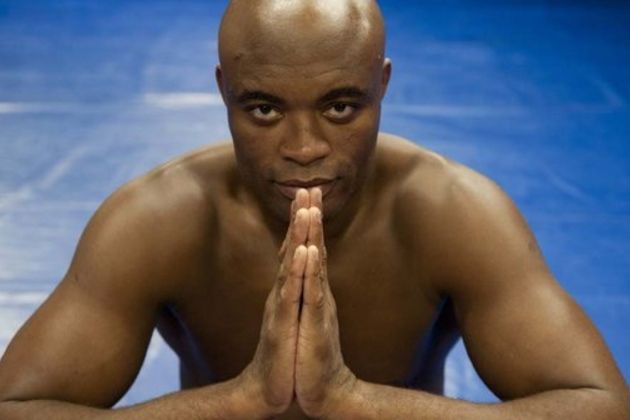 Anderson Silva – some opponents didn't have a prayer...



Shooto came calling, and took Anderson to Japan for the first time in his career. Tetsuji Kato (13-2) was a local favourite, and had amassed an impressive record in the company. A split decision defeat to Hayato 'Mach' Sakurai was the only blemish amidst an otherwise perfect streak of 11 wins, with a number of foreign opponents despatched by the talented grappler. It must have appeared that Anderson Silva was due to meet the same fate as the rest. That's not how things panned out.

With Anderson showing Kato far more respect than he showed Azeredo, it was clear Silva meant business – still, Kato was soon one-for-one in the takedown department, grounding 'The Spider' and looking to rain down ground and pound. Anderson defended well, pulling Kato in tight and using his length and range to good effect. Kato didn't pass until Anderson attempted an ill-fated kimura, and in failing to complete the submission, Anderson was always likely to lose the resulting scramble. Kato wound up in side control, and came very close to achieving mount as the first round came to an end. The second round started with Kato much lighter on the feet than Anderson, but for all the spring in his step, Anderson always looked the more likely to land that crucial strike. Kato seemed to sense that, knowing a repeat of the first round would put him on course for a points win. Try as he might to get the fight to the ground, though, Anderson's defences never wilted. A blend of sprawling, striking and underhooks prevented a meaningful takedown, and soon we would be heading for a third and final round. Here, Anderson began to take over. A glancing head kick gave Kato something to think about, and 'The Spider's' hands began to land with real accuracy and volume. A clinch instigated by Silva wasn't the best idea, and before long Kato had dragged him to the ground, but it was Anderson who seemed to land more strikes and threaten with more submissions from the bottom when the final bell rang. Indeed Anderson looked fresh at the conclusion of the bout, while Kato looked exhausted. When the Japanese judges rendered their decision, they declared Anderson Silva the winner. It was a gruelling, hard-fought, multi-levelled affair, but a combination of activity from his back, decent (but fallible) takedown defence, and superior striking won the day. Silva was now 5-1.

Israel Albuquerque (0-2) was something of a step down in competition following his tussle with Tetsuji Kato, and there was no surprise when Anderson forced a submission due to strikes at 6:17 of the first round in his return to Brazil at Meca 5 – and it was becoming clearer that the real challenges existed outside of Brazil.



Silva and Gold



When Shooto offered Silva the chance to face unbeaten Japanese sensation Hayato 'Mach' Sakurai (18-0-2), the 6-1 Brazilian could not refuse. By this point, both Frank Trigg had joined Tetsuji Kato on Sakurai's résumé, and so, interestingly, had Anderson's only conqueror to date, Luiz Azeredo. MMAth, then, had Sakurai as the favourite, and so did the Japanese media – if only because the world had yet to see Anderson rise to the fore...

Not only was Sakurai favoured prior to his fight with Brazilian upstart Silva, he was also defending his Shooto Middleweight (168 lbs) crown – a title he had won in May, 1998 in a dominant decision win over Jutaro Nakao. Over three years later, it was clear that it would take something – or someone - very special to dethrone him. Needless to say, Anderson Silva was indeed something very special.




Anderson Silva vs Shooto Middleweight Champion Hayato Sakurai



Anderson came in focussed and ready. Despite being tagged early and taken down inside the first minute, Silva was only too willing to play the role of the aggressor. Striking from the bottom and defending wild haymakers from the top well, Anderson wriggled, writhed and protected himself expertly against the outstanding Sakurai ground and pound, before Sakurai exploded free of Silva's guard, standing out of the Brazilian's stifling defences. Here, on the feet, Sakurai was just as confident as on the ground.

He shouldn't have been. For all the aggression and intent behind Sakurai's punches, Anderson was a leaner, faster, slicker striker. His punches landed where Sakurai's missed, but 'Mach' always had a get out – and that came in the form of a brilliant hip throw. Sakurai wound up in Anderson's guard again, and again Anderson threw from the bottom while suffocating Sakurai by pulling his head in tight. When the first round ended, it was close. Sakurai had won the positional battle, but Silva was undeniably the more aggressive fighter – and was defending brilliantly.

Early in the second round, Sakurai tried a similar hip throw, but Silva withdrew just quickly enough to take Sakurai's back. Now it was Anderson's turn to operate from full guard. Anderson's early efforts were focussed on passing, but with Sakurai defending with a butterfly guard and flicking Silva back in place, it wasn't going to be easy. Anderson got aggressive with his punches instead, then stood, landed a few leg kicks and putting his hands on his hips in a brief flash of that ever-evolving confidence. Anderson taunted Sakurai with the threat of further kicks, then motioned for Sakurai to get to his feet. A touch of gloves was a nice mark of sportsmanship, before Anderson began to let his hands go, evidencing far superior boxing. Sakurai shot in not once, but twice, and Anderson defended comfortably – punishing Hayato with a barrage of pinpoint punches. When a jaded Sakurai came forward again for a takedown, Silva swatted him aside and took his back. A body triangle had Sakurai defending desperately, as Anderson landed punches near the ropes until the referee chose to reposition them in the centre of the ring. Sakurai had no answer to Anderson's assault, but without being in any real danger – until he needed the bell to save him from a late rear naked choke attempt!

The third round saw Anderson tagging Hayato at will – seemingly landing every punch and snapping Sakurai's head back on more than one occasion. With his opponent already bleeding from the nose, this was becoming a more and more one-sided affair. Sakurai was game, but most definitely underskilled in the striking department. Fortunately for him, a rough takedown was completed, though Sakurai was undeniably drained. Silva threatened all the more from the bottom, before eventually kicking Sakurai back and regaining verticality. A laboured takedown attempt from Sakurai was punished, Anderson outwrestling his foe, and torturing his legs with more kicks from standing. That was all the time they had, and for the judges, it was clear – there was a NEW Shooto Middleweight Champion.

His name was Anderson Silva.

Silva, however, would not go on to defend the Shooto belt. Instead, Meca 6 saw him facing future UFC competitor Roan Carneiro (0-1), a Brazilian Jiu Jitsu expert who was forced to tap out due to strikes at 5:33 of the first round. Carneiro, perhaps unsurprisingly, was completely overmatched on the feet. Silva scored a knockdown within seconds of the commencement of the fight, but he would have to take his time seeking the finish. After Carneiro scored a nice right and attempted a hopeful standing guillotine, Anderson began to take over. A good one-two really snapped 'Jucao's' head back, and a resulting attempted takedown attempt was easily sprawled upon, with a Muay Thai knee following up as punishment for the audacious shot. And so it continued: with Carneiro hopelessly chasing the takedown, Anderson spent more and more time mocking him from standing as Roan lay helpless on his back – but Silva would soon make a mistake.

Getting in too close, Carneiro seized a single leg, and dragged 'The Spider' to the mat. Again, though, Silva proved more active than his opponent even from his back, and as Carneiro defended strikes, Silva completed a slick sweep using a body triangle! Landing directly in mount, Silva hammered Carneiro with huge right hands, and that was that!



Silva's PRIDE



At 8-1, there were few left doubting Anderson's undeniable ability – particularly in Japan, where audiences and money men alike wanted more of this ever-improving Brazilian sensation. PRIDE FC signed Silva, pitting him against Indiana's 'Brazilian Killa' Alex Steibling (12-1-1, 1 NC) for his promotional debut. Having endured a single decision loss to the UFC's Matt Hughes at UFC 28, Steibling had gone on a rampage, taking out six consecutive Brazilian opponents and earning him his nickname. With Allan Goes and Wallid Ismail both falling to Steibling in his previous two PRIDE outings, this was an intriguing fight on paper – though in reality, Silva was a different athlete entirely to those aforementioned fighters.



Anderson 'Michael Jackson' Silva



In fact, the fight lasted just 83 seconds. Steibling, content to stand and trade with Silva, seemed to be doing okay – until a straight right caught him flush, backing up 'The Brazilian Killa'. Steibling was on the retreat, and did well to survive a big head kick that opened a nasty cut on his forehead – not only surviving in fact, but catching it post-impact, and using it as the basis for a takedown! It was an impressive feat, as replays would later show, but the clock was already ticking for Steibling. As he controlled Silva from the top, the blood was trickling into his eyes, and before long the referee called for a stoppage so the doctor could assess the wound. Determining the cut too deep, the doctor waved off the bout, declaring Anderson the winner.




Anderson debuts in PRIDE FC



It was a solid debut win for Silva, but PRIDE being PRIDE, it wasn't long before he was subjected to a distinctly Japanese-flavoured fight. Alexander Otsuka (2-10) hardly held a record worthy of a fight with 'The Spider', at least in a numerical sense – but 'The Diet Butcher's' résumé read like a who's who of MMA Middleweights. Marco Ruas, Renzo Gracie, Igor Vovchanchyn, Ken Shamrock, Guy Mezger, Quinton Jackson and Wanderlei Silva had all faced Otsuka in the past, most of them winning. Anderson Silva certainly appeared to belong alongside such names, and so it was at PRIDE 22.

Otsuka looked strong in the wrestling department, but ultimately found himself out-grappled, Silva threatening throughout with submissions and attaining superior positions. Though Silva was unable to finish and the fight was not a total blow-out, Silva was a clear winner on the scorecards – and now an impressive 10-1.

And next would come another tough challenge for 'The Spider'. Carlos Newton (12-6) was the next in line for Silva, the former UFC Welterweight Champion now returning to PRIDE after a prior 3-1 stint. Matt Hughes may have had the better of Newton, but could Anderson Silva beat the dangerous 'Dragonball Jiu Jitsu' fighter?

Stay tuned as we return with PART TWO of this Fighter Profile next week!

comments powered by