SPOTLIGHTS
411's Top 25 MMA Fights of All Time: Honorable Mentions, #25-#23
Posted by Larry Csonka on 08.09.2013

From Brock Lesnar vs. Shane Carwin at UFC 116 to Rampage Jackson vs. Dan Henderson from UFC 75 and more, 411 begins its countdown of the Top 25 MMA fights of all time with the honorable mentions and #25 though #23!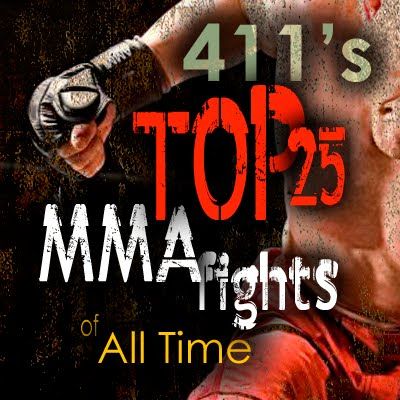 WELCOME


Welcome back to the 411 MMA Zone and to our big staff feature of 2013, which is Top 25 MMA Fights of All Time. Nothing like a list to cause debate, and nothing better than an "all time list" to cause even more debate! Over the next seven days, the 411 staff will share their thoughts on what ended up being our top 25 fights in the history of the sport. Please note that the cut off on our voting was June 12th, 2013. The staff was given a seven-day period to nominate fights to each other. From there, each staff member had the opportunity to submit their personal list of their top 25 fights, based on the quality of the fight as well as the possible historical significance it had on the sport. From there, the lists were collected, compiled and that is how we got our top 25 of all time. I hope that you enjoy the presentation, and as always feel free to countdown your own personal top 25. If you disagree, that is fantastic; tell us why, but do so in a respectful fashion and we will reply to you in the same manner! First up, our honorable mentions…




HONORABLE MENTIONS


Not every fight can make a list like this. To let you in on a little info, over 100 fights were nominated through the 411 staff's top 25. From there, about 45 were in contention a good bit of the time to make the list. Finally, in the last days of voting the cream of the crop pulled away and a precious few battled it out for the final few spots. Some of the notable fights that did not make the top 25 are below…


Honorable Mention: Ronda Rousey vs. Miesha Tate - Strikeforce - Tate vs. Rousey

Honorable Mention: Nick Diaz vs. Paul Daley - Strikeforce: Diaz vs. Daley

Honorable Mention: Miguel Torres vs. Yoshiro Maeda - WEC 34

Honorable Mention: Forrest Griffin vs. Quinton Rampage Jackson - UFC 86

And now, lets start the countdown…




THE LIST (#25-#23)






#25. Brock Lesnar vs. Shane Carwin
UFC 116
MGM Grand Garden Arena in Las Vegas, Nevada



Dan Plunkett : The main event of UFC 116 was sold as "The Biggest Heavyweight Battle In History" due to the size of the combatants, but the tagline took a whole new meaning exactly one week before the fight. For seven years Fedor Emelianenko, the one fighter UFC could never reach a deal with, had been universally considered the top ranked heavyweight in the sport. On June 26, 2010, he was soundly defeated for the first time in his career by Fabricio Werdum. In a moment, the heavily anticipated Brock Lesnar vs. Shane Carwin match slated for July 3 took a whole new meaning. Not only would the winner hold the undisputed UFC heavyweight championship (Carwin had won the interim title when champion Lesnar was briefly out of action due to a serious illness), he would also take hold of the #1 divisional ranking Emelianenko had long occupied.

Leading into the match, Carwin had left behind him a frightening path of destruction. In twelve fights, he had never found it necessary to consult with his corner between rounds. That wasn't a matter of pride or stupidity, it was simply the fact none of his opponents had lasted even four minutes in the cage with him before succumbing to his powerful strikes (or in rarer cases, crushing chokes). Immediately prior to his showdown with Lesnar, Carwin stopped the champion's biggest career rival, Frank Mir, with a series of clinched blows. Add in a successful collegiate wrestling background and Carwin figured to be Lesnar's most dangerous opponent since his UFC debut match.

For most fans, the match was heavily anticipated due to being Lesnar's return from a year away from competition. He was forced out of a November 2009 fight against Carwin after being struck with life-threatening diverticulitis in October. Prior to that, Lesnar had become the most talked about fighter in the sport after battering Mir in the main event of UFC 100. His post-fight antics, including provoking a bloody and bruised Mir and insulting a major UFC sponsor, gained him mainstream sports media attention UFC has yet to match. It was Lesnar's return that drew an estimated 1.06 million pay-per-view buys, which remains the second highest total in UFC history. That feat is remarkable considering Carwin being relatively unknown at the time of the match.

The fight itself was among the most thrilling title matches in UFC history. Carwin shrugged off an early Lesnar takedown attempt, signaling trouble for the returning champion who possessed only rudimentary striking skills. Then Carwin aggressively pursued with punches, which forced the champion to the ground. Lesnar covered up as Carwin rained down punches looking to become the top-ranked heavyweight in the world with another first round finish. Unfortunately for Carwin, his punches weren't landing clean and consistently enough to clearly warrant a stoppage, and referee Josh Rosenthal gave Lesnar every chance in the world to survive the attack. In some alternate universe where the only difference in the fight was the referee chosen by the Nevada Athletic Commission, Shane Carwin became the UFC heavyweight champion on July 3, 2010. In this universe, Lesnar weathered the storm and even made his way back to his feet before the end of the round.

By round two, Carwin was completely exhausted. The writing was on the wall when Lesnar attempted a takedown and was met with none of the resistance Carwin showed in round one. From there, Lesnar moved to mount where he locked in an arm triangle choke. Carwin fought the submission, but Lesnar's strength was too much to overcome and caused him to tap out. After the match, Lesnar was dubbed "the baddest man on the planet" by the UFC, the first time they could rightfully bestow that title upon their heavyweight champion in more than a decade.

Jon Butterfield: A 12-0, 265 lb smashing machine who had finished all 12 fights inside the first round. A 4-1, 265 lb wrestling machine who had quickly established himself as one of the most irresistible forces in MMA. The posters were right – this was "The Biggest Heavyweight Battle in MMA History" – and 1,160,000 paying customers couldn't wait to see it! In truth, neither Carwin nor Lesnar were ever quite as talented as they appeared – battles with Junior dos Santos and Cain Velasquez quickly exposed severe deficiencies in both fighters games, but hindsight cannot alter the sense of absolute, pure momentum that both fighters were enjoying. Both ruthlessly destroyed former UFC Heavyweight Champion Frank Mir; Lesnar added Randy Couture to his résumé; Carwin decimated Gabriel Gonzaga; and neither appeared to break a sweat in those fights. They were too big, too strong, too powerful... and that's the hype before the fight even started!

Well, when the cage door closed, we would not be disappointed. Lesnar, the NCAA Division I juggernaut, ran straight into a proverbial brick wall as Carwin did the seemingly impossible: defended a takedown from the former-WWE behemoth. Carwin, a solid wrestler in his own right, then unleashed the biggest weapons in his arsenal: his fists. The minute Carwin landed a clean blow, it was clear Lesnar wasn't used to – or comfortable with – the kind of punishment he was about to receive. Years of collegiate wrestling, and even more spent in the relative safety of sports entertainment, had done little to prepare him for getting punched in the face the way he was getting punched now. But it wasn't a question of Lesnar's chin – Lesnar's chin is outstanding – it was purely down to his inability to react to punishment! Carwin sensed weakness and hammered Lesnar mercilessly, but the Minnesota State monster clung on; barely...

Some argue the fight should have been stopped with Carwin in the ascendancy – others insist it was right to give Lesnar the time to recuperate – and the truth is, Lesnar proved that the latter was the right call. Amazingly, having endured a hellacious first five minutes, Lesnar came out in the second round with enough wherewithal to capitalize on a fast-slowing opponent. This time, Lesnar's first takedown attempt was successful, and it quickly became apparent that Carwin was out of gas and out of practice on his back. Surrendering mount for side control, Lesnar locked up an arm triangle choke that forced a tap to send shockwaves through the heavyweight division. Lesnar, despite all his health issues (both before and after this fight), was one tough son of a bitch – and it would take something very special to stop him...

---


#24. Quinton Rampage Jackson vs. Dan Henderson
UFC 75
The O2 in London, United Kingdom



Robert Winfree: Champion vs. champion fights are always a big deal, and rightfully so. Nowadays in the UFC you only see them when a champion chooses to move out of his division for a fight, such as the second BJ Penn vs. Georges St. Pierre fight, but when the UFC bought PRIDE and decided to unify the titles they had access too, it was a big deal. Dan Henderson was the reigning 205 and 185 pound champion, and his first unification bout was against UFC light heavyweight champion Quinton "Rampage" Jackson. The fight was a back and forth affair, with Henderson controlling the first round and parts of the second and third but Jackson kept up with him. Henderson was still in "Decision Dan" mode at this stage of his career, he relied on his wrestling to control fighters and just wore them out with a relentless grappling attack. Think a bigger Jon Fitch if you haven't seen much of Henderson's work around this time. Jackson was coming off of his second win over Chuck Liddell and was hoping to become the next long term champion in the UFC's marquee division. Much of the fight was contested in the clinch where Jackson, somewhat surprisingly, held his own with Henderson. While Henderson took the first round, Jackson wasn't really out of his depth in the grappling area, something that would play out over the next twenty minutes of the fight. In rounds two and three Jackson was able to get top position, reversing a takedown from Henderson once and getting a takedown the second time. Jackson displayed elements of what made him a successful fighter there, he kept busy with punches and knees to the body of Henderson and didn't give the PRIDE champion time to rest. Henderson managed a sweep with a kimura in the third round, but Jackson didn't remain on his back long. On the feet Jackson was clearly the better fighter, in all five rounds he was landing better shots, moving better, and throwing better combinations. The fifth round was close until the closing seconds of the round. While Henderson was able to get Jackson down again and work from top position, Jackson scrambled again and got back to his feet. Both men swung at the end, but Henderson again couldn't find his balance and Jackson knocked him down and finished the fight standing over Henderson throwing punches to seal the fight in his favor. All things considered this fight was actually contested at a pretty high pace, both men were active for the majority of the fight, but Jackson tended to land better shots standing and Henderson did himself no favors by being off balance more than once leading to knockdowns. While the fight was back and forth, it was also pretty clear that Jackson won by the end of it and unified the PRIDE and UFC light heavyweight championships. Jackson would go on to lose the belt to Forest Griffin in his next fight and Henderson was choked out by Anderson Silva at middleweight, but I'm surprised we never got a rematch between these two because this was a great fight.

Jack McGee: Man remembering back to this time, I was so excited about the fight. We were finally getting a real title unification fight and it was between Dan Henderson and Rampage Jackson. Truth be told at the time, I was a huge Rampage fan; I picked him t beat Liddell and won some coin on that I remember. But when it came to the Henderson fight, I wasn't so confident in Rampage. Round one started off quickly as Rampage charged in and started to be, Rampage. But this was a very good round for Dan Henderson. He had great knees and landed more damaging shots, and the PRIDE champion took round one. Round two was a take your turn round, Henderson dominated the first half and Jackson the second. A very close round, which I felt could have gone either way, but I went with Rampage to even it up. The champions were waging war and I loved it. Round three was another hard round for scoring. I still feel that Jackson was doing more, the knees on the ground from side control and dominating a good portion of the round make a lot of difference, so I gave it to him and he was up 2 rounds to 1, but again, depending on the judge it could have been 2-1 Henderson or even 3-0 Henderson. That's the crazy thing about this sport, it makes you both love and hate it. But round four was finally Jackson's time to shine as he all out dominated Henderson, taking the lead on my card 3-1, but as mentioned it could have been even there as well. We were heading into the final round, and I was worried that Dan would load up the big right because Rampage was slowing. Dan Henderson did everything he could in round five to try and take the round and I was with him, but then Jackson got the takedown, good damage and at the end sent the message with solid shots as it all ended. Rampage Jackson prevailed, he made history in unifying the titles even if the UFC never played it up as big as they should have, and they made ratings history as well. For the time, it was the highest recorded ratings for any mixed martial arts broadcast in North America, drawing a total of 4.7 million viewers (5.93 million at its peak) and beating out the previous record held by the UFC's Ortiz vs. Shamrock 3. It had drama, it had titles on the line and it set records.

---


#23. Takanori Gomi vs. Nick Diaz
PRIDE 33
Thomas & Mack Center in Las Vegas, Nevada



Jonathan Solomon: The time was February 2007 and while Pride 33 proved to be the penultimate show in company history, it was for all intents and purposes, the final big event they promoted. In Las Vegas, Pride lightweight champion Takanori Gomi, considered the best in the world in the division (B.J. Penn's UFC title reign did not begin until January 2008), competed against American Nick Diaz in a non-title contest.

"The Fireball Kid" was in the middle of his historic Pride run where he went 13-1 (he avenged that defeat to Marcus Aurelio three months before the Diaz fight).

Diaz was only 23-years-old and had just left the UFC after a pair of wins over Josh Neer and Gleison Tibau. He was 14-6 heading into his big Pride debut, but was the underdog - make no mistake about it. Ironically, between what happened in the Antonio Rogerio Nogueira/Sokoudjou fight, this lightweight scrap and the middleweight championship main event between Wanderlei Silva and Dan Henderson, upsets were in the air that night in Vegas.

Nick fought like you would expect a Diaz fighter would, as soon as the bell rang, he walked forward looking for action. Gomi shot in and scored a takedown, but Diaz fought right back with a Kimura attempt before he returned to the bottom position on his back. Takanori unleashed his ground and pound, but naturally, Nick's guard was effective in keeping the punishment to a minimum.

Finally, Gomi gave up trying to attack on the ground and they were each stood up by the referee. This is when you notice the tide was changing.

Takanori's aggressive striking style opened him up to Diaz's use of the jab. All of a sudden, Gomi put him on his butt with a wicked right cross. Stunned, Diaz returned to the defensive game on the ground as the Japanese champion unleashed more strikes. Nick was able to return to his open guard and again, Takanori wanted little to do with that and they returned to the feet.

With two minutes left in the opening round, it was a full-on brawl. Back and forth, they duked it out but Gomi was noticeably beginning to slow down. Standing toe-to-toe with bombs being tossed, Diaz was landing punches to the head and Takanori was lost trying to land his wild blows while, at the same time, trying to protect his body.

Tired as he was, Gomi still tried his best to land knockout blows, to little success. The champion had his hands completely below his waist, a combination of exhaustion and perhaps egging Diaz into making a mistake by leaving his chin exposed? No, he was gassed. Nick was just picking him apart and while some would criticize him for not having much power in those strikes, Gomi was eating a ton of blows with no head movement. This is how the first round ended, one man with no more stamina and the other more than happy to deliver a steady stream of jabs and hooks.

Oh yeah, and Diaz was cut above his left eye either from one of the champion's wild strikes or an inadvertent butt of their heads.

The Las Vegas crowd was loving it.

How does the second round begin? As Nick Diaz walks to the middle of the ring, he says, "Come on bitch."

Diaz begins throwing combinations as the Japanese superstar does his best to avoid them and throw some bombs of his own. While they're grappling against the ropes, the referee pauses the fight so the ringside doctor can check Diaz's cut. It's deemed not serious enough to halt the fight and they're right back into a brawl.

Diaz has a cut under his right eye that's swelling and bleeding to the extent that Gomi tries to tell the ref, I'll assume in an effort to stop the fight or at least get another chance to rest. Nick never stops aiming for the head but gets taken down with a single-leg.

What does Stockton, California's favorite son proceed to do? Oh, nothing too big - just apply a tight gogoplata chokehold.

TAKANORI GOMI TAPPED OUT.

A bloody Nick Diaz is housed onto the shoulders of his coaches/trainers as they celebrate. A dejected Gomi can do nothing but try to get his wind back on the mat. The two men embraced, both showing much respect to the other and MMA history was made.

Sure, it may not seem like that in the official record books. Over a month after this fight, the Nevada State Athletic Commission announced Nick failed his drug test because in his urine sample, marijuana was found. They changed the result of the fight to a 'No Contest' and he was suspended for six months and fined. To this day, the official theory of the NSAC is that Diaz's performance against Gomi was aided by his use of marijuana.

Alex Watt: PRIDE 33 was a historic night in Mixed Martial Arts history. As well as being one of the only events PRIDE FC held outside of Japan - in the fight capital of the world, Las Vegas – the stacked card also featured Dan Henderson's historic Middleweight title win over Wanderlei Silva, plus one of the greatest upsets of all time as Rameau Thierry Sokoudjou knocked out Antonio Rogerio Nogueira in a mere 23 seconds. It was the co-main event between Takanori Gomi and Nick Diaz, however, which would go down in history as one of the promotion's all time great fights.

Takanori Gomi was widely considered the best lightweight on the planet in 2007, entering PRIDE 33 riding a 13-1 win streak in the promotion and talk had already turned to the possibility of "The Fireball Kid" making the jump to the UFC to compete against the likes of BJ Penn, Georges St. Pierre and Matt Hughes. Conversely, Nick Diaz had enjoyed an up and down career in the UFC and despite having compiled a three fight win streak, left the organisation to seek work elsewhere, following a contract dispute. Gomi entered this bout as the bookies' favorite. In many ways, this absolute barnburner of a fight represents every facet of its two combatants; the good, the bad and the ugly.

The fight started at a frantic pace as Gomi, surprisingly, shot for an early takedown. Diaz, scrambling, attempted to somersault into a kimura. "The Fireball Kid" ended up in Diaz's guard and rapidly looked for the finish with his fists. Diaz briefly looked in some serious danger, but was able to recover his composure and use his active guard to tie Gomi up and force the Japanese lightweight into standing up.

Diaz landed a hard right hand, which rocked Gomi and the two fighters began to exchange punches. Just as it looked like Diaz was winning the boxing contest, "The Fireball Kid" landed a trademark right hook and Diaz crumpled to the canvas. Gomi pounced and landed some hard ground and pound, which opened up a cut over Diaz's left eye. Diaz defended well, however, and was able to get back to his feet. From there, the fight kicked into another gear, as the two men began to slug it out on the feet.

Just three minutes into the opening round, and Gomi was beginning to tire; his early attempts to end the fight with aggressive ground and pound, in addition to Diaz's relentless pressure fighting, had taken its toll. Diaz, with the style he is now renowned for, began to pepper the Japanese lightweight with frequent punches to the head and body, as Gomi frantically swung back with wild looping punches when his tired arms weren't hanging by his side. The final minute of the opening stanza was a thriller, as both men landed flush shots but refused to give an inch. An exhausted Gomi staggered back to his corner at the bell as Diaz cut a familiar figure; blood flowing from a cut above his eyebrow, arms raised in mocking celebration.

By this time, the infamous Diaz taunting was well underway and a cry of "come on, b****!" kicked off the second round. Diaz immediately took the center of the ring and began to land more combinations. Gomi, however, appeared to have caught a second wind and began firing back with more aplomb. The two fighters traded more hard strikes, before a Gomi right hook opened up another cut under Diaz's right eye, causing Diaz to clinch and the referee temporarily halted the action so the ringside doctor could check on the cut above Diaz's eye.

As Diaz's right eye began to swell to grotesque proportions, he pushed forward with more urgency, while Gomi began to signal to the referee that the fight should be stopped due to Diaz's face leaking claret. With the fight continuing, and Diaz refusing to back down, an exhausted Gomi shot in for a takedown. Having experienced Diaz's active guard early in the fight, "The Fireball Kid" perhaps should have been more wary of taking the 209-er to the mat. Even so, few could have predicted what would happen next.

In one swift, glorious motion Diaz snaked his left leg around Gomi's right arm and underneath the Japanese striker's throat. Gomi, completely trapped, had no choice but to submit to the gogoplata. One of the most thrilling striking battles in MMA history had come to its conclusion via the rarest of submissions, elevating the bout into instant classic territory.

Unfortunately, the fight will now always come with an asterisk beside it, as Diaz's fondness for a certain plant saw him fail his pre-fight drug test and the bout outcome changed to a No Contest. It wouldn't be the first time that Nick Diaz's marijuana use would get him in trouble with the NSAC.

Despite this frustrating denouement, the fight has earned its classic status.

The fight occupies an interesting place in MMA history. Not only did it take place on the penultimate event of the legendary PRIDE FC organisation, but it would also appear to represent a significant turning point in the careers of its two combatants.

Many were touting "The Fireball Kid" as the best lightweight on the planet prior to the fight with Diaz, but following PRIDE 33 Gomi's fortunes declined rapidly. Although Gomi eventually received his opportunity in the UFC, he is nowhere near the competitor he was in his heyday, as evidenced by his middling 7-6 record since he submitted to Diaz's gogoplata.

Conversely, Nick Diaz, who had enjoyed an up and down career in the UFC's Octagon, would go on an incredible 11-1 run of his own in promotions like Strikeforce, DREAM and Elite XC. He captured the Strikeforce Welterweight Championship and began to be considered one of the sport's pound for pound best; all of which saw him brought back into the UFC fold and fight for the World Welterweight Championship earlier this year.

---
The Wrap Up
And with that, our presentation for today is complete. Again, we realize that everyone will not agree upon the top 25 that has been complied. If you disagree, that is fantastic; tell us why, but do so in a respectful fashion and we will reply to you in the same manner and make sure to share what should have, or should not have made the list in your opinion. Thanks for reading…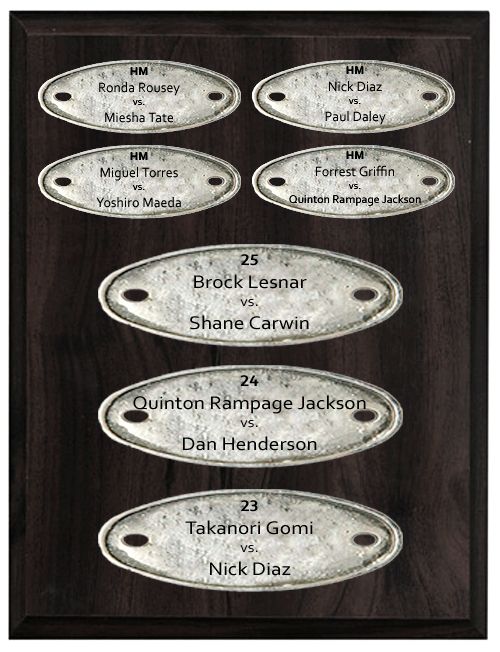 Come back MONDAY for fights #22 through #18!
comments powered by