SPOTLIGHTS
411's Top 25 MMA Fights of All Time: #5-#3
Posted by Larry Csonka on 08.16.2013

From Anderson Silva vs. Chael Sonnen at UFC 117 to Eddie Alvarez vs. Michael Chandler from Bellator 58 and more, 411 continues its countdown of the Top 25 MMA fights of all time with #5 - #3!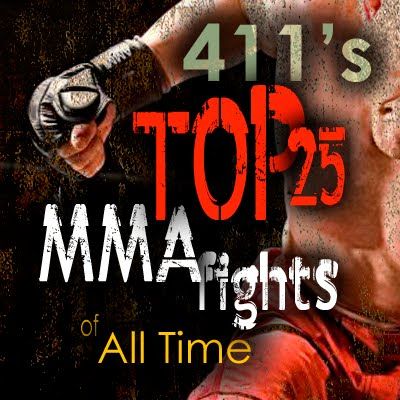 WELCOME


Welcome back to the 411 MMA Zone and to our big staff feature of 2013, which is Top 25 MMA Fights of All Time. Nothing like a list to cause debate, and nothing better than an "all time list" to cause even more debate! The 411 staff will share their thoughts on what ended up being our top 25 fights in the history of the sport, with a cut off of June 12th, 2013. The staff was given a seven-day period to nominate fights to each other. From there, each staff member had the opportunity to submit their personal list of their top 25 fights, based on the quality of the fight as well as the possible historical significance it had on the sport. From there, the lists were collected, compiled and that is how we got our top 25 of all time. I hope that you enjoy the presentation, and as always feel free to countdown your own personal top 25. If you disagree, that is fantastic; tell us why, but do so in a respectful fashion and we will reply to you in the same manner!




THE LIST #5-#3





#5. Anderson Silva vs. Chael Sonnen
UFC 117
Oracle Arena in Oakland, California



Dan Plunkett: Anderson Silva's performance at UFC 112 had a bit of everything. He played hide and seek with referee Dan Miragliotta. He ran. He danced. He yelled. Perhaps he even sang, I don't know. There was even a bit of fighting in the form of a flying knee that knocked down and bloodied opponent Demian Maia. Unfortunately for Silva, the fight didn't have quite enough fighting to appease people that purchased tickets to, well, a fight. The crowd booed the champion vociferously. UFC president Dana White walked out on the fight in disgust. Afterwards, he publicly threatened Silva with a release or demotion to the preliminary card if he put on that kind of performance again.

In all likelihood those threats were exaggerated, but UFC's decision to scrap a proposed meeting between Silva and welterweight champion Georges St-Pierre in favor of a middleweight match with Chael Sonnen made the threats a moot point. Immediately following UFC 112, White told Jim Rome on the latter's ESPN program that Sonnen would make Silva fight, and the Pride of West Linn, Oregon, made sure White wasn't made a fool of.

It would be unrealistic when describing this fight to leave out the part where Sonnen talks a whole bunch of crap and draws an extra 300,000 or so buys. Sonnen never seemed to be anything notable as a talking until around the time of his October 2009 bout against Yushin Okami. Then, it was his mic work that made matching him with Nate Marquardt for the top contender spot the only logical choice to make. When it came to Silva, Sonnen turned his character up to 11.

"[Anderson's] got a black belt under the Nogueira brothers. I think a black belt under the Nogueira brothers is like saying I got a free toy in my happy meal."

"People say Chael, you're getting ready for a war. Guys, this isn't gonna be a war. This is gonna be a one-sided pounding and I'm swinging the hammer."

On fight night, Sonnen showed up and backed up his and White's statements. He brought the fight to the champion. He staggered the seemingly invincible champion less than a minute into the opening round. Over four rounds he took Silva down time and time again and hit him more than 300 times. Silva had his moments, including a brief takedown and rocking Sonnen in the fourth round with a barrage of strikes. With Sonnen two-and-a-half minutes away from history, Silva locked on a triangle choke. Sonnen fought the attempt, but soon after Silva stretched the challenger's arm out Sonnen conceded defeat and tapped Silva's leg.

Without the back story, the fight would have been remembered for the incredible comeback finish, but it only would have been a so-so fight overall. Rarely do fights tell a story that goes along with the story being told to build the fight, but this is the rare case where it did. Sonnen pushed Silva to his limit and backed up every pre-fight promise he made. Silva made one pre-fight promise: to submit Sonnen, and that certainly came true. The only thing that didn't fit the story was Sonnen's post-fight drug test failure and the saga that followed.

Even three years later, no fight stands out more prominently in Silva's career than UFC 117 against Chael Sonnen. That says a hell of a lot considering Silva's status as the most accomplished fighter of all time and with the incredible clips featured on his highlight reel. A rematch was held in 2012 and drew an estimated 925,000 PPV buys in addition to more than 20 million viewers in Brazil, enough to make it the biggest MMA fight of the year by a comfortable margin.

Wyatt Beougher: First off, let's pretend this fight and the build-up to it exists in a vacuum – forget all the stuff that happened afterwards with Sonnen's drug test failure and money laundering issues and even the rematch between the two men. At UFC 112, Anderson Silva had fought easily his strangest fight, dancing and mocking Demian Maia after an early flurry that could've easily finished the fight. Instead, the middleweight champion did just enough through five rounds to earn a unanimous decision victory, and while he easily retained his title, his antics during the fight and seemingly mocking post-fight interview cost him a great deal of fans. His performance even inspired UFC president Dana White's typical bluster, with White claiming Silva's next fight would be on the prelims and if he fought like that again, win, lose, or draw, Zuffa would cut their champion. For all of White's public bravado, it certainly seemed like he knew he needed an opponent for Silva that would not only force the champion to actually engage in a fight, but also one that could put Silva back in the fans' good graces.

Enter Chael Patrick Sonnen.

Sonnen was a middle-of-the-road fighter who had enjoyed some success in the Zuffa-owned WEC prior to coming to the UFC. Ironically enough, Sonnen's last WEC fight was against the promotion's dominant middleweight champion, Paulo Filho, who fought an uncharacteristically unmotivated fight after coming into the bout four pounds overweight. Calling himself "the uncrowned WEC middleweight champion", Sonnen made his UFC debut against Maia, and promptly lost via submission just over halfway through the first round. Even the staunchest Sonnen supporters would've had a hard time believing that Sonnen would be fighting Silva for the UFC middleweight title roughly 18 months after that eponymous debut.

But then something funny happened – Sonnen won three straight fights against three fighters who were favored against him at the time, including two of Silva's previous victims (and then top contenders) Yushin Okami and Nate Marquardt. More than that, every time there was a microphone within arm's reach, Sonnen started talking about the middleweight champion, calling him out, disrespecting his character and his home country, and basically turning himself into a full-blown professional wrestling heel. Sonnen said Silva could speak English and only used his manager Ed Soares as a cover. Sonnen said he would beat Silva into retirement. Sonnen talked and talked, and fans started to take notice, and after Sonnen's victory over Marquardt and Silva's win over Maia, White announced that the trash-talking American would finally get his shot at the Brazilian.

The stage was set, then – the brash American challenger with more heart than skill would set foot in the cage against the unbeatable foreign champion. So great was Sonnen's stage presence, though, that only the staunchest pro-USA fans (and casual fans disappointed with Silva's fights against Maia, Patrick Cote, and Thales Leites) were in his corner. Most analysts predicted a short night for Silva that would end with Sonnen staring up at the arena's lights, and I actually remember hearing or reading somewhere that even Chael Sonnen didn't believe he could beat Anderson Silva.

And then the fight rolled around.

The underdog challenger came out and showed no fear, engaging immediately with the greatest counter striker the MMA world has seen, and, out of the blue, he rocked Silva! He followed it up with a takedown, but Silva popped back up immediately. Sonnen went back on the offensive with punches, prompting the champion to drop his hands, but Sonnen refused to be baited into Silva's game and notched another takedown. From that point on, Chael Sonnen took over the fight, clinging to Silva like the proverbial wet blanket and pummeling him with punches from the guard, and half guard, and the back. And while Sonnen's offense wasn't particularly damaging, he was scoring points at will and making the champion look beatable. At the end of each of the first four rounds, it felt like everyone was just waiting for Silva to turn Sonnen's lights out when they started the next round standing, but Sonnen continued his dominance, catching a leg kick and getting a takedown before smothering and pounding on Silva for another round, or by avoiding a kick and getting a clean takedown, or even recovering from a hard elbow and simply powering Silva onto the bottom and grinding him down.

At the start of the fifth round, Sonnen was ahead on all three judges' scorecards – 40-35, 40-34, and 40-36, and all the underdog had to do to dethrone the most dominant champion in UFC history was play it safe. Instead, he came out and engaged with the champion again, actually wobbling him with a right hand and then going to work from top position again. After passing to side control, Sonnen looked for an arm triangle choke to end the fight, but Silva's BJJ allowed him to defend the choke and regain full guard. Sonnen went back to his ground and pound, wearing away at Silva and eventually retaking side control, but Silva again was able to get Sonnen back to full guard. As the seconds ticked away in the final frame, Sonnen continued to pound away on Silva, raining down hammer fists and then switching to body shots, and with each second that ticked off of the clock, a hush fell over the bar where I was watching the show, the anticipation a new champion building to a stunned silence as Sonnen looked ready to pull off the greatest upset in MMA history.

But, then, miraculously, Silva was able to get a triangle choke locked in, which he quickly transitioned into a triangle armbar. And Chael Sonnen, for the eighth time in his career, found himself on the losing end of a submission, tapping out a single time and ending the fight with 110 seconds left in the final stanza. As Silva stood up and the official decision was announced, the crowd at the bar let out its collective breath and went back to their conversations and drinks. There were no boos for Silva (unlike the live crowd that night), but no one seemed particularly interested in what he had to say post-fight. I went home that night feeling defeated myself, as I had started the night with a flicker of hope that Sonnen could actually beat Silva, a flicker that grew into a wildfire of excitement as the first four and a half rounds of the fight played out, leaving me with a smoldering feeling of dejection. It took me quite a while to realize and appreciate the magnitude of the feat that Silva accomplished on that August night, but my colleague Samer Kadi called it the greatest comeback in MMA history, and I have to agree with him on that score. Unlike Randy Couture/Tim Sylvia, I've found that I can't recapture the electric atmosphere of this fight on repeated viewings of it, but that doesn't detract from the amazing way that the fight played out, or the incredible way that it ended.

---


#4. Eddie Alvarez vs. Michael Chandler
Bellator 58
Seminole Hard Rock Hotel and Casino in Hollywood, Florida



Robert Winfee: When Bellator MMA began gaining traction one of their big stars, relatively speaking, was Eddie Alvarez. Alvarez became their first ever lightweight champion at Bellator 12, and successfully defended that title once against Pat Curran. When Bellator 58 rolled around and Alvarez was set to defend his title against Michael Chandler he hadn't been beaten in almost three years and had just two professional losses. Chandler was undefeated coming into the fight, a strong wrestler with good power in his hands, but at a fairly substantial experience disadvantage. The fight itself, despite relatively little fanfare in the build up, wound up being excellent. Chandler came out aggressive and in the first minute rocked Alvarez. He followed up with a flurry of blows against the cage, and Alvarez looked to be out on his feet for a few seconds. The official was right by the fighters and was mere moments from stopping the fight in the first two minutes. Eddie Alvarez recovered though, and a well timed return punch not only got Chandler to back off for a moment, but also might have been what saved the fight from being stopped. Amazingly Alvarez came back strong, he found his rhythm and started landing punches on Chandler. The two men engaged in numerous striking exchanges, and a couple of grappling exchanges though neither man was on the ground very long. In the last seconds of the round Chandler landed a straight right hand on the nose of Alvarez that dropped him just before the bell sounded to end the round. Both men were active at the start of the second round, but Chandler was able to secure takedowns from a clinch position, and while Alvarez was good at getting back to his feet it was still a points scoring move for Chandler. On the feet Chandler seemed to be slowing down while Alvarez was finding his rhythm. That narrative would remain true in the third round where Alvarez began landing hard punches to the body and head of Chandler. About half way through the round Chandler found himself backed against the cage and taking punishment from the champion. Chandler managed to survive the round with some takedown attempts to stall for time, but Alvarez was clearly running on all cylinders by this point. Between the third and fourth rounds Chandler found his second wind, because he came out firing in the fourth round. He shot for a takedown which Alvarez defended, but Chandler landed some hard shots on the way up, rocking the champion again. Alvarez moved well for a few moments, but Chandler relentlessly pushed forward with a windmill right hand, and eventually caught the champion and dropped him again. This time Alvarez couldn't regain his feet and Chandler moved from side control to mount very quickly, forcing Alvarez to give up his back to try and regain his feet. Alvarez never even got to his knees as Chandler flattened him out and sunk in a rear naked choke for the victory and the title. The fight was action packed from start to finish, it remains a great demonstration of MMA skill. Alvarez would win his next two fights before finding himself embroiled in a bitter legal battle with Bellator MMA, while Chandler would also win his next two fights, defeating Akihiro Gono and Rick Hawn.

Evan Zivin: It's always interesting to look at a fighter, or any athlete, and try to pinpoint the one moment in their career that could be considered their breakout moment; that one moment where everything came together and that fighter was able to prove to everyone what they had always believed about themselves: that they are the best. That moment came for Michael Chandler in a big way because not only did it happen in one of the toughest weight classes in Bellator MMA, it happened against the face of the company. After Eddie Alvarez made his name by becoming the first Bellator Lightweight Champion, he built his legend by defeating MMA veterans Josh Neer and Roger Huerta and defending his title in a dominant five round fight with current Bellator Featherweight Champion Pat Curran. Chandler entered Bellator with two strong stoppage wins before staking his claim to a shot at Bellator gold by winning the Season 4 Lightweight Tournament, choking Marcin Held unconscious and taking two hard-fought decisions against Lloyd Woodard and Patricky Freire. They were good wins, sure, but were they enough to make anyone think he could beat the dominant champion in Alvarez? It was possible, but still seemed like a long shot. Eddie was "The Man" in Bellator. How could Michael Chandler ever hope to beat him? The two had their title fight at Bellator 58 on November 19, 2011 (the same night as Shogun Rua and Dan Henderson's memorable UFC 139 clash) and Chandler, much like Randy Couture against Tim Sylvia, made a statement immediately by dropping Alvarez with punches in the first 15 seconds. The first round was wild, with Chandler dropping Alvarez one more time before the first five minutes were up. That first round was amazing. Chandler had established himself as a good fighter coming into this fight but now he was showing what he was truly capable of. Things slowed down in the second round, as Alvarez continued to recover from the first round. The action picked up again in the third round when Alvarez managed to catch Chandler and drop him, forcing Chandler to shoot for desperation takedowns just to survive. Now we had a full blown war on our hands over a title belt that was completely up for grabs. Whoever could muster enough strength to put the other away would walk out as champion. Chandler understood this and, after losing the third round, hurt Alvarez again to start the fourth. Chandler went to the ground to pound away at Alvarez, who was badly hurt and struggling to survive. Alvarez proved too tough to put away with punches, so Chandler, himself still hurt and very exhausted, transitioned to a back mount, where he managed to lock up a rear naked choke that Alvarez almost immediately tapped out to. Eddie Alvarez, the face of Bellator, had just tapped out. The man was the number three lightweight in the world and Michael Chandler had just defeated him. Wow. It was an incredible fight. It was the best fight that Bellator has had. A new champion was crowned and a new star was born. Chandler is still the Bellator Lightweight Champion and continues to shock the world with his ever improving skill and toughness, but maybe it shouldn't be such a shock to everyone. Maybe he's always been capable of being a champion. Maybe he was always meant to be one of the best lightweights in the world. He just needed that one moment to prove it to everyone and, on that magical night in November, 2011, he got it. Maybe the world didn't know how good Michael Chandler was before that fight but it sure knows now.

---


#3. Wanderlei Silva vs. Quinton Rampage Jackson 2
PRIDE 28: High Octane
Saitama Super Arena in Saitama, Japan



Samer Kadi: When it comes to the fiercest, most intense rivalries in MMA, Wanderlei Silva's heated feud with Quinton "Rampage" Jackson may just top the list. Contrary to some of MMA's traditional manufactured rivalries, the two had a strong sense of dislike towards each another that went beyond pure competition. Silva and his team, Chute Boxe, were not the most popular in the PRIDE locker room, with some of the company's top stars expressing displeasure with the way the group handled itself backstage. As the dominant PRIDE middleweight champion (205 lbs. division), Silva had a target on his back. Meanwhile, "Rampage" had been making quite a few statements with some highly impressive performances. The pair nearly came to blows in one famous post-fight altercation, in which Silva shoved Jackson after the latter had claimed that Silva was merely holding "his belt."

The archrivals would finally meet during PRIDE's now legendary 2003 middleweight Grand Prix. The American had finished putting a beating on UFC's Chuck Liddell in the tournament's semifinals, while Silva earned a hard fought victory over Judo standout Hidehiko Yoshida. The two squared off later that night, with Silva absolutely decimating a winded Quinton Jackson with knees from the clinch. A year later, Jackson earned a long awaited rematch. This time, Silva's belt was on the line, and both competitors would come in more ideal conditions, fresher shape, and having specifically prepared for one another.

The first ten minutes were some of the most intense in either man's career, with both fighters exchanging heavy leather. Jackson got the ascendancy with a couple of takedowns, before scoring the most significant blow of the fight – a right hand that sent Silva to the mat, in what was then, an extremely rare sight. The second round began rather cautiously, until Jackson ran into a monstrous right hook by Silva that would have knocked out a bull. "Rampage" amazingly stayed upright, but that only allowed "The Axe Murderer" to unleash a series of devastating knees that left the challenger lying motionless through the ropes in pool of his own blood, in what may just be the most iconic image in MMA history.

Jon Butterfield: 'Rampage' Jackson was never happy to admit defeat to Wanderlei Silva. The first time 'The Axe Murderer' KO'd Jackson with a brutal flurry of knees from the Muay Thai clinch, Jackson felt like he hadn't given a fair account of himself, quickly talking his way into a rematch. Wanderlei granted him a crack at his PRIDE Middleweight (205 lbs) title, and very almost lived to regret it...

The heavy-handed Jackson was determined to get into Silva's face, and do so quickly – and Wanderlei was not prepared to back down an inch! The leather flew as both men threw down hard, fast and heavy, looking to score the KO with each and every punch, kick and knee – with Jackson even delivering his own knee to the head of Wanderlei in the first round! At the end of the first thrilling ten minutes, Jackson clipped Silva with an uppercut, scored a takedown, and looked to end the fight with ground and pound – only for the clock to bail out Silva.

In the second round, Silva turned things round against his tiring foe, continuing to explode into his shots and looking to continue to deliver the kind of ultra-aggressive offence he'd become synonymous with – including stomps and soccer kicks. It was on the feet, though, that Silva would eventually break through 'Rampage's' defenses, finishing with a poignant explosion of knees from the Muay Thai clinch – again! With a KO that grace highlight reels for years to come, Wanderlei sent Rampage crashing unconscious through the ropes, face down and bleeding. Yeah, that was what happened if you didn't put Wanderlei away!

---
The Wrap Up
And with that, our presentation for today is complete. Again, we realize that everyone will not agree upon the top 25 that has been complied. If you disagree, that is fantastic; tell us why, but do so in a respectful fashion and we will reply to you in the same manner and make sure to share what should have, or should not have made the list in your opinion. Thanks for reading…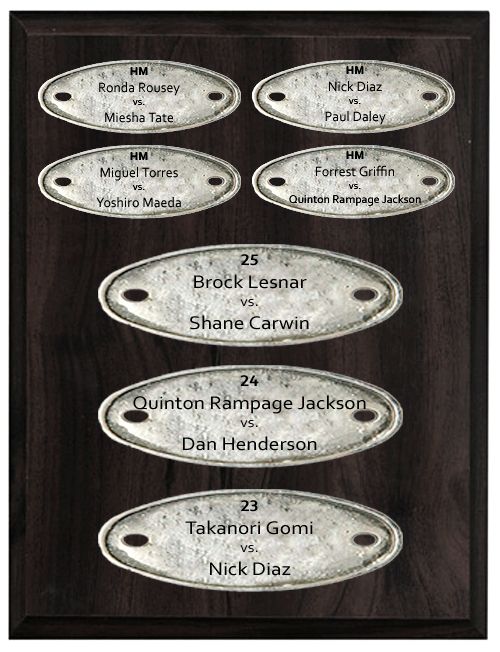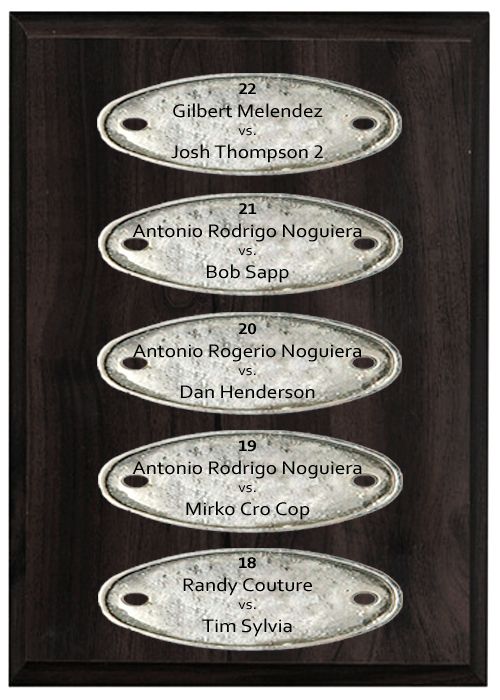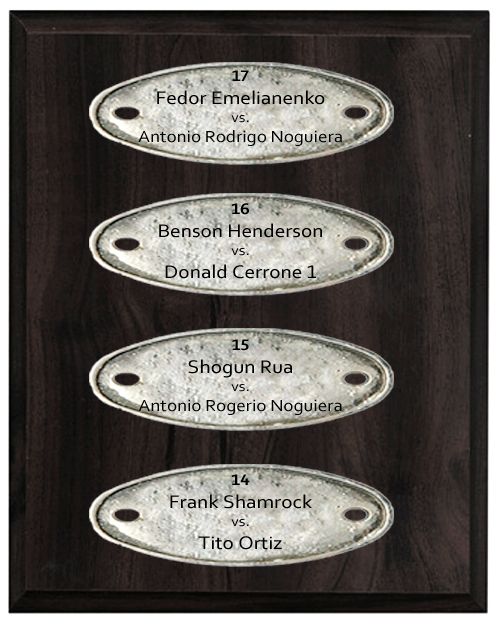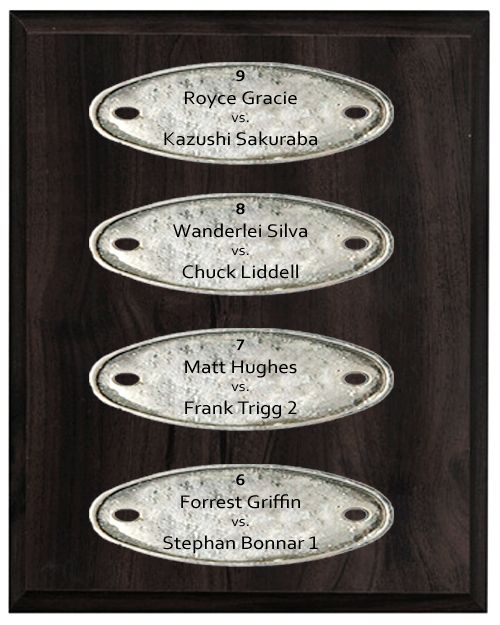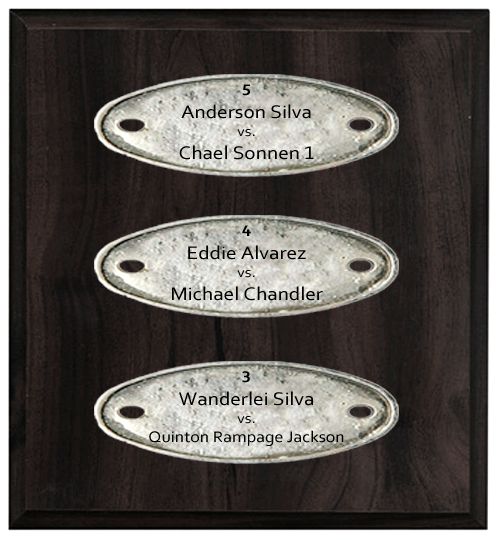 Come back MONDAY to find out what out top two fights of all time are!
comments powered by