SPOTLIGHTS
411's Top 25 MMA Fights of All Time: #2 & #1
Posted by Larry Csonka on 08.19.2013

411 concludes its look at the top 25 MMA fights of all time with Dan Henderson vs. Shogun Rua and Fedor Emelianenko vs. Mirko Cro Cop! But which of the two claimed the top spot? Check out the full article to find out!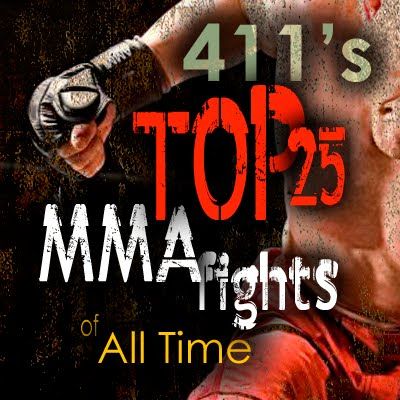 WELCOME


And here we have it, we are down to the final day of the countdown and will discuss our top two fights in the history of MMA. As a reminder, staff was given a seven-day period to nominate fights to each other. From there, each staff member had the opportunity to submit their personal list of their top 25 fights, based on the quality of the fight as well as the possible historical significance it had on the sport. From there, the lists were collected, compiled and that is how we got our top 25 of all time. I hope that you enjoy the presentation, and as always feel free to countdown your own personal top 25. If you disagree, that is fantastic; tell us why, but do so in a respectful fashion and we will reply to you in the same manner!




THE LIST



#2. Shogun Rua vs. Dan Henderson
UFC 139
HP Pavilion in San Jose, California
Mauricio "Shogun" Rua vs. Dan Henderson

Jeff Harris with the fight recap…

Dan Henderson makes his return to the UFC after going 3-1 in Strikeforce and winning their light heavyweight title. Dan Henderson won the 2005 Pride Welterweight Grand Prix and title and is also the former Pride Middleweight Champion. Shogun won the 2005 Pride Middleweight Grand Prix and is also a former UFC Light Heavyweight Champion. This will be a five round main event. Josh Rosenthal is the appointed referee.

ROUND ONE: They touch gloves and here we go for the main event. Shogun starts with an outside leg kick. Hendo looks like he landed a solid right punch on Shogun. Shogun tries to recover and shoot in, but Hendo grabs onto a guillotine choke. Hendo then unleashes a barrage of punches on Shogun against the cage. Shogun is cut over his left eye. Shogun shoots in for a single-leg takedown, but Hendo stuffs it and unloads more punches. They clinch up against the fence and Hendo just shoves Shogun off who falls to his back. Shogun gets back up. Hendo moves forward with some punches. Shogun is already starting to look like he might be tired. Shogun shoots in and clinches, but Hendo defends the takedown. Shogun lands on a good right hook. Shogun lands a stiff uppercut on Hendo. Hendo is hurt and Hendo shoots in on Shogun. Hendo recovers and gets back to his feet and lands some punches on Shogun against the cage. Shogun tries to push forward and they clinch against the cage. They trade some knees and punches in the clinch and the first round comes to an end.

SCORECARD: 10-9 for Henderson, 10-9 for Henderson overall.

ROUND TWO: The crowd is pumped for this next round. They exchange some punches standing and end back up against the fence. Shogun tries to slow the pace down with some knee strikes. Hendo breaks the clinch and lands some punches. Hendo moves forward and gets some big punches and an uppercut. Shogun recovers and counters with a left hook. Hendo looks to be landing the bigger shots. They trade more standing. Shogun comes forward again and clinches Hendo against the cage. Shogun lands a right hook in the clinch. Hendo turns it around and lands some punches of his own. Hendo hooks under both arms to try and take a breather. Hendo keeps it against the fence and there's not much action happening now. Josh Rosenthal calls for a clean break and they go back to the center. They trade more punches standing, but Hendo lands some of the more solid shots and another uppercut.

SCORECARD: 10-9 for Henderson, 20-18 for Henderson overall.

ROUND THREE: Henderson's corner thinks Shogun is done. They both try to get in close with their attacks and punches. Hendo attacks Shogun against the fence, but Shogun answers back. Hendo goes for the single and almost gets it, but Hendo is too far away from Shogun and Shogun quickly gets back up. Henderson lands an inside leg kick and a big right hand. Shogun goes down and Hendo unleashes a barrage of ground punches. Shogun desperately tries to hang on. Shogun is able to pull half guard. Shogun grabs a leg and tries for a heel lock! Hendo struggles and gets out of the hold. Shogun gets back to his feet and clinches Hendo against the fence. This pace and fight is clearly taking its toll on both guys. Shogun keeps going for the takedown and Henderson tries to land some elbow strikes, but Shogun is able to get the takedown. Henderson is able to recover and quickly get back up. They remain in the clinch and Shogun lands some punches after they separate. What an epic, legendary fight this is shaping up to be.

SCORECARD: 10-9 for Henderson, 30-27 for Henderson overall.

ROUND FOUR: Shogun's left eye looks to be almost swollen shut. Shogun shoots in for the takedown and eventually able to work Hendo to the ground. Hendo switches it and gets Shogun's back. Henderson sweeps Shogun over with a crucifix and tries for a RNC but Shogun escapes and gets back up. Henderson shoots and gets a double-leg takedown and gets side control. The fight goes into half-guard, and Hendo tries for a guillotine choke but can't keep it on. Shogun is able to get full-guard. Hendo stands up and lands some big bombs. Shogun is able to get back up again, but he is looking extremely tired. Granted Hendo is also looking tired as well. Shogun lands with some punches and Hendo is breathing heavy. Shogun lands with a big uppercut that wobbles Hendo. Hendo recovers and shoots for a single but doesn't get it. Hendo is hurt, but it doesn't look like Shogun is able to mount enough of an attack to score the finish. Shogun lands a takedown and gets the full mount. Shogun almost gets Hendo's back and almost gets a choke, but Hendo survives and turns the position over into full-guard.

SCORECARD: 10-9 for Shogun, 39-37 for Henderson overall.

ROUND FIVE: They both go back in for the fifth and final round for quite possibly one of the greatest UFC battles in the history of history. Shogun gets a throw and gets Henderson to the ground right into side control. Hendo uses his legs to push up on the fence. Shogun transitions to full mount. Shogun lands some punches, but Hendo hangs on. Hendo looks like he lost his mouthpiece. Henderson tries to defend himself. Henderson attempts to grab onto a guillotine choke and gets half-guard. Hendo tries to control the posture. Shogun is able to get full mount yet again. Shogun isn't quite able to get Hendo's back. Shogun does not look like he has enough strength to mount the finish. Hendo keeps turning over and is able to hang on. Shogun is able to pass to full mount again. Shogun lands some punches but nothing that looks like it will cause a finish. Less than a minute left. Shogun tries to smother Hendo and lands some punches. Hendo tries to struggle out of the mount but can't quite do it. The round ends and that is the fight as it goes to the judges.

SCORECARD: 10-9 for Shogun, 48-47 for Henderson overall.

OFFICIAL RESULT: WINNER – Dan Henderson by Unanimous Decision (48-47, 48-47, 48-47)

Alex Watt: "It was the greatest fight I've ever seen."

So said UFC President Dana White in the aftermath of the five round war between legendary light heavyweight combatants Mauricio "Shogun" Rua and Dan "Hendo" Henderson, and few would disagree with him.

Shogun vs. Henderson topped the bill of a phenomenal night of fights in San Jose, California at UFC 139. A scintillating, bloody, dramatic and unforgettable 25 minute affair, the contest fully vindicated the UFC's recent decision to make non-title contests five round affairs instead of the customary three. Before the fight had even reached its conclusion it was clear that we were witnessing something very special which was already being hailed as the greatest fight to ever take place inside the historic Octagon.

A bonafide classic, few superlatives can do justice to the display that Shogun and Hendo put on that night in the HP Pavilion.

To use the cliché of the well-worn boxing analogy; if Griffin vs. Bonnar was the Hagler-Hearns of UFC history, then Hendo vs. Shogun might just be the Octagon's equivalent to "The Thrilla in Manila".

Former PRIDE Middleweight Champion, PRIDE Welterweight Champion and Strikeforce Light Heavyweight Champion Henderson, was making his UFC return after vacating his Strikeforce belt, and was coming off the back of a knockout victory over legendary heavyweight Fedor Emelianenko. The 2005 PRIDE Middleweight Grand Prix winner "Shogun" was just one fight removed from the loss of his UFC Light Heavyweight Championship and eager to get back in the title picture following a rapid TKO win over former champ Forrest Griffin in Brazil.

Given the two men's respective histories across PRIDE FC and the UFC, it was somewhat remarkable that the two light heavyweights had never met inside a ring or a cage prior to 2011. The long awaited meeting between the two combatants was a highly anticipated one and, on the night, it more than lived up to the hype, surpassing even the most ardent fans' wildest expectations.

Frequently, in a contest between two feared strikers there is a feeling out process to begin the bout, with both competitors showing caution, not wishing to leave themselves too open. The UFC 139 headliners however threw this blueprint out of the window immediately as, within 30 seconds, Henderson had landed his patented right hand and dropped Shogun to the canvas. One failed guillotine attempt and a barrage of punches later and Shogun was already bleeding profusely. This was a mere 60 seconds into the contest. From there, it only escalated. Shogun refused to back down, but was dropped again in another exchange, before scoring a knockdown of his own late in the round.

This theme continued into the second stanza, as the two fighters fought back and forth, doling out some horrendous punishment to each other. The bout had been founded on mutual respect and admiration – as evidenced by the sporting handshake the two legends had shared immediately prior to the bout – but less than 10 minutes into the fight and one would think that the two were putting an end to the most heated and bad blooded of rivalries. A flush Hendo uppercut saw Shogun on wobbly legs once more, before the Brazilian was firing back with more strikes inside the pocket. By the closing minutes of the second, both men looked utterly exhausted and caught some much needed respite in the clinch. When referee Josh Rosenthal returned the fighters to the center of the Octagon, the two men engaged in a wild thirty second slugfest, which would make even Leonard Garcia and Chan Sung Jung wince.

The fighters picked up where they left off as round three began, exchanging yet more ferocious blows. A flush right hook crumpled Shogun to the mat and a brutal Henderson ground and pound assault followed. At this point the fight could easily have been stopped but Shogun showed enough movement and composure to keep himself in the fight. Astonishingly, the Brazilian was then able to counter with a heel hook attempt, which gave him some respite from the beating. Hendo wriggled free but was immediately followed by a woozy Shogun who instinctively pressed forward with more punches.

By the beginning of the fourth round, Shogun's face was swollen beyond recognition. A lesser man would have been finished in the first minute but yet the Brazilian was still standing. Henderson, his white shorts stained by Shogun's blood, was breathing heavy at this point. The Brazilian, too, was struggling but, following an exchange of takedowns, Shogun landed a pair of solid punches, which sent a wobbly Henderson staggering backwards and forced the American into a desperation takedown attempt. Shogun capitalized by landing heavy punches of his own and moving to mount. Hendo was able to reverse the position in the closing seconds of the bout and caught a breather before the horn sounded.

Shogun was now in the ascendancy but needed something special to swing the contest in his favor. He delivered just that by taking the wrestler Henderson to the floor and frequently gaining mount and landing punches from top position. Hendo, worn out from the previous twenty minutes of action, could do little in the final five but survive. Shogun rained down with punches and attempted several chokes but with so much energy taken out of him from the war, could not muster enough power behind his shots to get the stoppage. Nonetheless, the round was dominant enough to earn him a 10-8 on the judges' scorecards.

Or so we thought. As it turned out, the three judges at Octagon-side doled out only 10-9 scores for each of the rounds, with Dan Henderson securing the hard fought victory with 48-47 tallies across the board. The controversy was a shame and, though one cannot begrudge either man coming out on top of such a brutal battle, in hindsight perhaps a 47-47 draw would have been the most fitting outcome for a fight which was one of the most competitive and dramatic of all time.

Ultimately, Shogun vs. Hendo is as close to a masterpiece of skill, brutality, heart, passion and drama as you are likely to see in combat sport. It is the kind of historic fight, which comes along but once in a lifetime; the perfect Mixed Martial Arts contest and, quite simply, the greatest fight in the history of the UFC.

Robert Cooper: There are few fights in the brief history of mixed martial arts that I can say are truly epic. This fight between Dan Henderson and Shogun Rua fits the bill, for sure. Dan Henderson was coming into this fight riding a pretty impressive win streak, where he flattened Babalu Sobral, and captured the Strikeforce Light Heavyweight title after punching Rafael Cavalcante's teeth down his throat. Before he returned to the UFC before this epic confrontation with Shogun, he defeated the legendary Fedor Emelianenko in a fight where he was majorly undersized and barely made the heavyweight weight limit. So with his impressive three fight win streak on the line, he faced off against former UFC Light Heavyweight champion, Mauricio "Shogun" Rua, who had just come off an avenging of his loss to former UFC Light Heavyweight champion Forest Griffin, whom he destroyed with accuracy and punching power on route to a quick first round KO. The fight itself was one that I remember being much more one sided for the fighter that won the round than I saw when I watched it again. The first round was Dan Henderson using his bunker buster of a right hand on Shogun's face and keeping him on the outside and dazed for much of the round. That isn't to say that Shogun just fell over and died, though, he got a few nice licks in himself, as well as a takedown, but for the most part it was all Hendo. Same can be said for the second, which featured more clinch work from both of them, but Hendo did more damage when it counted. The third round started writing the script for what this fight would turn out to be. The third round started out very pro Henderson as he hit Shogun hard and wobbled him, and almost finished him. But Shogun would not go down, he managed to get somewhat in control against the cage and showed that he would not go down. That ending of the third round was quite an omen for what the rest of the fight became. The fourth round was pro-Shogun, but it had many more moments of Dan Henderson on top than I remembered. I remembered Shogun charging in and hitting Hendo at the beginning of the round and taking him down, but I had forgotten the later failed takedown attempt due to a reversal by Henderson, and Shogun ended up with Hendo on his back. Most of the middle part of the round was Hendo just beating away at Shogun, but then when it got standing, Shogun got some great shots in and wobbled Henderson, and eventually got him to the ground by the end of the fight, but Henderson reversed his attempt at a Rear Naked Choke and ended up on top. This is one of the things that really proves how amazing this fight was, no matter how dominant one fighter looked, the other fighter would find a way to even the odds and even end up with the tables being flipped at other times. I think that's why I forgot how back in forth the fourth round was, because I remembered the beginning and ending sections with Shogun at an advantage, and my mind kind of erased the Henderson dominance that was the middle part of the round. The ending round was pretty much all Shogun, with Dan Henderson too tired to really mount any defense, but luckily for him, Shogun was also pretty tired, so his offense was a bit lacking, but it really shows how damn willful Shogun is. No matter how hard he was gassed, the man still kept going, no matter the odds, he would find a way out and try his damndest to win the fight. Dan Henderson was that way at the beginning, he was a wrecking ball who was trying to knock down Shogun Rua at every turn, but eventually he started tiring, so that's when Shogun's unflappable demeanor got the best of him and the tide began to turn. This is one of the best fights of all time, with an opening round of dominance and a closing round of dominance, one for each fighter, and a great back and forth between the two of them for the rest of the rounds. There really isn't any down moment in the fight, either, it is pure action almost through and through, even during the later rounds where both guys are visibly gassed, they still manage to put a nice flurry together and keep it entertaining. I think watching it a second time has made me love it even more, honestly, and I think that's a true testament to the fight. It makes you love it more the more you watch it.

Jonathan Solomon: Was November 19, 2011 the most awesome night in MMA history? If we're talking about awesome fights, than there's no doubt about it. You have already read about Bellator's best fight ever which took place on that night between Eddie Alvarez and Michael Chandler. Well, the UFC was also showcased that night from San Jose and their five-round main event was between a pair of bonafide legends.

This was Hendo's return to the UFC following his Strikeforce run which saw him last knockout Fedor Emelianenko before signing to fight Rua. Shogun, meanwhile, was fresh off his knockout of Forrest Griffin the previous summer in Brazil. To add to the spectacle, this fight also granted Shogun the opportunity to avenge his brother Ninja's loss to Henderson from Pride in 2001.

Right from the start, Dan Henderson was in charge to the point that Rua sustained a cut above his left eye in the first round. Yet, as a testament to the true back-and-forth nature of this fight, closer to the end of the round, Shogun's uppercut hurt him and yet it was still not enough to have scored the round in his favor. "Hollywood" Henderson came out in the second and continued landing the more powerful strikes while it appeared both men were having issues with stamina, even shy of the ten-minute mark.

Ironically, entering the third round, Henderson's corner men were adamant that Shogun had no gas left and was prepared to be finished. They were nearly proven correct because Henderson's patented right hand sent the Brazilian to the ground but before he could be punched enough to lose, he applied a heel hook. Hendo had to instantly worry about his defense and get out of the hold, even though he appeared to be within only a few strikes of getting referee Josh Rosenthal to stop the action. With both men standing again, it continued to be clear that if this fight went the distance, it may very well be decided based on who could intake more oxygen than the other. By the end of the third round, Henderson had been ruled the winner of each, making Shogun's task all the more unlikely. He was going to need to finish Dan Henderson to win this fight.

To make matters worse, Rua's eye was badly swollen, yet was open enough so the fight could not be instantly halted. They exchanged takedowns and grappling holds early on, Shogun defended a rear naked choke and a guillotine attempt, too. Towards the second half of the round, Shogun was textbook with a huge uppercut that rocked the former Pride and Strikeforce champion, but naturally, he quickly recovered enough to put up some semblance of a fight. Then again, Rua was so tired by this point that he simply may not have had enough to score a finish. He had the opportunities including one sequence in which he had full mount, then back mount. It wasn't a 10-8 round but Shogun finally earned his first of the four they competed in and entering the final five-minute stretch, it was going to take a massive strike to put Henderson down.

Quickly in the final frame, Shogun scored a takedown and transitioned to full mount. Ground and pound from Shogun was close to finishing the fight but Henderson was able to stay active enough to keep Rosenthal from jumping in. Rua had another chance at mount position and with an equally exhausted man underneath him, he simply ran out of steam to put him away. He easily took the round, but it was not enough and Dan Henderson was awarded the victory with three scores of 48-47 in arguably the UFC's greatest fight ever.

Trust me, it was better than it reads because you're mental picture is that of two tired guys wailing on one another. It was a lot more than that with two all-time greats showing their fighting spirit and despite their physical weaknesses on that given night, neither man quit. There were plenty of available openings for either man to tap out or just turtle up, but they fought through it and went to the end.

For the record, Dan Henderson has never been finished by strikes while Shogun Rua's one loss by KO/TKO came at the hands of Jon Jones (not counting his loss by injury to Mark Coleman).


---
#1. Fedor Emelianenko vs. Mirko Cro Cop Filipovic
PRIDE Final Conflict 2005
Saitama Super Arena in Saitama, Japan
PRIDE FC HEAVYWEIGHT CHAMPIONSHIP BOUT: Fedor Emelianenko (c) VS. Mirko "Cro Cop" Filipovic

Jeff Harris with the fight recap…

No video or highlight package on the DVD, and the video goes straight to the ring for introductions. Here we go, one of the biggest heavyweight championship showdowns of the decade. Cro Cop and Fedor touch gloves, and the crowd is excited.

Round 1: Fedor advances on Cro Cop at the start and clinches, but Cro Cop escapes. Fedor checks a Cro Cop kick and goes in with a right. Cro Cop exchanges back with some of his own. Fedor continues to follow Cro Cop around the ring and gets a left and a body kick. Cro Cop tries to evade Fedor's strikes and try to get some of his own punches in. Fedor throws a left leg kick, and Cro Cop hits a nice left jab. Cro Cop snaps off a loud kick, but Fedor counters with a left and goes after Cro Cop with some right punches. Fedor now starts catching up with Cro Cop against the ropes and getting off more punching combinations as it looks like Cro Cop's strategy is failing. Cro Cop goes for a big kick, but Fedor ducks it and picks Cro Cop up for a takedown, but in an amazing visual Cro Cop bounces off the ropes and lands on his feet and Fedor goes through the ropes right onto the ring apron. Wow. It looks like Cro Cop basically pushed Fedor out of the ring. Fedor gets back in and later rocks Cro Cop with some punches and continues to press the action. Cro Cop then presses Fedor with some nice left punches and ducks a huge swing from Fedor. Cro Cop misses most of one of his big high kicks and Fedor is able to come back and get a takedown. Fedor lands some punches on the downed Crop Cop, but Fedor is bleeding heavily. It looks like Fedor got cut from that skimming high kick or left. The corner wipes Fedor down and Shamada restarts the fight in the middle of the ring. Cro Cop tries to defend against Fedor's onslaught in the guard. Shamada stops the fight again to wipe the blood off of Fedor and Cro Cop. Shamada restarts it in the same position. Fedor stands and lands some punches while Cro Cop tries to hit some upkicks. Fedor blows his nose out and lands another punch. Cro Cop tries to shift round and lands some punches while Fedor stands up. They roll round for a bit, and Fedor passes into north/south. Fedor however leaves the mount position and goes back into Cro Cop's guard. Fedor lands some more bombs while Cro Cop tries to remain active. Cro Cop is able to keep Fedor from passing and defends. Bell sounds and that's the first round. Whew. Cro Cop did get some damage in on Fedor and got first blood. However, right at the start, Fedor already imposed his will on Cro Cop and dictated the pace and pressed the action. Cro Cop did his best to try and evade Fedor's strikes, but it was only a matter of time before Fedor got more and more off. Cro Cop started to do better, but then Fedor gets a takedown and dominates Cro Cop on the ground, which is not Cro Cop's strong suit.

Round 2: Fedor gets some body shots on Cro Cop against the ropes and lands a head kick. Cro Cop answers back with a kick to the liver, misses a head kick, and gets a left punch. They both fight over a bodylock for a little while. Cro Cop looks like he's starting to tire, and Fedor continues to press the pace. Fedor gets some knees in the clinch and shrugs Cro Cop off. Fedor and Cro Cop clinch against the ropes, and Fedor gets an inside leg trip. Fedor delivers more of his ground punishment and fights to pass, but Cro Cop defends from Fedor getting mount. The second round ends pretty much the same as the first. As the fight continues, it remains to look like Cro Cop is playing right into Fedor's game and is starting to fatigue. Cro Cop is surviving and landing some strikes, but Fedor is generally scoring more in the standup and on the ground.

Round 3: Third and final round. Fedor continues to look to be getting the better of the standing exchanges. Fedor shoots for a takedown, but Cro Cop almost reverses it and gets Fedor's back. Fedor however turns it over on top of Cro Cop. Cro Cop lifts up his leg and looks like he has an armbar! Fedor however lands a series of hammerfist strikes, and Cro Cop is not able to keep the hold. Fedor passes into side control. Fedor moves back into full guard and lands some more ground strikes while Cro Cop tries to fight from the ground. Cro Cop starts holding Fedor's arms and Shamada issues a yellow card to Cro Cop and stands both men up. I think that was a stupid yellow card. They've let a lot more go on without yellow cards. Cro Cop clinches up with Fedor and struggles, but Fedor gets the takedown. The ground battle continues, and Cro Cop tries maybe for another armbar, but Fedor fights through it. Shamada issues yet another stupid yellow card. I have no idea why. I think Shamada just wanted to stand them up for the last minute so they pulled this crap. This fight has by far the stupidest utilization of yellow cards I have ever seen. Back to standing. Cro Cop lands a pair of body kicks, but he's starting to drop his hands and Fedor isn't backing down. Fedor presses Cro Cop against the ropes and shoots for a takedown but instead basically just shoves the tired Cro Cop to the ground and moves into full guard. Cro Cop tries to fight from the ground but its all but useless. The bell sounds and that is all. Fedor helps Cro Cop to his feet.

The Winner: The judges award Fedor the academic unanimous decision after this grueling, titanic, heavyweight clash. Fedor neutralized whatever ground game Cro Cop had been working on. Even in the stand-up where Cro Cop's skills are strongest, Fedor was able to take Cro Cop's best and fight through it. Again, I think Cro Cop went in with a bad strategy in letting Fedor impose his will and dictate the pace and action of the fight. That said, I think in the third round Fedor could've done a little more to finish Cro Cop when Cro Cop's tank was clearly starting to run on empty. Credit to Cro Cop going the distance, even if he basically got dominated. Nobuhiko Takada comes in for Fedor's victory celebration and awards Fedor a plaque. Great visual with Fedor winking with his swollen eye. Fedor gets a big trophy and is given back his title belt. Fedor gets on the mic and dedicates his win to the fans in Saitama and around the world who supported them and also thanks them in Japanese.

Jon Butterfield: Victories over Antonio Rodrigo Nogueira and a plethora of the world's greatest heavyweights had many proclaiming Fedor Emelianenko as the number one pound for pound fighter in the world. Mirko CroCop, however, was a world class striker with experience in K-1 and a string of highlight reel KO's to his credit. Many seemed to think CroCop had the best chance of any opponent since Nogueira, particularly if Emelianenko was unable to get the Croatian to the mat...

It turned out that Fedor didn't need to. The most feared pure striker in MMA, CroCop was a foe who had stalked down and damn near decapitated a string of opponents, including Fedor's own brother, Aleksander Emelianenko – but Fedor had no intention of letting Mirko do the same to him. Pressing the action, Fedor bullishly forced CroCop onto the back foot, disrupting Mirko's favored tactics in the process. While many opponents had looked to defend against CroCop's striking, Fedor looked to make the Croatian defend, and his constant forward motions seemed to affect his opponent's timing. And just for good measure, Fedor would go on to score takedowns and utilize his patented ground and pound assault to wear Filipovic down further.

It was a masterful performance from Fedor, and though he couldn't finish CroCop, this was the moment he established himself as the kingpin of modern MMA. While this fight didn't necessarily have the historical importance of Griffin-Bonnar in terms of the sport itself or an MMA company's individual pursuits, it did establish a pecking order in the heavyweight division that would take literally years to disrupt. Fedor was the number one, and the rest could battle it out for silver and bronze – and for some time, Filipovic would be in the trailing pack.

Wyatt Beougher: So this is it – if you've been following along with us as we counted down our top favorite fights, this fight edged out Mauricio Rua/Dan Henderson to take the top spot. As good as Shogun/Hendo was, that should tell you something about this fight. At the time, Fedor was on an incredible 19-fight winning streak (with a no contest with Big Nog in the middle), and while he had defended his PRIDE heavyweight championship only once since winning it against Antonio Rodrigo Nogueira in a fight I covered earlier in the countdown, Emelianenko had also beaten Big Nog to win the 2004 PRIDE Heavyweight Grand Prix, unifying the PRIDE heavyweight title and interim heavyweight title in the process. (Nog had won the interim title, which was established because of a contract dispute between DSE and M1, by beating Cro Cop in the 2003 Fight of the Year – another fight that unsurprisingly made our list.) En route to beating Nog and unifying the belts, Fedor beat Mark Coleman, Kevin Randleman (in a fight that I had previously mentioned was my introduction to Fedor), and Naoya Ogawa. Cro Cop, on the other hand, was riding a seven-fight winning streak with wins over Josh Barnett, Alexander Emelianenko, Kevin Randleman, and Mark Coleman. To say that this fight was the most anticipated MMA fight of 2005 would not be a stretch in any way, shape, or form. And, surprisingly, it lived up to the hype.

Cro Cop, the head-kicking Croatian with a list of devastating knockouts, would be stepping into the ring with Emelianenko, the feared Russian who seemed unbeatable and could end fights with strikes or submissions. Both men were known for their accurate and devastating striking, and it was believed that if anyone could overthrow "The Last Emperor", it was Filipovic. That stands as a testament to just how feared Cro Cop's striking was, because his ground game was almost entirely non-existent.

In the early goings, Fedor stalked Cro Cop and tied him up, but the Croatian quickly freed himself and attempted to use his legs to keep the Russian at a distance. Emelianenko would not be denied; however, and he kept lunging forward and connecting with punch combinations (and the occasional kick or knee) that kept the kick boxer backpedalling. For his part, Filipovic landed a handful of good punches and some absolutely brutal kicks to the body, but Fedor made him pay with punches every single time he landed a big kick. At one point in the first round, Emelianenko back Cro Cop against the ropes and teed off on him, landing three huge punches in quick succession that would've ended a lot of fights. Moments later, in one of the most impressive visuals of the fight, Emelianenko caught a kick and drove forward with such force that when he threw Cro Cop down, Fedor himself tumbled through the ropes and to the canvas. Shortly thereafter, the two began exchanging, with Cro Cop gaining his first advantage of the fight as he landed a nice double jab that stunned Fedor. Cro Cop chased Fedor across the ring throwing punches, but Fedor staggered him with an overhand right. Cro Cop was quickly back up and he threw his devastating Left High Kick (capitalized for emphasis); unfortunately for Filipovic, it only grazed Emelianenko and he slipped while throwing it, so he had to quickly get back to his feet. Cro Cop slipped on a punch moments later and Fedor tossed him to the ground before looking for a leg lock and quickly dropping into guard. The fight was paused to re-center the two combatants and clean some blood from Fedor's nose but the rest of the round would play out in almost the same manner: Fedor would land ground and pound, stand up and each punches and kicks from Cro Cop, then drop back down with more punishment. Twice Emelianenko was able to improve his position, but each time he ended up back in Cro Cop's guard, where he would land more strikes. I honestly don't think this fight would've gone to a decision, but Fedor's best punches from the top ended up missing Cro Cop's head and hitting the mat.

The second round started much the same, with Fedor stalking Cro Cop and then punishing him on his feet, but his attempt to take Cro Cop's back was unsuccessful and they went back to striking exchanges on the feet. And while the action started to slow down in the second round with clinches and stalling, when the two men were throwing strikes, they were doing so with bad intentions, as you could see each man visibly trying to take the other's head off with every strike. Finally, Emelianenko was able to drag Cro Cop to the canvas at the edge of the ring, and moments later, they were moved to the center of the ring. From there, the rest of the round played out almost exactly the same as the first round – Fedor in dominant position, looking to end the fight with ground and pound and Cro Cop valiantly trying to catch the Russian with punches or upkicks.

At the start of the third round, both guys were showing the evidence of the war that they'd been in, but Cro Cop actually came forward to start the round, although Emelianenko quickly had him backpedalling again. Cro Cop managed to power Fedor to the canvas, but Fedor quickly turned the tables and went back to work from the guard, and it was pretty much all over from there. The Russian picked up where he left off in the first and second rounds, pounding away on the Croatian, and even Cro Cop's desperation armbar attempt or a pair of questionable stand-ups did nothing to stop Emelianenko, as he was quickly able to regain control of the fight each time. Much like Fedor's first fight with Antonio Rodrigo Nogueira, by the time the final bell sounded, there was no doubt as to which fighter's hand would be raised when all was said and done, but I think the fact that Fedor was able to so easily dominate so dangerous an opponent speaks volumes about just how far above his competition the Last Emperor really was.

For twenty minutes, two of the best heavyweights in the world waged war against one another, with each man so respectful of the other's finishing abilities that they tried to make every punch, kick, or submission attempt count. It's fights like this one that make Joe Rogan's tired commentary of how two fighters are barely engaging each other "out of respect for their opponents' skills" ring hollow. I'd also wager that fights like this one are a big part of the reason Georges St. Pierre's detractors are so critical of his fighting style for the past few years. Like GSP, Fedor was in dominant position for 80% of the fight, but Emelianenko never stopped working to finish Cro Cop and there wasn't a point in the entirety of the fight where it looked like he was content to simply ride out the round and win a decision. And while it's hard to argue with St. Pierre's success, it's certainly easy to see why Fedor has appeared on our Top 25 list multiple times.

Was this the best fight of all time? To some fans, I'm sure that it was. It's not my personal favorite fight, but I can certainly recognize that it was absolutely one of the best fights in the history of MMA, featuring two heavyweight monsters who were on top of the division coming into the fight. It was certainly far more anticipated than any match-up the UFC has been able to promote in their heavyweight division in quite some time (if ever), and I doubt that, barring the emergence of a heavyweight fighter with the charisma of Brock Lesnar and the fighting ability of Fedor, we'll ever see another heavyweight fight generate this kind of interest. For those reasons, I do believe that it has earned its place here at the apex. I think you can make a case for any of our Top 5 fights (and probably most of the top 10, for that matter), but that's the beauty of opinions and our comments system – everyone is entitled to their own, and the powers that be that run this site have given you guys the freedom to let us know what you think.


Robert Winfree: Seeing the two best fighters in the world in their respective division square off is something great. In the modern ear of dominant champions it somewhat diminishes that fight when the number one fighter is clearly superior to the number two fighter, so much so that picking against that fighter seems ridiculous. No one in their right mind gave Demian Maia, Thales Leites, Patrick Cote, James Irvin, or Stephan Bonnar a chance at beating Anderson Silva. Quinton Jackson, Rashad Evans, Lyoto Machida, and Chael Sonnen were obviously out of their depth against Jon Jones. Antonio Silva had no chance at all against Cain Velasquez, though I don't think anyone considered Silva the number two heavyweight in the world. In 2005 when longtime PRIDE heavyweight champion Fedor Emelianenko was scheduled to fight challenger and universally ranked number two heavyweight fighter Mirko "Cro Cop" Filipovic there was excitement all around the MMA world. In addition to seeing the two best in the division fight, the fact that this was a heavyweight title fight added to the whole thing. For all the discussion of pound for pound rankings, and despite the somewhat hyperbolic title of "Baddest man on the Planet" that the UFC uses for their heavyweight champion, there is little debate that a heavyweight fight carries with it a certain level of mystique that isn't as prevalent in other weight classes. The PRIDE heavyweight division was always better than the UFC's, especially in 2005 when Emelianenko and Filipovic finally met. For comparison the UFC heavyweight title scene in '05 consisted of fights featuring Tim Sylvia, Andrei Arlovski, and Paul Buentello. Fedor Emelianenko had been the undisputed king of the heavyweight division since he upset Antonio Rodrigo Nogueira in 2003 to become the PRIDE heavyweight champion. Mirko "Cro Cop" Filipovic entered the MMA world in 2001 and went undefeated until November of '03. That fight was against former PRIDE heavyweight champion Antonio Rodrigo Nogueira for the interim heavyweight title following a brief contract dispute between Emelianenko and PRIDE. A showdown with the real champ was a foregone conclusion, and people were already speculating about a fight between the highlight reel KO machine that was Filipovic and the greatest heavyweight on the planet. Of course Nogueira put a halt to that with a trademark comeback victory, despite being out struck over the entire first round Nog got an armbar victory in the second. In the PRIDE 2004 heavyweight Grand Prix Filipovic and Emelianenko were on the same side of the bracket, all that was needed to see the fight was a first round victory for both men. Emelianenko made short work of Mark Coleman with an armbar, but Filipovic was the victim of a substantial upset when he was caught with a left hook from Kevin Randleman and pounded out. The dream fight was again postponed. Emelianenko went on to win the Grand Prix, defeating Nogueira to win the tournament and unify the interim and real heavyweight titles. Filipovic went on a seven fight winning streak, finishing all seven opponents with strikes to finally get a title shot against Emelianenko. The two met at PRIDE Final Conflict 2005 for what was hands down the biggest, most anticipated heavyweight fight, if not MMA fight, of all time to that point. While the debate between the UFC and PRIDE remains one of personal taste, one area that PRIDE excelled where the UFC does not is the hype videos for a fight, and the video for the "Cro Cop" vs. Emelianenko fight was one of their finest efforts. Could the ground and pound machine, the most perfect fighter in MMA at the time, Fedor Emelianenko avoid the trademark left high kick of the challenger? Could Filipovic avoid the ground game and use his kickboxing skills to upset the champion? Could the action actually live up to the hype of seeing the two best heavyweights in the world square off inside the ring? The answer to the last question wound up being a rather emphatic yes.





Immediately the champion began pressing the action, Emelianenko was constantly the one moving forward, keeping the challenger from finding his rhythm or his range. Fedor avoided the first couple of kick attempts from Mirko, landing a right hand counter, but Mirko began using a straight left punch to tag the champion and landed a powerful body kick. Fedor would pressure Mirko into the ropes and throw a combination, but Mirko countered a few moments later by throwing a left high kick that Fedor dodged and then tossed Mirko aside. The two men continued to engage sporadically, Emelianenko walking down Filipovic and throwing a lead right at the southpaw Filipovic. Mirko would counter with a straight left, wobbling the champion at one point and backing him up with a series of straight left punches before just missing with another high kick. Fedor would capitalize on a slip from Cro Cop following the kick and after a brief scramble wound up on top of the challenger in his full guard. This was precisely where Filipovic did not want to be, Fedor had demonstrated powerful and accurate ground and pound throughout his career. The final five minutes of the first round saw the champion patiently work from the full guard of the challenger, landing punches to the head and body. Fedor would periodically stand and then come down with a trademark diving right hand. Towards the end of the round Fedor stood and passed the guard of Filipovic, winding up in north south position. Fedor tried to pass into the full mount but wound up back in the guard of Mirko. The two men finished the first round throwing, Mirko throwing upkicks and Emelianenko throwing punches. Fedor came out fast in the second round as well, landing a hard body kick and flurry of punches to the head and body of Filipovic as he was against the ropes. Moments later Emelianenko threw a high kick at the kickboxing expert. Cro Cop would retaliate with a hard liver kick moments later, a kick he'd stopped more than on opponent with, but Fedor just absorbed it and continued moving forward. The two men clinched against the ropes, but neither could secure a takedown and Fedor landed a solid left hook on the break. The second round was a lot of Fedor continuing to press forward on the challenger, and Fedor avoid the strikes of Filipovic and land counters of his own. With two minutes remaining in the round Fedor clinched with Cro Cop and used an inside trip to again wind up in top position. Fedor again began working the body and the head of Mirko. During one of his standing attacks Fedor passed into side control for a moment before Mirko regained full guard. The second round came to an end with Fedor inside Mirko's guard and landing short punches. The third round started off with a flurry from the champion as Fedor landed punches to the head and body, then a body kick as Mirko was backing up. The two men clinched against the ropes and as Fedor attempted a throw Mirko managed to avoid it and briefly get the back of the champion, but Fedor calmly adjusted his position and wound up again on top of Filipovic in his guard. Emelianenko began landing short blows to the head and body before passing into side control and landing a series of hammer fists to the head of the challenger. Mirko regained full guard when Emelianenko tried to mount the challenger, but was unable to muster offense on the champion. With a little over two minutes remaining in the fight the official stood the two combatants up. Cro Cop immediately threw a wild left hand that missed, the two men clinched again and Fedor secured another takedown. Fedor remained active with punches, but the lack of action prompted the official to stand them up again with just sixty seconds left in the fight. The two men circled a bit, but Filipovic was clearly fatigued by this point, his punches and kicks were labored and the champion still looked relatively fresh. Fedor secured another throw with fifteen seconds left in the fight and finished the fight in top position, again landing shots to the challenger. Emelianenko would retain the title by unanimous decision. Mirko "Cro Cop" Filipovic rebounded by defeating Josh Barnett, then lost a split decision to Mark Hunt. Filipovic would go on to achieve a career high in 2006 when he won the PRIDE openweight Grand Prix on his 32nd birthday. Since then Mirko wound up in the UFC for a short stint, then returned to Japan for a few fights before returning to the UFC for a further few fights. Filipovic would retire following a loss to Roy Nelson, but came out of retirement recently to return to kickboxing with a rematch of his fight with Fedor's younger brother Alexander set for later this year under MMA rules. Fedor Emelianenko would remain PRIDE heavyweight champion until the company folded in 2007, and remain unbeaten until June of 2010. Fedor recently retired from the sport, but remains the greatest heavyweight fighter of all time, and his classic fights with Nogueira, and the biggest heavyweight fight of all time against Mirko "Cro Cop" Filipovic stand as testament to that.

---








The Wrap Up


And there you have it. I want to thank you all for reading the feature as we presented it. As always, it was a ton of work, but we feel that it was worth it and are proud of the list we put out. As for the list, if you have followed it since the beginning, you will have noticed that nine men made more than one appearance. They are…


Dan Henderson – 3

Antonio Rodrigo Noguiera - 3

Rampage Jackson - 2

Antonio Rogerio Nogueira - 2

Mirko Cro Cop - 2

Fedor Emelianenko - 2

Benson Henderson - 2

Shogun Rua - 2

Wanderlei Silva - 2

I want to thank the MMA staff for their awesome participation, as well as my wife for the graphics work. Here is the complete top 25…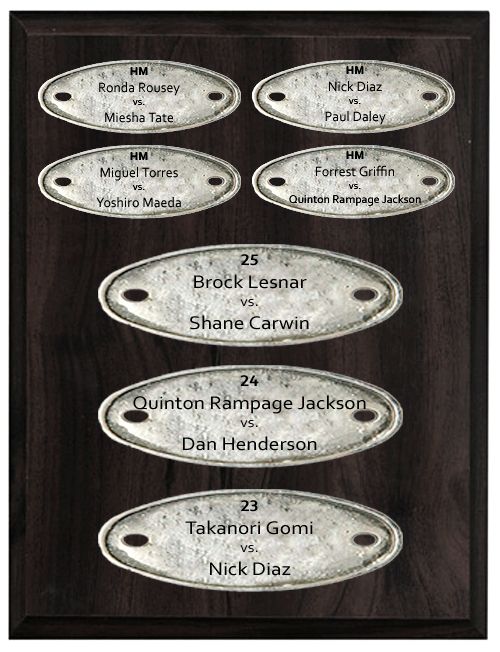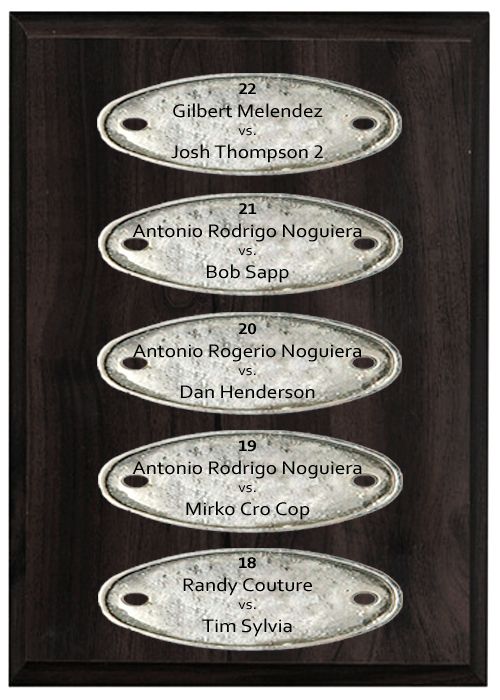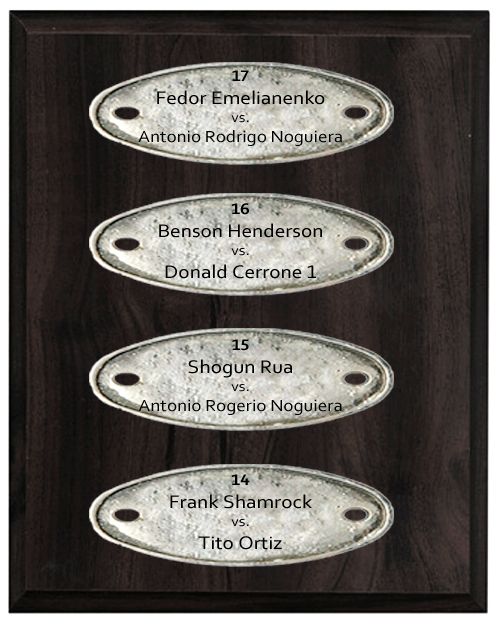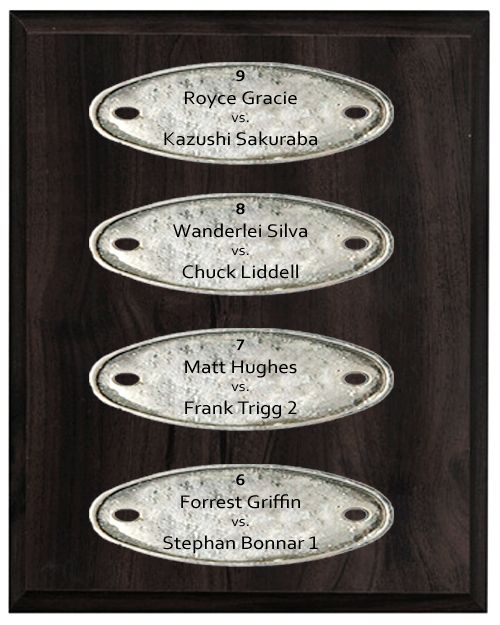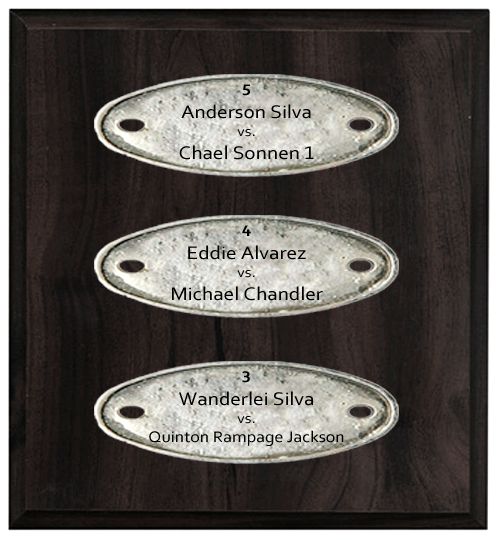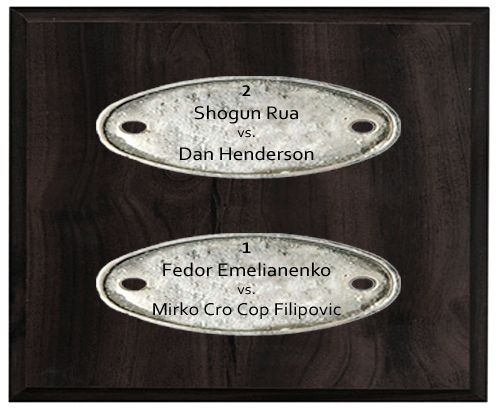 Thank you all for reading!
comments powered by