SPOTLIGHTS
Occupy The Throne 8.21.13: Answering Fighter E-Mails #9
Posted by Jeremy Lambert on 08.21.2013

Is Ronda Rousey going to ditch the UFC for Hollywood? Is Alistair Overeem overrated? Who should Chael Sonnen fight next? 411's Samer Kadi and Jeremy Lambert answer these questions and more!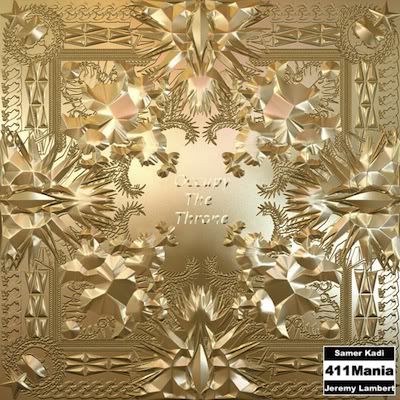 It's another edition of fake e-mails from real fighters this week, so we're obligated to tell you that these e-mails are not real. In order to avoid a "CagePotato" situation, we would like to inform all Zuffa/personal lawyers that the quotes below are fake, manufactured, and entirely made up, and that we at 411mania are in no way trying to mislead the reader.



Fake E-Mails. Real Fighters



"Jeremy, THE TRUTH IS BACK! I want you in my corner against Ben Rothwell and we're going to start our climb back to the top" - Brandon Vera

You got it Brandon. What people don't realize is that you're actually undefeated. Allow me to drop some truth.

Tim Sylvia didn't beat you. You lit him up on the feet and scored a takedown, which we all know is an automatic victory nowadays. The judges only scored the fight for Sylvia because they weren't happy about your contract holdout, which put you on the sidelines for almost a year. Can you blame them, Brandon? They went almost a year without seeing you in action. I don't know how the MMA world survived. This is an example of poor judging.

Fabricio Werdum didn't beat you. The referee stopped the fight early. There were still 20 seconds left in the round. You would've easily survived and then destroyed Werdum in the second or third round because he would've gotten tired and his striking isn't even close to being on your level. This is an example of poor officiating.

Keith Jardine didn't beat you. I looked at the numbers, and as you know, they never lie according to that show on ESPN2 that might be off the air now because it wasn't very good. You out-struck him 56% to 38% and took him down 100% of the time while he only took you down 50% of the time. So anyone with a brain can figure out that you won this fight. This is another example of poor judging.

Randy Couture didn't beat you. This one is obvious. Couture didn't do anything in this fight except hold you against the cage. He was given the decision because he's Randy Couture. Even he knows he lost this fight. The is another example of poor judging.

Jon Jones didn't beat you. Had he not elbowed you in the eye, there is no doubt in my mind that you would've destroyed his chicken legs. I'm also convinced that he hit you with an illegal elbow. He meant to slam the point of his elbows into your eye, which just goes to show the character of Mr. Jones. This is an example of a fighter cheating.

Thiago Silva didn't beat you. This is obvious. He was on steroids. If he wasn't on steroids, you would've destroyed him. This is another example of a fighter cheating.

Mauricio Rua didn't beat you. You were only prepared to fight for three rounds but the UFC made it a five round fight when they put you in the main event. That put you at a huge disadvantage because everyone knows that Rua is known for his outstanding cardio. Also, the fight should've been stopped when you landed that beautiful combo that had Joe Rogan wooing. This is an example of poor company management.

See. Technically you're undefeated and at UFC 164 you'll add Ben Rothwell to that list. He's an overweight slob who was bullied as a kid. You're 35, Brandon. You're still a top prospect in the sport. THE TRUTH IS COMING!

"I was just submitted by Chael Sonnen in the first round. Where do I go from here?" - "Shogun" Rua

Samer Kadi: Irrelevance. It pains me to say this, "Shogun," because you're one of the greatest light heavyweights to ever grace the sport. Based on quality of competition beaten, you have a case to be ranked above Liddell and Wanderlei on an all-time list (but not above Jones). Your highlight reel is one of the most violent in MMA history, your fight with Little Nog was one of the best in PRIDE history, while your fight with Dan Henderson is arguably the greatest in UFC history. You've had one of the best years any fighter has ever had in 2005, when you ran through the PRIDE middleweight Grand Prix, and you later won the UFC light heavyweight title by handing Lyoto Machida his first defeat. Unfortunately, you also have no knees. It truly sucks because you're only 31 years old, but an injury-plagued career has robbed you from reaching even greater heights, and robbed us from being there to witness it.

Truth be told, you haven't looked particularly good since your knockout of Machida in 2010, and have since had yet another knee reconstruction. Your cardio is a major liability to where it has become a lost cause. Naturally, you are still good enough to beat your average light heavyweight, but it is clear you can no longer compete with the elite. Unless the UFC is kind to you with future match-making, you might not even be with the company a year from now.

I'm hoping you'll assume the Wanderlei/Rich Franklin role of fighting on a limited schedule against carefully selected opponents where winning won't mean much, but neither does losing.

Jeremy Lambert: Dan Henderson. Both of you are coming off two straight losses and with you continuing to fade into obscurity and Henderson continuing to get older, now is the time to put together a rematch of arguably the greatest fight in MMA history. Put it as the main event on a FS1 or FS2 card to ensure that it's five rounds and prepare for more greatness.

Sure the second fight could dampen the memory of the first fight and it certainly won't help your health, but as Dana White said, this is short term job. Who cares if you'll be retired at the age of 32 following the rematch. If you saved your money that shouldn't really be a problem. Plus I'm sure the UFC will give you some title like "Ambassador of Brazil" where you don't actually do anything but still collect a paycheck.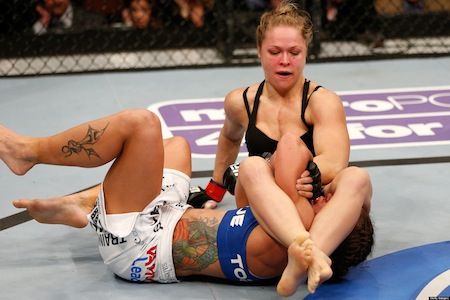 "Will I ditch human cock fighting for some real Hollywood action?" - Ronda Rousey

Jeremy Lambert: Of course you will, why wouldn't you? Dana White can say that you're a fighting at heart and that Hollywood isn't paying what UFC is paying (which I find laughable), but at the end of the day you can make more money in the long run and have your health. There's a place in Hollywood for a legit female ass kicker and you fit that bill pretty well. Gina Carano has done well for herself on the silver screen and she's shy and a bit awkward in real life. You're brash and not afraid to speak your mind, giving you a more legitimate feel as a bad ass.

Plus, after you beat Tate again and then fight Zingano/McMann, what else is there for you in MMA? Unless the UFC signs Cyborg, which seems pretty unlikely, there isn't much competition for you after 2-3 more fights.

Samer Kadi: Eventually, yes. I don't think it's going to happen as soon as you suggested (two years), but I do think you'll walk out of the sport at some point and join the acting world…and you have every reason to. While you're more than likely getting handsome paychecks competing in MMA, the fact is, this isn't a long term job, nor does it pay nearly as well as Hollywood. To state the obvious, it's much more demanding, not to mention, much more dangerous. Even if your talents for acting don't match your fighting skills, this shouldn't really matter in this day and age. You certainly have the personality for the big screen and everything that goes along with it, and will probably do very well for yourself.

"I got Bellator to run a PPV and got an immediate title shot without having to win some tournament. Am I the smartest man in MMA?" - Eddie Alvarez

Samer Kadi: Not really, Eddie. It's more like Bellator is a company who has no idea how to run its business, or establish a good relationship with their employees. Their contracts are essentially there to forever handcuff their fighters, especially with the absolutely ridiculous "champion's clause." Meanwhile, they seem to overvalue some names, and are making the same mistakes made by pretty much every single deceased MMA promotion. The move to PPV is plain nonsensical, and is largely influenced by the Alvarez drama. In any case, if you were indeed the smartest man in MMA, Eddie, you would have signed with the UFC long before ever joining Bjorn Rebney.

Jeremy Lambert: I think you're a double agent, Eddie. I believe that you're actually working for the UFC and your plan all along was to trick Bellator into running a PPV, losing a ton of money, and eventually put them out of business. Before all that happens though, you're getting your rematch against Michael Chandler and a chance to earn an immediate UFC title shot if you win since you'll likely be the champion when Bellator goes out of business.

Now, knowing all this, I would have to say that you are the smartest man in MMA.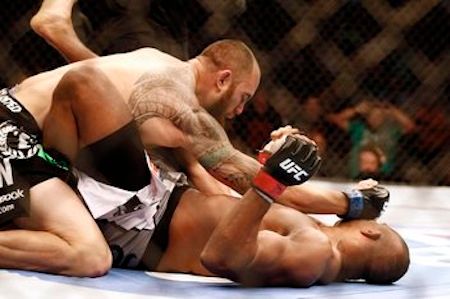 "Am I overrated? Actually, scratch that, just how overrated am I?" - Alistair Overeem

Jeremy Lambert: Alistair, if you spent less time emailing us asking how overrated you are after every loss and more time working on your cardio and defense, you might not be so overrated.

As such, you might be the most overrated fighter of all-time because everyone thought you would be the next heavyweight champion when he returned to America following your K-1 and DREAM run but thus far you've been extremely disappointing. You're talented, anyone can see that. If Travis Browne was a lesser man, he would've been done, but you're also stupid. He constantly kept attacking the head of Browne even though it was his body that was in pain and then you allowed him to throw the same kick 20 times without even trying to defend. I don't care how tired you are, how hard is it to take a step back or just clinch up again against a guy who is in obvious pain? You avoided his sloppy right hand but you couldn't avoid the same kick?

Good heavyweights beat mediocre heavyweights. That's why Cain and JDS are the absolute best and why Werdum and possibly Antonio Silva are just below them. Mediocre heavyweights just continue to toil around until they face a good heavyweight, where they are quickly destroyed. You're a mediocre heavyweight who has cost the UFC a lot of money, not only by under-performing, but by retiring their biggest draw and then screwing up two big title fights for yourself.

Samer Kadi: Alistair, open your Wikipedia page and take a look. What on earth have you done in this sport, and who the hell have you beaten, to warrant the hysteria that accompanied your signing with the UFC, or your participation in the Strikeforce heavyweight Grand Prix before that? Your move to the heavyweight division was supposed to strike fear in the hearts of every athlete in that division, yet your best wins have all come at light heavyweight (where you still lost to most elite fighters you've ever faced). Your best heavyweight win is Brock Lesnar, who happened to have one foot in the WWE and no intestines. Aside from that, you barely squeaked by Fabricio Werdum in a bout you very well may have lost (as did anyone who watched it). Every other fight in the division was a complete squash over a can or an overmatched average fighter. You have no chin, no cardio, you crumble under pressure, and your K-1 exploits have not translated into this sport as your MMA striking remains extremely flawed and at times, quite harmless.

"Who should be my next victim: Wanderlei Silva, Vitor Belfort, or Lyoto Machida?" - Chael Sonnen

Samer Kadi: Wanderlei Silva. Let's be honest, Chael, Machida would absolutely clown you, and while there isn't much wrong with that, there's little point in making that fight. Meanwhile, Vitor Belfort is on the cusp of a title shot in the middleweight division, and the UFC would be risking too much by matching you two together, since if he were to lose, they've just lost a top contender. If Anderson Silva recaptures the title, you're not going to get a third fight against him so there is no sense in having you compete in relevant middleweight bouts at this point in time. This leaves us with Wanderlei, whom you have a rivalry with and have called out on numerous occasions. It's a fight that you should win, and keeps you relevant enough to where you can occupy a co-main event spot to strengthen some PPV's, or headline free cards.

Jeremy Lambert: Wanderlei Silva is the easiest opponent since you should have no trouble taking him down and beating him up for 25-minutes. Lyoto Machida is the toughest opponent since you can't strike with him and your only hope of winning is to land a takedown in the final 20 seconds of each round. Vitor Belfort is the most interesting opponent since you might be able to take him down and break him mentally, but he'll make you work for those takedowns and there's a chance that he blasts you on the feet.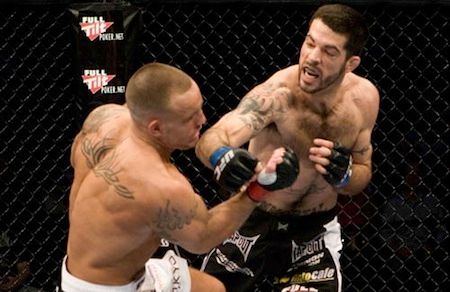 "Why is everyone laughing at me for saying I can out-wrestle GSP>?" - Matt Brown

Jeremy Lambert: I don't know, Matt. I'm definitely not laughing. I believe that you're the greatest fighter of all-time and the uncrowned king of every single UFC division. Not only can you out-wrestling GSP, but you'll out-strike and out-grapple him as well. You'll have your way with GSP. People don't understand how much you've improved that there is no way for GSP to beat you. He's never fought a guy like you who is so offensive off his back. The reason you used to get caught in so many submissions is because of how offensive you are, but GSP isn't good enough to capitalize on those mistakes. HE COULDN'T EVEN SUBMIT DAN HARDY!

So once you scramble up to your feet, GSP will be forced to strike with you, and he doesn't want that. He's never faced a guy who just constantly moves forward, can take a lot of punishment, and has one strike power. Sure, you might think Carlos Condit fits that bill, but you're wrong.

Do people not remember what you did to John Howard? The same John Howard that easily defeated Anderson St. Pierre Jones?

You vs. GSP is a mismatch, Matt. And he'll never fight you because he's afraid of losing again. That's why he keeps taking these terrible fights against one dimensional opponents and refuses to fight the greatest of all-time.

Samer Kadi: Because that statement is more laughable than your tattoo. That aside, I do hope you get that shot as you've been performing really, really well as off late, and doing it in entertaining fashion at that. Let's just hope they don't match you up with anyone good.

"I'm going to rid the UFC of Brandon Vera once and for all, Samer. I want you in my corner to show you how I finish fights and careers." - Ben Rothwell

Samer Kadi: It would be an honor to corner an IFL legend like yourself Ben, and help you in your inevitable journey into the UFC Hall of Fame. Years ago, as I watched you and Roy Nelson put on an absolute heavyweight clinic, I knew that one day you would be competing in a bout that could change this sport's history forever. My hopes were slightly jeopardized when Cain "wrestling doesn't finish fights, fists finish fights" (yes, you said that) Velasquez stopped you, but we all know the ref screwed you out of that one. The Mark Hunt fight may have been considered like a blemish on your resume, but really, it was a fight where nobody lost. As Dana White says, sometimes it is better to look good in defeat than bad in victory. Meanwhile, finishing a rising prospect like Brendan Schaub forgives your subsequent submission loss to the "Shaquille O'Neal of BJJ" Gabriel Gonzaga.

And here we are, on the verge of a monumental fight that could earn you some long anticipated fights with Cheick Kongo, Stefan Struve, and Matt Mitrione (a path every future champion has to endure). Moreover, it's a fight that could finally, FINALLY, rid us of the nuisance that is Brandon Vera. It took Thiago Silva's alien-like urine sample to keep this man in the UFC, and now here he is acting like he belongs. This man got his back drummed on, got handed his walking papers, only to get a pity call-back when Silva failed his drug test. If that wasn't bad enough, he earned praise for a dismal performance against Mauricio Rua simply because the latter looked awful in victory (which was somehow confused with Vera looking good in defeat, in large part due to Rogan's cheerleading on commentary). Even worse is the fact that Vera is still delivering false promises of simultaneously holding the heavyweight and light heavyweight titles. Not to mention, he trains under one of the most despicable human beings in the sport, Lloyd Irvin.

Well, Ben, here is the chance to crush Vera's dream, career, and soul, while simultaneously enhancing yours. All you have to do is walk forward. Yes, this might sound excruciating for your cardio, but you have to persevere, Ben. Such sacrifice is paramount when in the face of limitless ambition. Simply move forward, let your hands go, and "The Truth" will crumble. After 75 seconds of intense action, both Vera and your gas tank should be ready to go. You can then spend the rest of the fight resting with your hands on your knees (shades of the legendary Hunt fight), while Vera contemplates whether to throw a strike or not. When he finally does, and inevitably hits the air, don't get fooled by Joe Rogan's "wooo!" cries… the judges surely won't. You will then win a deserved 10-9 decision (rounds 2 and 3 will be scored 0-0 for lack of action), and cement your status as a serious heavyweight contender. In the highly unlikely case of the judges screwing you out of victory, you can at least call out Alistair Overeem and ensure a nice bounce-back fight.

For more from the Occupy The Throne duo you can follow Samer Kadi and Jeremy Lambert on twitter. You can also check out ManCaveThoughts.com for more writings and podcasts.
comments powered by