SPOTLIGHTS
411 MMA Fact or Fiction 08.21.13: Sonnen, Overeem, Bellator Releasing Its Women, More
Posted by Wyatt Beougher on 08.21.2013

Was Chael Sonnen's win over Shogun Rua bad for the UFC? Is Alistair Overeem's career as a top-level heavyweight over? Did Bellator do the right thing in releasing its female fighters? 411's Todd Vote and Paul Lapointe debate these topics and more!

Welcome back to 411's MMA Fact or Fiction, and I'm your host, Wyatt Beougher. Last week we saw Jonathan Butterfield take on Robert Winfree, and while I thought it would be a close competition, apparently you readers saw things differently, as Butters captured 55% of the vote to Winfree's 35%. Still, though, great effort from both guys and it's always a pleasure to have them participate in Fact or Fiction. This week, I've got a special treat for you, as I get to feature the 411 debut of our newest MMA columnist, Paul LaPointe. Paul will be writing "Forgotten Fights", which should be debuting just as soon as he and Ashish can get the kinks worked out of the site login system. For his debut, I've secured a worthy opponent for him in the person of Mr. Todd Vote, who is one of the most prolific contributors to sitewide Fact or Fiction columns (not to mention 4-Player Co-Op and other various columns around the site). So with Paul itching to make his mark and Todd always willing and able to compete, let's get to it!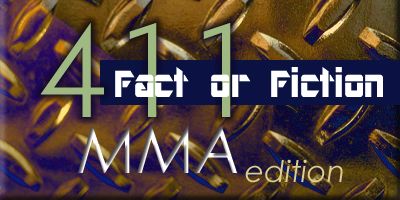 TALE OF THE TAPE

Red Corner
Todd Vote
'The Man Without a Zone'
Contributor, all over the site
7-9-1

VS

Blue Corner
Paul Lapointe
(I've got nothing yet - nicknames suggestions are welcome)
Columnist, Forgotten Fights (coming soon)
0-0-0

---

Was Sonnen's win actually a bad thing for the UFC?



1.) Chael Sonnen's dominant victory at UFC on Fox Sports 1.1 was the worst possible outcome for the UFC.

Todd Vote: FICTION. I don't see why it would be. Let's be honest, it was a basically inconsequential main event to begin with. Neither guy is close to a shot at the title at 205. Sonnen has announced his intentions to move back to Middleweight after this fight, and Shogun is coming off of a loss and had split his last four fights. I think the best possible outcome was for Sonnen to win on his way back to Middleweight where he now has to be considered a top contender. Sure the fight was short, lasting less than a full round, but you got an exciting finish, and we saw Chael Sonnen submit Shogun... Let that sink in for a moment. Chael Sonnen submitted Shogun Rua. I know it isn't Shogun's first submission loss, heck it isn't even his first submission loss in the UFC, but nobody picked Sonnen to win by submission.

Paul Lapointe FICTION I would have say if Chael were to have lost the fight it would have been the worst thing for the UFC. I say this on a purely marketing level first off. Considering Chael's ability to generate the heaps of media attention and hype necessary for even the casual fan to tune in or order, a third loss in a row would have not muzzled Chael but made his future mud he would sling trite. Sure losing to both Anderson Silva and Jon Jones is not such a bad thing when it comes to back to back losses but three in a row and maybe the schtick would begin to wear a little thin. Now with his WWE style of promo shilling firmly at least now quasi believable his sound bites become even bigger cannon fodder for the media to eat up. Plus with the words of wisdom that he is spewing like he is a one man army sent to debunk the myth of the Brazilian fighter firmly entrenched in the hype machine, any fight booked for Cheal now would benefit from huge exposure. Plus bring in boat loads of cash, whether it be against the man he called out in Wanderlei or even Vitor Belfort or Lyoto Machida. So how is his win a bad thing? Lyoto was jerked out of title contention and needs to make a statement and being Brazilian he probably wouldn't mind being the one to blast Chael in the face. And in doing so he could show his aggressive side, something he has been lacking in his most recent fights. Vitor has said he would not fight at middleweight unless for the title and with the history of TRT in the air the crap talk between Sonner and Vitor could be epic considering there past. And finally Silva is on the brink of calling it a career and without any real chance of making a run at any title a big money fight could be what the doctor ordered. Of these three I would personally choose the Vitor fight. Cheal is also known as a grinder, a man susceptible to being subbed and never quite able to finish anyone particular fighter once all the press is done. So with that in mind his ability to have finished Shogun not just in the fight but in the first round and rather definitely makes Cheal look like and worth a million bucks. The writing is on the wall. As for Shogun he has had a whirlwind UFC career. He has never really shown the killer Rua instinct and style after all the wear and tear of his knee injuries in the octagon and with this loss it could be a wake up call for the 31 year old. Yup he is just 31 and should have a few more good fights in him, if his fight with Hendo is any indication. And even if just a little bit of what his brother Ninja has been saying to the media is true, it could be time for him to change up camps or trainers and really bunker down and take what he has left in the tank and go for broke. So the UFC gets there mouthpiece a W and Shogun a reason to reflect on where he stands, I think on both sides of the board, the UFC comes out on top.

---

Is Overeem done?



2.) Between a failed drug test and two ugly losses, it's safe to say that Alistair Overeem's UFC career (and stint as an upper-echelon heavyweight) is effectively over.

Paul Lapointe: FACT And I say so begrudgingly. Sure lately the UFC has a string of bad luck when it comes to bringing in talent that when not in the UFC tend to be world beaters but once the bright lights come on they fizzle. From Hector Lombard to the Eddie Alvarez situation to a lesser extent Uriah Hall the UFC cannot catch a break with bigger outside names. Now that is not to say the hype sometimes is not justified but with how shallow the UFC heavyweight division is and for Overeem to have thus far beaten only Brock Lesnar he has become more trouble for the UFC then what his contract dictates. Alistair does not have a chin, or I should clarify, he has the chin of a light heavyweight and in the UFC that means nighty night. Would I give Alistair one more fight to maybe right the ship? I am not sure to be honest, if he were to have a smaller paycheck, I would not be so hesitant but with no real money fights left in the org. I would say it would be in the UFC's best interest that Alistair either take a hike and show the passion he says he has for the sport overseas. Or bite the bullet and take the risk that he could take another nap thanks to another up and comer inside the cage, to which I am thinking Stipe Miocic. If the UFC can at least garner another star performance out of another prospect with Overeem then he would be worth the price tag but as a threat for the title, absolutely not.

Todd Vote: FACT. For now anyways. But with the constant state of flux that is the UFC heavyweight division, nobody is out of it for too long. Remember this is a division where Bigfoot got a shot at a man who absolutely mauled him in their first fight, and he did so by beating Overeem. So while it looks like Overeem's time is over now, it doesn't necessarily have to be a permanent thing. Of course now that I said that, Dana will probably cut him sometime this week before the column goes live. As of right now though, I have to say that the 'Reem is down, but not necessarily out.

---

Will a rematch hurt Bellator?



3.) While Michael Chandler/Eddie Alvarez II is easily the best fight Bellator could've chosen as a co-main event for their first PPV, awarding Alvarez a title shot without winning a tournament (and coming off of a messy lawsuit) is ultimately going to be bad for Bellator.

Todd Vote: FICTION. In one sense, I can see how it would be looked at as bad. But this is PPV, a potential game changer for Bellator. The other fighters, while they may be initially upset about Alvarez getting a rematch without winning a tournament, I think if they take a second they will realize this could be a good thing for the whole company. Whether or not Bellator becomes a successful PPV company is a different question, but there is no doubt that you put your best fights on the card you expect people to pay for. Like Wyatt said in the statement above, Chandler/Alvarez II is easily the best fight they could have chosen to co-main event their first PPV, and I would like to think the other fighters 'get' why this was done. In all honesty, I think Bellator needs to change up their rules a bit to allow a dominant champion a rematch without winning a tourney, should the situation call for it.

Paul Lapointe: FICTION This is fiction for one sole reason. Bellator needs their premier on PPV to not be a complete disaster and without this fight, that is exactly what it would be. Granted the whole Bellator motto is that title shots are earned, not given and with recent events going the way they have that motto is currently on shaky ground. Now I LOVE there tournament format for better or worse and lately it has been for worse. From Eddie getting a shot, Doug Marshall being hurt and replaced by the man he knocked out in the finals last season to the shortening of tournaments to four men instead of eight. Bellator has been unwinding for the better part the past few months, Fight Master is dwindling, Viacom is breathing down there neck and there inclusion in TNA storylines is laughable to me personally but the hand that feeds wants results. The corporate money men do not necessarily agree with Bjorn's original vision and lately have been getting there hands dirty in changing things up in Bellator to get results including the Bellator replacement clause for title challengers that has recently gone into effect being the biggest change. With that in mind the bad press aside with all these changes, I believe they were coming anyhow in some way and this press is better for the overall performance of the company then all the bad press the lawsuit was bringing to the table and with that said, out of sight is out of mind. Eddie fighting is better for business, everything else...eh maybe not so much.

---

Did Bjorn finally do the right thing?



4.) Bjorn Rebney opting to release Felice Herrig, Jessica Eye, and Jessica Aguilar rather than keeping them inactive on the Bellator roster was a stand-up decision for a company head not exactly known for them.

Paul Lapointe: FACT Again with all the recent business decisions that have been coming out of Bellator they really do need as much good press as possible. They have alot invested in recent signees in Tito, Rampage and Eddie and need a good performance for the upcoming Season and PPV Nov. 2nd. when it comes to numbers. Having these investments on the table and on the horizon is enough to worry about and with the UFC gearing up the press in the coming months on ladies MMA and Invicta running smoothly Bellator was always going to be at a disadvantage. Sure a few years ago it made sense but with the change in the guard now firmly aligned Bellator was set to lose more then gain by strangle holding these girls to contracts. Bottom line, it is just not fiscally worth it with so many other avenues now avail. both in the UFC and abroad. Bellator has bigger fish to fry then to attempt to make something work that is for all intents and purposes doomed to fail. Plus I really do want to see Jessica Eye doe some damage or a more regular basis.

Todd Vote: FACT. Kudos to him for it. He knew the company's focus was not going to be on a woman's division for right now, so he decided to let the ladies go so they can do what they do, fight. He did so without worry about where they would sign or anything of that nature. I'm sure they appreciated it, so good on Bellator for that one. Not much else to be said about this.

---

Are the ladies going to outdo the men?



5.) With names like Tara LaRosa, Shayna Baszler, Roxanne Modafferi and several InvictaFC veterans, it's far more likely that the women on the upcoming season of The Ultimate Fighter will enjoy more UFC success than their male counterparts after the show has run its course.

Todd Vote: FACT. Even without comparing them to their male counterparts, I think it is safe to say a lot of the women will be given a chance in the UFC, if for no other reason, it is a really thin division and in need of as many stars as they can get. But since we are comparing them, the men are heading into much more crowded divisions, so to get a shot after the show, they are really going to have to stand out. I'm not saying the women will not have to impress to earn their way onto the roster, far from it. I just think with a relatively new division, you tend to throw more shit at the wall to see what will stick.

Paul Lapointe: FACT This is fact just based on saturation. There are a lot more opportunities avail. for the UFC to exploit in the world of Women's MMA within their organization. Sure some of these ladies have been around the block a few times the three names listed in the question alone have been active for quite sometime. Some would say they are already more successful and I would say that is a fair assessment. But with the UFC's full on support of at least one division of WMMA open for scrutiny these ladies have a wide open avenue to introduce themselves to a much bigger base of fans. This is beneficial to themselves to put the rubber stamp on there careers, brings attention to other such WMMA fighters and at least let the casual fan know there are more tough ass chicks out there not named Ronda Rousey or Gina Carano. Will any of these girls get the job done against Ronda? Maybe not but maybe does not really matter. There success I believe is measured in exposure and acceptance to which after this show has ran its course will be historic in the precedent even if none of these ladies manage to bring in a big gold belt. As for the boys, TUF is already gearing up its 19th season with another all male cast and has an international edition lined up with Patrick Cote and Kyle Noke as coaches and let us not forgot TUF China and Cung Le whenever the heck that happens. Statistically the ladies take this one and considering in the last few TUF's that Colton Smith was a champion I think a successful woman would be a nice change of pace.

---


Who do you think won this week? Did Todd make Paul's debut a rocky one, or did Paul make a splash in his first Fact or Fiction outing? Voting will be open until midnight EST on Saturday, so make sure you vote and make your voice heard!




---

Should TNA have parted ways with Brooke Hogan before cutting actual wrestling talent?



Bonus) TNA should've released Brooke Hogan (and other non-wrestling dead weight) before they gutted their roster of actual wrestling talent.

Paul Lapointe: FACT Fact, Fact, Fact, FACT!!!! Geez, its been a long time coming, I would say too long but this is a company that Hulk Hogan has his hands in the cookie jar so it was to be somewhat expected. Hogan has a history of pulling these kinds of power plays all the time, in the WWE, WCW and now TNA. If he can he will bring in his friends to get them a paycheck rather then think about the betterment of the company or the business as a whole. In TNA alone he brought in his friends, the obviously over the hill Nasty Boys when nobody wanted them both in the ring or on TV. His friend Bubba the freaking Love Sponge even became an on air personality that nobody was clamouring for. I mean the guy is a huge fat radio personality with no ties to the business outside of stroking Hogan on his radio broadcast and he ate up TV and ring time for months. Plus they were only ousted after publicly causing a nuisance backstage or in the media and not because of there deficiencies in front of the camera and in the ring. But Brooke is nepotism thru and thru. If it was not the reality show or his attempts at getting her started in a singing career, daddy always was one to get his daughter exposure and TNA fit the bill this time. With TNA gutting not just there male roster but there KO division in the last few months having an authority figure for a division that has like 4 wrestlers is as pointless as ever unless she was to get in the ring herself. And boy am I glad that did not happen. Sure I do not really blame a father wanting to make good for his daughter, heck Bill Wattz with his son, at least he wrestled, kind of, but Dixie needs to stop drinking the Kool-Aid. Wrestling is a business and wrestlers make you money, not untalented singer/reality star/MMA fighters....ugh I give up. TNA just hurts my head sometimes.

Todd Vote: FICTION TNA has been releasing both as they went along. Bruce Pritchard, and no matter how tragic it may be, Jesse Sorensen, both were non wrestling talent, and they were released right along side the rest of the roster cuts. So it wasn't as if TNA released a bunch of wrestlers, then decided they should also look at non wrestling talent. They've been making cuts all over. Sure, maybe the argument could be made that the office cuts should have been made instead, because the talent bring in the money. But did any of the talent releases ever draw them a dime? Just sayin.

---


And that's it for this week! As always, if there's anything you'd like to see featured in a future edition, leave your statement in the comments and I'll add it in. Let us know what you thought in the comments, on Twitter, or on Google+.


comments powered by