SPOTLIGHTS
The Juggernaut MMA News Report 08.22.13: Storylines for UFC Fight Night - Condit vs. Kampmann 2
Posted by Jonathan Solomon on 08.22.2013

From Carlos Condit's rematch with Martin Kampmann and Kelvin Gastelum's bid to stay undefeated to Eric Perez's rise toward stardom and more, 411's Jonathan Solomon looks at what you need to know heading into UFC Fight Night 27!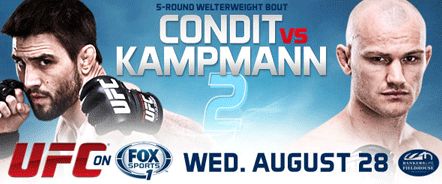 Storylines for UFC Fight Night - Condit vs. Kampmann 2



The Rematch, Will it Live Up to the First Fight?
- More than four years ago, Martin Kampmann fought Carlos Condit in a highly anticipated fight in the main event of a Spike TV show. Highly anticipated, because it marked Condit's UFC debut after a fruitful run in WEC where he dominated for the five fights he participated in. He was expected to jump over a continue in impressive fashion, but there was Kampmann to play spoiler. That fight was the Denmark native's second at 170-pounds and he walked away with the split decision victory that night.

Ironically, following their original fight, Kampmann was knocked out by Paul Daley months afterward. Condit began a new winning streak which did not end until this past fall when he lost to Georges St. Pierre (and then, lost again to Johny Hendricks, who also knocked out Kampmann in November).

So, both men are looking to get off the snide, back on the winning side of the track and in the case of the Natural Born Killer, exact a bit of vengeance and put this friendly rivalry to sleep.

All things considered, you would be hard pressed to convince many people that Kampmann is the better fighter today. Condit's striking, his chin, his grappling skills, should all put him in place to be victorious Wednesday night. After all, this is a man who has never been knocked out in his career and has not been submitted in over seven years. Kampmann is a solid overall competitor, good at many things, not really great at anything, however. Will he pick apart the New Mexico native on the feet? I don't see it. Can he take him down at will and wear him out? No.

Carlos Condit is not going to lose three consecutive fights - great fighters in their primes just don't do that.





Cowboy Tries to Halt RDA's Run
- In a month where Benson Henderson and Anthony Pettis are preparing to headline a UFC pay-per-view over the status of being the best lightweight in the world, it's ironic that "Cowboy" Donald Cerrone returns to the octagon, too. He is 0-3 against those two men, after all, and is perhaps just as famous for having amazing fights over their WEC careers years ago. Since moving to his current promotion, Cerrone is 7-2 (since 2011) and in his career, has only been finished by the previously mentioned two fighters.

We last saw Cerrone in May when he outclassed K.J. Noons over three rounds to win and many will expect him to do the same in less than a week.

Rafael Dos Anjos, the 28-year-old Brazilian, is 4-0 since last spring with wins over Kamal Shalorus, Anthony Njokuani, Mark Bocek and Evan Dunham. He has not been finished (aside from a freak injury) since Jeremy Stephens knocked him out in 2008. Giving up four inches in height, he'll have to wade through tough waters to put his hands on Cerrone's chin and win rounds. With an upset win, he'll take a big step up the ladder

TUF Champ Kelvin Gastelum Looks to Stay Undefeated
- He's in his early-20s, but Gastelum smoked through The Ultimate Fighter in the spring by upsetting Uriah Hall to take the tournament. He's only 6-0 but the Arizona native, now at welterweight, has consistently improved from the time we first became aware of him. When he fought at 185-pounds, he was overly stocky and was able to rely on his wrestling and knockout power to take him over the top. It will be intriguing to see him at 170, to see how well his weight cut goes and how it may impact his power, stamina and everything else that can impact his performance.

Fighting the prospect will be 31-year-old Brian Melancon (7-2), who was welcomed to the UFC in July when he knocked out Seth Bacyznski in Las Vegas. He earned a win in Strikeforce in 2011, defeating then-welterweight prospect Felipe Portela by decision, but is the much less heralded fighter entering this match-up.

UFC's Mexican Star Challenges a Veteran Warrior
- Erik Perez has the platform to become a major star in this sport and thanks to his heritage, he's arguably the UFC's second biggest Hispanic star (Cain Velasquez being first). He'll turn 24-years-old in less than three months and he's walking into the octagon next week for his fourth time, after finishing each off his previous three UFC bouts in the first round. It's a great bet to say it's next to impossible for him to continue that streak, as far as finishing fights in the first round, because his opponent is chock full of fighting spirit - Takeya Mizugaki.

Mizugaki is perhaps best remembered for his absolute war in 2009 (ironically, it took place four days after the first Condit/Kampmann fight) for the WEC bantamweight championship with Miguel Torres. Takeya stepped right into the picture with Torres after going 11-2-2 in Japan and he's been putting on shows ever since in America. The only time he's been finished stateside was by Urijah Faber (yes, I know, by first round choke) and aside from that, he's been to three-round decisions with Scott Jorgensen, Brian Bowles and Chris Cariaso (losing each of them). Most recently, he's won his past two outings against Jeff Houghland and Bryan Caraway.





Jobs Not Safe, Who Can Establish Themselves With a Win?
- Roger Bowling. Jason High. Hatsu Hioki. Abel Trujillo.

Just some of the names of veterans coming off at least one loss who badly need to win to maintain their spot in the UFC. Highlighting Hioki, who entered the UFC as a legit top two or three featherweight in the world, he is fighting to save face in American MMA. He was upset by Ricardo Lamas last summer and followed that up with a loss to Clay Guida in January. Granted, he defeated George Roop and Bart Palaszewski in the UFC prior to those losses, but the man has take a sharp fall over the past 12 months. He's meeting Darren Elkins, coming off a loss by TKO to Chad Mendes four months ago. That loss ended his five-fight win streak at 145-pounds and should he be able to score the win, he'll be right back in the mix among the top 15 featherweights in the world.

Then, there are the guys fresh off a season of TUF such as Bubba McDaniel, Dylan Andrews and Zak Cummings (the former two earned wins at the TUF Finale in April).

In a fight which should prove to be plenty entertaining, as it is on paper, is a welterweight bout pitting Court McGee again 22-year-old Robert Whittaker. McGee is best known for a blue-collar style, competing with an impressive gas tank and with the mentality of a bulldog. Sure, he lost consecutive fights in 2012 to Costa Philippou and Nick Ring, but he was able to bounce back in February by beating Josh Neer. On the other hand, Whittaker is already 2-0 in the UFC with wins over Brad Scott in December and Colton Smith in May.







---




- Confirmed by Dana White on Fox Sports 1 late Wednesday night, Lyoto Machida will drop to middleweight in order to fight Tim Kennedy in the main event of the November 6 Fight For The Troops special from Kentucky.

The former UFC light heavyweight champion is coming of a narrow decision loss to Phil Davis and wanted to take on Vitor Belfort in Brazil later this year. However, it could not come together and after years of being talked about through the grapevine, now is the time he will test 185-pound waters.

For Kennedy, he figures to be a massive underdog heading into this fight. He debuted in the octagon last month in an uninspired decision victory over Roger Gracie (which came soon after he initially knocked the UFC payscale...though he later apologized for stepping out of line).

- In a statement to MMAFighting.com, Stefan Struve's manager Lex McMahon says the heavyweight has been diagnosed with a leaking aortic valve and an enlarged heart. After seeking the advice of heart experts, over the next two months, he will take medication before they decide on any potentially more serious options.

The 25-year-old Dutchman is 25-6 as a professional MMA fighter and has not fought since he was knocked out by Mark Hunt in March (also suffering a broken jaw in the loss).

- A big welterweight scrap is being pegged for the UFC 167 undercard on November 16 in Las Vegas according to MMA Junkie. Rory MacDonald and Robbie Lawler are expected to fight with the winner taking a massive step up the divisional ladder and potentially laying claim to the next title fight with the GSP/Johny Hendricks winner.

- Bellator announced a change in the upcoming middleweight title fight at Bellator 98 on September 7. Champipon Alexander Shlemenko will defend against Brett Cooper instead of Doug Marshall due to the latter suffering a broken hand recently. Cooper was last seen being knocked out by Marshall in the April tournament finals. He also previously lost to Shlemenko in 2011 by decision, winning six fights between those two defeats.

- 28-year-old Brazilian bantamweight Wilson Reis has signed with the UFC and will act as a substitute for the injured Johnny Bedford and fight Hugo Viana in September. Reis, 16-4, was last seen being knocked out in consecutive fights in Bellator two years ago by Pitbull Freire and Eduardo Dantas. Since then, he's competed on smaller shows around the world, winning four bouts. Before Bellator, he began making a name for himself in Elite-XC where he defeated the likes of Zach Makovsky, Bryan Caraway and Abel Cullum.

- World Series of Fighting 5 is scheduled or September 14 in Atlantic City and a trio of Gracie fighters have been added to the card. Rolles will fight Derrick Mehmen, Gregor will fight Richard Patishnock and Neiman Graice will fight Darren Costa (marking Neiman's professional debut). The main event of the show will see Andrei Arlovski take on the formerly retired Mike Kyle.

- In a turn of events that's akin to a group of politicians sticking their nose where nobody in particular asked them to, Boston's city council has passed a resolution to ban the ability of minors (younger than 16-years-old here) to attend mixed martial arts events unless accompanied by an adult.

Of course, the intent of the politicians who sought this were not for the children (a one-time Neo Natzi who once competed on a show somewhere was cited among the reasons why this ban should be voted for). The UFC has formally requested this ban be lifted in a public statement, referring to Boston city council president Steve Murphy as a liar.






TWITTER

http://www.twitter.com/411mania
http://www.twitter.com/411wrestling
http://www.twitter.com/411moviestv
http://www.twitter.com/411music
http://www.twitter.com/411games
http://www.twitter.com/411mma






comments powered by