SPOTLIGHTS
Man Cave Thoughts 8.26.13: Let's Make A Deal
Posted by Jeremy Lambert on 08.26.2013

Who would the UFC trade Alistair Overeem to Bellator for? How many fighters would it cost them to get Ben Askren? 411's Jeremy Lambert explores what could happen if MMA promotions could make trades!

There's an article on ESPN titled, "Bellator ready to deal Ben Askren to UFC." When I read this, my sports fandom kicked in and I immediately thought that Bellator was going to trade Askren to the UFC. Maybe they'd get some future TUF prospects, cash, a couple of depth fighters, who knows. I just know that I was excited because, as my twitter followers can attest to, I love trades. Unfortunately, this article didn't mention any trades, but it did give me the idea for this column.

Let's pretend that the UFC and other organizations could trade fighters. UFC has too many fighters and some bad contracts that I'm sure they'd like to offload and other organizations could use some depth or name fighters that can't compete at a UFC level anymore.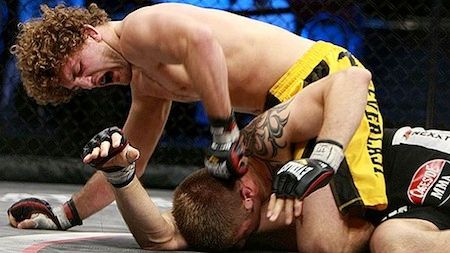 UFC trades Jake Shields, Nate Marquardt, and 4 Future TUF Prospects (Any Division) to Bellator for Ben Askren

Why UFC Does It: Jake Shields has put on nothing but poor performances in his UFC career. He's consistently in the worst fight of the night, he's not a draw, and he comes with a pretty heavy pricetag ($75,000 to show/win). He's not going to contend for the title anytime soon either, putting him in the middle of a deep division having terrible fights. Nate Marquardt is another guy in a deep division who isn't going to get a title shot and is terribly inconsistent. He also comes with a nice pricetag ($45,000 to show/win). TUF means nothing nowadays, so the UFC can afford to give up on four prospects since it's highly doubtful that either of them becomes a champion.

In getting Ben Askren, they're getting a new contender for Georges St. Pierre. Of course if he loses to GSP, there's a chance that he becomes another Jake Shields, where he puts on boring fights and never comes close to getting another title shot. But that's a risk the UFC has to be willing to take for the short term gain.

Why Bellator Does It: They're going to lose Askren anyway. This is like a non-playoff team trading away their star veteran on the last year of his contract, knowing he's not going to re-sign in the off-season. They can either lose him for nothing or gain a little something. First off, Shields and Marquardt would have to renegotiate their contracts because there's no way Bellator can afford them at their current price. If they're able to get them down to a lower price, they'll be acquiring two solid talents that can immediately replace Askren and contend for the title. The four future prospects will likely amount to nothing, but if one of them hits then it could be a huge gain for the organization. Plus, if nothing else, they'll be extra depth for the organization.

Why It Falls Through: Shields and Marquardt don't renegotiate their contracts. Dana White remembers his previous comments about Ben Askren and decides that he doesn't want to look like a hypocrite.

UFC trades Alistair Overeem to Bellator for 5 Random Draft Picks. Champions and Tournament Winners are Protected

Why UFC Does It: They're desperate to get rid of Alistair Overeem and his $300,000 contract. At this point, they don't care who they get in return. With champions and tournament winners not being included, they probably won't get much, but there is still some decent talent in Bellator who have yet to win a tournament. Plus, they'd be getting five fighters for one and saving money. They're not losing anything with Overeem either. He's not drawing or contending after two straight losses so there's no point in keeping him around. Plus, considering that he retired their biggest draw and screwed up two big title fights for the company, I'm sure they're a little angry at him.

Why Bellator Does It: It's going to be tough for them to part with five guys for one, especially considering that their organizational depth isn't all that great, but they're thinking big picture with Overeem. They're going to give him the Quinton Jackson/King Mo Lawal treatment, meaning that Viacom will help take care of his contract and they'll use him in TNA. Overeem already looks like a pro wrestler so he'll fit right in there. He might be able to win the Bellator heavyweight title as well since he's great at winning titles that don't matter.

Why It Falls Through: Overeem fails his psychical.

Bellator Trades their Entire Women's Roster to Invicta FC for Ad Time

Why Bellator Does It: Ok, so technically they've already released all their women and Invicta could just sign them. But stick with me. I'm looking at this like a NBA sign and trade scenario. Kevin Martin signed with the Minnesota Timberwolves in the first week of free agency. But they couldn't make the signing official until weeks later. By the time they could make it official, the Timberwolves and Oklahoma City Thunder, Martin's former team who had essentially already lost Martin, had worked out a deal that would give the Thunder a trade exception in return. So for the sake of this column, let's just say that Bellator still has the rights to women fighters. They're obviously going to lose them, but they'd like to get something in return. Since Invicta has no male fighters to trade them, they'll have to give back ad time in return. Bellator can use all the extra promotion they can get and since they're going to lose their female fighters anyway, they're just happy to get a little something in return.

Why Invicta FC Does It: Adding the extra depth is the obvious reason and not losing anyone is a plus. Sure Bellator will be able to run ads for free, the announcers will have to plug the upcoming Bellator events, and there might even be a small Bellator logo on the mat, but that's a pretty small price to pay for actual talent that can help you out now.

Why It Falls Through: Bellator realizes that ad time during a Women's MMA event doesn't help them out since they have no Women's MMA fighters.




UFC trades Mauricio "Shogun" Rua to Bellator for Patricky "Pitbull" Freire

Why UFC Does It: UFC isn't getting Michael Chandler, he's untouchable to Bellator, and Eddie Alvarez isn't going anywhere either for the time being. So they set their eyes on Patricky Freire. I know he's lost three of his last four bouts, but he's only 27 and there are plenty of exciting matchups for him in the UFC's lightweight division. As we've seen time and time again in the lightweight division, anyone can beat anyone on any given night, so it shouldn't shock people in Freire made a decent run. If nothing else, you know he's going to put on some exciting fights.

As for "Shogun" Rua, he's pretty much done in the UFC. He's a relatively expensive fighter who isn't going to get a title shot ever again. He'll continue to put on exciting fights, but he's going to lose to any top 10 fighter and he's quickly running out of interesting opponents.

Why Bellator Does It: They can afford to part ways with Freire due to his recent losses against the top lightweights. It's highly unlikely that he becomes champion, making him expendable because he's still good enough to win tournaments. "Shogun" gives them another strong addition to the light heavyweight division. They can immediately capitalize on the "Shogun" Rua vs. "Rampage" Jackson rematch and put Rua back in a tournament format, where they can sell him as "undefeated in tournaments."

Why It Falls Through: Both organizations get cold feet as they don't want to upset other talent. Bellator is worried that trading Patricky upsets Patricio, who they don't want to lose. UFC is worried that trading Rua upsets Wanderlei Silva, who, despite recent problems, they don't want to lose. A simple one on one trade turns into an extremely complicated deal that the athletic commission just rejects.

UFC trades Arianny Celeste, Rafael Cavalcante, Kyle Kingsbury, and Krzysztof Soszynski to World Series of Fighting for Josh Burkman

Why UFC Does It: Arianny Celeste is past her prime and likely making more money than 95% of the roster. The UFC needs to get rid of her while she still has some value. The the light heavyweights are throw ins. They mean nothing to the UFC but could have some value to WSOF. Josh Burkman faltered in the UFC once, but he seems to be reborn. Plus he just submitted Jon Fitch, something no one in the UFC could do, and Dana White probably loves him after that.

Why WSOF does it: They need a face of the company and Arianny should be that face. She'd immediately be the most recognizeable person in the organization and we all know that ring girls bring in the drunk and horny fans. Arianny has a loyal fanbase that is probably larger than WSOF's so she can bring in a new audience. The three light heavyweights are just some extra opponents for Tyrone Spong. They've done a nice job building up Burkman, but they need to sell high on him.

Why It Falls Through: Arianny has a no-trade clause.

Invicta FC trades Cristiane "Cyborg" Justino to the UFC for Free Co-Promotion During All Women's Bouts

Why Invicta FC Does It: "Cyborg" is just going to kill off every single person they put her in there with but Invicta doesn't have the resources to properly promote her. So they need to focus on promoting the other women and building competitive divisions. Every time the UFC puts on a Women's bout, they'll have to mention Invicta FC and plug their upcoming event. Plus Invicta gets free sponsorship on the women as well.

Why UFC Does It: They're going to need "Cyborg" once Ronda Rousey inevitably leaves for Hollywood. She's the only other female fighter with any name recognition, she's the only person to beat Gina Carano, and she'd be the only person to beat Rousey. Plus there is no worry about her moving to Hollywood. This is different than co-promoting with M-1 Global, who was kind of a competitor (but not really). Invicta isn't really a threat since they're catering to different audiences and targeting different fighters. Plus, since the UFC isn't very good at building up new divisions, they can indirectly use Invicta to build up women's MMA before signing their fighters.

Why It Falls Through: Rousey goes to Dana and vetos the deal herself.

For more from the Occupy The Throne duo you can follow Samer Kadi and Jeremy Lambert on twitter. You can also check out ManCaveThoughts.com for more writings and podcasts.
comments powered by