SPOTLIGHTS
Five Quick Rounds 08.27.13: Wandy Wants Points, Machida Starves Himself For the Troops, More
Posted by Evan Zivin on 08.27.2013

From Wanderlei Silva wanting PPV points to fight Chael Sonnen and Lyoto Machida dropping to middleweight to Conor McGregor tearing his ACL and Boston banning minors from MMA events, 411's Evan Zivin shares these stories and more in Five Quick Rounds!

Hey hey, fight fans, and welcome back to Five Quick Rounds! I am your host, Evan Zivin, and I am more excited than Jason "Mayhem" Miller to be here once again!

Seriously? Are you kidding me? I just talked about this guy getting arrested two weeks ago and now he's been arrested again? Already? Geez. And what was he arrested for? "Corporal injury to a spouse or domestic partner"? Are you serious? He got arrested for domestic violence? Again? What the hell? Was he at least wearing clothes this time? I hope so. The bond was set at $50,000 so you know he must be getting popular at that Orange County jail. Seriously, what is going on with this guy? He needs help. Someone get him a therapist or book him a fight so he has a positive outlet for releasing his anger that doesn't involve hurting his family because this is unacceptable. This is not how fighters should act. We are better than this. Man, this week has been a rough one for me. It's bad enough that One Direction won the VMA for Best Song of the Summer last night but now I have to deal with this too? It's too much. I can't handle all of this. Daft Punk got screwed! IT'S NOT FAIR!!

All right, so with fighter introductions out of the way, I have five more rounds of MMA news and opinions to throw at you. This week we look at Wanderlei Silva wanting PPV points to fight Chael Sonnen, Lyoto Machida fighting Tim Kennedy at middleweight, Conor McGregor tearing his ACL and tearing into all the featherweights, Boston banning minors from MMA events, and Donald Cerrone's boating rage incident. Let's to it do it.

FIGHTER YOU READY!!!!
FIGHTER YOU READY!!!!

FIGHT!!!!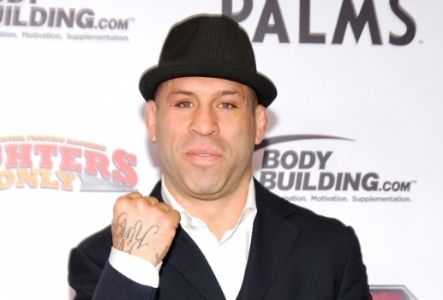 Round One: Chael Wants Wanderlei, Wanderlei Wants PPV Money Because Axe Murderin' Ain't Easy

***TOUCH OF GLOVES***

Chael Sonnen said he would take care of Shogun Rua in Boston on August 17, 8 in the East, 5 in the West, only on Fox Sports 1: The Uno, and that is what he did. It was impressive because not only did Chael defeat Shogun, he choked him out in the first round. No one was predicting that Chael would dispatch of the former UFC Light Heavyweight Champion so quickly. The win was important for Chael and the UFC as it proved that Chael is still a top fighter in whatever weight class they're willing to throw money at him to compete in. Plus, it gives Chael total control over calling out his next opponent. Potential next opponents for Chael include Vitor Belfort and Lyoto Machida, and I'm sure Chael would have taken on either man because he's a boss, but the real fight he wants right now is Wanderlei Silva. It's a fight that Chael has been interested in for years and it's one that Wanderlei wants too. There's a bit of tension between these two that goes back to after Chael's first fight with Anderson Silva when Wanderlei confronted Chael and chewed him out for disrespecting Brazil. I guess the comments about Brazilian children playing in the mud and the Nogueira brothers getting their jiu-jitsu black belts inside McDonald's Happy Meals didn't sit too well with him. I couldn't tell you why, though. Anyway, it didn't lead to anything but it did plant the idea in fans' minds about how fun a fight between these two guys would be. I would definitely pay to see that fight (well, assuming I have money) and I think Chael and Wanderlei really want to go at it. Chael has already thrown down the gauntlet for an October clash, so get to bookin', Dana!

It may not be that simple, it seems. Dana White is trying to put the fight together but has said that Wanderlei will only take the fight if he gets Payperview points. PPV points are a percentage of profits from PPV buys that a select number of UFC main eventers receive based on their popularity and importance to the company. PPV points can equal a lot of money if a PPV performs well so it's no wonder why any fighter would want them. All of the champions get PPV points along with other big name fighters, like former champions Anderson Silva and Junior dos Santos, and also Chael because he can sell fights better than anyone. Wanderlei wants points too, either because he feels the fight with Chael will make a lot of money on PPV or he just feels he deserves it. Dana doesn't seem to agree, saying that it looks like Wanderlei will have to retire. Now there are two ways of looking at this: One is that Dana is right and that Wanderlei doesn't deserve a cut of PPV profits because he's a fighter who is past his prime and will never be a top contender or big main event draw for the company. Plus, he already makes enough money through disclosed pay ($200,000 for his last fight) and the ever-so-popular discretionary bonuses. The other side of this is that Wanderlei is a legend who could main event the majority of UFC fight cards, takes fights whenever the company needs him to, always fights to finish, and always performs with the fans in mind. Is that enough to warrant Wanderlei receiving points? Probably not, especially after UFC 147's buyrate. I do think, though, that Dana is crazy if he doesn't try to put this fight together. I can assure him that there are plenty of people who want to see Chael and Wanderlei try to knock each other's head off. Dana has the monetary means to make Wanderlei happy and get him to take this fight and I hope Dana is able to make this happen. With Vitor and Lyoto already taking fights for the fall, Chael vs. Wanderlei needs to happen. Who knows. Maybe Wanderlei is just screwing around and playing hardball, like Anderson before all his fights. Or maybe this is another one of Wanderlei's infamous April Fool's jokes. Never mind that it's August. It's still adorable.

***HORN SOUNDS***




Round Two: Lyoto Machida To Drop to Middleweight, Tim Kennedy to Prove to Troops That Winning Isn't Everything

***TOUCH OF GLOVES***

There has been speculation about the possibility of former Light Heavyweight Champion Lyoto Machida dropping a weight class for a while now. Well, mainly since Machida got beat by Jon Jones at UFC 140 and it was made clear that UFC is not interested in giving Machida a rematch, but it's been an interesting idea to consider. Machida has come in under weight for many of his fights at 205, including weighing 202 pounds for his fight with Dan Henderson at UFC 157, which shows that Machida does not cut a lot of weight to make 205. This means it seems reasonable to think that a cut to 185 would be perfectly doable for The Dragon and it might be a good way to prolong his career as a contender and get to another title shot. People have wondered about Machida's chances at 185 for years now but he hasn't made the plunge yet, mainly because his training partner/greatest fighter of ALL TIME (emphasis Joe Rogan's) was the champion of that division, and we all know that true training partners never, ever fight. Ever. Ever. Well, other than every day during practice, but that's boring training with pads and at half-strength and no one wants to see that in an actual fight. Then again, it can't be any worse than MacDonald-Ellenberger. Hmmm....

Now that things have changed at the top of the middleweight division (na na na na na na na na WEID-MAN!), now seems to be as good a time as any for Machida to try a new weight class. So who will be his first opponent in the new weight class? Will it be Vitor Belfort? Nah, Vitor said he'll only fight at 185 if it's for the title. How about a crazy match-up with Nick Diaz? Dana tried that but didn't get a response from Diaz so that doesn't seem to be happening. So who's left? How about Tim Kennedy? That's right, Tim Kennedy....Anyone? Anyone? Bueller? Well, it's happening. It will serve as the main event of the "Fight for the Troops 3" event on November 6 from Fort Campbell in Hopkinsville, Kentucky. It's a good marquee fight for the show as it features the former champion against the former Green Beret and Texas Army Ranger who served in the Iraqi War and the War in Afghanistan. Tim has sacrificed a lot fighting in the U.S. military so it will be a treat for him to get to fight in front of his fellow soldiers. I don't think the odds of Tim winning this fight are very high but it's a good test for him after beating Roger Gracie rather unimpressively in his UFC debut last July. Either way it will be a great showcase on display for the men and women who fight to defend our freedom, and maybe Tim will get lucky and Machida will have a bad weight cut that makes him easy pickings come fight time. Start drinking the low-fat pee now, Dragon.

***HORN SOUNDS***




Round Three: Conor McGregor Will Be Out Ten Months with ACL Tear, Will Have Plenty of Time to Insult Entire UFC Roster

***TOUCH OF GLOVES***

I wish I knew some casual MMA fans. The type of people who only watch UFC events when they feature people that they have heard of and follow the sport through Twitter and Facebook and Youtube without getting too obsessed about it like the rest of us. Y'know, the people who UFC target their promotion at since they are the ones who can make or break any UFC event. I wish I knew some of those people so I could see if the UFC's efforts to promote Irish featherweight Conor McGregor as a big deal are working or not. The kid is definitely doing everything he can to get his name out there, from taking cell phone video of himself driving down the Las Vegas Strip with Dana White to picking fights with people on social media. He has also won his first two UFC fights, his most recent at the Boston card against Max Holloway. It was a unanimous decision victory, which Conor equates to a loss because he wants to finish fights. He definitely has a good attitude when it comes to fighting and, while he may come across as arrogant when talking about everything else, he has shown to have the skills to back it up so far. I still think the one thing he needs to really get popular with the mainstream MMA fanbase is a Lucky Charms sponsorship but maybe that's why I don't work in marketing. Also, why I'm a racist.

Conor has a good headstart on his way to potential MMA stardom but first he has a setback to deal with. Namely, a knee injury he suffered in the Holloway fight. Conor said his knee popped in the second round, which forced him to alter his strategy for winning the fight. Conor said the injury wasn't too bad but it's actually quite serious. The extent of it is an ACL tear, an MCL strain, and a posterior horn meniscal tear, and before you ask, no, the posterior horn is not in your ass. These injuries will keep Conor sidelined for 10 months, which could be damaging to Conor's momentum and progress as a fighter and a personality. At least he'll still have Twitter as a platform to tear into other fighters, something he's already been doing. After calling out Diego Brandao for a potential fight in December (that is not happening), Conor decided to go big and insult every single top 10 featherweight in the UFC. Highlights of his tirade includes calling Chad Mendes and Frankie Edgar bantamweights, Clay Guida boring, and saying nobody cares about Ricardo Lamas. He also said Featherweight Champion Jose Aldo plays it safe and called Dustin Poirier a peahead. A PEAHEAD! THEM'S FIGHTIN' WORDS, SON! Well, he's a fighter so I guess it works. I don't know if Conor will get a Top Ten fighter when he returns or if UFC will give him a safe fight so he can get a finish and get back on track, but it will be interesting to see if Conor can build on the name he's creating for himself without being able to fight. Maybe UFC Tonight needs an international correspondent. Hey, if Chael Sonnen is considered a credible anchorman, Conor will fit right in. Show the world, you well-dressed leprechaun.

***HORN SOUNDS***




Round Four: Boston Bans Minors From Attending MMA Events Without an Adult, News Comes Too Late to Keep Bieber Out

***TOUCH OF GLOVES***

So it's safe to say that the UFC's return to Boston a week and a half ago was a successful one. The fights were good and the rating was bigger than any of the FX fight cards, which is impressive when you consider that the channel the card aired on didn't exist the day before. It was a good show, but the road to it and away from it hasn't been very pleasant. First was the Massachusetts law that required all foreign-born fighters to have social security numbers. Uncle Sam likes to keep his eye on everyone, especially the Brazilians, so the UFC had to take care of that. Then there was a small issue with headliner Chael Sonnen securing a Therapeutic Use Exemption for Testosterone Replacement Therapy for use in his fight against Shogun Rua. That problem may have been good or bad depending on your opinion of the practice but it got cleared up as well. Then came Stephen Murphy. He is a Boston City Councilor who put forth a resolution to ban all minors from MMA events without adult supervision. Murphy sounded off about how fighters have used homophobic slurs and made rape jokes and that the sport is violent and sponsored by alcohol companies as reasons for why the resolution should pass. The resolution is troubling but the good thing is that the resolution wouldn't have been able to get voted on or passed before the Boston show took place. So, that's the end of that. Good work, everybody.

Well, here's the funny thing. Despite the show going off without a hitch (well, relatively speaking), the resolution still ended up coming to a vote on Thursday and it was passed. So now no one under 16 is allowed to go to an MMA event in Boston without adult supervision. Oh well. I guess they'll just have to watch all the violence on TV instead. Unless they have an adult, that is. That's the only reason I'm not as angry over this as some people are. Why would someone under 16 be trying to go to a live MMA fight without an adult? Well, I could think of situations where that would be the case but that means I have to remind myself of how unpopular I was in high school so screw that noise. Anyway, I don't think this will affect too many people, but that being said, it's a dumb law. The councilor cites behavior that has only happened publicly with less than 1% of all MMA fighters and is behavior that is not exclusive to the sport of MMA. At least no UFC fighters have murdered anyone. Sorry, Patriots fans. I hope this means Murphy will be banning minors from football games too. It's only fair. How else will we protect the children from such violent and inappropriate behavior other than doing what parents should be doing in the first place? An advocacy group that supports the bill, called "Say No to the UFC," includes members of the Culinary Union, which has been a thorn in the side of the UFC for years. So this appears to be nothing more than an extension of the battle between the Union and the Fertitta brothers, which has ultimately resulted in the sport's failure to get legalized in New York, under a disguise of helping the kids. I'm not a fan of nanny state legislation being made in place of parents doing their damn job and being the judge of what is appropriate for their children, but it's not like this law forbids kids from watching UFC entirely. Maybe at some point this legislation will get repealed. Until then, I guess Boston will just have to live without the thousands of jobs and millions of dollars of revenue that another UFC event could generate. Man, they must hate money and keeping their citizens employed.

***HORN SOUNDS***




Round Five: Donald Cerrone Remembers Great Summer With Boating Rage Misdemeanor Charge

***TOUCH OF GLOVES***

So officially, summer still has a few more weeks left but, for pretty much everyone, it's more or less over. Schools are back in session, employers are returning from vacations that they get to take while their workers toil away all year for little to no pay, the number of explosions in movies currently in the theater has dropped dramatically. It's a magical time. Wait, no it's not. It blows. All the partying and drinking and general debauchery may be over with (at least until next weekend) but that doesn't mean we can't look back and remember how much fun we were able to have over the last few months. Donald Cerrone sure can. He's been spending the summer preparing for a fight against Rafael dos Anjos at UFC Fight Night this Wednesday but that's not the only thing he's done this summer. He's been doing a lot of raging as well. Now, if I'm hip and up to date on all the lingo the youngins use these days, and I always am, to "rage" means to party. Well, if that's true then either Cerrone likes to throw violent parties or he just doesn't get the young people anymore.

What happened was on June 29 in Grand County, Colorado, Cerrone got into an altercation with a Mr. Jeffrey S. Aley. The two got into a boating rage incident, which is like road rage except more hilarious, and it led to Cerrone assaulting Aley. As a result of the incident, Aley was charged with Reckless Operation of a boat and Reckless Endangerment, while Cerrone was charged with Third Degree Assault, which Wikipedia tells me means blistering and scarring of the skin and Cerrone should seek medical treatment immediately. Wait a minute...assaults may not work the same way as burns do. The charge is only a misdemeanor so it will not result in any jail time and it will not affect his fight on Wednesday at all as long as Aley doesn't try to drive his boat into Bankers Life Fieldhouse. Cerrone will be back in court in October to get this all sorted out and hopefully he can put this behind him and move on. I know you must like that new Krewella song, Donald, but this isn't what they meant by raging until the dawn. You can get past this, Donald. Be safe. Boat safe.

***HORN SOUNDS***

That's it for Five Quick Rounds. If you have any questions, comments, or suggestions, and it is always appreciated when you do, leave them in the comments section. I will be back in 7 for another Five Quick Rounds. There is a UFC Fight Night tomorrow night on Fox Sports 1 and UFC 164: Henderson vs. Pettis this Saturday, so that means your week is booked. Enjoy the fights and, until next time, remember to fight clean, fight hard, fight fair, and never leave it in the hands of the judges...




LATER!!!!!!!!!!!!!!!!!!!!!!!!!!!!!!
comments powered by