SPOTLIGHTS
411 MMA Interviews: Colin Fletcher
Posted by Alex Watt on 08.30.2013

Colin "Freakshow" Fletcher returns to BAMMA on September 14th in Birmingham to fight Tim Newman. The flamboyant "Freakshow" chats to 411 MMA about that upcoming fight at BAMMA 13, as well as his UFC release, his experience of The Ultimate Fighter: The Smashes, feeling stifled in the UFC, clowning around, Curt Warburton, Norman Parke and much more!

Lightweight Colin "Freakshow" Fletcher (8-3) made his name on the UK MMA circuit, becoming renowned for his exciting performances and flamboyant personality. He became known to a wider audience when he competed on The Ultimate Fighter: The Smashes in 2012 as part of Team UK. Colin reached the final of the competition, losing out on the TUF trophy in defeat to team-mate Norman Parke. Colin received one more opportunity in the UFC, a losing effort to fellow TUF runner-up Mike Ricci, and was subsequently released from the promotion. Fletcher returns to BAMMA, the site of his best performances, to fight Tim Newman on September 14th at BAMMA 13 in Birmingham, England.

411mania's Alex Watt caught up with Colin on July 24th for a telephone interview to discuss the upcoming fight with Newman, his UFC release, his experience of The Ultimate Fighter and the UFC, clowning around, his friendships with Curt Warburton and Norman Parke, how he got started in the sport, and much more!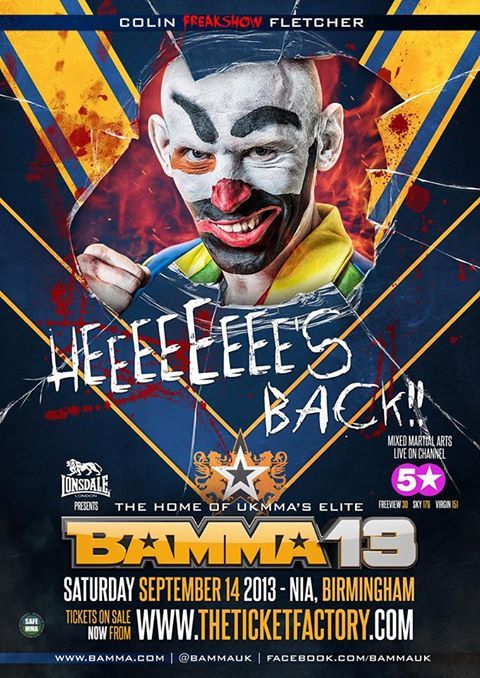 You recently penned a four fight deal with BAMMA. How does it feel to be working with the company again and why did you make the decision to sign with them?

Obviously, I've worked with BAMMA in the past, so I knew all of those guys. It was quite easy to get in contact with them because, obviously, I had the contacts from before. There were two things that kind of turned my hand, really. One, was the fact that I've got a good fan-base – a good, solid fan-base – and I didn't want them to not be able to see my fights. I had quite a few offers from smaller American companies and Brazilian organisations for probably more money than I'll be getting in England, but I wanted to stay available to my fans, really. I want them to be able to see my fights and access them all over the shop. And the other thing was, [BAMMA] offered me more money than the other organisations in the UK. So that was the reason for that really.

Did you negotiate with the likes of Cage Warriors?

Yeah, we had an offer from Cage Warriors early on but it wasn't a very high offer. To be honest with you, I would have probably had to go and get [another] job to sustain myself because, obviously, I'm not just a young guy. I'm a 30 year old man with two kids, a wife and a house, and I want to be a full-time fighter. I want to be able to train in the gym full-time, four times a day. I want to put my all into fighting. I don't want to have to go to work all day and then train once in the night-time. I wouldn't be happy in having to do that.

So this contract with BAMMA allows you to be a full-time fighter?

Yeah, I mean, as long as they're regular with their shows, then I should be.

Your opponent has been announced now. You'll face Tim Newman at BAMMA 13 in Birmingham on September 14th. Give us your thoughts on the chance to compete in BAMMA again and on your opponent, Tim Newman.

Yeah, obviously, I'm looking forward to fighting in the UK again. In my last two fights, I've kind of been dragged all over the world, really. I just haven't coped with it well. I felt, in my last outing and the one before that, I had to struggle with my softer side. I've never fought anybody who I cared for before and I didn't deal well with that. But I'm really, really happy to be fighting a couple of hours down the road, like I used to. I'm looking forward to just fighting like I used to enjoy. In my last two outings, I didn't really enjoy them as much as I used to. I got shot down for all of my ideas. I'm a very flamboyant guy; I like to have a laugh, I like to enjoy myself. I like to be able to say what I want in interviews, I like to be able to just do my thing. And the UFC kind of stifled that for me a little bit. I think, looking back, I felt pressured to conform and to be like the other guys which, ultimately, I'm not.

I'll ask you more about the UFC in a moment. First, what do you think of Tim as an opponent? Have you seen any of his recent bouts? What do you know of him?

I was over the moon that Tim accepted the fight because, in my eyes, Tim's a guy who could beat me. I've watched him a few times and I'm impressed every time I watch him fight. He always goes out there to have a fight, he's not going out there to be boring and to kind of take the fight away from someone; he comes out to fight. So, I was over the moon because they're the types of fights I like to be in. I don't want to be in fights where he's just trying to out point score me or to coast around or whatever. I want him to try and knock me out or submit me, and I think Tim's going to do that. I don't think he's going come out there and try and just lie on me and whatever. I think we're going to have a good scrap and I applaud him for that. I'm ready for that. I'm ready for that opportunity to have a good tear up with a guy who I respect. I've met him before and he's a really nice guy as well, so it's good business. We're going to go in there and we're going to try and kill each other. I'm excited for the fight and I hope everyone else is too.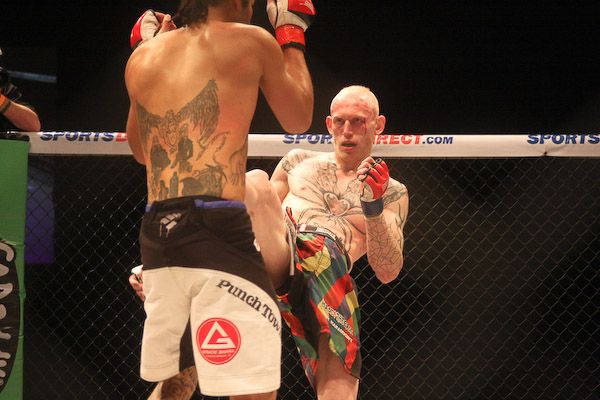 So you think the two of you match up well, style-wise?

Definitely, very well. I think it's brilliant.

Do you see any weaknesses in his game that you may be able to exploit?

Oh, of course, I see weaknesses but, obviously, I have weaknesses of my own that he can exploit. So, basically, I'm going to try and work more on [improving] my weaknesses and hope his weaknesses are still there when we fight. Obviously, he knows he has weaknesses himself that he's been trying to correct all the way through his career. We're all just trying to get better as fighters and hopefully he'll have improved, I'll have improved and it'll make for a fantastic fight where we're both trying to knock each other's eyeballs out.

We're about two months away from the fight. Have you started your training camp yet?

Yeah, I mean I'm pretty much always in a camp. Just because there's a lot of very talented guys around, a lot of top, talented guys in the gym so I'm trying to help them out. And, obviously, I train at a very good Thai boxing gym as well; there's guys getting ready for Thai (boxing) fights and guys getting ready for grappling tournaments. So, I'm pretty much always in the gym trying to help everybody out. I've stepped it up from Monday, really. I see this eight weeks as my hard camp, this is where I start not being so nice in the gym and start to knuckle down and do my own thing.

You were released from the UFC after going 0-2 in the promotion but, given that you'd only had the two fights in the UFC and, as you've mentioned, you have a solid fan following in the UK, were you surprised to be cut so soon?

To be totally truthful, I was surprised and it wasn't because - my performance was s***, I'll openly admit I performed horrifically in the two fights that I had. But, in fairness, in my eyes I'd had more than two fights. I was part of a competition which I was a finalist in and then I was given a contract with the UFC, after that. So, I signed a contract with the UFC for three years, which I had one fight with. I was a TUF finalist in the fight before that and I didn't hide the fact that I struggled to fight Norman [Parke]. It kind of, took a piece away from me. I'd never really done that before and I didn't like it at all.

And then, with Mike [Ricci], I was focused mentally on getting back in there and having the kind of fights that I like to have, but the circumstances [prevented me from doing that]. I got there on the Wednesday night-time, I had the Thursday to get used to Montreal [Canada] and then, basically, weighed in on the Friday and spewed my guts up until 20 minutes before I went out to fight. I felt absolutely dreadful in the fight; people commented and said, "You didn't look yourself in that fight" and I didn't make any excuses at the time and I shouldn't really – I don't want this to sound like an excuse, I'm just trying to be honest with people and kind of tell my side of the story. It's not as crystal clear as it looks. The reason I didn't look like myself is because I didn't feel like myself. But how can you under those circumstances?

I did hope I'd be given the chance to redeem myself in the UK, when the UFC came back to the UK in October, and I kind of thought that would have been fair. I'd had two s*** fights, in my eyes, but I hadn't been stopped and they weren't the most boring fights I've ever watched. So, I was kind of optimistic that I might be given another chance on my home turf and on my terms and just be given a little bit more time to get used to the way things go. You know, when you fly in on the Wednesday of a fight week, you're never going to feel one hundred percent but, I think, with a few more ventures I might have. But it wasn't to be and who knows what the future holds. You've just got to keep – if it was easy, everyone would be doing it. It's a hard game and I'm just going to pull up my boots and get on with it. Or you give in. Those are my two options. You either fall by the wayside or you pull your boots back up and you get back in there and you try even harder. That's what I plan to do. I'm a fighter and I'm not going to give up until an arm or a leg drops off and I can't fight anymore. At the moment, I can, so I'm going to keep pushing.



So you don't feel like you ever got to show the UFC fans what you're truly capable of? I know that a lot of British fans, after your impressive performances in BAMMA against the likes of Jason Ball, they had you pegged as the guy who was going to win The Ultimate Fighter: The Smashes. You've said you were ill before the Mike Ricci fight; was that the travel or the nerves or…

No, I don't really get nervous to fight. I just felt unbelievably flat. I can remember going back to my cornerman and him saying like, "What's wrong with you? You need to step it up." And I was looking at him thinking, "I can't push any harder than I [already] am." I felt, like, in shock, like I'd been run over or something. And it wasn't like a mental thing, it was a physical thing. Everywhere was just sore and tired; I felt like a wooden man. And I honestly don't know why. It could have been jetlag or it might have been nerves that I hadn't really picked up on. I didn't feel nervous, I just felt kind of hollow and empty, tired and weird. So, I don't know really. That's just the way I felt. I just couldn't give any more, I couldn't get fired up to fight any harder. It was a very, very strange feeling.

So do you think if you'd been given that next fight for the UFC in the UK, you'd have been, sort of, acclimatised to those conditions and being on the big show?

Definitely. I, kind of, hinted at it – would it be the same if they'd flown a guy over from Canada to Newcastle to fight me; would he have had all these things held against him? That would make a massive difference, in my eyes. That's the way it goes. With these fights, no-one wants to turn them down because of the way things are at the minute. So, you just say "yes" and kind of go with it.

In terms of The Ultimate Fighter experience; what was that like?

Oh, it was unbelievable. I really enjoyed it. I got to spend time with some really, really good guys. I'm the kind of person who, I pretty much only have gym friends, at the moment. So, all the guys in there were of a like mindset. Me and Norman [Parke] really clicked from early on, from when we met in the airport. It was as if I'd known him forever. We really, really got on and shared some very strange and intimate moments. Weird things happen and you've only got each other in there, you know? So you kind of get a really good bond because you're spending eight weeks basically in a bunk bed with people. So there's no TV, nothing else to do, you've only got you guys. You try to entertain yourselves as best you can and you build strong bonds. I really struggled to fight the guy; as soon as I got in the cage, it just felt wrong. It was like, you could have a fight with your brother but you couldn't, you know, elbow his face open or knee a big hole in the nose, that kind of thing. I was punching like I was sparring but I didn't want to go berserk really. I'm pretty sure, we both spoke after the fight and he said exactly the same. It was one of those fights where neither of us really wanted to hurt each other.

So it was like, almost being a part of a training session?

Aye, it was. We both said it towards the end of the fight, it was something weird.




In terms of being in the house, you were very much the entertainer.

Yeah, I mean, that's what I'm very much like, day in day out. I'm just me, I am an entertainer. I don't plan to be, I just like to have a laugh. I get bored really quickly and if I'm sat around I'll just start cutting something up and making something. Or drawing something or painting something. I mean, you didn't really see a lot of what happened in The Ultimate Fighter; I had, like, paintings all over the living room walls. I made a deck of cards, I made funny helmets. Just all sorts of things, while sitting around bored. It helped the lads break the monotony of sitting there talking about fighting. You can easily get stuck with, "Who have you fought?" and "What's the hardest fight you've had?" It's, like, the same old stories and I'm inclined to do weird things and get everybody else to just have a laugh. Just being myself and having craic with the lads, really. That's all it was.

Yeah, because Team UK was one of the closest teams in the history of the show and one of the craziest in terms of the stuff you got up to.

Oh yeah, it was good fun man. It was really good.

And being in Australia must have been great too?

Oh yeah, it was awesome. Awesome.

There was a certain level of friction between the UK team and the Australian team. George Sotiropoulos – the Team Australia head coach – in particular, seemed to rub a lot of you the wrong way. What was that side of the show like?

I think [George] kind of played the national spirit thing a little too far. It was kind of like, "You must not be anywhere near a UK contestant!" kind of stuff. It was a little bit too far but, in his head, that was the way that things had to be. Of all things – I say nasty things about him all the time and say weird little things like, "Oh if he died, I wouldn't care" and all this sort of rubbish but, at the end of the day, I don't think he's a bad guy at all. I think he's just different. He's from a different kind of era, a different kind of place to most of us guys and his training methods are very different. He's very strict and I think it was just easy for us to pick on him. Because, you'd kind of pick on him a little bit and he doesn't take it well and it's just fun to keep winding somebody up who bites as much as George did, if you like. Laugh at him and when he doesn't get it, it's even more funny. He keeps getting more wound up and you just keep pushing and pushing until he f***ing breaks, you know? But it was fun and that was one of the fun things in the house as well because we had two opposing characters in Ross [Pearson] and George [as head coaches] and it was just fun to see it all happening. It kept us all entertained, a little bit.

There is a rumour that George was knocked out by UK boxing coach Erin Beach during filming. Can you shed any light on that?

[laughs] Oh my lips are sealed on that one. I will neither deny nor confirm that rumour.

Worth a try.

Oh, it was worth a try, but it's not my position to say.

Fair enough. How do you look back on the UFC experience now? Do you feel as though you've gained valuable experience from it or are you disappointed?

I'm disappointed in myself. I'm massively disappointed in myself because I underperformed massively on two occasions. But, I f***ing loved the [Ultimate Fighter] house and that's an experience that I'll never do again and I would love to do again because I had so much fun and I met friends and people who I'll be friends with for life. But, I don't know how to properly describe this – the UFC was kind of like meeting your hero and being a little bit disappointed in your hero. Because, I thought there would be more. I don't know if that makes sense, or not. I didn't expect it to be as cut throat and harsh.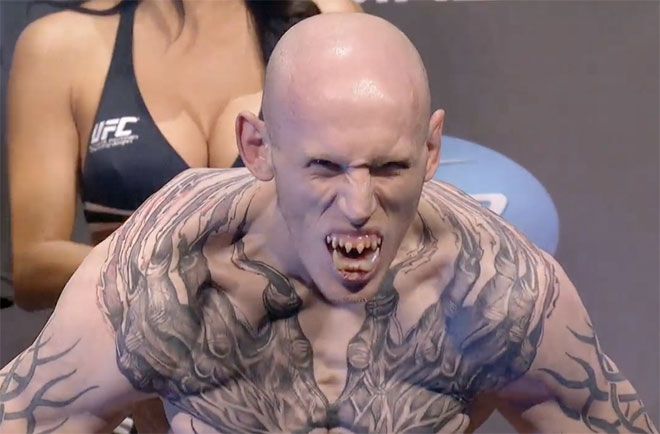 You said earlier that you felt as though you were being somewhat restricted in the UFC. Can you expand on that?

Yeah, I did feel like that. My persona – I felt like they didn't want me to do it and I felt like it would be easier if I just dropped the whole clown thing. What they didn't understand is that it's not a persona that I put on for the people to kind of go, "Oh, he does that for the people to watch him and look at him." No, it relaxes me. It's my way of distracting myself from thinking about what I'm doing, really. It helps me and it's a part of my personality that I've always had, it's not something that I just developed when I started fighting. I used to – I was a DJ before I was a fighter, and I used to get dressed up weird when I was a DJ. And I used to weird things and I'd get dressed up and play with my kids before I ever was a fighter. So it was kind of something that I did before and then I started to get people saying, "Oh he's doing it for a persona" and I was thinking, "Well I'm not really." It's just me being me. And I think people should be free to express themselves any way they want. If someone else did it, I would never judge them and say, "Oh it's just something to get him noticed." People should be free to express themselves and I don't think enough people do.

And that's what I kind of felt like in the UFC, I felt like they thought I was acting up. And it didn't make me feel very good, to be honest with you. It made me feel a little bit s*** because they thought I was taking the p*** and they made things a little bit tricky for me.

It's interesting to hear you say that. In the sense that, people like [UFC President] Dana White will say that people aren't being forthcoming enough and Chael Sonnen is an obvious example of someone who talks a lot and has a character…

But he's a very clever guy. I'm not a particularly clever guy but I like to have a lot of fun. I'm not the kind of person who would think, "Right, I'm fighting Tim Newman next so I'll stir a little bit of s*** up. And I'll do this and I'll do that so that he bites, and then I'll do this"; I'm not thinking that way. I'm going to have a fight regardless and I'm not kind of clever enough to stir up any s***. I'm just going to train my f***ing tits off and have a laugh walking out. And then I'll either get knocked out or we'll have a decision fight or I'll stop him. And that's it. I don't think all this focus on who wins or who loses s*** - I'm not that bothered. I think that people should be more bothered on the depth of the fight. People should be wanting to watch fights because it's a good fight. They shouldn't be wanting to see this guy fight because this guy knocks everybody out. I think, at the moment everything's a bit win oriented. Win, win, win, win, whichever way possible. If I wrestle you for fifteen minutes, I'll win that fight. That's not exciting. It's a spectator sport and people should be applauding it. Decision fights that go the distance and both guys are f***ing fighting their a***s off, you know what I mean? But I'm in the sport so I can maybe see that a little deeper than people who just want to see a quick knockout.

Obviously, somewhere like the UFC where wins are everything, that can happen.

Oh definitely. And I can appreciate that. Every time, I go out to fight, I go out to win. I'm not going out to get a decision, I'm going out to win. That being said, a good fight is worth watching; win, lose or draw.

And if you come out on the losing end of a great fight then people will maybe respect you more for that.

Yeah, exactly.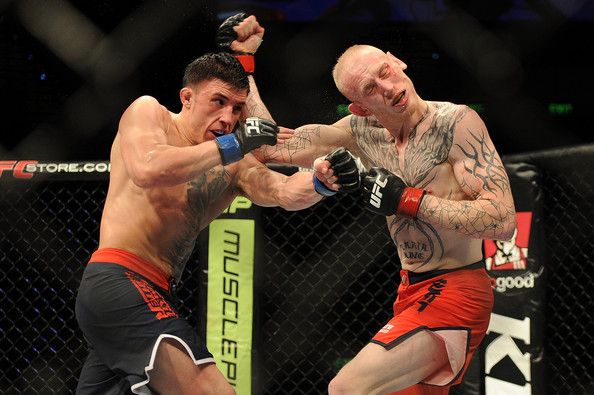 Is the ultimate aim to get back to the UFC now?

No, not at all. To be totally truthful with you, it's not something that I want at the moment. The UFC would have to contact me and kind of please me a little bit more because I've been left with a little bit of a bitter taste in my mouth. Just because things didn't feel right, the whole thing didn't feel right. I feel a lot more comfortable fighting and having fun. Rather than fighting and having someone say, "Oh you can't wear this to walk out" or "You can't do this when you walk out". "You shouldn't do this" – I just want to have some fun again. Get back to fighting and having fun again. And as long as I can make enough money to put shoes on my kids' feet, then I'm happy. I'm not a greedy guy; I don't want to f***ing fly over Florida and f***ing live there and buy a Lamborghini. I'm happy living in my council house with my beautiful wife and two kids. That's me as happy as Larry, really. I just want to be able to make a reasonable living and look after my family, really.

While doing what you love?

Yeah, exactly. This is my job. I've put a lot of time into it; I'm in the gym three or four times every day training my a*** off. Why shouldn't I be able to get paid just enough to live?

Absolutely. So, to backtrack, how did you get interested in MMA and start training in the sport?

Basically, because I was a bit of an a***hole growing up. I always loved fighting. I used to do a lot of boxing when I was younger, then I started working on the doors and hung out with some hairy characters and we used to go and fight people. Just for fun, and money sometimes, with like-minded idiots. And when I met my wife, I decided that I didn't want to do that anymore. Basically, Ross Pearson – who's like a second cousin of mine – was doing well at the semi-pro level, at that point in time, so I just went and started training with him and I picked it up really quickly.

So it brought discipline, if you like?

Yeah, yeah, definitely. And, I was never a bad guy. I never fought with anybody on the fly or fought with anybody who couldn't fight with me. It was like-minded people, who would fight each other. It was organised but it was never good and it was always only going to end up one way. So I just didn't want to do it anymore once I started having a family but I always sort of had that fight inside me so I channelled it in other ways and I've never looked back really.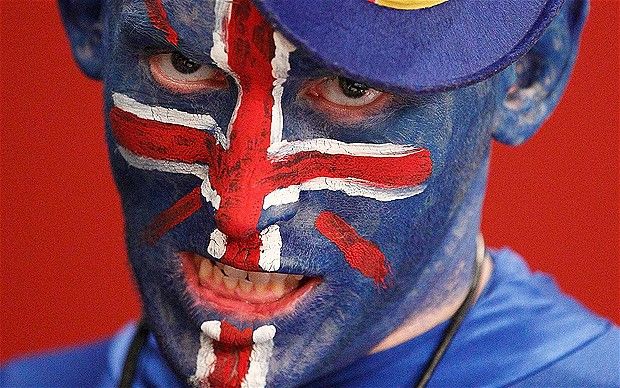 You've returned to the UK MMA scene after a year away from it. What are your thoughts on the scene in the United Kingdom now, especially with the recent addition of SAFE MMA?

Yeah, I think it's fantastic and SAFE MMA is a fantastic idea. The only thing better would be to have a governing body to kind of plant everything down. I think MMA is big enough now that it deserves these kinds of things, it deserves the SAFE MMAs, because people should be looked after a little bit more. It makes things a little bit safer. Ultimately, UK MMA – the level of UK MMA – is fantastic but [UK fighters] sometimes get a bit of a rough deal because we're always the ones going over there and we're trying to fight people. Sometimes we'll get massively outwrestled because we're not natural born wrestlers.

I mean, I mentioned this to somebody a while back, I think it should be more of a tiered system. I think if the UFC had any sense, they would have been looking more at the Europeans and Asia – like leagues…

Like a World Cup sort of system?

Yeah, like a World Cup sort of thing. I think it would work really well. Not going to the other side of the world to fight and not just fighting wrestlers. You'd get the league system in Europe and you'd be fighting against the top Europeans, so you're never more than three, four, five hours on a plane. And then you find out who's the best – truly, find out who is the best – and then those guys would then fight it out on middle ground.

Neutral territory?

Yeah, that is something that would really interest me. Coming back to this, I think sometimes us UK guys get the short end of the stick. And that's it, really.

I'd be interested in seeing something like that, that's for sure.

Yeah. I mean, I don't think I even mentioned that [to the UFC]. It's just something I thought of in my head, that might work out better.

In the main event of BAMMA 13 Curt Warburton and Jake Murphy will compete for the World Lightweight Championship. With a win over Newman, are you hoping for a title shot against the winner of that bout?

Well, not really [laughs]. Because I hope Curt wins and Curt is a very close friend of mine. Our wives are friends, we're close friends, we train together every day. We're very, very close. And, basically, you saw how that panned out with Norman Parke; not well for me. And, to be honest with you, there wouldn't be enough money in that fight for both of us happy. Me and Curt have spoken f***ing loads about this actually. We actually sit and laugh about it on a daily basis because people are always asking me, "Oh would you fight Curt?" and no I wouldn't because we're close. But, what we said was, if it was going to be family changing money and we were going to get the sort of money where we could go on a once in a lifetime holiday to Florida or something. Or maybe put a deposit down on a house, that kind of money, then we would fight each other because it would make sense for both of us to. But, at the moment, we're not on that kind of money, either of us. So it just wouldn't be right.

So, to wrap up, what are your targets for the future? Are you solely focused on BAMMA for now or are there any plans to compete elsewhere?

No, not really, just one fight at a time. I'd probably love to fight in China or Japan one day; I think I'd be well received over there. I think they'd appreciate my skill-set and style, I think they'd enjoy it. But, other than that, one fight at a time. I'm just looking at this fight with Tim, hopefully win and then look at the next fight. I'm sure there are plenty of guys out there, I don't have to be fighting my friends. Whatever happens, I'm sure I can be part of interesting fights, and that's what I want. I want good hard fights, whether they be top Europeans or the top guys in England, I'm happy to fight as long as there's a possibility that I could be finished, really. I want to fight guys who could possibly beat me.

So, to close, how does the fight with Tim Newman at BAMMA 13 end?

End? In my mind? MDK [laughs]. I don't know mate, I'm like an open book, me. I'm going to go in there and I'm going to try and punch the lips clean off his face. And he's going to try and do exactly the same thing, so hopefully it's Mr. T's old prediction; [deep voice] "Pain!" [laughs]. We'll have fun and it'll be a good fight.

Are there any sponsors or people you'd like to thank?

Yeah, I've got absolutely millions and billions, so I'll do exactly what I do every time because I'd miss someone out or forget someone, so I'm simply going to thank the most important people in my life, who are my wife and kids. That's it. Because I could reel off a hundred people and then miss three people out, who'd be very upset. I love them all, I love them all. They know I love them.

Thanks a lot for the time, Colin, and good luck with the fight.

No problem, buddy. Thank you.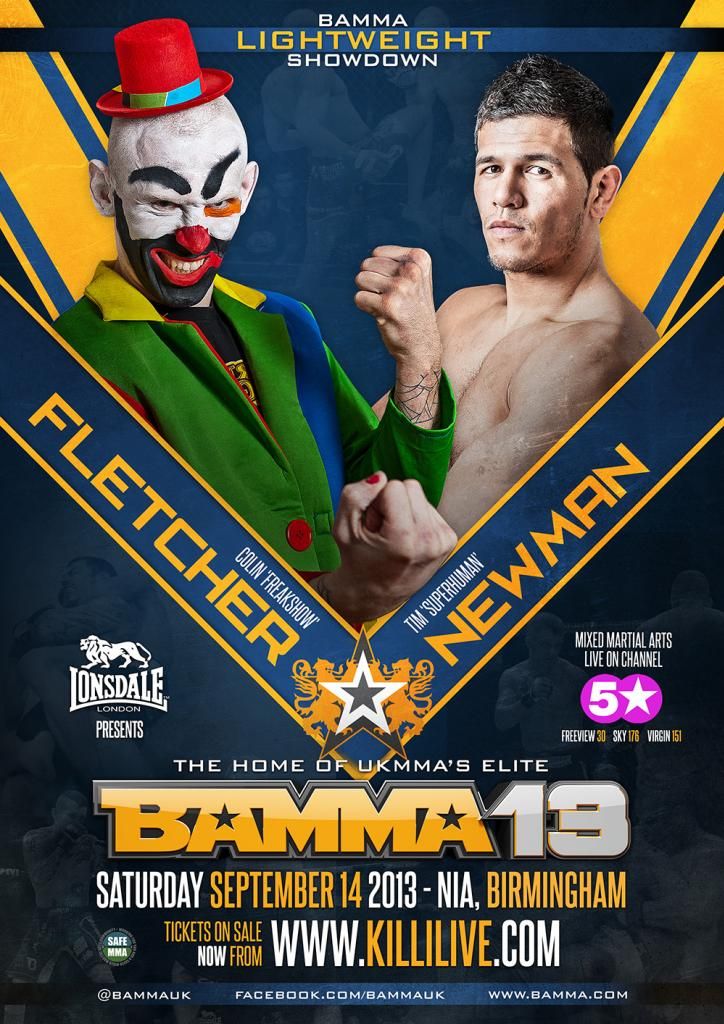 Thanks to Colin Fletcher for taking the time out of his schedule to talk to us and thanks to Izzy Carnwath and BAMMA PR for setting up the interview.

BAMMA 13, in association with Lonsdale and SAFE MMA, takes place on September 14th at the National Indoor Arena in Birmingham, England and features three world championship fights, as well as Fletcher vs. Newman and a solid selection of preliminary bouts.

Tickets for the event are available from £25 at this link.

BAMMA 13 will be broadcast live on 5* in the United Kingdom, with highlights shown on Channel 5 (UK), AXS-TV (USA), The Fight Network (Canada), Red Media (Russia), TV Esporte Interativo (Brazil) and Setanta (Africa).
comments powered by