SPOTLIGHTS
411's MMA Roundtable Preview - UFC Fight Night: Condit vs. Kampmann 2
Posted by Dan Plunkett on 08.28.2013

Carlos Condit tries to avenge his loss to Martin Kampmann in the main event of UFC Fight Night 27! Also, Donald Cerrone faces Rafael dos Anjos and more! Check out the full roundtable preview for all the details and join 411 for LIVE coverage of the event Wednesday night!




WELCOME:
Carlos Condit looks to avenge his loss to Martin Kampmann in the main event of UFC Fight Night 27! In the co-main event, Rafael dos Anjos looks for his fifth win in a row against Donald Cerrone. The Ultimate Fighter 17 winner Kelvin Gastelum looks to continue his big year against Brian Melancon. At welterweight, Court McGee battles Robert Whittaker. Plus, Erik Perez goes up against Takeya Mizugaki, Brad Tavares vs. Robert McDaniel, and more!

THE STAFF:


He's 411's resident interviewer, Jon Butterfield!


From the Locked in the Guillotine MMA News Report, Robert Winfree!


From MMA's 3R's, Jeffrey Harris!


From Five Quick Rounds, Evan Zivin!


He's the new guy from Forgotten Fights, Paul Lapointe!


From Occupy The Throne, Jeremy Lambert!


From The 411 MMA Top 10, Alex Rella!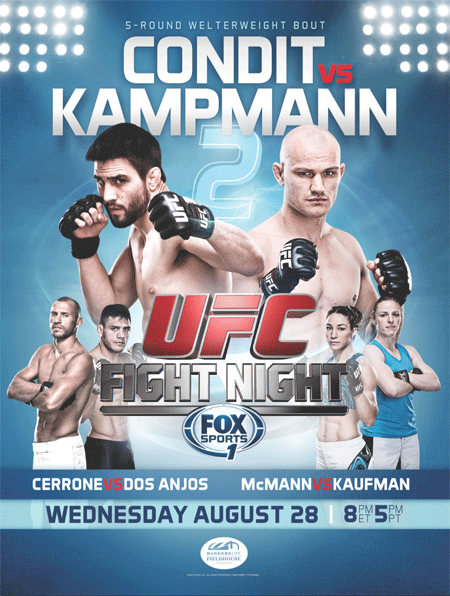 THE PRELIMINARY CARD:




First two prelims on Facebook, rest on Fox Sports 2 (formerly Fuel TV).




Lightweight Bout: Roger Bowling vs. Abel Trujillo



Jon Butterfield: Abel Trujillo, TKO, Round Two
Robert Winfree: Abel Trujillo, Decision
Jeffrey Harris: Abel Trujillo, TKO, Round 2
Evan Zivin: Abel Trujillo, TKO, Round 2
Paul Lapointe: Bowling, TKO, RD2
Jeremy Lambert: Bowling, Decision
Alex Rella: Bowling, Decision
The staff picks Abel Trujillo, 4-3.



Welterweight Bout: Zak Cummings vs. Ben Alloway



Jon Butterfield: Zak Cummings, Decision
Robert Winfree: Zak Cummings, Decision
Jeffrey Harris: Zak Cummings, Decision
Evan Zivin: Ben Alloway, Decision
Paul Lapointe: Cummings, Decision, RD3
Jeremy Lambert: Cumming, Submission, Round Three
Alex Rella: Cummings, Decision
The staff picks Zak Cummings, 6-1.



Welterweight Bout: James Head vs. Jason High



Jon Butterfield: Jason High, Submission, Round One
Robert Winfree: James "I seriously need a funny nickname" Head, Decision
Jeffrey Harris: Jason High, Decision
Evan Zivin: James Head, Decision
Paul Lapointe: Jason High, Decision, RD3
Jeremy Lambert: High, Decision
Alex Rella: Head, Decision
The staff picks Jason High, 4-3.



Featherweight Bout: Darren Elkins vs. Hatsu Hioki



Jon Butterfield: Hatsu Hioki, Decision
Robert Winfree: Darren Elkins, Decision
Jeffrey Harris: Darren Elkins, Decision
Evan Zivin: Darren Elkins, Decision
Paul Lapointe: Darren Elkins, Decision, RD3
Jeremy Lambert: Hioki, Submission, Round One
Alex Rella: Elkins, Decision
The staff picks Darren Elkins, 5-2.



Welterweight Bout: Justin Edwards vs. Brandon Thatch



Jon Butterfield: Brandon Thatch, TKO, Round One
Robert Winfree: Justin Edwards, TKO Round 2
Jeffrey Harris: Justin Edwards, TKO Round 1
Evan Zivin: Brandon Thatch, TKO, Round 2
Paul Lapointe: Brandon Thatch, Submission, RD1
Jeremy Lambert: Edwards, Decision
Alex Rella: Edwards, Submission, Round 2
The staff picks Justin Edwards, 4-3.



Middleweight Bout: Dylan Andrews vs. Papy Abedi



Jon Butterfield: Dylan Andrews, Decision
Robert Winfree: Dylan Andrews, TKO Round 1
Jeffrey Harris: Dylan Andrews, TKO Round 1
Evan Zivin: Dylan Andrews, TKO, Round 3
Paul Lapointe: Dylan Andrews, Submission, RD2
Jeremy Lambert: Abedi, TKO, Round One
Alex Rella: Andrews, TKO, Round 1
The staff picks Dylan Andrews, 6-1.

---




THE MAIN CARD:




Middleweight Bout: Brad Tavares vs. Robert McDaniel



Jon Butterfield: 'Bubba' McDaniel failed to win many fans during his TUF tenure, and a large part of that was down to his roll-over-and-die mentality when seemingly overmatched against Uriah Hall. Perhaps that was all 'in-house', and perhaps McDaniel is a more gutsy fighter than he initially appeared (just as Hall isn't quite the killer he was portrayed as), and to be fair his victory over Gilbert Smith showed us he is talented. Brad Tavares, however, is 5-1 in the UFC, racking up notable wins over foreign stars (Dongi Yang and Riki Fukuda), tough guys (Tom Watson), and veterans (Seth Baczynski and Phil Baroni). Between the 5 wins, Tavares has proved himself a vastly underrated fighter who is very well-rounded defensively, capable of combating multiple strategies, and an excellent athlete. I think McDaniel will have his moments, but Tavares has better hands and very solid takedown defence, and isn't exactly lost anywhere the fight may go. He'll take the fight by decision.

Winner: Brad Tavares, Decision

Robert Winfree: I don't care about this fight. Not only do I not care about it, I'm at something of a loss as to why this fight is opening the main card here. Both Tavares and McDaniel are TUF washouts, though Tavares did manage to make it all the way to the finals before losing to Court McGee. Based purely on what I've seen of both men, I think Tavares is the better fighter so I'll go with him.

Winner: Brad Tavares, Submission Round 2

Jeffrey Harris: Tavares has not made a lot of waves since his t
ime on The Ultimate Fighter, but he has quietly put together a 5-1 record in the Octagon. Tavares' tougher match-ups seem to be against more wrestling-oriented fighters of which Bubba is not. I'm predicting Tavares catches Bubba with a submission quickly.

Winner: Brad Tavares, Submission, Round 1

Evan Zivin: We start the main card off with the return of Bubba McDaniel, who competed on the last season of The Ultimate Fighter and is notable for losing to both of the show's finalists, getting the life choked out of him by Kelvin Gastelum and his face caved in by Uriah Hall. This is his second UFC fight after beating Gilbert Smith, a man known more for wearing a Hooter's waitress uniform than being a good fighter. He faces Brad Tavares, a TUF 11 alum who has proven himself hard to beat in victories over Dongi Yang, Tom Watson, and Riki Fukuda. I don't foresee this fight being very interesting but Brad is good enough to get ahead and stay ahead of Jon Jones's technically flawed training partner over three rounds and get another decision to add to his collection.

Winner: Brad Tavares, Decision

Paul Lapointe: Brad Tavares is a well liked if unspectacular prospect that was featured on TUF. Bubba is an even more unspectacular non prospect that comes to us from TUF. The reason I bring this up is simple. Brad's stock is rising, not by leaps and bounds but steadily like the tortoise and the hare taught us. He is not quite ready for the upper echelon of talent in the middleweight division and seems to be in a holding pattern. Mind you he does tend to get into begotten grindfests or unexciting decisions to pick up W's but a win is a win. He should be moving up here. Now Bubba has been around the block and I actually do admire his passion for the sport but he is a very in his head fighter. He sure does have the exp. edge but when it comes to big fights or the chance to break out of his own head, his mental short comings slip in and he crumples, literally. With fights against Alexander Schlemenko and of course Uriah Hall as examples. He was beat before the bell rang. Now people have a problem with his placements on cards, its mainly for these reasons. Firstly, people want to see him get beat up because of TUF, his involvement and relationship to both Greg Jackson and especially Jon Jones and he is a credible win for up and comers to be seen on TV due to his record alone. So all and all, Brad takes a leap forward and Bubba takes the road to the prelims.

Winner: Brad Tavares, Decision, RD3

Jeremy Lambert: McDaniel is a good grappler but Tavares, as I'm sure one of the announcers will remind us during this fight, has the best takedown defense (statistically) in the middleweight division. Tavares is the better striker and I think he keeps it on the feet for the majority of the fight, tagging up McDaniel, and eventually putting him away.

Winner: Tavares, TKO, Round Two

Alex Rella: I don't why this fight is on the main card over Elkins and Hioki, but the UFC likes Bubba McDaniel for some reason. He isn't a terrible fighter, but I despise him as a person and really hope he loses. Brad Tavares on the other hand has quietly turned into a solid fighter in the UFC going 5-1 since TUF. I don't know if he'll be able to finish McDaniel, but I really hope he does.

Winner: Tavares.

The staff picks Brad Tavares, 7-0.

---




Bantamweight Bout: Takeya Mizugaki vs. Erik Perez



Jon Butterfield: Erik Perez is certainly a highly capable finisher, and has run through three straight opponents in the UFC demolishing each in the first round – though one of them can boast more fights, or more high level experience. Takeya Mizugaki certainly has an advantage in both areas, having fought all over the world against much better opponents – and yet his biggest wins are limited to Jeff Curran and Rani Yahya. As skilled a combatant as Mizugaki is, he's not a finisher, and he's not particularly good at comprehensively outclassing opponents – not that he tends to get outclassed very often either. In fact, Mizugaki has gone to a decision 9 times during his Zuffa tenure (WEC and UFC combined) out of a total of 11 fights – only Urijah Faber putting him away, and only Cole Escovedo succumbing to him. For me, that puts Mizugaki plum in the middle of the division at this level, and though he has the skills to stifle Perez plenty, I'm erring on the side of momentum here, and think Perez will just come with too much force and too much intent to be stopped by the Shooto expert. The concern for Perez fans is that Erik has lost by split decision no fewer than THREE times, and given how hard Mizugaki is to stop or outclass, history may yet repeat itself – though Mizugaki had similar misfortune when declared the loser against Chris Cariaso... in other words, don't discount an appearance from Mark Radulich's 'Clucky the MMA Chicken'.

Winner: Erik Perez, Decision

Robert Winfree: Now this is a fight that I'm looking forward too. Erik Perez is the second biggest draw that the UFC has in the Hispanic demographic, Cain Velasquez being the first, but Perez was actually born in Mexico. Perez is an aggressive fighter, very well rounded, and will be looking to extend his winning streak. The same is true of Takeya Mizugaki, who has a two fight winning streak going for the first time since 2008. Mizugaki is also well rounded, but his offense is very punching based, though his boxing skills are relatively admirable. I just don't think Mizugaki will be able to deal with everything that Perez brings to the table, but Perez can't get complacent either because Mizugaki is a very good fighter too.

Winner: Erik Perez, Decision

Jeffrey Harris: I'm very interested in this fight since Erik Perez is a prospect and potential rising star, especially with UFC wanting to break into the Mexican market. Mizugaki is not an elite bantamweight or a world beater, but he's a solid gate keeper and generally a tough test on the way to a title shot for multiple guys. He's only been finished twice in his career, and the last time that happened was Urijah Faber in the WEC. Mizugaki is generally a tough grinder with a fairly good chin, wrestling and takedown defense. I think he tends to be a slow starter as well. I like this fight a lot because now we get to see Perez against a fighter with a winning record who is one of the tougher tests in the division. If Perez wins he will certainly move up and start facing bigger competition and possibly be on the way to the title. Perez is an exciting fighter and definitely looks well rounded, but I will be interested to see how he approaches this fight. He shows a lot of good aggression which I think will serve him well against Mizugaki.

Winner: Erik Perez, Decision

Evan Zivin: This is an interesting match-up. Erik has been on a tear over the last two years, winning eight straight fights, six by stoppage. He has won all three of his UFC fights, one by submission against John Albert and two knockouts of Ken Stone (in 17 seconds) and Byron Bloodworth. None of those opponents are worth writing home about but they show that Perez is very skilled and has potential to go far in the bantamweight division. The question is will he reach that potential and if now is the time for him to do so. Takeya is a huge step up in competition and he's coming into the fight on his first win streak in three years. That makes me nervous that he will lose but I don't know if Erik is at Takeya's level yet. Takeya is extremely durable and hard to finish and can beat anyone as long as he keeps up a high level of offense. Perez does have the striking and wrestling to handle the veteran, but I'll give Takeya the slight edge for his experience with top fighters and winning close fights.

Winner: Takeya Mizugaki, Decision

Paul Lapointe: Erik Perez is part of the UFC hype machine and for once they maybe right on target with this kid. He is young, talented, has a great camp and has proven to be a finisher in a lighter weight class. Their is quite a bit to love and market about this kid. Now praise aside, he has not flourished against the top competition so far in the UFC and is coming off a staph infection. Will he have some rust, I do not think so and he better not against a grinder like Mizugaki. Now Takeya is always a stern test for anybody looking to elevate to the next level, his losses under ZUFFA are against the cream of the crop and his wins, well, squeakers, even Bryan Caraway, he lost, though not on paper. Can he smother, Perez...sure, for one round and then the Erik gets his range and I think catches him.

Winner: Erik Perez, TKO, RD2

Jeremy Lambert: Mizugaki has been a mainstay in the division, but can never quite get over the hump while Perez is a top prospect looking to make a statement. Mizugaki is a well-rounded fighter but Perez is far more dynamic, especially on the feet. Mizugaki is tough to finish but I think Perez uses his superior speed to frustrate Mizugaki en route to a decision.

Winner: Perez, Decision

Alex Rella: This is a fight I'm really looking forward to. Mizugaki was a number one contender for the WEC bantamweight title a few years ago, but has only been able to win back to back fights just recently. Mizugaki s pretty well rounded everywhere, but not overly dangerous in anyone aspect. This is a tough fight for Perez who has become one of the top prospects in the bantamweight division. Perez is on an eight fight winning streak and has finished all three of his opponents in the UFC. I don't think Perez will finish him, Faber was the last guy to do that, but I do see him continuing his rise to the top.

Winner: Perez, Decision

The staff picks Erik Perez, 6-1.

---




Welterweight Bout: Court McGee vs. Robert Whittaker



Jon Butterfield: This is a well-pitched fight for Aussie standout Robert Whittaker, who is definitely one of the continent's finest MMA exports. Wins over Brad Scott and highly-rated rookie Colton Smith have got Whittaker off to a fine start to life in the UFC, Whittaker relying heavily on his unorthodox striking and strong takedown defence – but if ever a fighter was designed to test that takedown defence, it's Court McGee. McGee isn't an outstanding wrestler, but in six fights he's attempted no fewer than 35 takedowns, and that single-mindedness tends to allow him to drag fights into deep waters. To stop McGee pressuring him, attempting takedowns and settling for clinches, Whittaker has to not only stop him, but punish him when he does – but Whittaker doesn't seem to have Costa Philippou-esque power, and that is likely to work against him. If McGee has no fear of coming forward, even if he has to eat a few good strikes before he gets there, then he isn't going to be put off from closing the distance – and that pressure will likely be too much for Whittaker, who will fall victim to a prototypical grinder.

Winner: Court McGee, Decision

Robert Winfree: A battle of TUF winners here, Court McGee takes on winner of the UK vs. Australia season Robert Whittaker. Whittaker's wins in his last couple of fights have actually been upsets, especially his finish of Colton Smith. Unfortunately for Whittaker, Court McGee is a much better fighter than Smith. McGee is a pressure based fighter, always going forward and either throwing punches or looking for a takedown, plus he's got a really good chin. All of that put together makes me favor McGee here.

Winner: Court McGee, Decision

Jeffrey Harris: I can easily see this one being a split decision and being a back and forth, closely scored battle. McGee recently moved down to welterweight and looked fairly strong. He didn't do too bad at middleweight and his loss to Nick Ring was a total robbery. McGee has shown to have great cardio and stamina and has come from behind before. He has a good chin and he's never been finished in his career. I think the fight will be close, but McGee edges it out.

Winner: Court McGee, Decision

Evan Zivin: A battle of TUF winners? How exciting, I guess. Court "The Fightin' Amish" McGee won Season 11 of the show and Whittaker was the welterweight winner of the UK/Australia season. Court is 4-2 in the UFC with wins over Dongi Yang and Josh Neer. Whittaker is coming off a TKO win over another TUF winner (seriously, those things are everywhere) in Colton Smith. Court is a higher level of competition than Whittaker has faced and a win over Colton Smith doesn't make me think Whittaker will be able to step up to the challenge. Court's tremendous conditioning and good chin will keep him in this fight against the Aussie striker, and if Court can stay active and keep pressure on Whittaker, he should be able to win this without breaking a sweat.

Winner: Court McGee, Decision

Paul Lapointe: Former TUF champs collide! Something that is alot more prevalent now these days and a whole heck of a lot less exciting. This fight could go one of two ways. Two young bucks go out there and showcase the heart, passion and fortitude that they both possess and throw down a mean kick boxing bout. Or it will be a Court McGee fight. Kidding aside, Whitaker is young, hungry and will just keep coming if he has any say. He has the drive but not really the finishing power, yet and Court is made of stone. So if Court is smart he plays to his strengths, which is play the pocket, drag the fight down to the basics and take shots where you can to wear down your foe until an opportunity arises. Does an opportunity arise against Rob? Unless the kid just chokes maybe, but I see Court working the system and taking it to the scorecards, Rob is a durable kid and has a ton of potential I just do not see how potential leads to a Win though.

Winner: Court McGee, Decision, RD3

Jeremy Lambert: I like McGee, probably because Chuck Liddell co-signs him, but whatever. He's not a great fighter or anything, but he has endless cardio and constantly moves forward with punches. Whittaker won TUF Smashes and has some pretty good striking. This could be a fun striking contest unless McGee decides to play it smart and use his wrestling/grappling, which I think he'll do since that is an underrated aspect of his game.

Winner: McGee, Submission, Round Two

Alex Rella: I know the initial reaction is to shit on fights between two guys from TUF, but I think this one should be solid at the least. Robert Whittaker has looked solid so far winning his first two UFC fights, McGee is a big jump up in competition. McGee looked good in his first cut to welterweight and was robbed in his loss against Nick Ring. I expect McGee to win as he constantly pushes forward and is almost always the aggressor. Whether it be by strikes or on the ground after a takedown, McGee should pick up another win at welterweight.

Winner: McGee, TKO, Round 2

The staff picks Court McGee, 7-0.

---




Welterweight Bout: Kelvin Gastelum vs. Brian Melancon



Jon Butterfield: I'm going to be perfectly honest, and say I was more impressed with Brian Melancon's first round TKO of dangerous veteran Seth Baczynski than I was of Gastelum's decision win (which should never have been a split decision, by the way) over the 'dreaded' Uriah Hall. Uriah Hall is an example of what happens when the UFC hype machine goes into overdrive, and the expectation levels for the undeniably talented, if ultimately one-dimensional striker were way, way too high. Now, Gastelum is riding the wave of that hype, and is preparing to meet Brian Melancon, who is stepping in for Paulo Thiago at just under a month's notice. That's plenty of time to prepare, and I think Melancon is really going to surprise people by beating the TUF Champion – like Hall, Melancon has heavy hands, but unlike Hall, he also has a wrestling background and can match Gastelum belt-for-belt in BJJ – both hold purple belts. While I wouldn't be surprised if I was proved wrong, I think Melancon is better than he's given credit for, and while Gastelum is promising, he isn't obviously outstanding in any particular area.

Winner: Brian Melancon, TKO, Round Two

Robert Winfree: Kelvin Gastelum won the last season of TUF when he beat Uriah Hall but decision, but it wasn't a horribly impressive fight, made even less so once you consider what Hall has done since. Brian Melancon actually had an impressive outing in his last fight when he finished Seth Baczynski in the first round. Melancon has power in his hands, and good technique on the feet, and he wont mentally flake out like Uriah Hall did. I'm not sure Gastelum can get in close and get takedowns without getting clipped and seriously hurt.

Winner: Brian Melancon, TKO Round 2

Jeffrey Harris: Good fight for both guys. Gastelum I think was the more underrated fighter of the last season of TUF. He won all of his tournament round fights except the finals (and the elimination round) in which Uriah Hall was heavily favored. Gastelum looks exceptionally tough and well rounded for his age. Melancon on the other hand is coming off a strong performance over Seth Baczynski that he won by knockout. This could be a close fight, but I on the other hand was impressed by Gastelum's performance against Hall because it looked like he just wanted it more and showed more in that fight.

Winner: Kelvin Gastelum, Decision

Evan Zivin: This card is just filled with TUF winners. Filled, I says. Kelvin, the winner of last season, is here to make his first appearance after winning the show. Kelvin has strong wrestling with good striking and knockout power and defeated Uriah Hall by split decision back when we were still scared of the guy. Melancon made his debut at UFC 162, upsetting Seth Baczynski by KO with one second left in the first round. It was a good win for Melancon but Baczynski isn't exactly top flight competition. It's easy to get on the Melancon bandwagon, and he might end up winning this, but I'll give Kelvin the benefit of the doubt here. Kelvin is a guy who rises to the occasion, winning every fight on TUF despite no one expecting him to get out of the first round of the competition. He is a kid with something to prove and will put his size and strength advantage to good use in grappling with Melancon, since he'd be a fool to try and stand with him. Don't be a fool, Kelvin. There's only room for one of those here and that position is already taken. Thank you.

Winner: Kelvin Gastelum, Submission, Round 2

Paul Lapointe: The question mark of the card for sure. I am advocate of Kelvin for sure, heck I chose the kid to win TUF from the word go because his style reminds me of how I work in the gym, or at least would like to. He has tenacity, iron will and drive to work through just about anything it seems. But he is young and when you are spry the world seems ripe to be conquered. He does have a ton of flack on him for debunking the UFC hype train to the point where he was to face Paulo Thiago in just his 2nd UFC fight. Thrown to the wolves much? But now this bout makes a little bit more sense. But let us not forget about Melancon, who just bursted out of nowhere like an alien through someone's chest the other day. He is maybe hungrier it seems. Quick turnaround between fights, the need to prove himself coming off no marketing and a LONG layoff and then a vet like Seth Bacynski sleeping on him before going to sleep stirred some interest in the keep. I see this fight as a coin flip to be honest. (flips coin)...

Winner: Kelvin Gastelum, Decision, RD3

Jeremy Lambert: Gastelum beat Uriah Hall back when Uriah Hall was the next Anderson Silva and not the current Kalib Starnes. He's a tough guy with a grinders mentality and young enough to where he might improve. Melancon is nothing special. He's got good power and a decent ground game. It's possible that Melancon catches Gastelum on the feet but I'll go with Gastelum to make this an ugly fight and win a decision.

Winner: Gastelum, Decision

Alex Rella: I've been looking forward to see Gastelum's follow up fight after TUF. I think he's one of the few times when a recent TUF winner actually has some potential. He's 21 and truly got better with each fight. Melancon should be a good test for him, but I think Gastelum should be able to finish it either with his striking or his nice wrestling.

Winner: Gastelum, Submission, Round 1

The staff picks Kelvin Gastelum, 5-2.

---




Lightweight Bout: Donald Cerrone vs. Rafael dos Anjos



Jon Butterfield: This is a great fight, pitting a grappler with vastly-improved striking in dos Anjos against a highly-talented, rangy kickboxer with a dangerous ground game. Styles make fights, and this one has fun written all over it! The concern for Cerrone is that dos Anjos is on an absolute tear, and appears to have tremendous confidence in every facet of his game. He certainly won't be desperate to drag this down to the ground, and won't have any issues with swinging for the fences on the feet. Cerrone should be slightly too good to get caught by a power punch, and he has a good chin anyway – and he'll use leg kicks to try and slow dos Anjos down which will be beneficial in terms of damaging his opponents movement, striking, and takedowns. Dos Anjos, still, remains a very dangerous foe, and undoubtedly has a sizeable advantage on the ground – expect him to dominate grappling exchanges (providing he hasn't been hurt in the moments preceding them), and he will be looking to take Cerrone's back at every available opportunity. If he manages it, he'll either finish or ride it out to the round's conclusion, but I see Cerrone avoiding such trouble for the majority of the fight, and if he fights smart, he should win on points.

Winner: Donald Cerrone, Decision

Robert Winfree: This will be a very telling fight for Rafael dos Anjos, because while Cerrone does lose, he only loses to top guys. The question is if dos Anjos falls into that category. Cerrone has a solid kicking game, good clinch work, and a really good submission game. The knock on Cerrone is how hittable he is, and his wrestling. If dos Anjos is to be successful, he needs to get Cerrone to forget kicking and draw him into a brawl. I'm not sure dos Anjos is good enough to beat Cerrone, so The Cowboy gets my pick.

Winner: Donald Cerrone, Decision

Jeffrey Harris: Interesting fight. This is a huge test for dos Anjos. He's managed to put together a four fight win streak against solid competition, but in the past in his UFC tenure he's always come up short when fighting the bigger names. Case in point his fights with Clay Guida or Tyson Griffin (when Griffin was a top ranked lightweight). Granted dos Anjos has improved a great deal and made great strides in his game. Cerrone is a very talented fighter and has always come up short in the big time fights, but those are usually to the top guys. Cerrone tends to leave himself open a lot, but I think he will be OK against dos Anjos since he's not necessarily a knockout artist. The bigger threat for Cerrone will be on the ground and I think he will be OK there. I'm predicting Cerrone to dominate this one or secure a submission victory.

Winner: Donald Cerrone, Submission, Round 3

Evan Zivin: This should be a good fight. When he's not assaulting dudes on boats, Cerrone is a great fighter with strong kickboxing and excellent submission skills. He has only lost twice so far in the UFC and both were to guys who either fought for the UFC Lightweight Championship (Nate Diaz) or is about to (Anthony Pettis). Dos Anjos is a guy who doesn't get talked about a lot but has continued to prove himself as a very good fighter. He is 8-4 in the UFC and has strong, hype-derailing victories over George Sotiropolous and Evan Dunham. Dos Anjos has shown a preference for striking in his last few outings, which might be a bad idea against Cerrone, who is a better striker and is likely better everywhere else. I don't see Cerrone having a problem winning this fight. I don't know if he will finish it but Cerrone should do more damage on the feet and should have no problem taking Dos Anjos down. Cerrone will have to be careful, as Dos Anjos won't just lay on the ground and will try for submissions, but Cerrone is skilled enough to avoid any danger there and get the win one way or another.

Winner: Donald Cerrone, Decision

Paul Lapointe: Donald Cerrone loves to get hit in the face, just like his friend Leonard Garcia. They actually own a farm together in New Mexico and probably spend time there hitting each other when not on boats. But I digress. Dos Anjos has the ability to win this fight, the way its possible is to not be afraid of actually kick boxing with Donald. Dos Anjos has underrated power and can catch Cerrone if he is napping to which he tends to do early in fights, but once range is established that will be far more difficult. Donald is also very durable unless Pettised in the gut and through 3 rds, I see him taking 2 of them unless Dos Anjos shows that killer instinct. And if this goes to the ground Cerrone plays the stifling top game he used against KJ and the fight turns into a slog of sweat and blood till the horn goes. If Dos Anjo's did not turn it up against Evan I see him having a harder time against Cerrone and Donald just keeps on keeping on.

Winner: Donald Cerrone, TKO, RD3

Jeremy Lambert: Dos Anjos has been on a roll and a win here could definitely earn him a title shot. Cerrone is essentially the title gatekeeper since beating him almost guarantees success while losing to him means you'll probably just hang around the division. Cerrone is the more diverse striker, but he's very hittable and Dos Anjos has good power in his hands. Cerrone has really improved his wrestling but Dos Anjos is pretty tough to take down, and even if he gets him down, I don't think he can keep him there very long. On the flip side, Dos Anjos has solid takedowns but Cerrone has become increasingly tough to take down. If either man lands on top, I don't expect the action to stay there long, although it could be really fun if it gets there. Cerrone has more weapons on the feet and is the more dynamic fight, which makes me slightly lean towards him although this should be a close and competitive fight.

Winner: Cerrone, Decision

Alex Rella: This should be a fun fight, but I think its too big of a jump for dos Anjos at this point. Rafael dos Anjos has been with the UFC since 2009 and is on a four fight winning streak and while they have been against tough fighters, they haven't really been top competition. And while Cerrone will probably never earn another title shot, he's consistently a top ten lightweight. I don't expect much of this fight to be on the ground as both are hard to takedown and would probably prefer to keep it standing. I'll pick Cerrone as he is the better striker and really only loses to elite lightweights.

Winner: Cerrone

The staff picks Donald Cerrone, 7-0.

---




Welterweight Bout: Carlos Condit vs. Martin Kampmann



Jon Butterfield: Martin Kampmann has been TKO'd in the first round four times now, but Carlos Condit doesn't quite fit the M.O. of the kind of guy that's likely to starch him. Hendricks and Daley have nasty KO power and know how to use it, and Nate Marquardt is always capable of turning someone's lights out with a single punch, even if he isn't quite as prolific as those aforementioned fighters. Still, Kampmann rarely loses once he's survived the first round, with only Jake Shields and Diego Sanchez boasting decision wins – and even then, Kampmann really should have beaten Shields if he'd avoided the ground like most of his contemporaries have done lately. Kampmann is a fine counter-wrestler, a very good kickboxer, and has a lethal ground game, as he displayed when he snatched victory from the jaws of defeat against Thiago Alves. He out-struck powerhouse Jake Ellenberger by relying on a more well-rounded and technical striking game, and he proved too classy for the likes of Volkmann, Paulo Thiago and Rick Story.

Of course a look back at Kampmann's split decision win over Condit in 2009 is essential in a preview of this fight, and that fight really was an archetypal split decision where neither fighter can claim to be a clear victor. Kampmann got the nod that night despite Condit's superior wrestling (which Kampmann liked to counter with guillotine attempts), but Condit has improved immeasurably since then, picking up tight wins over Jake Ellenberger and Rory MacDonald (finishing the tiring Canadian in the third round). He was subsequently way too good for Dan Hardy and Dong Hyun Kim, and employed an effective-if-unexciting strategy to bypass Nick Diaz en route to a title shot. After that, Condit lost a comprehensive decision to GSP, before losing a clear-cut 29-28 to Johny Hendricks – the same man that needed just 46 seconds to KO Kampmann in November 2012.

Here, the fight could literally go either way. Both guys are finishers, and routinely stop outstanding opponents. Both are well-rounded, though Condit is the more likely to complete takedowns, and Kampmann is arguably a better out-and-out kickboxer. Both are capable of moments of magic, and predicting who produces first could be essential – but if we're going to look at who likely has the edge overall, you have to acknowledge that Kampmann has dropped fights to worse fighters than Condit, whereas Condit has been extremely consistent over the last 7 years. If Condit isn't too perturbed following consecutive defeats at the highest level of the welterweight division, he certainly has a strong case here – and if his fight with Diaz is anything to go by, he's now more likely than ever to fight smart, rather than try to live up to his 'Natural Born Killer' handle. If he pushes the boat out and tries to finish, this is a 50-50 possibly favouring Kampmann if those attempts are made on the feet – but if he avoids that temptation, he has the skillset to outwork, out-fight and out-smart the Danish fighter. Quite why Condit is such a clear favourite is beyond me, but that isn't reason enough to pick against him either.

Winner: Carlos Condit, Decision

Robert Winfree: You know, Kampmann may have defeated Carlos Condit when Condit debuted in the UFC, but it was a really close fight and Condit has only gotten better since then. Kampmann has some technical offensive striking, decent wrestling, and a solid submission game. Unfortunately he's way to easy to hit, especially for a guy who's supposed to be as good at striking as he is. Carlos Condit will be moving forward, looking to connect with a punch or a knee, and given Kampmann's habit of backing straight up and not moving his head, he's going to get hit, hit hard, and finished.

Winner: Carlos Condit, TKO Round 1

Jeffrey Harris: What concerns me about Kampmann is that he goes through a lot of wars and tends to be very hittable in his fights. In the past, he's managed to rally and come out on top against say Jake Ellenberger or Thiago Alves, but I think against the Natural Born Killer, it will be even more dangerous. Kampmann has the wrestling and takedown game to pose a big threat to Condit, but I'm concerned by how much Kampmann leaves himself open and gets hit and knocked down a lot, even with the fights he wins. While Condit does have two losses, those are against the best welterweight of all time and the top contender. And Condit did a lot of damage in that fight to Hendricks standing up as well. I'm predicting Condit decisively finishes this one.

Winner: Carlos Condit, TKO Round 2

Evan Zivin: Hopefully this fight will make up for all the decisions that I fear will take place on this card. This fight is a rematch of Condit's UFC debut from April 2009, a fight that Kampmann won by split decision. The fight was very close and I feel Kampmann won it but just barely. Since then, Condit has won five straight fights and became Interim UFC Welterweight Champion before dropping hard-fought decisions to Georges St-Pierre and Johny Hendricks. In that same amount of time, Kampmann went 5-4, with impressive wins over Thiago Alves and Jake Ellenberger and controversial losses to Jake Shields, Diego Sanchez, and Johny Hendricks. Okay, the loss to Hendricks wasn't controversial. Kampmann flew halfway across the canvas after a left hand. Either way, Kampmann has performed well these past 3 years with just a few bumps in the road keeping him from getting to a title shot. A win here could put Kampmann right at the door of a title shot but I don't see it happening. Condit is a guy who gets better with every fight and has gotten a lot better since the first fight with Kampmann. Also, with Condit being on his first losing streak since before he signed with Zuffa in 2007, he's going to be desperate for a win and will use his cardio to set a very high pace that I don't think Kampmann will be able to keep up with. Neither man was able to finish the other in three rounds but five should ensure that the rematch will have a definitive end, with "The Natural Born Killer" getting his hand raised at the end and getting back on track towards getting another title shot.

Winner: Carlos Condit, TKO, Round 4

Paul Lapointe: What has not already been said about this bout? Well, most seem to think Condit has got this and though I would love to say Martin deserves this win, I see another choke. Until he can prove me otherwise, Martin will be the fighter I want to succeed the most but just falls off the cliff once bright lights and big possibilities are there. He always has the potential to win his big fights but just uses the worst possible gameplan when he has that chance to shine. Whether against Johnny Hendricks or Paul Daley and now Condit coming up, I just see him trying to win so hard that he loses. Prove me wrong Martin, prove me wrong.

Winner: Carlos Condit, KO, RD3

Jeremy Lambert: Since their first fight these two have gone in slightly different directions. Kampmann has been a mainstay in the division, winning and losing some fights, while Condit has solidified his spot in the top 5 of the division. Condit has shown a lot of improvement in his game, especially in his striking, while Kampmann is still the same fighter who gets hit far too much. On the feet, I definitely favor Condit. Kampmann is a good offensive striker but he offers up no defense. He has a good chin, but it's shown definite signs of cracking as of late. Condit is just as good offensively, smarter defensively, and has the better chin at this point. Condit's takedown defense is still pretty weak, and while Kampmann isn't a great wrestler, he's still good enough to get Condit down. Both guys are active on the ground so it'll really come down to do has the top position since neither is likely to pull off a submission from their back. This should be 25-minutes of non-stop action and I don't question the gas tank of either guy. I feel that Condit has made significant improvements since the first fight though while Kampmann has regressed, maybe not in terms of his skill, but his chin. I think Condit out-strikes him for the majority of the fight and the grappling, in terms of positioning, evens out. This should be a competitive fight, but Condit takes it on the cards.

Winner: Condit, Decision

Alex Rella: This should be a great fight and a nice choice for a mid-week main event. Their first fight was great four years ago and I think this one has potential to be even better. Carlos Condit has since won interim gold in the UFC and Kampmann wins enough close battles to stay a top ten welterweight. I expect Condit to take this one as he has only lost to the best welterweights in the world recently. While Kampmann is a great fighter, he eats a lot of punches and while his chin is pretty good, its not good enough against an elite striker like Condit at this point.

Winner: Condit, TKO, Round 4

The staff picks Carlos Condit, 7-0.

---
Remember to join 411's coverage of UFC Fight Night 27 on Wednesday!
comments powered by