SPOTLIGHTS
411 MMA Fact or Fiction 08.28.13: Sonnen, Askren, More
Posted by Wyatt Beougher on 08.28.2013

Would Chael Sonnen be taking a step backward by fighting Wanderlei Silva? Is Ben Askren biting off more than he can chew by saying he intends to join the UFC? 411's Robert Winfree and Robert Cooper debate these topics and more!

Welcome one and welcome all to another edition of 411's MMA Fact or Fiction. As always, I'm your host, Wyatt Beougher, and thank you for joining me this week. Last week, we saw the newest member of the 411 MMA roster, Paul Lapointe, make his Fact or Fiction debut, and it proved to be a successful one, as Paul was able to knock out Todd Vote by a margin of 31 votes to 11. Congratulations on the successful debut to Paul, and, as always, thanks to Todd for making sure it wasn't an easy win for the debutee. This week we've got a battle of the Roberts, as Robert Winfree steps back into the cage to take on Robert Cooper, again on loan from the Music Zone. Both of these guys consistently turn in excellent performances in Fact or Fiction (though, for some reason, Winfree's record doesn't really reflect that), so this week should be a good one!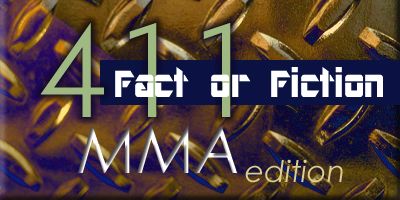 TALE OF THE TAPE

Red Corner
Robert Winfree
'The Last Rider'
Columnist, Locked in the Guillotine MMA News Report/Contributor, 411 Ground and Pound Radio Show
2-8-0

VS

Blue Corner
Robert Cooper
'Metalhead'
Columnist, The Hammer of Doom News Report (Music Zone)/Co-Host, Metal Hammer of Doom Podcast
3-3-1

---





Was signing Tito/Rampage actually a good idea for Bellator?



1.) In spite of Tito Ortiz and Rampage Jackson looking like a bad fight on paper (at least for the main event of Bellator's PPV), the fact that the two appeared on ESPN all day Monday to promote the fight and PPV can only bode well for Bellator.

Robert Winfree: FACT This is a default fact, more exposure, especially on a major sports outlet like ESPN will of course promote their PPV and will help the company as a whole. Bellator has a low profile, low market share, and no one had a whole lot of faith in the drawing power of this event even with the names of Rampage and Ortiz. The two men doing more promotional work will not only help the event sell better, it will help raise brand awareness for Bellator in a world where most people think MMA is nothing more than the UFC.

Robert Cooper FACT I don't see why it would be seen as anything negative. Just the fact that they were there let people know that Bellator is around, because to most people the UFC is MMA, and the only MMA company they know about, so just getting the word out about Bellator is a good thing. I know that last time I was here, I kind of played down the star power of both Rampage and Tito, and while I still don't think that they have near as big a fanbase for either of them that they could have had a few years ago, I still think that their names to hold weight, so them being on ESPN all day was a good way to increase visibility. Besides, even if they went all Strikeforce: Nashville on one another, it still would have been good for the company, because it would have built hype and buzz for the event. So overall, there was no way that their appearing could have gone wrong.

---

Is a fight with Wanderlei a step backwards?



2.) As much fun as the fight should be, and as well-promoted as it will be by the fighters, Chael Sonnen taking on Wanderlei Silva after defeating Shogun Rua has to be considered a step backwards for the Oregonian.

Robert Cooper FACT But just by a hair, I honestly think that at this moment, Wanderlei has looked more impressive in his fights than Shogun has, but when you look at records and who has been on top more recently, I'm going to have to give the edge to Shogun in terms of a bigger fight. I really don't think that Wanderlei is really that much of a step down, because the guy is a huge fan favorite and put on great fights, but his record has been pretty shaky, and he hasn't really been near any title in the past few years, while Shogun has fought for the title in the past two years.

Robert Winfree: FICTION Though only somewhat. Chael Sonnen is just a money fighter at this point, he can't beat any champion in any division that he could make weight for, but he has promoted himself as a big deal and people have started thinking of him as such despite his record and obvious flaws. While Shogun has always been a better fighter than Wanderlei Silva, Shogun was coming off of a loss while Silva is coming off of a win. Plus Shogun has been diminished, in reality as well as perception, while Silva still has a good run going, more or less. While both men are on the downside of their careers, Rua and Silva that is, Rua has fallen off rather dramatically while Silva still has good performances and probably more name value. So at this point in time I don't think of Wanderlei as a step backwards for Sonnen, more likely a lateral motion.

---

Will the rematch be one of the better non-title main events this year?



3.) Vitor Belfort/Dan Henderson II will be one of the UFC's better non-title main event fights in 2013.

Robert Winfree: FACT A little bit of research indicates that the only really good non-title main event of the year so far has been the fight between Wanderlei Silva and Brian Stann. Apart from that, so far we've had Belfort fighting Michael Bisping and Luke Rockhold, Gegard Mousasi crushing a can, Nogueira continuing to decline against Fabricio Werdum, Dan Henderson and Rashad Evans stinking up the joint. Looking ahead there's not much in terms of challenging the title of "one of the best", Demian Maia will fight Jake Shields, Ryan Bader and Glover Teixeira will fight, just nothing that should remove that fight from contention. Of course both men could gas out in the first round and the fight will suck, but I'm more inclined to say it will end up towards the top of that category.

Robert Cooper FACT If it turns out the way I think it will, it will be. I think it's going to end up being a slugfest, or at least close to one, because Dan Henderson could take a hammer to the face and not be knocked out. Now Vitor is a little different, his chin isn't nearly as strong, but I think he has the power to possibly put Henderson out if anyone could. I see this fight going to be like Vitor trying to end it in the first round or two, and if he doesn't, I see Henderson taking over with his wrestling, because Vitor will be too tired to do much about it. But I'm not even sure if it would make it that long anyways, since Hendo likes to throw that right hand of doom, and if it connects, the fight will end early. No matter what happens, I see this fight going REALLY well and being a ton of fun!

---

Is a jump to the UFC a bad move for Askren?



4.) Ben Askren's outspoken desire to join the UFC is likely to blow up in his face, as leaving Bellator for the deepest division in the UFC will expose his one-dimensional style.

Robert Cooper FACT I'll admit that I haven't been following his career too much, but I have seen his title fights in Bellator, and just judging off of that, I have to agree with this. Look at a guy like Jake Shields, he left Strikeforce after dominating that division and quickly got knocked down some rungs from the top of the ladder to not really being noticed on the ladder at all. I think if Askren tries to make his move now, he'll just end up looking like a fool, because jumping into the welterweight division with really only one thing you're great at isn't a very good career move (unless you're Dan Hardy). I think it'll be smart for him to wait about a year or so and see if maybe Bellator can give him some better competition and he trains up the other aspects of his game before he thinks about hopping about the UFC train, because if you lose there, you'll have to fight for your title again in Bellator.

Robert Winfree: FACT Ben Askren is a great wrestler, and even in the UFC that will take you a long way on its own. That being said, the top of the division, especially as welterweight is one of the better divisions in terms of talent and depth. Askren will have success in the UFC if he goes there, there are plenty of guys who he is much better than, but he'll also have to fight guys who he won't be able to take down time and time again. Askren wouldn't do well against Josh Koscheck, Demian Maia, Johny Hendricks, Jake Ellenberger, and so on. That said, no one in Bellator is going to come close to beating Askren, so if he's going to keep pushing himself the UFC is the only place to go at this point.

---

Does McGregor's injury hurt the division as much as it hurts him?



5.) Conor McGregor's ACL injury is not only a blow to the featherweight prospect's promising career, but it's also a blow to the featherweight division, which is sorely in need of competitors with a bit of hype behind them.

Robert Winfree: FICTION It is way too early to say how this will effect the career of McGregor. Some guys come back from knee issues just fine, GSP hasn't had any obvious problems since his surgery, and some never recover, like Shogun Rua. That question requires time, but it shouldn't hinder him unless he physically never recovers. McGregor has been building a name and hype, which the division does indeed need, but no one fighter going out will hurt the division at this point with the lone exception of Jose Aldo. Plus McGregor has spent his down time calling out every fighter on the UFC roster, so it's unlikely people will forget about him while he's recovering.

Robert Cooper FACT It stinks that he got injured, because Featherweight is a division that really doesn't have too many guys who are guys that have many wins in their streak or any name value. Sure, you have a few, like Chad Mendes has a pretty nice string of wins, and he's going against a guy with a bit of a name in Clay Guida. Any other names I recognized are either just getting back to winning (Manny Gamburyan, Frankie Edgar) or just lost after getting a few wins (Dennis Siver). Conor McGregor was looking like an exciting prospect who handled his first fight in the UFC with a good knockout and then won his second fight convincingly with a busted knee, so seeing him out for almost a year is a sad thing.

---


Who do you think won this week? Did Robert Winfree finally win your vote, or did Coop swoop in from the Music Zone and pick up another win? Voting will be open until midnight EST on Saturday, so make sure you vote and make your voice heard!




---

He was the bomb in Phantoms, yo.



Bonus) Warner Bros casting Ben Affleck as Batman in Man of Steel 2 is as good a choice as they could've made, especially if it leads to Affleck directing Justice League.

Robert Cooper FICTION IF you would have said he was a good choice, and not as good as choice as they could have made, I would have went the other way. I don't hate the casting of him as Batman, because I haven't seen him in the suit nor have I seen any of his acting as Bruce Wayne or Batman to judge him off of. So shitting on him because he isn't a pick that I had wanted (I always voted Tom Hardy, though that was more of a joke, the Jon Hamm casting was a choice I would be totally behind) is just juvenile. He seems to be a good director, but I'm not sure I trust him in the chair for a movie like the Justice League when we can get someone who is more suited for the role of, "guy who can direct blockbuster superhero movie", rather than someone who has done some GREAT films, but they were more dramas than the popcorn variety that I think DC is going for with Justice League. Though I will argue with myself by saying that if they were to go all dark and serious with the Justice League movie like they have with Man of Steel and the Nolan Batman movies, maybe Affleck would be suited to direct those. But the idea of him being an actor/director package does not make him a better choice than a better acting/directing choice that is separate.

Robert Winfree: FICTION I don't think Ben Affleck is the best choice, or even the best choice available to Warner Bros. I'm not on an anti-Affleck kick at the moment, the man has turned his acting career around with his last couple of roles, but I have no faith in the man. He is more than welcome to change my mind, and I'm very open to that possibility, but I've got no faith in his ability to be Batman. That said, Affleck has proven himself an incredibly talented director and if this does lead to him directing a Justice League movie, we all could very well be singing a very different tune in a few years. [Editor's Note: I'm disappointed in this answer, as I chose this statement for this week primarily because of Robert Winfree's humorous #BetterBatmanThanBenAffleck tweets last week - I expected more venom. -W]

---


And that's it for this week! As always, if there's anything you'd like to see featured in a future edition, leave your statement in the comments and I'll add it in. Let us know what you thought in the comments, on Twitter, or on Google+.


comments powered by