SPOTLIGHTS
The Juggernaut MMA News Report 08.29.13: Benson Henderson Tries to Change History at UFC 164
Posted by Jonathan Solomon on 08.29.2013

Anthony Pettis will try to accomplish the unprecedented and beat Benson Henderson a second time at UFC 164! But can he or will the UFC champion avenge his loss? 411's Jonathan Solomon previews the bout and more!






UFC 164 - "Showtime" Looks For a Repeat



Our 411 MMA staff collectively featured the WEC 53 fight between Benson Henderson and Anthony Pettis as the 10th greatest fight in mixed martial arts history.

Me? It was much higher on my list, but then again, it's probably #2 or #3. Regardless, we are now only days away from seeing both men step back inside a cage to compete over a championship. Today, they're not competing to impress future bosses or to earn the right to fight for a UFC title - this is all about attempting to cement someone's status as being the undisputed number one lightweight in the world.

We have "Showtime" Pettis with the confidence of knowing he has already beaten Henderson on a previous occasion. Benson has since turned into the UFC champion since said loss and has sought the chance to avenge his famous loss. In 2010, they were so equally matched up, what ultimately decided their fight was indeed that jumping kick off the cage, landed beautifully on Henderson's chin, knocking him down. Wrestling, striking, submissions, we saw those five rounds all over the place and with both men having advantages at various points.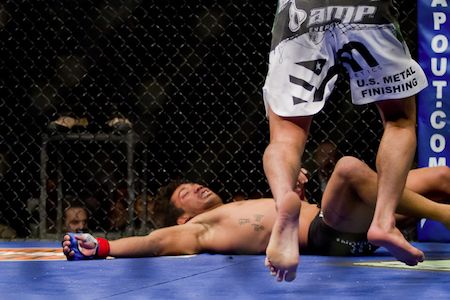 Benson Henderson in the immediate aftermath after the kick



Today, Henderson has never faced adversity quite like he did that December. He's engaged in close decisions with the likes of Frankie Edgar and Gilbert Melendez, but he has never been in true danger of being knocked out or submitted since stepping foot in the UFC. He's a dynamo at 155-pounds, able to keep a wild pace for 25-minutes and do so anywhere the fight may go. In scrambles, he finds himself upright like he's horsing around in the gym. Nobody puts him on his back and scores points with strikes or threatens him with submissions. Nobody.

Meanwhile, Anthony Pettis' one gloomy period was his UFC debut in 2011 when he was beaten by Clay Guida's takedowns in a three-round decision. Since then, he's looked more and more like the fighter known as one of the most entertaining in the entire division. In 2012, he knocked out Joe Lauzon with a head kick in Japan and followed that up nearly a year later by finishing "Cowboy" Donald Cerrone with a body kick. Both those wins took up all of under four minutes of cage time, by the way. Seven months later and he will almost certainly go into the championship rounds with Henderson, with most expecting a decision one way or the other.

The funny thing is, both men have proven extremely durable once they get into the cage. Henderson's first career loss in 2007 came when he was caught in a choke before anyone ever knew his name. Since then, in 19 fights, he's lost once and has never been finished. Pettis has never been finished in his entire 18-fight career and naturally, Benson has developed a reputation for being unable to finish his opponents (in fact, he has not done so since he choked out Donald Cerrone in April 2010).

Away from the cage, each have grown as men; the champion became engaged to his girlfriend following his last win in April and the challenger became a father less than two years ago.

By Sunday morning east coast time, either of these scenarios will be playing out (short of some freak occurrence a la Edgar/Maynard 2):

A) Henderson wins, cementing himself as numero uno in the world at 155-pounds and among the best five or six fighters pound-for-pound. The next challengers include a healthy T.J. Grant, Josh Thomson and perhaps a rematch with Gilbert Melendez. He says he is shooting to break Anderson Silva's record for consecutive title defenses in 2016 and very well may make a legit run at such a mark. Meanwhile, the "showtime kick" has a little less sting, though Benson has seen the clip enough times to say what color shirt everyone at cage side was wearing. "Showtime" Pettis returns to pondering a drop to featherweight.

B) Pettis wins, proving yet again that he is just that much better than his greatest rival when they step inside a cage. Being that the UFC champion lost, a trilogy is immediately in play pending their health, and is earmarked for the Super Bowl show in February. Henderson gets even more restless having failed in his bid to stop Pettis and talking heads will question whether he will ever be able to win this fight.

It's usually tough to pick against a champion, let alone one who has three defenses under their belt. However, this is a unique situation in which they're in a position to avenge a loss, against an opponent also in their physical prime.






---




- Bellator announced another title fight to take place on their pay-per-view debut on November 2 in California. Featherweight champion Pat Curran will defend against tournament winner Daniel Straus. This is in addition to the card as it's known so far, which includes: Quinton "Rampage" Jackson vs. Tito Ortiz; lightweight champion Michael Chandler vs. Eddie Alvarez; and King Mo Lawal vs. Emanuel Newton for the interim light heavyweight championship,

Straus, a 29-year-old Cincinnati native, is 21-4 overall and earned this fight by winning the season six tournament which saw him defeat Jeremy Spoon, Mike Corey and Marlon Sandro. Since then, he last fought in October when he choked out Alvin Robinson. Earlier this year, he was arrested on drug charges but based on his own words, he's not in legal trouble because the illegal products did not belong to him (rather someone else who was riding in his car). He was scheduled to challenge Curran in the spring but a broken hand delayed their match-up (Curran instead choked out Shahbulat Shamhalaev). A wrestler by trade, Straus will attempt to be the man to unseat Curran who is considered the second best featherweight in the world and has not lost since dropping down to 145-pounds in 2011.

- While the prospect of a "grudge" fight between Chael Sonnen and Wanderlei Silva seems enthralling, it may never happen. According to reports, Silva requested a cut of pay-per-view profits to fight Sonnen, figuring that it will be a reason for fans to plunk down money and buy the show. UFC president Dana White shot that request down and apparently, Wanderlei has no interest unless he's duly compensated. Based on an interview with Sonnen conducted by MMA Junkie earlier this week, he's under the impression that he's not fighting Silva, too (for as well as you wish to believe him). In any event, he wants to be on the GSP/Hendricks undercard in November, which will act as the UFC's 20th anniversary event.

Stay tuned.

- Next Wednesday night, the UFC is back on Fox Sports 1 and they will be showcasing fights live from Brazil. Light heavyweight stud Glover Teixeira will take on Ryan Bader in the main event with the following fights set for the main card, too:

Jacare Souza vs. Yushin Okami; Jussier da Silva vs. Joseph Benavidez; Tor Troeng vs. Rafael Natal; Francisco Trinaldi vs. Piotr Hallmann; and Ali Bagautinov vs. Marcos Vinicius.

Following the live event from Brazil, the new season of The Ultimate Fighter will premiere with coaches Ronda Rousey and Miesha Tate. Remember, at the time it was filmed, Rousey was not aware of Cat Zingano's injury and the fact Tate was her replacement. This caused plenty of heat from Rousey and apparently, much of the season features her being pissed off at Tate and especially her boyfriend, Bryan Caraway.

- The UFC 164 Countdown special fails to mention the fact that Josh Barnett was stripped of the UFC heavyweight championship due to failing a drug test after his win over Randy Couture. Bellator welterweight champ Ben Askren alluded to this on Twitter and this resulted in Barnett, ultimately, cursing him out. Class, ladies and gentlemen.

- Former UFC heavyweight Cheick Kongo has signed with Bellator MMA and will participate in the upcoming season nine heavyweight tournament (it begins next month). The 38-year-old Frenchman is 18-8-2 overall and was last seen being knocked out by Roy Nelson in April. His most successful run in the UFC came between 2010 and the end of 2011 when he went 3-0-1. The draw came against then-undefeated Travis Browne when Cheick was docked a point for holding onto his shorts. The wins during that span were achieved against Paul Buentello, Pat Barry and Matt Mitrione.






TWITTER

http://www.twitter.com/411mania
http://www.twitter.com/411wrestling
http://www.twitter.com/411moviestv
http://www.twitter.com/411music
http://www.twitter.com/411games
http://www.twitter.com/411mma






comments powered by