SPOTLIGHTS
Five Quick Rounds 09.03.13: Fight-A-Palooza with UFC 164 and UFC Fight Night 27, More
Posted by Evan Zivin on 09.03.2013

From Ben Henderson losing the Lightweight Title to Anthony Pettis at UFC 164 and the results of UFC Fight Night 27 to controversy between Bellator and Attila Vegh and more, 411's Evan Zivin shares these stories and more in Five Quick Rounds!

Hey hey, fight fans, and welcome back to Five Quick Rounds! I am your host, Evan Zivin, and I am more excited than Miguel Torres to be here once again!

But first, a joke: If a marijuana possession charge was called a surprise marijuana possession charge, more women wouldn't mind going for rides in them.

Well that sucked. It's not even a joke. It's just a quote from a crappy TV show. Well, I changed it a little to make it more topical but still. If the only way you can be funny is by quoting TV shows or movies, then you should stop trying to be funny. I should know. I'm great at being funny, by which I mean I suck at it. At least I didn't make a rape joke, unlike Miguel Torres, who made one on Twitter back in 2011 and got fired from the UFC because of it (before he was brought back and then fired again in 2012). I can only hope a small part of his firing was due to lack of creativity. Anyway, it doesn't sound like everything has been roses for the former WEC bantamweight champion lately. Reports state that Torres was arrested last weekend for alleged marijuana possession in Indiana. No other details are known but his mugshot is online if you're into that sort of thing. I know that, after hearing this news, people are probably thinking things like "this shouldn't have happened" and "marijuana should be legal" and "something something Nick Diaz 1,2,5" but it is what it is. I just hope that this is the worst thing that we hear happening to Torres. I don't need another Jason Miller situation. One is annoying enough.

Also, congrats to Cheick Kongo for finally signing with Bellator. I look forward to finding out who will be the first man in that promotion to get kneed in the balls by him.

All right, so with fighter introductions out of the way, I have five more rounds of MMA news and opinions to throw at you. This week we look at the results of UFC 164 and UFC Fight Night 27, plus the Bellator/Attila Vegh injury controversy. It's been a light news week but that's because everyone was fighting. Let's to it do it.

FIGHTER YOU READY!!!!
FIGHTER YOU READY!!!!

FIGHT!!!!




Round One: UFC 164 Main Event Quick Thoughts, Anthony Pettis Fails to Deliver Second Showtime Kick, Breaks Ben Henderson's Arm Instead

***TOUCH OF GLOVES***

Live, from the BMO Harris Bradley Center in Milwaukee, Wisconsin, it was UFC 164 ON SATURDAY NIGHT!!!

UFC 164 was an action packed show. The event featured fighters making successful returns to the UFC, fighters tasting victory and defeat for the first time in their UFC careers, and one fighter finally reaching the pinnacle of the sport after two long years. The main event was the big rematch between Benson Henderson and Anthony Pettis. The two had fought previously for the WEC Lightweight Championship in a fantastic fight. Three years later, the two would battle once more, this time for the UFC Lightweight Championship. Pettis won the first fight by unanimous decision after breaking the laws of physics (and possibly Henderson's face) with The Showtime Kick. The move was so unbelievable and so exciting it made WEC commentator Stephan Bonnar scream like a Muppet drowning in a vat of mouthwash. Oh wait, he always sound like that. Still, it was a ballsy performance that gave Pettis the distinction of becoming the last lightweight champion in WEC history and the recognition he needed to make a quick impact in the UFC. Unfortunately, injuries and other circumstances prevented Pettis from getting the UFC title shot that he deserved until now, and he just so happened to get his shot against his previous foe, who had managed to quickly work his way to becoming UFC champion. Everyone knew these two would fight again and, on Saturday night, they finally did. So, what happened? Was Pettis be able to do the unthinkable and stop the mighty Henderson a second time? Did Pettis find a way to win and become a champion again? Was Pettis able to do what six other men were not able to do and defeat the dominant champion of the UFC's most talent-rich division?

Henderson's strategy became apparent from the start of the fight, as he rushed Pettis up against the fence. Henderson looked to pressure Pettis, trying to take him down while peppering him with punches up against the cage. Pettis's takedown defense proved to be outstanding and he eventually broke away from Henderson. This was when Pettis's striking got going, opening up with some vicious kicks to the body that clearly hurt the champion. Pettis showed off some of his diverse striking game by going for a capoeira kick that was thrown too close to Henderson and allowed Henderson to fall into Pettis's guard. Henderson is very strong when he's in top position but Pettis gave him no time to posture up for ground 'n pound and threw his legs up for an armbar. Pettis worked quick and, as hard as Henderson fought to defend the submission, Pettis stayed with it using all the strength he had. The result was Pettis popping Henderson's arm and getting the verbal submission. That's right. Anthony Pettis did it. Pettis broke through one of the best submission defenses in MMA to win by submission and become champion. It seemed all Henderson could hope to do was try and contain Pettis. It would have been a huge challenge to do that for five rounds but on Saturday he wasn't able to do it for one. Maybe this is what Henderson gets for claiming he would break Anderson Silva's title defense record. At least he managed to beat Anderson's record for most fights won with a toothpick in his mouth (the previous record was zero). Either way, Henderson fought tough but Pettis was just unstoppable. It was a great win for Pettis and I look forward to seeing what challenges will come the new champion's way, especially because the division now has a champion who can consistently finish other fighters. You better appreciate this, casual MMA fans.

***HORN SOUNDS***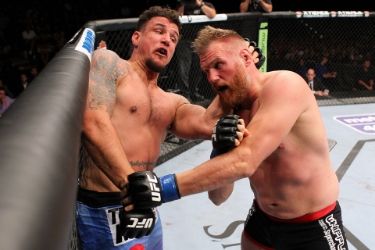 Round Two: UFC 164 Co-Main Event Quick Thoughts, Josh Barnett Defeats TRT, Concept of Irony Spontaneously Combusts

***TOUCH OF GLOVES***

The co-main event of UFC 164 was an especially intriguing one as it featured the return of Josh Barnett to the UFC for the first time since he stopped wanting people to call him the Baby-Faced Assassin. Barnett reached the peak of the UFC eleven years ago by becoming UFC Heavyweight Champion at just 24 years of age. Way to make the rest of us feel inferior, Josh. At least I haven't tested positive for any banned substances (yet), which Barnett did and was stripped of his title because of it. He left the UFC and continued to prove his dominance as a top heavyweight all over the world, making it to the finals of the 2006 Pride Openweight Grand Prix and the Strikeforce Heavyweight Grand Prix. Plus he let Mighty Mo kick him in the balls that one time. It was great because he kicked him, like, really hard. I mean REALLY hard, like Mo was trying to get juice out of them. So Barnett continued to perform like a top heavyweight but, for as long as he continued to compete outside the UFC, there would always be a question of whether he was still as good as the rest of the division; whether he still deserved to be ranked as one of the top heavyweights in the world. Well, Barnett had a chance to finally answer that question by making his triumphant return to the octagon, facing a man who has been a fixture of the UFC Heavyweight division for as long as Barnett had been gone in Frank Mir. Would the catch wrestling master and love handles spokesman have what it takes to defeat the former champion?

To put it as blunt as Barnett's fists against Mir's face, yes. The fight was somewhat competitive to start, as Barnett charged forward and the two men grabbed each other and threw punches like they were drunken fathers at a wedding. After a little bit of that silliness, Barnett pushed Mir up against the fence and started throwing strikes in the clinch. Barnett was utilizing the strategy that proved successful for Shane Carwin and Daniel Cormier when they fought Mir, throwing punches and knees and elbows against the fence. Mir tried his best to tie up Barnett and prevent the Warmaster from reigning havoc upon his beautifully douchetastic face, but it wasn't happening. Barnett was vicious in his assault, which finally ended after Barnett threw a knee to the side of Mir's head, causing him to crash to the canvas. It was at this point that there was controversy, as the ref chose to stop the fight after the knee, but as soon as he did, Mir shot straight back to his feet ready to continue fighting. What appeared to have happened was a flash knockout, where Mir was out for only a split second before recovering. It happens in fights all the time but they don't always result in stoppages because if the fighter can recover fast enough, the ref will usually allow the fight to continue. I can't say that it's safe to allow a fight to continue after a flash knockout but most fighters can fight just fine after one and Mir probably would have too, but he also would have taken a lot more damage from Barnett before getting back to his feet had the ref not ended the fight when he did. I do get the complaint that the fight should have gone a little longer to be fair to Mir, but he did go out after the knee so I have no problem with the stoppage. It was a huge win for Barnett and it puts him immediately into the conversation for a title shot. I look forward to seeing him compete again. Double leg takedowns for everybody!

***HORN SOUNDS***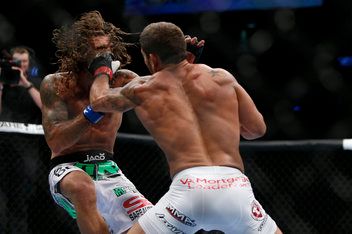 Round Three: Rest of UFC 164 Quick Thoughts, Chad Mendes Makes Clay Guida Wish Safe Auto Offered Health Insurance

***TOUCH OF GLOVES***

On the main card, featherweight contender Chad Mendes did something that has never been done before. On Saturday night, the Alpha Male enforcer knocked out Clay Guida. Yes, the man who has suffered and survived pummelings from the likes of Diego Sanchez and Ben Henderson got stopped by the hands of Money Mendes. Guida looked to be as fit as an electrified piece of beef jerky can be, but Mendes was able to handle Guida's crazy movements and stuff his shots while hurting him on the feet and on the ground. The fight ended after Mendes landed a huge right to Guida's jaw that resulted in the fourth T(KO) in a row for Mendes. He might be able to get another title shot soon with another win like that. Ben Rothwell and Brandon Vera proved to be a better fight than what I was expecting, but that's not saying much. The first two rounds were fairly even with both men landing punches on the other's squishy body fat. Vera landed more early in the fight but he slowed down and allowed Rothwell to huff and puff his way back into the later rounds. Things really slowed down in the third before Rothwell's circuitry began to malfunction. I don't know what he was doing. He starting moving around like a defective rock 'em sock 'em robot. Rothwell got real aggressive and swarmed Vera with punches until the ref stopped the fight and everyone could breathe again. Rothwell then called out Travis Browne after the win. How cute. Dustin Poirier came ready to get back on track in the featherweight division against former not title challenger Erik Koch. Poirier went after the dangerous striker with strikes of his own, dropping Koch twice in the first round. Poirier used his grappling to take the second round while Koch worked his way back into the fight by dominating on the ground to take the third round (not to mention a deep triangle choke attempt in the first round). Poirier took the fight by unanimous decision and positioned himself again as a contender. I just hope he made it out of Milauwkee okay after defeating the Roufusport fighter.

On the prelims, Gleison Tibau took a close split decision win against former WEC champ Jamie Varner. It was one of those fights that was close due to not a ton happening, especially in the first round. Tibau won the second round after getting Varner to the ground but Varner managed to come back in the third round after hurting Tibau with an uppercut. Varner wasn't able to finish the tired Tibau and it proved too little too late as Tibau took the victory on two judges' scorecards. The battle of the troll dolls proved to be a rather vicious one as Tim Elliott was able to dominate the green-haired Louis Gaudinot without too much trouble. Elliott used knees and elbows on the feet interspersed with hammerfists on the ground to defeat Gaudinot by unanimous decision and move himself closer to contendership in the flyweight division, which shouldn't be hard to accomplish when the weight class only has 20 guys. Hyun Gyu Lim got a huge knockout win over Pascal Krauss in a great one round fight. Both guys were wild in their punching exchanges but Lim landed the harder shots and dropped Krauss twice. The second time, Krauss shot back up but it was obvious he was hurt. Lim continued to chase after Krauss, throwing whatever he could, until he landed a knee that put Krauss down for good. It was a technical fight but it was fun as hell to watch, which is probably why Dana White named it Fight of the Night. Chico Camus used his grappling and hit a huge upkick in the third round of his fight with Kyung Ho Kang to win by unanimous decision. Soa Palelei managed to hulk up for long enough to get a TKO early in the third round of his fight againt Nikita Krylov, his first in the UFC since 2007. It wasn't enough of an effort to keep Dana from crapping all over it but at least he won, unlike the guy he defeated. Also, Ryan Couture felt the absence of his father, whose name I cannot say due to violating Viacom's intellectual property and/or upsetting the Baldfather, in a unanimous decision loss to Al Iaquinta. And Magnus Cedenblad wanted to beat the traffic out of the arena and secured a guillotine choke off of a Jared Hamman takedown to win by submission in 57 seconds.

And that was UFC 164. Don't worry, kiddies. There are even more UFC fights for me to pretend to know what I'm talking about coming up!

***HORN SOUNDS***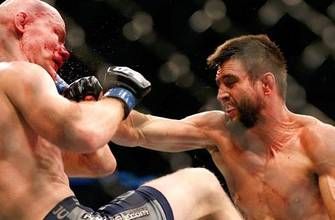 Round Four: UFC Fight Night 27 Quick Thoughts, Condit Wins Back His Soul, Dos Anjos and Mizugaki Ruin Everyone's Parlay

***TOUCH OF GLOVES***

Yadda yadda yadda UFC Fight Night 27 last Wednesday night.

The fights weren't watched by as many people as the first show on Fox Sports 1, but the show was overall a good one. The main event was, much like the main event of UFC 164, a rematch of a great fight. Unlike Henderson-Pettis, though, the fight was at welterweight and it wasn't for a title. Still, Carlos Condit and Martin Kampmann proved that some fighters just perform well against each other with another fantastic showing. Kampmann surprised Condit early with his aggressiveness and takedowns, winning the first round. Condit was able to adapt to the strategy by increasing his striking output, taking the next two rounds before ending the fight with punches and knees a minute into the fourth round. This was an important win for Condit as he avenged the first loss of his UFC career and ended his two-fight losing streak to get back on track of falling short of becoming welterweight champion again. Rafael dos Anjos shot himself up the lightweight rankings with a dominant win over Donald Cerrone. Dos Anjos outpaced Cerrone with big punches over the course of three rounds to win the fight. Maybe if dos Anjos had been on a boat, Cerrone would have performed better. Kelvin Gastelum made a successful welterweight debut against Brian Melancon, catching him with an uppercut and finishing with a rear naked choke two and a half minutes into the first round. It's only a matter of time until another TUF winner loses so appreciate what we have right now in Kelvin. Erik Perez hit the first bump in his UFC career in a tough split decision loss to Takeya Mizugaki. Perez looked good to start but slowed in the second and third rounds, which allowed Mizugaki to bust up Perez's nose with punches and do enough in the clinch and on the ground to earn the victory. Perez will be back, but before he gets to fight another contender he must defeat Blue Demon, Jr. in a 2 out of 3 Falls Match. MMA needs more lucha libre masks.

In other TUF winners losing news, Robert Whittaker suffered his first loss in the UFC against Court McGee. Whittaker was having success with his striking but as he tired, Court's cardio took over and allowed him to outpace Whittaker at the end and take a split decision victory. Brad Tavares used his kicks and survived a late grappling effort from Robert "Bubba" McDaniel to secure a unanimous decision victory. I wonder if Jon Jones was able to look at Bubba the next day after that performance. Dylan Andrews fought through a beating at the hands of Papy Abedi to catch Abedi with a combination and knock him out in the third round. Brandon Thatch had a successful UFC debut by swarming Justin Edwards and punching him like a madman until the fight was stopped at 1:23 of round one. Edwards was tough for lasting as long as he did but that was quite a beating. Darren Elkins silenced anyone who still held out hope of Hatsu Hioki being a contender at 145 by out-grappling the Japanese superstar to take a unanimous decision win. Jason High finally felt the high of a UFC win with a quick first round guillotine choke of James Head. TUF 17 alum Zak Cummings had a very impressive welterweight debut against Ben Alloway, dragging Alloway to the ground and locking up a D'Arce choke for another first round finish. The opening fight saw a no contest declared between Roger Bowling and Abel Trujillo. After Bowling won the first and most of the second round, Trujillo managed to hurt Bowling and hit him with two knees while Bowling was on the ground. One hit Bowling's chest and the other hit his shoulder but the motion of throwing the knee caused it to crack Bowling in the head too. Bowling was unable to continue after the shot and the ref, ruling the knees as illegal, declared the fight a no contest after saying the knees were unintentional. The first knee was definitely legal and the second, while hitting Bowling's head, was intended for and hit the shoulder, but it still hit the head. Also, there is photo evidence that claims that both of Bowling's knees were off the mat for a brief second as the knee landed. It's really hard to tell if both knees were off the mat or not but Dana felt Trujillo's knees were legal and even gave Trujillo his win bonus. If Dana wants to treat it as a win then that's fine by me. Just means one more fight I predicted correctly.

And that was UFC Fight Night 27. Next up is UFC Fight Night 28 on Wednesday night. The fights. They just don't stop. They just don't stop. They will destroy us all.

***HORN SOUNDS***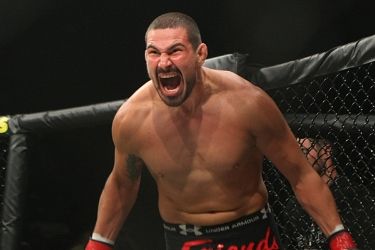 Round Five: Attila Vegh May Not Be Injured, Is Just "Russian" to Come Back and Fight

***TOUCH OF GLOVES***

Thus concludes our lesson on awful puns. Don't forget to do the readings for next week, as there will be a quiz. Also, forget the fact that he is Slovakian and not Russian. Anyway, let's end with a possible conspiracy from our friends at Bellator. Personally, I like the promotion but I do recognize that they aren't always the most ethical when it comes to dealing with their fighters. It's well known what happened between Bellator and former champion lightweight Eddie Alvarez when he tried to sign with the UFC but the promotion has also jerked around other fighters as well, like former bantamweight champion Zach Makovsky and Tyson Nam. Well it looks like the same thing may be happening to current light heavyweight champion Attila Vegh. A few weeks ago, Bellator announced that Vegh would be unable to defend his light heavyweight championship in the fall and an interim championship fight would be held at the Bellator 106 Payperview between Season 8 winner, Emmanuel "I'd Be Terrifying in a Slam Dance Pit" Newton and Summer Series winner King Mo, also known historically as Mo the Getting Paid a Lot By Bellator So Win the Championship Already. It's not very fair to have two tournament winners face each other for the right to fight the champion before either have received their title shots, but it's an interesting rematch from the Season 8 tournament that will make a nice addition to the PPV and determine a true challenger for Vegh when he returns from injury...

...Or when he returns from being forced to sit out. According to an interview Vegh gave for Polish website MMARocks, he is not injured and Bellator is intentionally keeping him out of action until next year so they can do the Newton/Mo rematch. Vegh says that people would rather see the rematch and people would rather see American fighters on the PPV than those damn fereigners. Bellator responded to this news with a statement saying that the interview was incorrectly translated (the video is online so I would imagine someone should be able to translate it correctly) and they tried numerous times to book Vegh vs. Newton but couldn't due to injuries so they decided to book the interim fight instead of waiting, as they have done for other champions. The statement even included a medical report that says Vegh can't fight because one of his breasts is larger than the other. At least that's what I think it says. It's weird because it's written partly in English and partly in Slovak. Is Bellator even allowed to just put that out there? Don't they need consent from Vegh and the doctor to release medical information like this? It all seems a little odd. There might be some legal action in somebody's future. Again. This could all be legitimate but at this point it wouldn't surprise me if this conspiracy was true. All I will say is that, as an American, I don't care who is fighting as long as they don't suck. Vegh is decent so I would have been fine with seeing him defend his title, but I'm also cool with the Newton/Mo rematch. It will be an interesting one because I want to see if Newton can knock the crap out of Mo again. Black-on-black violence: only on Payperview!

***HORN SOUNDS***

That's it for Five Quick Rounds. If you have any questions, comments, or suggestions, and it is always appreciated when you do, leave them in the comments section. I will be back in 7 for another Five Quick Rounds. UFC Fight Night 28: Teixeira vs. Bader is tomorrow night on Fox Sports 1 with the premiere of the new season of The Ultimate Fighter following. It's the first season with female fighters so it's at least worth recording on your DVR and skimming through later in the week. Enjoy the fights and, until next time, remember to fight clean, fight hard, fight fair, and never leave it in the hands of the judges...




LATER!!!!!
comments powered by