SPOTLIGHTS
411 MMA Fact or Fiction 09.04.13: Pettis/Bendo III, Pettis/Aldo, Bellator's 'Injury' Woes
Posted by Wyatt Beougher on 09.04.2013

Does a third fight between Anthony Pettis and Benson Henderson make sense? Would a superfight between Pettis and Jose Aldo bring new fans to both divisions? 411's Paul Lapointe and Jonathan Butterfield debate these topics and more!

Welcome back to 411's MMA Fact or Fiction, and I"m your host, Wyatt Beougher. For those of you who celebrated Labor Day this past weekend, I hope you enjoyed your extended holiday, and that, if you're of the southeastern American persuasion, you didn't lose any limbs in fireworks accidents (and seriously, can someone from the South explain to me why you celebrate EVERYTHING with fireworks? Independence Day? Fireworks. New Years? Fireworks. Wedding? Fireworks. Divorce? Fireworks. Fireworks ARE cool, but I feel like if I lived in Alabama where my parents and sister have moved to, I'd be tired of them inside of a month. /rant). Last week's Fact or Fiction saw Robert Winfree FINALLY pick up another win, as he narrowly edged out Robert Cooper by a score of 9-8. Not the biggest turnout we've seen, but to the 18 people who ended up voting (yes, even you, voter who scored it a draw), I do thank you. Just two shorts weeks ago, Paul Lapointe made his Fact or Fiction (and 411) debut, picking up a win over veteran Todd Vote. Paul jumped out to the early lead in the voting and he never relinquished it, which prompted Jonathan Butterfield to call him out before the polls had even closed! I try to make these match-ups happen whenever I can, so, without further delay, let's get to the action.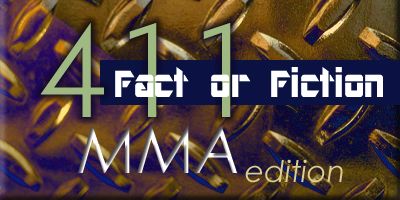 TALE OF THE TAPE

Red Corner
Paul Lapointe
'Neophyte'
Columnist, Forgotten Fights (Coming Soon)
1-0-0

VS

Blue Corner
Jonathan Butterfield
'Butters'
Interviewer/Fighter Profiler, MMA Zone (his interview with the guy who won in the main event at this past weekend's WSOF event, Tyrone Spong, is here and his look at Anderson Silva's career can be found here (Part 1), here (Part 2), and here (Part 3))
4-5-1

---

Is a third fight a bad idea?



1.) With Anthony Pettis having decisively beaten Benson Henderson in both of their previous encounters, making a third fight between the two fighters makes very little sense.

Paul Lapointe: FACT At least for the foreseeable future. Potential superfights and a laundry list of potential matchups aside, Pettis may also be hurt, delay...delay...delay...rematch. That is the pattern of the UFC's lightweight division. We need to freshen that sumbitch up and fast. Also during the after event scrum, Dana White proclaimed that Benson would have to climb his way back up the ladder to get his wish at a rematch. I am thinking either three quality wins with a frickin' finish somewhere in there or if and when Pettis loses the strap. Both boys are young but when a trilogy is in order, it is when there is a catch for it...being down 2 to none with no more heat shouldn't and wouldn't bring in any cash, I mean come on, this is not Tito Vs Shamrock here, a rivalry that epic needed as many fights as possible! Plus I really...really...really want to see a fellow Canadian like TJ Grant, an underdog of the truest nature just knock Pettis's block off.

Jon Butterfield: FACT - Benson Henderson now finds himself in one of those awkward predicaments where a bout with the reigning UFC Lightweight Champion just doesn't make a whole lot of sense, even as good as he is and as well as he might do – Anthony Pettis might not be the greatest fighter in the world (watch his Clay Guida fight, for example, where he is effectively wet-blanketed by an inferior opponent), but he certainly has Henderson's number and he's proven that twice. Now, Henderson needs to either wait for people to forget how comprehensive this latest defeat was by amassing a compelling win streak that suggests he may have a chance in future, OR, he has to hope for a new champion to be crowned who represents a fresh match up (someone like TJ Grant or Pat Healy would be ideal).

But Wyatt words this question as "making a third fight between the two fighters makes very little sense", and that's absolutely true since we're not actually discussing Henderson's championship credentials. I don't want to see Pettis-Henderson III in the near future at all, and ultimately, we might not have to even consider it. Pettis is still apparently interested in a super fight with UFC Featherweight Champion Jose Aldo, and the outcome of that bout could easily determine Pettis' future as either a lightweight, featherweight, or dual-weight champion, and at least two of those three paths open up a plethora of unforeseen mouth-watering match ups. If he sticks to lightweight regardless, I guess we're likely to get Henderson knocking on his door (since Henderson is extremely unlikely to be able to make 145 lbs in my eyes, and few guys have the tools to defeat him comprehensively at 155 lbs), but who knows – Henderson has ridden his luck as Lightweight Champion notching up at least two coin flip-esque decision wins, and if those coin flips turn into losses in future, he won't be anywhere near the top contender spot anyway

---

Would matching Werdum up with the Warmaster make more sense?



2.) Matching Josh Barnett up against Fabricio Werdum makes more sense than the rumored Werdum/Daniel Cormier fight.

Jon Butterfield: FICTION If Dana White is to be believed, Barnett was the recipient of a very dubious referee's stoppage in his win over Frank Mir – I don't agree with that, and think the stoppage was fine, and that it's slightly delusional to say Mir was actively (or even on the verge of actively) attacking or intelligently (or even on the verge of intelligently) defending. He wasn't, he went down like a ton of bricks, put his hands up like he wanted to high five someone, and was a split-second away from getting hammered into absolute oblivion. Dana White may argue that we should have seen him ACTUALLY get hammered into oblivion and not THEORETICALLY get hammered into oblivion, and there's some validity to that statement, but there's no way that's a horrible stoppage in my eyes. The contest was effectively decided.

On the back of that, however, there's no question that a measure of credibility has been stripped from Barnett's first UFC win in years – it will be forever remembered as a questionable (or semi-questionable) stoppage whether we like it or not. Matching him up with Fabricio Werdum, who has posted three straight comprehensive victories, doesn't make a lot of sense on that basis. Cormier is a guy on an absolute roll, and Werdum is a brilliant opponent in a contender-eliminator that should determine the next title challenger – no matter who wins, you've got a quality bout against the winner of JDS/Velasquez III, BUT, we're entering rocky territory IF Cain and Cormier both win. Both fighters are diametrically opposed to competing in the Octagon, yet if that happened (and it's far from a certainty), surely passing the title challenger torch to the winner of, say, Barnett vs Browne is the correct way to book this thing. Either way, it's great to have this kind of headache in a previously stale division, especially after all four heavyweights competed so well at UFC 164.

Having said all that, Werdum-Barnett is still an awesome fight, and I wouldn't gripe if they went that way either.

Paul Lapointe: FACT Again though this is all theoretical hyperbole. Werdum has stated he is sitting on his ass in Brazil, teaching and training, readying himself for the champ after UFC 166 or a chance to coach TUF Brazil again. So a Barnett fight seems off the table anyhow. Twitter, my source for all relevant news, also made me aware that Travis Browne gets the hots and fuzzies in his tummy when propositioned with facing TRT teddy bear Ben Rothwell, so I see Browne Vs Barnett as the better matchup for the company - winner gets title shot after Werdum. Also DC needs to get past Roy Nelson first and foremost before playing matchmaker even makes sense. I know on a technical note, DC will roll right past Nelson with the clinch game and smother him, but that bear claw of Nelson's (and no, not the the one stuck in his beard) could club a baby seal dead in one blow. But DC I believe after signing that paper contract he wrote up in his three ring binder will survive the grizzly man to fight another day. Will it be against Werdum...bloody no. It'll likely be at light heavyweight and be against Jon Jones.

---

Is something fishy going on?



3.) Bellator's explanation of Attila Vegh's injury only serves to add credence to the fighter's claim that he is medically cleared to fight but was told to sit out while Bellator organized an Emmanuel Newton/King Mo interim light heavyweight title fight.

Paul Lapointe: FACT Ever since the announcement was made for Bellator to function as a PPV entity in the future, it seems they have been moving ever more noticeably in the media back on what brought them. From instituting place holder contenders for champions to face, whether coming off a loss or not. The system is flawed but at least makes sense to a degree, champions can get bored. To signing washouts and has-beens from all over the globe, Wolfslair and UFC talent from years ago, rather than fresh upstarts that brought them. Hey Cheick Kongo, I am an MMA practitioner and fan and do not like you, sorry Bjorn. Plus the summer series...4 man tournaments? Wah? Tuffest Turney in sports I says. Not really, just a scapegoat to get people they want in a position they already needed them in. With this new move to Spike, it's slowly being controlled by the bigwigs and money men and though, one may not like Bjorn, I do not think it's all his fault. Farce that this story is true or not aside, the medical report released saying he WAS hurt is from April of this year, and states he would miss 2 months. 2 months, that is even before the Summer Series kicked off. It was better Bellator just kept quiet, as when you do not have anything good to say, sometimes it's best not to say anything at all. Bellator you little runt, I know you just want to make that PPV a success, Attila is as exciting as sandpaper sometimes and the market is hot for Mo but he is YOUR CHAMP, just go to your one and think about that one.

Jon Butterfield: FACT And what is most bizarre about all of this is, I don't really see why it matters if Bellator publically declare a greater interest in running a Newton/Mo contender eliminator instead of a Vegh/Newton fight – what is wrong with just being honest about that (if it is the case) and maybe booking Vegh in a non-title fight in the interim? Just don't feed Vegh Travis Wiuff, because Wiuff ruins things by actually winning non-title fights when he clearly isn't supposed to.....

---

Would a superfight bring new fans to both divisions?



4.) A fight between new lightweight champion Anthony Pettis and featherweight champion Jose Aldo, if aired on a Fox broadcast card, would actually draw interest to two divisions sorely in need of it.

Jon Butterfield: FICTION I don't really think this fight in itself benefits the divisions, though it does draw some attention to them at least – and the reason I don't think it benefits them is because a lot of people who might buy the resulting PPVs are already acutely aware that the featherweight title scene has been drowned with UFC lightweights who blatantly get priority due to name value ever since WEC was folded into the company. If you want to draw worthwhile attention to a division, you start with the champion, then you build up contenders, rather than gifting fighters elite status that they never justifiably earned – that's how you attract interest to a title fight for my money. If Pettis wins and stays at lightweight, there won't suddenly be a ton of interest in Pettis' NEXT title defence above and beyond the levels they'd already be at, and if Aldo wins and stays at featherweight, are more people going to be shelling out for Aldo-Mendes II based on the win over Pettis? Unlikely, since Mendes (who was already destroyed by Aldo) will appear to be even LESS likely to beat the Brazilian despite his impressive win streak if Aldo is so good he can beat elite 155 lb fighters as well. Now if Aldo-Pettis happened and they put on a joint-co-main event at the SAME SHOW, showcasing contender eliminators at both 155 and 145 lbs, THEN it might help the two divisions that sorely need that kind of showcasing, but what are the chances they lump some heavyweights in there in a middle-of-the-road fight instead?

Paul Lapointe: FICTION Neither division needs that attention, as they are both ripe with potential and the least shallow of all other divisions in the UFC, bar none for contenders and prospects, so no dice. There will always be a chance at superfights in today's day and age for the fight game, but at least make Pettis defend the damn thing, its more than a prop. Unless Aldo actually comes up in weight to 155 and drops the featherweight strap, this fight does not need to happen, for now. Because by all accounts and purposes, this fight will eventually happen down the road and the need to hasten it, just seems to make me exhale a big ole sigh then get all giddy and anxious like I need some ritalin. TJ Grant, Josh Thomson, and Gilbert Melendez, if he trounces Diego, are all viable options. Rafael Dos Anjos, Khabib, and even Myles Jury have the stock rising for them in the future. At 145, it's not any less empty for contenders, as Ricardo Lamas should get his GODDAMN shot already, Mendes has made strides to claim a shot, and Cub Swanson wants to avenge that knee to chin he got a few years back. These boys are putting themselves on the map, no need to tarnish that effort.

---

Would Condit/Brown be the way to go?



5.) Carlos Condit vs Matt Brown would be an excellent next fight for both fighters, with the winner moving on to face the winner of Rory MacDonald/Robbie Lawler for a welterweight title opportunity.

Paul Lapointe: FICTION Rory has said he would not face GSP, and Brown is already being eyed to face Tarec Saffiedine in Nov/Dec. If GSP gets tagged and Rory wins then he is getting a shot. If GSP wins and Rory wins, that fight still ain't going to happen in my eyes, unless either one is pistol whipped with money. Secondly, I believe Condit facing a guy like the surging Demian Maia once he taps Jake Shields is the right play. Ground Vs Strikes, if Maia can't take down a heavy striker he has no chance once that title shot comes. Plus Brown has been on a tear but not over the motherload of contenders people are clamouring over. Sure all but one were finishes but to who? Fringe fighters like himself and people outside the top 25 or 50 like he was. He needs that signature win, but nobody should want to give it to him. Condit should not give him that chance, Tarec does not have a choice, Condit does, simple as that. Its a game of musical chairs at the welterweight head table, let the chips fall where they may, will they wind up like it's outlined in the question, I do not think so. Too many variables.

Jon Butterfield: FACT Carlos Condit is the main question mark here, since he's dropped unanimous decisions to both GSP and Johny Hendricks (who are the two most likely champions at the outcome of such a four-man tournament), but when you consider that Condit did some real damage to GSP (unlike many opponents) and that many are suggesting he would have beaten Hendricks over five rounds, he definitely shouldn't be written off – so let's keep him in. The other question mark is Matt Brown, since despite his win streak, it's not certain that the UFC wouldn't prefer to match him up with Martin Kampmann as a more serious test ahead of a bout with Condit. But if they did go for Condit vs Brown, and it IS a good fight, then why not have the winner face the winner of MacDonald/Lawler? The only thing that could prevent that is a convincing (and preferably exciting) win for MacDonald, in which case he probably doesn't need another fight before getting a title shot – just so long as GSP isn't the champion, of course...

Damn it, Daniel Cormier and Rory MacDonald, can't you just fall out with your divisional champions and give us the most obvious fights?!

---


Who do you think won this week? Did Butterfield's newlywed logic sway your vote, or did Paul continue his undefeated streak? Voting will be open until midnight EST on Saturday, so make sure you vote and make your voice heard!




---

Breaking Bad: Metropolis, anyone?



Bonus) Bryan Cranston would be the perfect Lex Luthor for the new DC film universe.

Jon Butterfield: FACT I just IMDB'd Bryan Cranston, and it turns out I haven't seen a single film he's been in – so that's a great start. But he's certainly got the kind of look that could be Lex Luthorised, so why not?

Paul Lapointe: FACT Yes he is Bald. Yes he is a bad ass. Yes he was on Malcolm in the Middle. But with all these pluses aside... Ok, yes he worked with Batfleck before on Argo and Yes I want him to be Luthor. But will he? No. At least at the moment. Mark Strong is a possibility. I would not mind Viggo Mortensen. These men are options but would I want BA Walter White as the prickly nemesis...yes I sure would. I will wait with baited breath till the end of Breaking Bad and let WW's fate on that show dictate my feelings going forward, but I am getting the feeling that it will end with a bang and that is exactly what he could bring to the role, even without a script to bandie about quite yet.

---


And that's it for this week! As always, if there's anything you'd like to see featured in a future edition, leave your statement in the comments and I'll add it in. Let us know what you thought in the comments, on Twitter, or on Google+.


comments powered by