SPOTLIGHTS
The Juggernaut MMA News Report 09.05.13: The UFC's TUF Future
Posted by Jonathan Solomon on 09.05.2013

News and thoughts on TJ Grant getting the first shot at Anthony Pettis' UFC Lightweight title! Plus 411's Jonathan Solomon looks to the future at The Ultimate Fighter and possible match ups with Jon Jones and Daniel Cormier and more!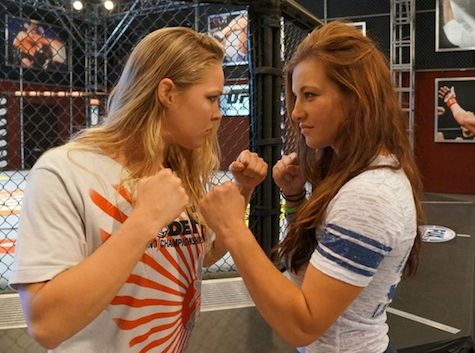 The Ultimate Fighter is Back, Now Look Ahead



The Ultimate Fighter returned for its 18th season last night on Fox Sports 1 with bantamweight champion Ronda Rousey and her upcoming challenger Miesha Tate as coaches. Beyond their presence, the allure of the season is in the fact that for the first time, female fighters are participants alongside male counterparts. Two contracts will be handed out, one for each sex and the Rousey/Tate grudge rematch will co-headline underneath the Chris Weidman/Anderson Silva rematch on December 28 in Las Vegas.

That is a lot to handle and a welcome breath of fresh air into the series, no doubt about it.

If you have been paying attention, you know all about what plagues TUF for much of its recent history. Stale coaches, unimpressive fighters competing for contracts, reality television antics and the whole 'been there, done that' attitude for a series that's existed for over eight years with little innovation.

TUF is not going anywhere, make no bones about it. It will be a significant ratings puller for FS1 and the UFC has never publicly doubted the future of the series to any degree. It's like the sun, it's just there as a part of their television properties.

But, that doesn't mean we as viewers have to just accept it. Rousey/Tate and the inclusion of women for the first time is great because it's fresh. It's different. Does that mean this season will automatically be a classic? Not necessarily. All we've heard in the weeks leading up to the premiere of this season is how weird or annoying Rousey comes off at times this season. She's overly competitive and in combination with the fact she really dislikes Bryan Caraway (Tate's boyfriend/training partner/coach/etc.), it was an environment easy for her to get pissed off in. Does this mean it will all add to the intrigue of the Rousey/Tate rematch in December? I don't see why not. Of course, if the fighters are bland as can be, there's going to have to be something to pull in viewers when we're right smack in the middle of a 12-13 week taped tournament.

This is where I point to now, looking to the future. TUF 19 is in the works and after that, TUF 20 will be here about a year from now, and so on. But, there best not be any Urijah Faber/Dominick Cruz type choices or Junior dos Santos' and so forth.

Here are three ideas, thinking aloud, as to which fighters should be considered for the coaching slots in future seasons:

Jon Jones & Daniel Cormier

Cormier would have to finally make the commitment to drop down to light heavyweight and if/when that happens, this is a natural. Both men come off extremely well in this type of setting (Jones opposite Chael Sonnen earlier this year, for example) and there's the natural television angle between the two awesome fighters. They don't particularly like one another, having been engaged in disagreements in person and through the media for much of the past year or two.

The intrigue of the match-up itself is self explanatory with the dominant young champion in Jon Jones being challenged by the former U.S. Olympic wrestler who is undefeated as a professional fighter.

I'd watch them coach opposite one another for three months.





Cain Velasquez & Josh Barnett

Yes, I understand Cain can be extremely vanilla in terms of his personality when he's out in the public eye. That's what Josh Barnett is for, because you can describe him in a million ways and vanilla would never appear as an adjective.

Barnett is probably another two wins away from receiving a title shot, perhaps one if he ends up fighting Fabricio Werdum. Some loathe Barnett, others like him -- there are not many people with no opinion about the former baby face assassin.

Velasquez is modest, respectful, cool and collected and we've never seen him angry or even really raise his voice as best I can remember. The modest champion gets poked and prodded by the mouthy fighter/pro wrestler could make for some entertaining television.





Nick Diaz & Carlos Condit

Let's be real, you could put Nick Diaz opposite a broom and it would make for more entertaining television than if you put the majority of UFC fighters in a similar setting. Whether Diaz ever plans on returning to action in the octagon is still up in the air and you know the likelihood of the company entrusting him to show up for a month in Las Vegas to tape TV is probably nil.

Yet, the one fight that's realistic for the former Strikeforce champion is the rematch with Condit. Stockton's favorite son is adamant that he won their first bout, that judges screwed him. Condit took that win and bounced it into a title fight with Georges St. Pierre (many months later) and lost. Diaz ended up getting the crack at GSP, in spite of failing a drug test for marijuana, and lost, too.

Condit is not in the title mix at the moment considering he lost to Johny Hendricks earlier this year, so I can't imagine him turning such an opportunity down. You have to believe both would be amazing coaches on TUF and if things work out (ie. if Diaz doesn't go back to California in the middle of filming), it could be one of the more memorable seasons in recent memory.






---




- Not news, but venture on over to Anthony Pettis' Instagram page to check out pics of the new champion and his family from the weekend. Among them include the fighter and his mother embracing at cage side and one of the UFC belt placed on the tombstone of his father who was murdered in November 2003.

- During the fight with Benson Henderson, Pettis felt his left knee "pop" when he checked a kick. He underwent an MRI on Tuesday and according to Dana White, he sustained a "Grade 2 sprain", needing about two months of rehabilitation.

As for his next fight, he was focused on featherweight champion Jose Aldo. The two were scheduled to fight in August in Brazil until Pettis suffered a minor knee injury (it required a few weeks of therapy) in June and was replaced by The Korean Zombie. Aldo has talked about his desire to move up to 155-pounds in the future, but there remains contenders for him at 145-pounds including Ricardo Lamas and the rematch-minded Chad Mendes.

In a world where Aldo also wants to fight Pettis, does the UFC book a champion vs. champion fight? One has not been done since 2009 when welterweight champ Georges St. Pierre demolished lightweight champ B.J. Penn with the 170-pound strap on the line.

- However...Kevin Iole at Yahoo! first broke the news that Anthony Pettis' first title defense will come against T.J. Grant and not Jose Aldo, which was later confirmed by Dana White. As of Wednesday morning, the MRI results (taken Tuesday) were not yet available and so it's unknown what kind of timeframe exists before we can expect to see the next 155-pound title fight.

Grant was originally scheduled to challenge Benson Henderson at UFC 164 but he suffered a concussion in June and was forced to forego the opportunity. If Pettis does not need surgery or prolonged rehabilitation, a realistic timeframe for the fight would be January-March 2014.

- Rewards for performances from last night's UFC Fight Night in Brazil went to: Glover Teixiera (Knockout of the Night), Piotr Hallmann (Submission of the Night) and both Rafael Natal and Tor Troeng (Fight of the Night). Each of the four men received $50,000 in addition to their purse money.

- Former UFC lightweight champion Sean Sherk officially retired this week. The 40-year-old has not fought since he defeated Evan Dunham by split decision three years ago at UFC 119, improving his record to 36-4-1. He became champion in 2006 when he defeated Kenny Florian. In 2007, he tested positive for Nandrolone and was suspended and stripped of the championship. Upon his return, he was defeated by new champion B.J. Penn. In addition to the legendary Hawaiian, his three other defeats came at the hands of Matt Hughes, Georges St. Pierre and Frankie Edgar. He was 19-0-1 before losing his first fight to Hughes for the UFC welterweight title in 2003.

- According to Bellator light heavyweight champion Attila Vegh, Bellator booked an interim-title fight between King Mo and Emanuel Newton for purely business reasons and not due to a shoulder injury sustained by Vegh. He told a Polish media outlet he will next fight in January the winner of the November 2 rematch. In response, Bellator released his medical record from earlier this year but it turned out not to prove anything because the timing was back in the spring. The point is Bellator manipulated plans in order to have King Mo on the PPV, instituting an interim championship for no legitimate reason. Does this offend you?

- Announced by MMA Fighting's Guilherme Cruz, Australia will be the site of a December 21st UFC on Fox Sports 1 show featuring a main event between heavyweights Mark Hunt and Antonio "Bigfoot" Silva. Hunt is coming off a knockout loss to Junior dos Santos while Silva was last seen being decimated by champion Cain Velasquez.

This fight coming to fruition means both men had a quick change of heart considering they said in the past they had no interest in fighting one another (both are affiliated with American Top Team).

- On Ariel Helwani's "The MMA Hour" show this week, Joe Warren apparently broke the news that Scott Jorgensen will in fact drop down to 125-pounds. Earlier this summer, the former UFC bantamweight title contender said he did not see the need for a cut, but he apparently thought about it over these past couple months. Warren said his training partner walks around at 138-pounds so in theory, cutting 13-pounds shouldn't be a massive issue for the former Division-I wrestler. He turns 31-years-old in less than two weeks and is 1-3 in his last four fights since 2012. He earned his only shot at a title in 2010 when he lost to WEC bantamweight champ Dominick Cruz by unanimous decision.

- Josh Gross reports via Duke Roufus that Erik Koch is likely to move up to lightweight following his loss last weekend to Dustin Poirier. He turns 25-years-old next month and the 5'9" Iowa-native is on a two-fight losing streak (he also was knocked out by Ricardo Lamas in January0. He has not competed at 155-pounds since 2008 when he was just 19-years-old. With his friend and training partner Anthony Pettis now atop the division, it shows what kind of fresh life Koch is looking to inject into his career.





TWITTER

http://www.twitter.com/411mania
http://www.twitter.com/411wrestling
http://www.twitter.com/411moviestv
http://www.twitter.com/411music
http://www.twitter.com/411games
http://www.twitter.com/411mma






comments powered by