SPOTLIGHTS
Five Quick Rounds 09.10.13, Fight Night 28, Bellator 98, We Saved Wrestling, More
Posted by Evan Zivin on 09.10.2013

From Glover Teixiera's big win at UFC Fight Night 28 and the results of Bellator 98 to Chael Sonnen vs. Rashad Evans Going Down at UFC 167 and Olympic Wrestling Being Saved, 411's Evan Zivin shares these stories and more!

Hey hey, fight fans, and welcome back to Five Quick Rounds! I am your host, Evan Zivin, and I am as excited as a kid in a medical marijuana dispensary to be here once again!

I meant to say a candy store. Eh, what's the difference, amirite? Anyway, Nevada just tripled their threshold for testing for marijuana metabolites. Before, having more than 50ng/mL of metabolites in your body would result in a failed test. Now the number has been raised to 150ng/mL. That means you can smoke more! Actually, the change was made to account for guys who smoke a few weeks out from a fight because the metabolites will stay in your body for far longer than the drug will have any affect on you. This is important news because, just like WADA earlier this year, this looks like an admission from the NSAC that, while marijuana is still illegal, it can hardly be called performance enhancing and it isn't right to test and penalize fighters for using it the same as fighters who use steroids or other banned substances. So good on you, Nevada. This still doesn't mean that Pat Healy can get his UFC 159 bonuses back, though. Too bad. That was a lot of friggin' money.

And put Matt Grice in your thoughts and prayers. the UFC fighter was in a car accident and was listed in critical condition, undergoing brain surgery on Sunday night. Hopefully he recovers and gets back to kicking ass in the cage soon.

All right, so with fighter introductions out of the way, I have five more rounds of MMA news and opinions to throw at you. This week, we look at the results of UFC Fight Night 28 and Bellator 98, two huge fights being added to UFC 167, and Olympic wrestling making it into the 2020 Olympics. Let's to it do it.

FIGHTER YOU READY!!!!
FIGHTER YOU READY!!!!

FIGHT!!!!




Round One: Fight Night 28 Main Event Quick Thoughts, Glover Teixeira Defeats Darth Bader, Yoda Reportedly Pleased He Is

***TOUCH OF GLOVES***

Another week, another UFC fight card on Fox Sports 1. Seriously, three cards in three weeks? What is this, Bellator? Maybe that's why the ratings have been going down every week. OH SNAP! Please don't hurt me, Dana. Anyway, the show wasn't the greatest. There were a lot of virtually unknown fighters competing on a UFC card for the first time and some of the decisions weren't the most eventful, but the show had its moments. The main event featured the mighty Glover Teixeira, the man that people have been pegging as the next big thing in the light heavyweight division because UFC desperately need more challengers for champion Jon Jones. Glover could be up for the challenge, though. He's big and aggressive with heavy hands and an extensive grappling background. He can knock out opponents just as easily as he can submit them, as he has shown in three out of his first four UFC fights. He's been knocking on the door of a title shot (with his big-ass hands) for a while now and it seemed likely he'd get one if he kept on his winning ways, but before he can get there he must go through the man they call Ryan Bader. Bader has stumbled a few times in his UFC career but he is still a dangerous opponent with good striking and great wrestling. So the question heading into their main event was whether Bader had what it took to stop Glover's momentum or would he just become another piece of Arizona State roadkill (which is, coincidentally, what the majority of that campus looks like on a Sunday morning).

At first it seemed like Bader could actually handle Glover. He came out aggressive, he moved well, he landed a few shots on Glover, and he even went for a guillotine attempt. Glover didn't stay down for long and showed that his wrestling is as good as the 2-time All-American wrestler by taking Bader down. The grappling exchanges were fairly even, with a slight advantage going to Bader, before they separated. Bader was throwing a lot of jabs and long punches to stay out of Glover's range and try to bait Glover into coming forward, which worked beautifully when Bader caught Glover with a short left that dropped the Brazilian. It didn't rock Glover but it knocked him back and gave Bader the chance to swarm, putting Glover up against the cage and throwing everything he had at him. Bader looked great here but he got overly aggressive and forgot to keep moving because in the midst of Bader's barrage, Glover countered an uppercut with a right-left combination that dropped Bader. A few punches and hammerfists later and the fight was over. Glover had triumphed in his first UFC main event. Now, that's not to say it was an amazing performance for him. His strategy employed a strong counter-striking style that allowed Bader to succeed as long as he kept moving and stayed out of range and it was only when Bader forgot to do those things that Glover was able to get a solid significant strike off and end the fight. Despite that, Glover did find a way to beat Bader and he did it in the first round, which shows how dangerous Glover is and how quickly he can end your night. Dana White has already announced that the win gives Glover the next light heavyweight title shot so we shall see how Glover learns from this performance and see how well Chuck Liddell's favorite Brazilian can perform against the best fighter on the planet. Before that, though, we'll have to see if Glover even gets the title shot or not. If he does get it, I'm sure Lyoto Machida will be very angry. Then probably thirsty. I'd stay out of the bathroom if I were you.

***HORN SOUNDS***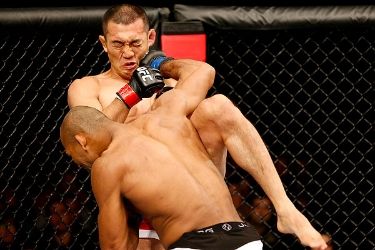 Round Two: Rest of Fight Night 26 Quick Thoughts, Jacare Shows Okami Some Real Thunder, Joe-Jitsu Not Needed

***TOUCH OF GLOVES***

The main event wasn't the only fight on the card to give us an aggressive, violent first round. In fact, the two fights right below it were also quick, albeit much more dominant, stoppages. The co-main event saw Ronaldo "Jacare" Souza officially arrive as a top middleweight with a vicious TKO over perennial contender/Asian Yushin Okami. It looked like the fight could have ended within the first minute when Jacare nailed Okami against the cage with a kick and a punch and just unloaded with punches to the side of Okami's head. Okami survived but it wasn't long before Jacare caught him again. Jacare threw a counter overhand right twice before the third one caught the taller Okami and dropped him. From there it was a few more right hands before the fight was stopped. Okami was moving well throughout the fight but so was Jacare, who was also quicker and more accurate with his striking. The win was a huge one for Jacare and one that might put him on a fast track towards a title shot. Joseph Benavidez proved that he is, without question, the best flyweight fighter in the world (except maybe champion Demetrious Johnson) with a dominant TKO win over Jussier "Formiga." It was a match-up between a high level wrestler and a high level BJJ practitioner so it seemed likely that we'd get a kickboxing match and we did. Benavidez moved well, changing stances constantly and throwing a lot of left hands and kicks. Formiga, to his credit, was game and, while getting outpaced by Benavidez, was staying tight with him by throwing a few combinations and a spinning kick. The finish came when Benavidez caught Formiga with a left-right on the chin and followed up with a knee and a right to the top of the head that dropped Formiga. A few punches later and the fight was over. Benavidez had great power when he fought at bantamweight and at flyweight he's just wrecking people, ending his third fight at 125 by TKO. It's only a matter of time before he gets a rematch with Johnson. I mean, who else are they going to give it to? John Lineker? Tim Elliott? Puh-leaze. Benavidez would wreck those guys. There must be something in the water in Sacramento. My guess would be residue from Alpha Male head coach Duane Ludwig's stash of "herbal supplements."

In other main card fights, Eastern Europe made a successful UFC debut with wins by Piotr Hallmann of Poland and Ali Bagautinov of Russia. Hallmann found himself in trouble in his fight against Francisco "Massaranduba" Trinaldo. Seriously, why does nobody call him Massaranduba? It's the coolest nickname in MMA and nobody uses it. They use Jussier's nickname as his last name but they won't use Massaranduba? Really? Anyway, Massaranduba spent the first round peppering Hallmann with kicks and takedowns. The second round saw Hallmann make some adjustments and stop a takedown attempt to land on top, where he worked towards and sunk in a kimura. Bagautinov had a back and forth first round with Marcos Vinicius, hurting Marcos with punches against the cage but taking damage of his own when a failed guillotine attempt gave Marcos his back. Bagautinov did better in the second and third rounds, using Marcos's aggression to counter with strikes and takedowns, eventually catching Marcos with a huge right hand that put him down and out. I give credit to Marcos for being a game opponent but Bagautinov was just better. Same could be said for Tor Troeng against Rafael Natal. This was a good fight, as demonstrated by the 600 or so guard sweeps that happened in the first round. Other highlights included Natal dropping Troeng with a huge right hand (that he somehow survived) and Natal cinching up a tight guillotine choke in the third round (that Troeng somehow escaped). It was an admirable performance by Troeng but it was Natal who was in control throughout the fight and he took a unanimous decision victory. On the prelims, Lucas Martins hit Ramiro "Junior" Hernandez with a right hand and choked the man unconscious with a rear naked choke in about a minute. Also, there were a bunch of decisions on the show. Some of them were close, some of them were not. Some of them were good, some of them were not. Some of the Brazilians won, some of them didn't. Thus, is life.

And that was Fight Night 28. UFC's next outing will be UFC 165: Jones vs. Gustafsson on September 21 from Toronto, Canada.

***HORN SOUNDS***




Round Three: Bellator 98 Quick Thoughts, Alexander Shlemenko Defeats Guy Who Shouldn't Even Be Here Today

***TOUCH OF GLOVES***

So in addition to UFC action last week, Bellator returned with the first event of their Season Nine Super Tournament Spectacularrrrrrr! The main event featured a middleweight championship fight between champion Alexander "Lil' Fedor" Shlemenko and Brett Rogers, I mean Brian Rogers, I mean Brian Cooper, I mean Brett Cooper. Yeah, the last one. Cooper is notable for being the first fighter to receive a title shot as a result of Bellator's new Tournament Replacement Clause, which means that Cooper got a title shot without winning a tournament because Doug Marshall got hurt. That'll make the purists happy. Anyway, the fight was really good. Cooper came into the fight with the advantage of having fought Shlemenko back in 2011 and has trained with him since then. This gave Cooper confidence that he could go toe-to-toe with the champion and he did, as many of the rounds were very close. Cooper had his best success in the first half of the fight, hurting Shlemenko with punches at least once in the first three rounds. Cooper didn't throw a lot of combos but his punches had power that definitely did damage to the champion. Unfortunately he was unable to finish in any of those instances and Shlemenko used his more accurate technique and superior conditioning to keep himself composed and assault Cooper throughout all five rounds. In the end, all three judges awarded the fight 48-47 to Shlemenko to retain his middleweight championship. It was a tough fight for Shlemenko but it was a good one for his first title defense. I'm also glad that his wife and baby were there to witness that. Did anyone else find it weird that they were just standing there as he was getting prepped to enter the cage? So random.

Bellator 98 also featured the opening round of the Season Nine Middleweight Tournament. It was a tournament featuring top prospects (i.e. guys you have never heard of) succeeding against veterans of MMA and Bellator (i.e. guys you think you've heard of but actually haven't). Bellator fan favorite Brian Rogers (STOP CONFUSING ME, BELLATOR!) exited the tournament early with a unanimous decision loss to Mikko Parlo. Rogers had success early with his diverse striking but Parlo had success taking Rogers down and pounding on him for the majority of rounds 2 and 3 to get the win and advance in the tournament. World renown collector of arms Giva Santana looked real good in taking down Jason Butcher in the first round of their fight, securing mount and threatening with submissions a'plenty. Unfortunately it tired him out and when he couldn't take down Butcher in the second round, it gave Butcher the chance to catch Santana with a flurry of punches and put him down and out. Then Santana retired. He'll be collecting the arms of angels now. Despite getting his eye badly damaged, Justin Torrey had success in the first round of his fight with Brennan Ward, ending the first round in mount and pounding away on Ward. Unfortunately the second round didn't end the same as Ward got on top and pounded away on Torrey with punches and hammerfists until the fight was stopped. There was blood in Torrey's eyes. It was pretty sick. Also pretty sick (in the cool way, not the disgusting way) was seeing Jeremy Kimball sporting CondomDepot on his shorts for his opening round fight with Perry Filkins. I miss those guys. It seemed to help Kimball early, finding success with takedowns and a diverse array of kicks, but he tired as the fight wore on, allowing Filkins to use his striking and counter grappling to get on top of Kimball and tap him with a read naked choke in the third round. Also on the card was former tournament finalist Patricky Freire fight with little urgency and lose a unanimous decision to Derek Anderson. Overall it was a good start to the season and I'm interested to see how the next round of the middleweight tournament plays out, especially since everyone and their mother was deemed ineligible to compete in this event. I'll assume they all spent the night at Dave & Buster's instead.

***HORN SOUNDS***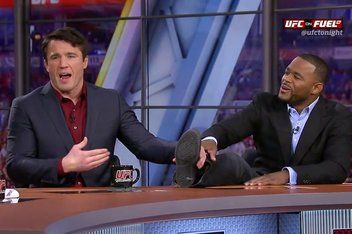 Round Four: UFC 167 Adds Battle of the Fox Analysts, Mir vs. Overeem to Determine Who Can Take a Punch Worse

***TOUCH OF GLOVES***

Bad news, kids. Chael Sonnen vs. Wanderlei Silva is not going to happen. Well, at least not this year. Despite Chael calling Wanderlei out at Fight Night 26 and Wanderlei calling Chael a butt-face on Youtube, Wanderlei just had to have the audacity to be injured so the fight is off. Chael still wanted to fight this year, namely at the UFC's anniversary show in November, and, after rumors swirled about a fight with Phil Davis, it was announced that Chael will instead be fighting former UFC Light Heavyweight Champion Rashad Evans. Rashad will be Chael's third Light Heavyweight Champion in a row after losing to Jon Jones's mangled toe in April and submitting Mauricio Rua three weeks ago. Rashad will enter this fight with a victory over former Strikeforce Ligth Heavyweight Champion/Fedor Conqueror Dan Henderson back in June. I like this fight because it's a good way to see where Chael stands as a 205'er. As good as Shogun is....sometimes, this will be a perfect test for Chael to see if he's worthy of being considered a top light heavyweight or if he's better off just going back to middleweight like he claimed he would. All I know is that the fight should be decent and it will be interesting to see how the two interact with each other during UFC pre and post fight shows between now and November. I hope Karyn Bryant can handle it.

Also announced for the UFC's 20th Anniversary celebration or whatever is a heavyweight clash between Frank Mir and Alistair Overeem. The fight will be interesting as both will enter it having gotten their respective asses handed to them over the past two years. After Mir got stopped by strikes against Junior dos Santos in May 2012 (in a fight that Overeem was supposed to be in) he then dropped two more fights to the UFC debut of Daniel Cormier in April and the UFC return of Josh Barnett a week and a half ago. Overeem, after taking a nine month "vacation" because his "supplements" had been "tainted," got knocked out in embarrassing fashion against Antonio Silva in February and knocked out in embarrassing fashion again against Travis Browne 3 weeks ago. These are two men who, at one time, were considered the best heavyweight fighters in the world, but the world has finally caught up with them and now they are struggling just to stay in the UFC. It's crazy to think that either man could get cut with a loss (especially Mir, who has been in the UFC for 10 years and is a former champion) but it is a definite possibility when these two go at it in November. I hope it's a good fight and I hope that, for Mir's sake, he wins because I doubt his old employer, Spearmint Rhino, will take him back. They prefer their bouncers to not wilt when they get hit in the face.

***HORN SOUNDS***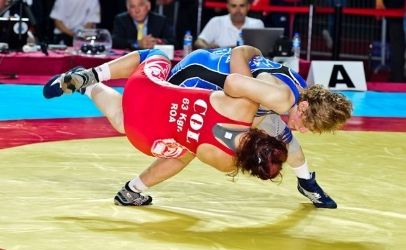 Round Five: IOC Votes to Include Wrestling in 2020 Olympics, Now Was That So Hard?

***TOUCH OF GLOVES***

It was a sad day back on February 12 when the International Olympic Committee's executive board voted to remove wrestling as an event from the 2020 Olympic Games. It was a move that sent shock waves through the amateur wrestling community, the tremors of which were felt in many other sports as well, namely MMA. The loss of Olympic wrestling would likely have cut or destroyed a lot of amateur wrestling programs and reduce the number of high level wrestlers that exist in the world. Without Oylmpic wrestling, the MMA world may never have been introduced to fighters like Dan Severn, Don Frye, Mark Coleman, Randy Couture, Dan Henderson, Daniel Cormier, and Ben Askren. Okay, maybe you wouldn't mourn the loss of Askren as an MMA fighter but the rest of those guys were great fighters and MMA would have suffered greatly without them. If that isn't enough to convince you of how important Olympic wrestling is, think of the situation like this: the loss of Olympic wrestling would probably have ended a lot of high school and college wrestling programs, since the loss of Olympic wrestling would kill most of the avenues for those kids to pursue the sport at a high level. That means those kids don't have wrestling to train in and obsess about, which means they have more time to pick on you and dunk your head in one or even multiple toilets. Imagine how much that would suck. Now imagine how much more that would suck if they were wearing wrestling singlets and headgear while they were doing it, since they wouldn't need to wear them for wrestling practice. Kinda creepy, ain't it?

Keep in mind that the previous scenario I described is absolutely stupid and shame on me for not coming up with something more creative, but that's okay because Olympic wrestling is saved! The IOC Grand Assembly met in Buenos Aires, Argentina over the weekend to hear arguments from three sports - wrestling, baseball/softball, and squash - that were vying for the last spot in the 2020 games. To get included, the sports had to present their case to the committee and then needed to garner a majority of votes from the committee. The magic number of votes was 48 and wrestling got 49, with baseball/softball receiving 24 votes and squash 22. So we did it! All the posting on social media and snazzy black t-shirts were enough to convince the IOC to not cut one of the original Olympic friggin' events. The vote means that wrestling is secured as a provisional sport for the 2020 and 2024 games. It also means the sport isn't guaranteed a spot beyond then but we'll take what we can get for now. This vote of confidence in wrestling's inclusion also comes with the understanding that FILA, wrestling's international governing body, will make massive changes to the rules and presentation of the sport to make it more pleasing to the general populace because the IOC is all about the money now. I hope FILA takes my suggestion to have all wrestling matches take place over a pit of live piranhas. Or that every gold medalist gets to punch Mauro Ranallo in the face. I don't know. There's just something about him that makes me want to punch him. Anyway, congrats to the wrestling world. Oh and SUCK IT, SQUASH!

***HORN SOUNDS***

That's it for Five Quick Rounds. If you have any questions, comments, or suggestions, and it is always appreciated when you do, leave them in the comments section. I will be back in 7 for another Five Quick Rounds. World Series of Fighting 5: Arlovski vs. Kyle is this Saturday on NBC Sports. It features a tournament to crown their first Middleweight Champion so it could be worth watching. Enjoy the fights and, until next time, remember to fight clean, fight hard, fight fair, and never leave it in the hands of the judges...




LATER!!!!!!!!!!!!!!!!!!!!!!!!!!!!!!
comments powered by