SPOTLIGHTS
The Greatest MMA News Column 09.10.13: Big UFC Card, Low Ratings, Warren, More
Posted by Dan Plunkett on 09.10.2013

News and thoughts on Chael Sonnen facing Rashad Evans and Frank Mir taking on Alistair Overeem at UFC 167, Bellator 98, Joe Warren's health and more!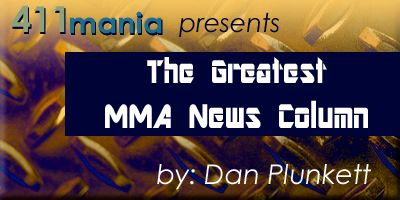 NEWS!





UFC



UFC adds two major matches to 20th anniversary show. As if UFC 167 wasn't guaranteed to be a big enough show with welterweight champion Georges St-Pierre headlining, the promotion added two big matches to the show, which will also serve to commemorate the 20th anniversary of the inaugural UFC event. Former light heavyweight champion Rashad Evans will take on Chael Sonnen in what will presumably serve as the evening's co-main event. Name-wise, it's a very strong co-main event, though Sonnen is best used when he faces an opponent he's willing to talk trash against, which won't be the case with his sometimes broadcast partner Evans. Evans is a big name, but after a few disappointing performances his stock has certainly dropped a bit. His most recent fight, a decision win over Dan Henderson, headlined a card that did in the 150,000 buy range, a startlingly low total. With St-Pierre headlining, Evans and Sonnen are positioned as a supporting fight, and it's an excellent fit for that bill. As a headliner, Evans vs. Sonnen may not be a big fight, but it can add value as a co-main event and serve as a viable backup plan should a main event fighter get injured.





Also added was a heavyweight tilt between Frank Mir and Alistair Overeem. Both have seen better days, but both have some name value, which helps get the "stacked" selling point of the card over. Mir has lost his past three bouts, though he most recently lost via a controversial stoppage. Overeem's UFC run has been a major disappointment. After beating Brock Lesnar and earning a heavyweight title shot, he failed a drug test and came back this year only to be knocked out twice. Both have cardio and chin issues, so the bout promises to either end fast and brutally or slow and brutally boringly.

The only other matches announced for the card are Rory MacDonald vs. Robbie Lawler, a welterweight match that could decide the next opponent of the main event winner, and Josh Koscheck vs. Tyron Woodley. I wouldn't bet on it, but the UFC really should do something to make the show really feel like a 20th anniversary. The coolest thing to do would be to bring in the eight original tournament competitors. To do that UFC would have to put aside their differences with Ken Shamrock. They could present Teila Tuli a set of replacement teeth and Art Jimmerson with a single golden glove. Rorion Gracie and Art Davie should really be included as well. In fact, UFC 167 may be just the event to institute the electrified fence and moat with alligators surrounding the Octagon that were brainstormed.

Fight Night and The Ultimate Fighter post record-low viewership. Eight consecutive hours of UFC programming on Wednesday night was certainly good for Fox Sports 1, but they were far from UFC's best hours. UFC Fight Night, headlined by Glover Teixeira vs. Ryan Bader, drew just 539,000 viewers – easily the lowest total in the history of the live fight series. The show certainly suffered from being the weakest of three UFC shows in eight days. The premiere of season eighteen of The Ultimate Fighter immediately followed actually gained a substantial audience, averaging 762,000 viewers over the two hour slot. The live event lead-in is a strategy UFC used for TUF in the Spike TV era and in almost every case the live show drew better than the TUF debut.





Neither number is anything to be alarmed about, though there is something to be learned about Fight Night failing to draw. UFC was able to find an audience for the Fox Sports 1 debut, but since the channel has failed to gain any real traction. They proved they can draw very well with a loaded show, but a run-of-the-mill event on a weak channel will only draw so much. There should be hope that Fox Sports 1 will be strengthened by football season, due to both college football games on the network and the NFL on Fox. There was heavy promotion for Fox Sports 1 and The Ultimate Fighter during Fox's NFL programming on Sunday, so a viewership increase on Wednesday would have that to thank. As for the lesson, it's very simply you can't run three shows in a very short period of time and have the third show be so weak. A weak show provides no incentive for a burnt out audience to watch, and the show will be overshadowed in the build due to the other two shows.

Quick news. Best wishes to Matt Grice, who was seriously injured in a car accident over the weekend. Grice, who when he's not fighting guys as a UFC fighter is fighting crime as a police officer, was struck by another vehicle while stopped at a red light. He was scheduled to face Jeremy Larsen at UFC 166 on October 19… Strange situation in regards to the Georges St-Pierre vs. Johny Hendricks fight. St-Pierre had previously offered to pay for VADA testing, but Hendricks learned VADA had agreed to pay part of that which made him weary of St-Pierre's connections with the group. Hendricks was interested in WADA testing, but during a call with the NAC, St-Pierre's representative wanted to know details about which substances would be tested for, which is strange. In the end, Hendricks won't be doing any additional testing… Last week I incorrectly wrote the Bisping vs. Munoz show was moved to Fox Sports 1. That will stay on Fox Sports 2 due to a college football game on FS1… Henderson vs. Belfort II will air on Fox Sports 1… Nate Diaz vs. Gray Maynard III is scheduled for the TUF 18 Finale. Diaz won the first fight on The Ultimate Fighter 5, then Maynard won a rematch in 2010 in a close fight. Maynard's performance wasn't great, as he was passed over for a title shot in favor of Frankie Edgar… Mark Hunt vs. Bigfoot Silva will headlined UFC's return to Australia on December 7. Barring a scheduling conflict, that will likely be on FS1.



Bellator



Bellator 98 results. Bellator kicked off season nine with a great main event between Alexander Shlemenko and Brett Cooper. Shlemenko retained the middleweight title via decision. Cooper, 26, made the most of the title opportunity after stepping in for the injured Doug Marshall, who knocked out Cooper to earn a title shot in last season's middleweight tournament. The tournament to determine another future middleweight title challenger kicked off as well. Mikkel Parlo won a decision over Brian Rogers to advance. Jason Butcher retired Giva Santana with a second round TKO. Santana, 41, gained notoriety after finishing 10 consecutive fights with the armbar. His most notable win would be either over TUF 1 alum Lodune Sincaid or Doug Marshall. Brennan Ward and Perry Filkins also advanced. In an upset, Derek Anderson won a decision over Patricky Freire. No ratings information is available as of this writing, but I have to imagine it will be significantly below last season's average numbers. With this week's show beginning the move to Fridays, it almost certainly won't be the low mark of the season.





Joe Warren pulled from Bellator 98 day before show. Former featherweight champion Joe Warren was scheduled to make his return to the cage after a near-yearlong absence, but was pulled from the fight on Friday due to a medical issue. Prior to being pulled out of the match Dave Meltzer noted Warren had been knocked out in training, which was confirmed by MMAFighting.com on Saturday. Warren suffering a knockout during training is alarming for a couple of reasons. First, despite a relatively short career, he's taken a ton of punishment since making his debut in March 2009. He's only officially been knocked out twice, but he's been rocked a number of times. He took an ungodly amount of punishment against Pat Curran in their bout last March, a fight in which the referee stood by and watched as Warren was knocked in and out of consciousness. While he can certainly get cleared to fight again, it probably isn't in his long-term best interest to continue taking shots to the head. The other reason it's alarming is that it took until the day before the fight for someone to realize that a guy that got knocked out in training camp shouldn't fight. That's not quite as bad as Forrest Griffin's camp allowing him to fight after being knocked out twice in training prior to fighting Anderson Silva, but it's still bad. With head injuries, every possible precaution needs to be taken to prevent long-term damage, even in a sport where inflicting head trauma is the name of the game.

Quick news. Bellator 99 this week features Patricio Freire vs. Diego Nunes in the main event. Vladimir Matyushenko vs. Houston Alexander is the co-main event. Blagoi Ivanov makes his return on the preliminary card. If you recall, he was the man who defeated Fedor in sambo competition in 2008. His 7-0 career was derailed after a bar fight in February 2012 where he was stabbed in the heart. At multiple points he was in very bad condition so his return is remarkable… Lavar Johnson signed a deal. He went 2-2 in the UFC, losing his final two fights and failing a drug test after his last bout. Johnson's T/E ratio was very slightly higher than the norm, causing the CSAC to run a CIR test, which confirmed the presence of synthetic testosterone. He later admitted to receiving TRT, though he didn't seek a therapeutic use exemption. Due to the suspension stemming from the test, he won't be available to fight until November… Newly signed Cheick Kongo will debut on September 27 against Mark Godbeer. If fights were decided via the coolness of one's name, this would be the biggest fight of all time… Matt Riddle apparently announced his retirement on Twitter Monday night. He noted he cracked a rib and couldn't compete on September 20 and Bellator couldn't get him another fight before the end of the year. As such, he can't afford to fight anymore. Riddle, 27, has yet to debut with the company. He was released from the UFC after failing his second drug test in seven months in February… CEO Bjorn Rebney is backing off on his statement the company "probably won't" make on offer to welterweight champion Ben Askren. He claimed he was only referring to the exclusive negotiation period, which Bellator waived. UFC has yet to make Askren an offer but they are expected to at some point.

---
Thanks for reading; I hope you enjoyed it. Once again due to time constraints, I wasn't able to write up my top 25 fights list as promised. I'll keep putting that in this space until I actually do it because I'll look stupid if I end up blowing it off. Feel free to leave any feedback in the comment box or at the e-mail address below.
comments powered by