SPOTLIGHTS
Occupy The Throne 9.11.13: Trending Topics #2
Posted by Jeremy Lambert on 09.11.2013

Will Jose Aldo ever fight Anthony Pettis? How will Ben Askren fare in the UFC? What should Joe Warren do next? 411's Samer Kadi & Jeremy Lambert look at those topics and more in this week's Occupy The Throne!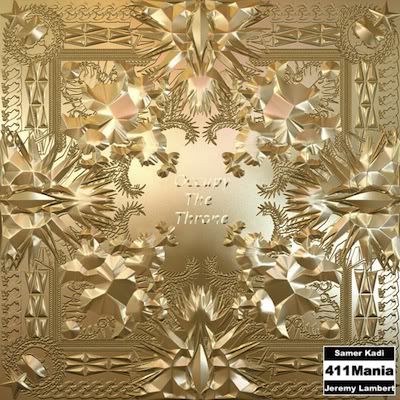 What's Trending?



Joe Warren was deemed medically unable to fight this past Saturday.

Samer Kadi: There is nothing definite as to what exactly happened, but let's hope it's nothing serious. Reportedly, Warren got knocked out in sparring and couldn't be medically cleared. On the surface, this might seem like a bit of a relief, as it means he is not suffering from a potentially career threatening injury/condition. However, upon closer inspection, this does raise serious concerns regarding Warren's health. Despite a young MMA career, Warren has already suffered serious punishment. His two losses were brutal, and he's engaged in some punishing battles to boot. Eleven fights into his career, this seems a bit excessive, and it isn't helped by the fact that his defensive deficiencies suggest more could be on the way.

Jeremy Lambert: After his loss to Pat Curran, I suggested that Warren should consider retirement and I'm not backing away from that. In six of his 11 fights, he's taken some serious damage to the head, didn't look all that great in his last bout, and now reportedly got knocked out while training. He's 36-years old, it's not like he's going to dramatically improve to the point where he takes no damage and his reflexes are only going to get slow.

Warren has a job in Bellator for life and would make for a fine wrestling coach. It's stupid of him to continue to put his brain and health at risk for a mediocre paycheck.

Bjorn Rebney claims and that Bellator wouldn't be home to UFC castoffs, has since signed a bunch of UFC castoffs.

Jeremy Lambert: In fairness to Bjorn Rebney, I don't think he even runs Bellator anymore. I'm pretty sure that SpikeTV and Viacom are pulling all the strings now and they'd rather promote ex-UFC fighters that they're used to than Bellator fighters. Bellator is basically the MMA version of TNA right now, and we see how things are going for them.

The problem with these ex-UFC fighters is that most of them don't want to compete in the tournament format, so Bellator has to schedule one-off fights that don't really do them any good since the company was built on tournaments and that's the way to earn a title shot. Plus, does anyone really care about Cheick Kongo or Vladimir Matyshenko and does Bellator really think that those guys are going to help ratings?

Samer Kadi: You mean the man running Bellator isn't making the right decisions? Who would have thought? That company is run so smoothly…




Glover Teixeira scheduled to fight the winner of Jon Jones vs. Alexander Gustafsson.

Jeremy Lambert: It would've been nice if Glover Teixeira, who even admitted that he's not quite ready for a title shot after his recent performance against Ryan Bader, took another fight against Phil Davis or Antonio Rogerio Nogueira before getting a title shot, but if that were to happen, what would Jon Jones do in the meantime? Jones is a big draw for the company and they can't afford to have him sit on the sideline while the rest of the division sorts itself out.

Teixeira doesn't hold a big signature UFC win and he hasn't done anything to make you believe that he can defeat Jones, but what other option does the UFC have? He's the next ranked contender behind Alexander Gustafsson if you believe in the UFC rankings, so I guess that's a strong enough case to get him a title shot. Phil Davis is about the only other contender, but no one truly believe that he beat Lyoto Machida and, like Teixeira, he hasn't done much to make fans think that he can hang with Jones.

Samer Kadi: Once MMA's crowning jewel, the light heavyweight division has taken a few steps backwards since its glory days. While the man who sits on top may just be the most gifted fighter we've ever seen, the rest of the division lacks the depth it once had. "Shogun" Rua is a shadow of his former self, Lyoto Machida has dropped down to middleweight, father time is finally catching up to Dan Henderson, Rashad Evans hasn't had an inspired performance in years, and Chael Sonnen has no defined role. Phil Davis hasn't come along as fast as most hoped, while solid, mid-level fighters are almost non-existent.

As a result, with Gustafsson scheduled to take on Jon Jones, Glover Teixeira is the only available option after that. The Brazilian is highly talented, but many seem to be overestimating him. His "prospect" label was a touch baffling considering he is 33, and while his offensive arsenal can be quite overwhelming, he suffers from serious defensive issues. Against Jon Jones, there doesn't seem to be a realistic way for Glover to mount serious offense, but that applies to the entire division. Moreover, while Teixeira's performance against Bader left a lot to be desired and may have shown chinks in his armor, it could be argued that an extra fight is unlikely to make a huge difference regarding his chances against the champion. Ideally, Teixeira would get a fight against Nogueira before earning a shot, but that may not be compatible with the UFC's current timeline.

Frank Mir will fight Alistair Overeem later this year, Mike Dolce thinks he could help Mir drop to 205.

Samer Kadi: Despite Mir's disappointing form and Overeem's disappointing, well… everything, this is a decent heavyweight fight that makes some sense. There isn't much else to say in that regard. And, for the sake of my sanity, there shouldn't be much to say regarding Mike Dolce's comments either.

Jeremy Lambert: Overeem vs. Mir is a great fight if you strongly dislike either fighter and hope that the loser gets released. Personally, I hope it ends in a double KO, and given the lack of chin on each man, that possibility is more likely than you think.

I don't know why Samer is so down on Mir moving to 205. If Jon Jones decides to move to heavyweight, 205 becomes pretty wide open. In all seriousness, I just want it to happen so we can add another picture to the "Frank Mir's Transforming Body" slideshow.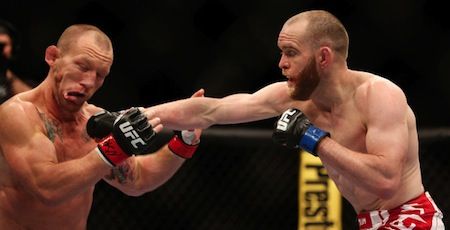 Anthony Pettis will fight TJ Grant, not Jose Aldo, in his first title defense

Jeremy Lambert: I've just given up on any super-fight ever happening in the UFC. Anderson Silva will never fight Jon Jones or Georges St. Pierre, Jon Jones will never move to heavyweight to fight Cain Velasquez, and Jose Aldo will never fight Anthony Pettis.

I understand that TJ Grant had his title shot and then it was taken away due to injury and you hate to see a guy lose a title shot like that and in the past I probably would've sympathized with him and been upset, but how many times have we seen guys lose a promised title shot over the years for one reason or another? Book big fights when you have them. Aldo vs. Pettis is a big fight and right now, the UFC has it. If they wait around, one of them might lose or, given their injury history, they might be out of action for awhile and things just never fall in place for the fight to go down. Again, it's nice that Grant is getting his title shot, but does anyone really want to see Grant vs. Pettis more than Aldo vs. Pettis? If you do, please stop reading this column.

Samer Kadi: It is an unwritten rule that every "Super fight" that Dana White promises to deliver us has to fail to materialize for one reason or another. As a result, Anthony Pettis will indeed take on TJ Grant, and not Aldo. Thrilling as it is, Aldo-Pettis is unlikely to do big business, so the UFC might just be inclined to hold off on putting it together and save itself the logistical headaches of figuring out what belt is on the line, and what becomes of each division in the meantime. Meanwhile, Pettis gets the chance to establish himself further (perhaps having him fight Grant on FOX), get some recognition, and then take on Aldo.

Ben Askren is a free agent, likely headed to the UFC.

Samer Kadi: Let me know when this leads somewhere, or at the very least, when there's development on that front. History has taught us that when it comes to dealing with these matters, Bellator are a complete and utter embarrassment, be it their preposterous "champion's clause" that essentially handcuffs their fighters, or their refusal to show any sort of goodwill towards their employees. Combine that with the UFC and Dana White, and you have the making of endless drama. Let's hope we avoid another Eddie Alvarez situation.

That aside, Ben Askren would be a welcomed addition to the UFC welterweight division. No, he's not everyone's cup of tea (read: no one), but he's a hell of an athlete, a phenomenal wrestler, and is developing into a very good fighter. He's turning into a very capable overall submission grappler, and is no worse than many current UFC welterweights. He's got an interesting personality and a loud mouth, which raises further interest in seeing him tangle with some of the UFC's better welterweights to truly gauge just how good he currently is, and how big is his upside. Furthermore, I'm not as down on "boring" fighters as most are, and simply believe in skill and merit. The UFC is supposedly about having the best fighters in the world under its umbrella, and while it would be a premature to put that label on Askren, he does have serious potential.

Jeremy Lambert: I'm actually really excited to see Askren potentially compete in the UFC. Do I think he can beat Georges St. Pierre? No. But I do believe that he can hang with anyone else in the top 10. His striking isn't the best, but he is working with Duke Roufus, so it has the potential to come along. He might be the best wrestler in the division though. Not only does he have a great first shot, but his chain wrestling is top notch, he's great in the scrambles, and he's becoming very good on top with submissions and strikes. He's also relentless with his takedowns and pace, so even if opponents stop the initial shot, he's not going to back out and retreat.

The welterweight division might be the most talent rich division in the sport right now and Askren would be a welcome addition.

For more from the Occupy The Throne duo you can follow Samer Kadi and Jeremy Lambert on twitter. You can also check out ManCaveThoughts.com for more writings and podcasts.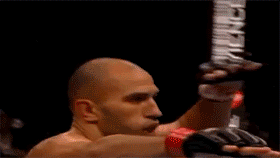 comments powered by