SPOTLIGHTS
411 MMA Fact or Fiction 09.11.13: Teixeira vs. Jones, Jacare vs Weidman, More
Posted by Wyatt Beougher on 09.11.2013

Could Glover Teixeira beat Jon Jones based on his win last week? Is Jacare Souza deserving of the next middleweight title shot? Should Joe Warren retire after being knocked out in training? 411's Jonathan Solomon and Evan Zivin debate these topics and more!

Welcome back to 411's MMA Fact or Fiction, and it's another week and I'm back as your host. Unfortunately, due to some work-related circumstances, I'm unable to cover The Ultimate Fighter for the immediate future; however, I am DVRing the season, and that first episode was a great one. I would still prefer if they had done an all-female season, but I'm looking forward to the rest of the season nonetheless. At any rate, in last week's contest, Paul Lapointe continued his winning ways, defeating Jonathan Butterfield by an 11-8 margin (and rightfully so, since Butters didn't know who Bryan Cranston was - Butters, you need to get up to speed on Breaking Bad.) This week, we've got the return of Evan Zivin, and he'll be taking on a face that's been absent from Fact or Fiction for a little while, the always affable Jonathan Solomon.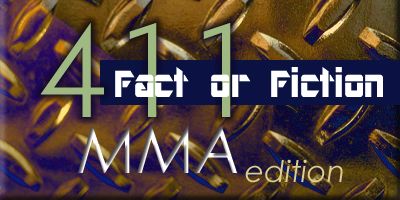 TALE OF THE TAPE

Red Corner
Jonathan Solomon
'The Juggernaut'
Columnist, The Juggernaut MMA News Report/MMA Rankings Compiler, 411 MMA Middleweight Rankings
2-6-1

VS

Blue Corner
Evan Zivin
'The Annihilator'
Columnist, Five Quick Rounds
2-1-0

---

Is a rematch in order?



1.) Brett Cooper deserves a rematch with Alexander Shlemenko after their fight at Bellator 98.

Jonathan Solomon: FICTION. No, he does not. It was a close, back-and-forth duel for five rounds and both men had their moments of being rocked and nearly finished. However, Cooper did not win the fight and it did not end in some controversial manner. There was a clear cut, decisive winner and even more, technically, Cooper did not even "deserve" this initial title fight to begin with. He only received it due to a late injury suffered by tournament winner (and the man who beat Brett Cooper in the finals) Doug Marshall. For Fudoshin to get another crack at the championship, he should go through a tournament and have to beat three men. Part of Bellator's charm is the fact that they normally do not give out title fights -- the recent exceptions being Cooper and Eddie Alvarez at lightweight -- but rather any fighter can work their way up to one by winning a tourney. Why change that for a man who came close to beating a champion? Besides, at the moment, Cooper is 0-2 against Alexander Shlemenko overall and 0-2 in his last two fights. Let's chill out on the immediate rematch talk for now.

Evan Zivin: FICTION Brett Cooper performed very well against Alexander Shlemenko. Cooper used his punches and knees to hurt Shlemenko a number of times during the fight and stayed toe-to-toe with the champion for all five rounds. Shlemenko ultimately took the fight by unanimous decision, thanks to his conditioning and diverse, precise striking, but Cooper did incredibly well, especially for having taken the fight on less than a month's notice. Now, that being said, does Cooper deserve a rematch? I don't think so. For as close as Cooper was to ending the fight, and he had many opportunities to do so, he was unable to and Shlemenko was able to survive and prove himself the superior fighter in the end. This was the second time these two fought and while this fight was closer than the first one, the result was still the same and I don't need to see Shlemenko defeat Cooper for a third straight time. Maybe if Cooper goes and actually wins a Bellator tournament instead of lucking into a title fight thanks to Doug Marshall's injury and the Championship Replacement Clause, THEN I might say he deserves a rematch.

---

Is it time for Warren to hang them up?



2.) With Joe Warren unable to get clearance to compete at Bellator 98 (supposedly due to being knocked out in training), Warren should be thinking seriously about retirement.

Evan Zivin: FACT I don't like saying when fighters should retire. It's not my place to say that someone should or shouldn't fight. Also, we don't know for certain that the reason Joe Warren was deemed ineligible for Bellator 98 was due to being knocked out in training, although it seems to be the case and it wouldn't surprise me if it was. If Warren was knocked out in training, then I do think he should give some thought to retirement. I'm not saying he should retire but he should give it some thought. He's 36 and two of his last three fights ended in brutal knockout losses, including a vicious beating he suffered at the hands of Pat Curran that gave him a concussion. He's also taken a lot of damage in fights he has won, including battles against Patricio "Pitbull" Freire and Joe Soto. Warren is a tough fighter but he has to be smart about the rest of his fighting career if he doesn't want his quality of life to plummet because he kept taking fights and allowing himself to take unnecessary damage. That and he needs to find sparring partners that won't knock him out during training. That would help.

Jonathan Solomon: FACT. Warren will turn 37-years-old on Halloween and from our outsider vantage point, he is going to have a difficult time making it back to the top of any division. His aggressive style in the cage is always fun to watch, but he routinely takes his fair share of damage, most obvious when he was violently knocked out by Alexis Vila and Pat Curran in 2011 and 2012, respectively. He's also been rocked in other fights through his 11-fight pro career. Combine this with his many years of achievement as an amateur wrestler and we can only speculate as to the actual miles his body has collected. He remains one of the most entertaining personalities in the sport (although I can definitely see how he can be grating to some), so I'd hope he would be interested in remaining in the Bellator family in some capacity. The more and more you see him dropping in fights and now apparently, it's gotten to the point where he was knocked out in training, do you really have any desire to see him try and compete?

---

Is Jacare a contender?



3.) After showing improved stand-up and currently riding a five-fight win streak, Ronaldo Jacare Souza should be in the discussion for middleweight title contenders after the Anderson Silva/Chris Weidman rematch takes place.

Jonathan Solomon: FACT. If he's not, there is a significant problem in the UFC's matchmaking plans. Jacare is one of the best middleweights in the world and he is arguably the most dangerous between his powerful hands and ridiculous submission game. After the rematch for the championship in December, top contenders in the mix should consist of Souza, Vitor Belfort (depending on whatever he's planning on doing) and perhaps a combination of Costa Philippou (does he want to fight Weidman?) and the Michael Bisping/Mark Munoz winner. Of them all, Jacare probably gives Weidman his most difficult match-up, though you can usually say Belfort is the biggest threat.

Evan Zivin: FACT Prior to the Yushin Okami fight, it was hard to justify talking about "Jacare" Souza as a possible contender for the middleweight championship in the UFC. Now there's no question he deserves to be in the discussion. The punching power and precision he utilized in defeating Okami was masterful. The only fighters who had beaten Okami in the UFC prior to Jacare were either former middleweight champions or middleweight title contenders (and Tim Boetsch in Techno Viking Mode). That's pretty good company to be in and says a lot about the potential Jacare has in the UFC's middleweight division. Jacare's striking has really turned into something lethal over the last few years, and if he has taken to standup the same way he took to grappling, then I wouldn't want to be the next guy to stand across from him inside the Octagon. Another win or two like the one he had last Wednesday and I say Jacare definitely deserves a title shot.

---

Can Glover defeat Bones?



4.) At 5-0 in the UFC, it's understandable why Glover Teixeira is being awarded a light heavyweight title shot against the winner of the upcoming Jon Jones/Alexander Gustafsson fight; however, his fight against Ryan Bader did little to make Teixeira look capable of beating Jones should he retain.

Evan Zivin: FACT It's understandable that Glover gets a title shot. He's a good fighter. He has great takedown defense and his hands are bombs ready to be dropped on any unsuspecting fighter that tries to stand in front of him, as Ryan Bader found out last week. There also aren't a ton of options for worthy title challengers after Alexander Gustafsson fights Jon Jones in a week and a half. Besides Glover, who else is there? Phil Davis? Daniel Cormier? Hardly. The former is coming off a win that he arguably lost and the latter has yet to make a cut down to 205 so it'd make more sense for him take a fight in the weight class first and prove he can actually make 205 before giving him a title shot. So, Glover it is. I also agree that the Bader fight doesn't make me very confident Glover can beat Jones. If Jones can get a hand on Glover, he can hurt him, and, while Jones may not be able to knock him out, it should be pretty easy to hurt Glover without taking any damage from counter shots thanks to an 8 inch reach advantage. Jones can use that kind of strategy to earn a decision against Chuck Liddell's favorite Brazilian without too much trouble. Still, Glover has more than a puncher's chance of winning that fight and I can't wait to see it go down.

Jonathan Solomon: FACT. Frankly, regardless of how the Teixeira/Bader fight went, there's nothing Glover can do to convince me he's the man to bring down Jon Jones. Now, when you bring up how Glover's latest fight went, there's seriously nothing to making that case. Bader was doing alright in the fight until he got rocked and finished, Glover has a way of taking his fair share of shots in fights that turn into brawls. Against Jon Jones, there are no brawls thanks to his calm and collected style. Does he have an answer for the champion's wrestling or his ridiculous length? Perhaps, he's capable of throwing caution to the wind in an attempt to land a bomb on his chin, but there's no way to say that can happen with any confidence. If all the men who have already fallen to Bones could not hurt him (his one moment of weakness has proved to be when Lyoto Machida landed his one big punch…before being choked unconscious), what makes Glover the special fighter?

---

Did Kizer hamstring himself down the line?



5.) By refusing to get involved in the Johny Hendricks/Georges St. Pierre "enhanced drug testing" drama, NSAC head Keith Kizer may have avoided an immediate headache; however, he also made it more difficult to transition into the NSAC's own plans for enhanced testing in the future.

Jonathan Solomon: FICTION. I don't see how it would make the NSAC's decision in the future any rougher. I can understand their hesitancy with engaging these fighters in whatever they plan on doing as far as testing beyond the routine methods already in place. Beyond the cost, it's just asking to bring on more headaches because unless there is a permanent switch in place to Olympic style drug testing, it's only one fight with two men. When/If the day comes where Nevada (or any state for that matter) truly goes in that direction, they will have the ability to invest, train, educate and roll out under their own terms and in a way that will not be treated as some freak matter. Besides, plenty of fighters have talked openly about welcoming or wanting Olympic drug testing for certain fights and by hook or by crook, all such talk dies down quickly and nothing is done. This is the case here because Hendricks already declined to participate due to reasons in which they were not comfortable with GSP's relationship with VADA. All Nevada has to do down the road is get in bed with the USADA, unveil a new program in a uniformed manner and voila. That time is not by November 2013.

Evan Zivin: FICTION First off, I really don't think Keith Kizer is refusing to get involved in the enhanced drug testing situation. Kizer said he was fine with GSP and Hendricks doing additional drug testing, as long as they covered the cost, and he even said he'd help them set it up if they needed him to. The problem came when GSP's camp asked about the exact process of the NSAC approved WADA enhanced program, which would make me suspicious too. I mean, if your fighter is not using any banned substances, then what does it matter what the enhanced drug testing entails? Who cares what it tests for if you're clean? Unless... The whole situation is made even murkier because VADA, the independent agency GSP wants to use for the drug testing, has said they will pay for GSP's testing instead of the welterweight champion covering it himself, which has made Hendrick's camp suspicious and resulted in them refusing to take part in the VADA testing. So, considering that, I will agree that this is definitely a headache Kizer is avoiding but I wouldn't say this will affect the NSAC's future plans for enhanced drug testing. The WADA enhanced program is going to be used for the Tim Bradley/Juan Manuel Marquez title fight on October 12 and, if all goes well, I'm sure it will be implemented for other boxing fights as well as UFC fights. Everything should end up just fine for Kizer and the NSAC's drug testing program, and if there are problems, I have some Excedrin Extra Strength if he needs it.

---


Who do you think won this week? Did the wisdom of Solomon take the day, or did Evan score a win for the next generation of 411 MMA writers? Voting will be open until midnight EST on Saturday, so make sure you vote and make your voice heard!




---

Does Bryan need a strong moment to keep the angle going?



Bonus) If Daniel Bryan isn't able to get the upper hand on Triple H, Orton, et. al. in the immediate future, it's going to kill the storyline that the WWE is trying to build.

Evan Zivin: FICTION Well, I could say the storyline is already dead as far as the hardcore fans are concerned because it revolves around Triple H. IT'S 2003 ALL OVER AGAIN!!! HEAD FOR THE FALLOUT SHELTERS!!! SAVE THE WOMEN AND LEMMY'S!!! If WWE does the story right, it should be a while before Bryan ultimately gets the upper hand on this new Corporation. Obviously, you need to give Bryan little victories here and there because no one wants to see the guy get laid out from a beatdown by The Shield followed by an RKO every single week, but ideally I think the story should continue until Wrestlemania, where Bryan can finally triumph over the evil Triple H and get back the WWE Championship that should have been his all along. I don't have a lot of faith that the story will last until then or that it will stay high quality until then (the "Big Show being broke" angle is already making things worse) but if they can make it work, the resultant title victory will do huge business for WWE and make another bona fide main eventer in the process. Maybe if WWE is having trouble making the story last, they can find a way to take the focus off Bryan for a few months before having him win the Royal Rumble and use the momentum to push all the way to Wrestlemania. There are ways to make this work and I really hope it does. I don't want to see another hot angle fall apart in the end in the same way that The Shield and the Summer of Punk II did. That's no fun.

Jonathan Solomon: FACT. Even Tito Ortiz got his big win after a prolonged losing streak and look at the Huntington Beach Bad Boy now.

---


And that's it for this week! As always, if there's anything you'd like to see featured in a future edition, leave your statement in the comments and I'll add it in. Let us know what you thought in the comments, on Twitter, or on Google+.


comments powered by