SPOTLIGHTS
Five Quick Rounds 09.17.13: WSOF 5, Bellator 99, BJ Penn Better Think Thin, More
Posted by Evan Zivin on 09.17.2013

From BJ Penn returning to coach The Ultimate Fighter and fighting Frankie Edgar at featherweight to the results of WSOF 5, Bellator 99, and breast implants getting banned, 411's Evan Zivin shares these stories and more in Five Quick Rounds!

Hey hey, fight fans, and welcome back to Five Quick Rounds! I am your host, Evan Zivin, and I am as excited as Justin Bieber at Floyd Mayweather's fight to be here once again!

I didn't watch Mayweather's victory over "Canelo" Alvarez on Saturday. To do so would have required either money or placing myself on an FBI watch list, so I read the results afterwards instead. It sounds like Mayweather didn't blow Canelo out but he was definitely in control for most of the fight. The judge's scores seemed to reflect that, minus the third judge who is getting ostracized for scoring it a draw. I find it hard to score stand-up fights in MMA so I can imagine it's not easy to do it in boxing, either. Then again, that sport has been around for over a hundred years so you would hope that those judges know what they're doing. I guess not. We feel your pain, boxing. At least Lil' Wayne and Bieber had a good time. I assume Bieber decided to be there live so he wouldn't get in trouble again for asking for another PPV stream on Twitter. It wasn't a UFC event but Dana White would still kick his pasty little ass for doing it.

All right, so with fighter introductions out of the way, I have five more rounds of MMA news and opinions to throw at you. This week, we look at BJ Penn returning to fight Frankie Edgar at featherweight and coach The Ultimate Fighter, the results of WSOF 5 and Bellator 99, and Louisiana banning breast implants. Let's to it do it.

FIGHTER YOU READY!!!!
FIGHTER YOU READY!!!!

FIGHT!!!!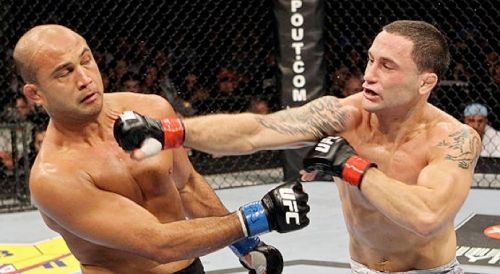 Round One: BJ Penn and Frankie Edgar to Coach Season 19 of The Ultimate Fighter, Will Fight at Featherweight, Wait, What?

***TOUCH OF GLOVES***

Let's begin by thinking back to all the great trilogies that we, as fans of MMA, have had the pleasure of witnessing since the sport's inception 20 short years ago. They were the stories and rivalries that created contests that were so thrilling and so competitive that one or two battles would not be enough to settle the score. Sometimes it was necessary to determine who the better man truly was. Sometimes it was the only way to find out who the best fighter in the weight class was. Sometimes it was to bolster a poor Payperview card or was the only option after a fighter pulled out with an injury. Whatever the reason, what is certain is that some of the greatest fights and some of the greatest moments in mixed martial arts history have come as a result of epic trilogies likes Liddell/Couture, Fedor/Nogueira, Wanderlei/Rampage, Hughes/St-Pierre, Edgar/Maynard, Sylvia/Arlovski, Wanderlei/Sakuraba, Ortiz/Shamrock, Severn/Fulton, and...ooh. Maybe some trilogies aren't that amazing. I mean, for as great as it was watching the two most most popular non-heavyweight fighters in Pride history go at it in Kazushi Sakuraba and Wanderlei Silva, the result was still watching Sakuraba get his ass kicked three times. Same thing between Tito Ortiz and Ken Shamrock, except that was funnier. Plus, the third fight between Tim Sylvia and Andrei Arlovski was one of the worst fights of all time. It was like watching a cable guy install a DVR by sweating on it for 25 minutes. I don't get that joke either. The point is that some trilogies blow. Seriously, Dan Severn fought Travis Fulton four times. FOUR! At least the series wasn't completely one-sided, as the last fight was a draw.

Well, the time has come to add another illustrious MMA trilogy to the annals of time, as it was announced by Dana White that former 2-time UFC Champion BJ Penn will make his return to the UFC to compete against Frankie Edgar as coaches on the 19th season of The Ultimate Fighter. Yeah, 19. I guess time flies when you're watching borderline amateur fighters, most of whom will never stand a chance of coming anywhere near a UFC Championship, attempt to render each other unconscious while ultimately disappointing Dana White directly to his face, and the fights don't even count for anything because they are exhibition bouts that don't get added to the fighters' professional records. That's not to say that the show is completely useless. It has discovered some good fighters here and there and it has been a good platform for creating and furthering rivalries between the coaches, who compete against each other on the show before competing against each other in the cage. The show has served as a vehicle for big name match-ups like Rashad Evans vs. Rampage Jackson and Frank Mir vs. Minotauro Nogueira. It has also highlighted some not-so big name match-ups like Ross Pearson vs. George Sotiropolous on that season that no one in America watched because you had to go online to see the episodes and everyone talked funny. However you think about it, it's definitely not the worse way to drum up interest for a fight. I still enjoy watching TUF for some reason so I'll probably check out Season 19 when it premieres early next year. I'm interested to see Frankie Edgar and BJ Penn as they prepare for their featherweight fight.

Did I just say featherweight?

***HORN SOUNDS***




Round Two: Seriously, What?

***TOUCH OF GLOVES***

So where did this whole "BJ fighting Frankie at featherweight" nonsense come from? Why would BJ want to come back after a year (it will be close to a year and a half come fight time) to face a man who has beat him twice and in a weight class that he has never competed in before? Here's the story, as explained by Dana White on UFC Tonight: UFC had been looking to have Frankie coach the next season of TUF but were interested in pairing him up with the butt chin master himself, Urijah Faber. The problem was that they couldn't decide on what weight to fight at because Frankie didn't want to cut to 135, Urijah didn't want to go up to 145, and Dana doesn't like booking catchweight fights. So during all this, BJ texted Dana out of the blue saying he wants to fight Ben Henderson. Wait, it gets better. Dana called BJ to ask him "What the hell?" and BJ said that if Dana gives him the Bendo fight and he wins, then Dana might give him a fight with Frankie. Apparently those losses to Frankie back in 2010 have weighed heavy on BJ's soul. BJ feels he won those fights, despite what reality says, and wants one more chance to get the win for reals this time. Dana didn't explain why BJ felt that a win over the former UFC Lightweight Champion would earn him the right to fight against a man in another weight class. Was BJ aware that Frankie is a featherweight now when he originally texted Dana? I don't know. Maybe he just wanted to be like Anthony Pettis.

So there are two things that make this situation seem stupid on BJ's part. The first is that he's requesting a fight against a man who has beat him twice. Granted, the fight at UFC 112, when Frankie defeated BJ for the UFC Lightweight Championship, was really close and BJ may have actually won that fight, but there is no question that BJ lost the rematch at UFC 118. Frankie dominated that fight, using his boxing and footwork to move in and out of the pocket and light BJ up without taking a lot of damage. It was a fight that showed both the ability of Frankie Edgar to improve and adapt to defeat a dangerous opponent again and BJ Penn's ability to give up when he's losing the fight. Maybe if he had a corner that gave him useful advice instead of just yelling "YOU'RE F*CKING BJ PENN" at him he might have performed better in the later rounds. Frankie hasn't lost too many steps since then. Yes, he lost three fights but they were all really close decisions to champions Henderson and Jose Aldo. BJ, since the Frankie fights, got badly beat up by Nick Diaz and Rory MacDonald. BJ did not look good in those fights and I have no reason to believe that he can come back after a year, where it will have been over 3 since he won his last fight, and beat Frankie Edgar, especially because of the second thing that makes this all stupid: the fight is at featherweight. BJ has never fought at featherweight. He has spent the majority of his career as a slightly in-shape lightweight and a slightly out-of-shape welterweight, with a brief stint as a really-out-of shape middleweight. The heaviest he weighed for a fight was against Lyoto Machida in 2005 (before it was cool to fight him) where he tipped the scales at 191 pounds. In recent years BJ has come across as being kind of lazy when it comes to training and preparing for fights. He tends to lose mental focus in fights too easily, he's never adapted much from using the same boxing and jiu-jitsu that got him to the UFC in the first place, and, while not being unhealthy looking, he doesn't always look to be in top physical condition for most of his fights. Is he going to be disciplined enough to make 145? Are we going to see another season of TUF where the coaches don't fight because BJ got "injured" and couldn't make it to the fight? I guess we'll find out. And BJ, if you need help cutting weight, don't call Mike Dolce. Call me. I know which vital organs you can have removed to help you lose weight instantly. Did you know you only need half your liver? Let's do lunch sometime. Well, I'll do lunch and you can watch.

***HORN SOUNDS***




Round Three: WSOF 5 Quick Thoughts, One Pitbull Survives a Slugfest....

***TOUCH OF GLOVES***

So World Series of Fighting held their fifth event on Saturday night and it was a decent, albeit bizarre, card. The main event saw Andrei Arlovski, a man who has been phenomenal in WSOF if you forget about Anthony Johnson breaking his jaw back in March, trying to get back to his...um..."winning" ways against Frank Trigg's body double, Mike Kyle. For a fight between two guys who can't win against anyone worth giving a crap about, it was a pretty entertaining affair. Aside from some clinching against the cage and a takedown attempt or two, the fight took place mostly on the feet. Both guys did get rocked during the fight, as Kyle dropped Arlovski with a right hand on the top of the head in the first round, with Arlovski sending Kyle flying back with a right later in the round. The rest of the fight was Arlovski using jabs and kicks to keep Kyle on the outside with Kyle countering over the top with straight punches. There were also a couple of flurries in there too. Flurries are always fun. It was a close fight, one that really could have gone Kyle's way, but the three judges scored the fight 29-28 in favor of the Belorussian. Well, at least it was a good fight and it produced the more desirable result for WSOF. Now they can put him atop more fight cards and maybe even pretend that he's good enough for a heavyweight title shot. Actually he might be. They only have five heavyweights under contract.

Speaking of titles, WSOF 5 saw the beginning of a tournament to crown the first WSOF Middleweight Champion. Well, we saw half of it, anyway, as Elvis Mutapcic vs. Jesse Taylor was canceled by the New Jersey State Athletic Control Board after an official claimed to see Mutapcic take a prescription drug in the locker room that hadn't been approved by the commission. Mutapcic claimed that that it was actually his manager who took the drug, a heart medication, and that the official mistakenly accused the wrong person because they were all dressed the same. What, NJSACB official? You think all fighters and managers look alike and can discriminate against them like that? I WILL NOT STAND FOR THIS INJUSTICE! That's why I'm sitting. It's more comfortable. This is a strange situation so we'll see what ultimately comes from it. I'm guessing the Mutapcic-Taylor fight will be rescheduled for the next event so that the winner can then face Dave Branch, who earned a unanimous decision victory over Danillo Villefort. Branch claimed after the fight that his plan wasn't to grapple but the fight says contrary, as he was aggressive in controlling Villefort against the cage and taking him down, landing enough strikes to keep the fight form getting stood up. Also on the main card, Rolles Gracie's strategy was move back, make Derrick Mehmen throw at air, and counter with jabs and long punches. It worked until Mehmen reached far enough and caught Gracie with a right. Gracie took a few steps and fell down in a very cartoonish fashion. The Gracies ended up 1 for 2 on this card. They really got to rethink this whole MMA thing. Oh, and Bellator flameout Georgi Karakhanyan saved us from 15 minutes of timid striking exchanges with UFC flameout Waylon Lowe by catching Lowe after a takedown with a guillotine and finishing the submission at three and a half minutes of the first round. It was a good fight, although Karakhanyan should have won a Boost Mobile phone for that win. Nobody won a phone at the event, although Nick Newell won an oversized novelty check for having the most entertaining fight from the last WSOF event. I thought those awards were usually given out after the event is over. I guess Dana White really spoils us.

And that was WSOF 5. Next up is WSOF 6: Josh Burkman Better Not Screw This Up, on October 26 from Coral Gables, Florida.

***HORN SOUNDS***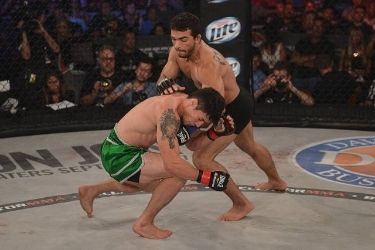 Round Four: Bellator 99 Quick Thoughts, ...And Another Pitbull Dominates

***TOUCH OF GLOVES***

So what about the Bellator offering from this week? It wasn't too bad. None of the fights were canceled due to knockouts in training or unreported drugs but I wish I had some while watching at least one of the fights. First, though, was the main event, which featured one of Bellator's homegrown talents, Patricio "Pitbull" Freire of the famed Flyin' Freire family, against Diego Nunes, a WEC and UFC veteran who came close to a UFC title shot before falling victim to a Kenny Florian who's body was actively trying to eat itself so he could make 145. This was a good match for Pitbull, as it would give him a chance to see how he could fare against a fighter who had actually made it to the big show. The problem with being in a promotion like Bellator is that, no matter how well you perform in the promotion, there will always be a question about how good you are since most of the top competition in the weight class fights in another promotion. Nunes isn't a top 10 featherweight anymore but he's fought some good competition. It would be a good test to see where Pitbull stands as a featherweight. So did he pass the test? You could say that. I mean, he knocked Nunes out in a little over a minute. That's pretty good, I guess. Pitbull was cautious to start, which is unusual for him, trying to goad Nunes in so he could counter. It ended up working, as Pitbull caught Nunes with a left hand under the ear and finished with strikes on the ground. Pitbull was given a big challenge in this Season 9 Featherweight quarterfinal and he performed well. It definitely puts him in a good position to win another Bellator tournament.

So who else won in the featherweight quarterfinals? Well, there was former Strikeforce fighter Justin Wilcox. He was getting chopped down by some hard leg kicks early in his fight against Akop Stepanyan. There was one kick that hit him so hard he did a freakin' cartwheel. About two minutes in, Wilcox went for a desperation takedown and, in a scramble, ended up taking Atop's back and immediately locked in a rear naked choke. I don't know if Wilcox would have had the leg strength to fight for the submission if he hadn't locked it up so fast, but he did and got the submission at 2:26 of the first round. Also advancing is Fabricio Guerreiro, who defeated Des Green by unanimous decision. Guerreiro got ahead of Green in the first two rounds, outpacing Green with strikes in the first round, and finding success in the second with a takedown and clinch against the cage, stuffing most of Green's takedown attempts in the process. Green did take Guerreiro down at the end of the first two rounds but not with enough time to do much. Green did better in the third, tying Guerreiro up against the cage for half the round, but it wasn't enough to turn things around, especially since he already lost the first two rounds. The last quarterfinalist is Joe Taimanglo, who looked adorable going up against the much bigger Andrew Fisher. The cuteness must have worked in Taimanglo's favor, as he pushed the pace, landed the harder shots, kept Fisher on the defensive the entire fight, and took a unanimous decision victory. And that was it. Oh, except for a fight between Vladimir Matyushenko and Houston Alexander. The two senior citizens (by sports standards) looked like a couple of drunken Dads fighting over a piece of wedding cake. Similes aren't my thing. Vlady used his grappling to get ahead in the first and third rounds and he just stood there during the second, which was enough to win him that round too. Seriously, I bet Kimbo Slice was watching that fight wondering when Houston was actually going to do something. Alexander Shlemenko's baby daughter was not impressed. Oh well. At least he got paid. That counts for something, right? Tough times out there, man. Tough times.

And that was Bellator 99. Bellator 100 is this Friday. it features the quarterfinals of the Welterweight Tournament so that should be pretty good.

***HORN SOUNDS***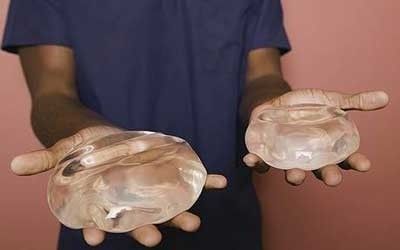 Round Five: America's Breasts are Under Attack, I Swear I am Not Desperate For Page Views

***TOUCH OF GLOVES***

I swear it. It's just an interesting topic to end the article on. I mean, I could talk about Matt Riddle's retirement. For as average of a fighter as he was, the kid was goofy and I kinda liked him. It's an unfortunate situation because Riddle doesn't necessarily want to stop fighting but Bellator, for whatever reason, isn't willing to give a Riddle a non-tournament bout for later in the year (they won't give him another fight until next season) and he can't afford to not fight so he has to go get a real job. I know the pain, brother, but you can deal with it better than I because I don't have a medical marijuana card. Stay strong. Strong and slightly toasted. I could also mention Legacy Fighting Championship's show on Friday but I've already written enough crappy fight summaries. The show is notable because Leonard Garcia won another fight (!!!!) and Pete Spratt got knocked out by Tim Means and retired from the sport only to un-retire after the weekend so he can appeal the loss. He might have a case because it does look like Means elbowed Spratt in the back of the head, which I have been told is something you can't do. Will the appeal succeed? Will Spratt continue to fight if the appeal fails? I don't really care because there was much more troubling news that happened this week.

THEY'RE TRYING TO TAKE AWAY OUR BOOBS!!!

Specifically, Louisiana is trying to take them away. And I don't mean all boobs, just breast implants. And it's not a full ban, just a 60 day moratorium until they do more research and determine whether a full ban should be implemented. And technically they can fight as long as their plastic surgeon signs off on it. And I could have chosen to not type that in all caps but I did it anyway. So what happened was, on Wednesday, the Louisiana State Boxing and Wrestling Commission made the decision to bar any fighters with breast implants from competing without approval. The reason for the ban is because a female fighter had to pull out of a fight due to problems with one of her implants and it made the commission worry about what might happen if an implant were to burst during a fight. That Louisiana commission, always looking out for us. It looks like a bit of an overreaction on the commission's part due to one little incident that didn't even have to do with something that happened during a fight, but someone did pull out of a fight over it so maybe they're just trying to make sure that fighters don't lose their paycheck over another incident as innocuous as this. Still, what a random ruling. How dare they do this to us! This isn't the America I remember! It's supposed to be about freedom and liberty and standing up for your rights and racial prejudice and a society obsessed with celebrity and greed and backstabbing everyone you love until you have all the monies while not giving any of it back to the country that made it possible for you to have that disgusting amount of wealth in the first place...and breasts implants. We can do better, America. At least I get to be like Fox Sports and Bloody Elbow and every other site that reported this story just so they could post a picture of boobs. Yeah! Wait, I think I did it wrong.

***HORN SOUNDS***

That's it for Five Quick Rounds. If you have any questions, comments, or suggestions, and it is always appreciated when you do, leave them in the comments section. I will be back in 7 for another Five Quick Rounds. Bellator 100 is on Friday and UFC 165: Jones vs. Gustafsson is on Saturday. Enjoy the fights and, until next time, remember to fight clean, fight hard, fight fair, and never leave it in the hands of the judges...




LATER!!!!!!!!!!!!!!!!!!!!!!!!!!!!
comments powered by