SPOTLIGHTS
The Juggernaut MMA News Report 09.12.13: 3 Massive MMA Cards to Close 2013
Posted by Jonathan Solomon on 09.12.2013

2013 is ticking away but 411's Jonathan Solomon breaks down the three epic UFC and Bellator shows we're all anticipating. From GSP vs. Johny Hendricks to the returns of Rampage Jackson and Tito Ortiz to Anderson Silva's redemption and more!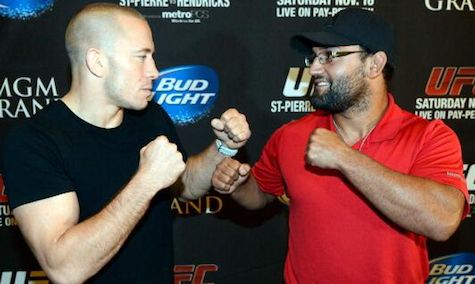 Three HUUUGE Shows Staring Us in the Face



The summer may not even be over (technically) and more than three months remain in 2013, but we're human -- so let's look ahead to the three epic fight cards that are only a hop, skip and a jump away from finally being here. Making these shows a cut above the rest, aside from the cards themselves are history and importance. It's not every week you get a historical show or even a show with must-see fights, and yet in these final 90+ days, you have access to three shows of them.

The UFC always has the edge this time of year because they typically stuff the end of the year with big cards in November and December, particularly their final offerings of the year at the end of December. However, this year, they're not the only game in town. Bellator is ratcheting up everything they can in an effort to promote their first pay-per-view on November 2nd.

Bellator 106 from California will cost anywhere from $30 to roughly $45 or above, depending on what happens with cable and satellite providers (I have yet to see a definitive price tag anywhere). If you are not typically a person who watches Bellator, past or present, if there was one show you should go out of your way and test out aside from the UFC -- this is it.

Three title fights and a main event featuring a pair of future hall of fame caliber competitors. This is all we know about the show as of now and there is plenty of room to fill up the broadcast with another two or three intriguing fights. So far, here's how it is shaping up:

Interim Light Heavyweight Title: Emanuel Newton vs. "King Mo" Muhammed Lawal
Featherweight Title: Pat Curran © vs. Daniel Straus
Lightweight Title: Michael Chandler © vs. Eddie Alvarez
Quinton "Rampage" Jackson vs. Tito Ortiz

Two may be rematches, but there's no fluff here. King Mo Lawal will look to avenge his brutal spinning back fist knockout loss to Newton and gain (interim) Bellator gold in the process. Eddie Alvarez returns to the cage to cement himself as one of the best lightweights in the world by stopping undefeated champion Michael Chandler, two years after their legendary war. The best featherweight not named Jose Aldo returns to action as Pat Curan looks for another dominant title defense against tournament winner Daniel Straus.





Then, there's the admittedly weird pairing of Rampage and Tito. The two have appeared together on Spike TV's pro wrestling Impact program on a number of occasions to promote the Bellator brand and are smack in the middle of training camps at the moment. Granted, both men are long past their primes and nobody is confusing this main event with one impacting the rankings of the best 205-pounders in the world. So what? It's a fun match-up at the top of a card full of title fights, and if nothing else, they're name fighters…still.

Meanwhile, the UFC's 20th anniversary is indeed shaping up to be an incredible event. It may not be happening in Madison Square Garden thanks to foolish politicians in Albany, New York, but their loss is Las Vegas' gain (as usual in combat sports). UFC 167 on November 16 is not finalized, totally, yet but look at the main six fights as of today:

Welterweight TItle: Georges St. Pierre © vs. Johny Hendricks
Chael Sonnen vs. Rashad Evans
Frank Mir vs. Alistair Overeem
Rory MacDonald vs. Robbie Lawler
Josh Koscheck vs. Tyron Woodley
Donald Cerrone v.s Evan Dunham

Hendricks may indeed match-up better than some of GSP's previous opponents, but can he really be the man to finish the legendary welterweight's dominance? To do it only months removed from when Anderson Silva's own reign at middle weight came to an end would be immensely weird. GSP has been in the news for talk relating to his (or at least his people's desire) for VADA testing -- which was shot down by Hendricks because of valid reasons. Whatever the game is here between their camps, on November 16, Hendricks is going to come out swinging for the fences while St. Pierre is looking to pick him apart and show the world he's the best in the world, period.

Friends Chael Sonnen and Rashad Evans have signed to fight and did so because what else are they going to do? Sonnen is coming off the big submission win over Shogun Rua but he's also out of title contention in any weight class. The same goes for Rashad, who has been fighting the opportunity to drop to middleweight while his loss to Jon Jones is relatively recent enough to prevent him from challenging the top fighter again. Another loss for the former 205-pound champ would be devastating and talk about retirement from competition would only grow louder, so if he's looking to hang on for another two years or so -- he must stop Chael.





Then, MMA in 2013 comes to an end with a double-headed monster of a show, again in Vegas, on December 28th featuring title fight rematches. Chris Weidman will look to do they unthinkable, become the only man to beat Anderson Silva twice. The new middleweight champion is credited with the win in July but many don't know how to take it considering Silva's showboating put him in a weird position when he ate Weidman's big punches. Regardless, Silva's opportunity to reclaim the throne is right there for the taking come December.

Weidman, with a win, likely removes Anderson from title contention for all of 2014, too, so if it's fresh fights at the top you crave, you're probably relying on no switch here. Should the Long Island native retain, he's looking at potential match-ups with the likes of Vitor Belfort and Jacare Souza. In that event, beating Anderson Silva twice pretty much means you are never an underdog again for as long as you live, period.

The second rematch slated for UFC 168 features Ronda Rousey and her bantamweight title against Miesha Tate. Their rivalry is currently being played out weekly on The Ultimate Fighter on Fox Sports 1.





Watch that and tell me you're not amped to see Rousey back in the cage, whether it's against Tate or anyone else. The fact these ladies perhaps genuinely dislike one another (hope I'm not buying wolf tickets here) is a heck of a way to sell a fight just days after Christmas, but we're human. Hell, everyone already knows how the fight will end -- but that's half the intrigue.

Three must see shows over the final eight weeks of 2013 and it will take us about that long to get there. But with fights like Weidman/Silva, Chandler/Alvarez, GSP/Hendricks and company, time will fly like Anthony Pettis in the cage.



---




- UFC featherweight Matt Grice is in critical condition after a car accident last weekend in Oklahoma. Grice, an Oklahoma City police officer, was off-duty and struck while stopped at a red light. Local news reported he underwent brain surgery Sunday evening and is in intensive care. Doctors will look at a series of brain scans after swelling decreased over the past 24 hours or so to get an idea of any potential progress and what lies ahead.

The driver of the other vehicle was a 53-year-old male who was not injured and is said to have been distracted by one of his passengers. One passenger was also not injured while a child in the car did suffer some kind of head injury, although they are not in serious condition according to MMAFighting.com.

Grice, 32-years-old, was engaged in one of the best fights of the year in February in a loss to Joseph Benavidez and had been scheduled to return in October to fight Jeremy Larsen.

- The Ultimate Fighter season 19 is months away from taping in Las Vegas, but the UFC announced who the coaches will be: B.J. PENN AND FRANKIE EDGAR.

The two former lightweight rivals will fight in April at featherweight, marking the first time Penn will fight at 145-pounds. The series will begin airing on Fox Sports in January, featuring 185ers and 205ers battling for company contracts. B.J. turns 35-years-old in December and although he's just 1-4-1 in his past six fights, three of those fights came at welterweight. He lost consecutive bouts to Edgar with the lightweight championship on the line in 2010 and has not competed at that weight since.

Edgar, meanwhile, has established himself as one of the top 145-pounders since losing his 155-pound title to Benson Henderson. He lost to featherweight champ Jose Aldo earlier this year but returned to beat Charles Oliveira earlier this summer. A win over B.J. (check that, a THIRD win) could find him immediately in the title picture assuming Aldo's own future takes him to 155-pounds before too long in 2014.

- UFC on Fox 9 is scheduled for December 14 in Sacramento and plenty of news concerning that night broke yesterday. Plans as of now are to have Anthony Pettis defend his lightweight championship for the first time against T.J. Grant in the main event. Official for the co-main spot will see Urijah Faber fight Michael McDonald in a big bantamweight bout that sets up the winner to be the #3 fighter in the division should Dominick Cruz return in early 2014 (more on that below). Plus, another fight in the works would see heavyweights Travis Browne and Stipe Miocic lock up.

- Former UFC middleweight Matt Riddle says he has retired from MMA and Bellator because of a rib injury that will prevent him from competing in next week's tournament. Thus, he was looking at 2014 before he could fight again and said via Twitter that due to the fact he cannot earn money until then, he's retiring from active competition. His contract with Legacy FC was purchased by Bellator and they held him out until September for a tournament. He informed them of his injury over the past couple of weeks and they insisted they would not be able to book him for a fight until next year.

The man needs to pay bills and the 27-year-old has not won a fight since November. His last fight came in February where he originally defeated Che Mills in the UFC, only to see it overturned due to a second drug test failure for marijuana. The father of three children will apparently look outside the fight game to earn a living now.

- On a conference call earlier this week, UFC president Dana White said if reigning bantamweight champion Dominick Cruz cannot return by January/February, they will likely strip him of the belt. Interim champ Renan Barao will defend his gold against Eddie Wineland later this year and the plan, pending Cruz's return, would be to have a unification bout early in 2014.

- Former featherweight title contender Shahbulat Shamhalaev has withdrawn from Bellator's upcoming tournament so he can spend time with and aid his ill father back home in Dagestan. Former Strikeforce 155-pounder Justin Wilcox will take his place, making his debut at featherweight in wake of his two losses in 2011 and 2012 to Caros Fodor and Jorge Masvidal, respectively. Bellator 99 tomorrow night on Spike TV features each of the four 145-pound tournament quarterfinal fights (Wilcox vs. Akop Stepanyan, Joe Taimanglo vs. Andrew Fisher, Des Green vs. Fabricio Guerreiro and Patricio Pitbull Freiere vs. Diego Nunes) plus the debuts of Vladimir Matuyshenko and Houston Alexander as the two light heavyweights clash.

- The UFC has booked a lightweight bout between Nate Diaz and Gray Maynard to main event the TUF 18 Finale on November 30. Maynard is 1-2-1 in his last four fights and was last seen being finished by T.J. Grant in May. Diaz is 2-2 in his past four, losing consecutive fights most recently to Benson Henderson and Josh Thomson. Maynard holds a win over Diaz, a split decision victory, from 2010. Also, the two squared off in an exhibition during the TUF 5 season where Diaz submitted him with a guillotine choke in the semifinals (this took place in 2007).





TWITTER

http://www.twitter.com/411mania
http://www.twitter.com/411wrestling
http://www.twitter.com/411moviestv
http://www.twitter.com/411music
http://www.twitter.com/411games
http://www.twitter.com/411mma






comments powered by