SPOTLIGHTS
All The King's Men 9.13.13: Week 68: Brandon Vera a Bust?
Posted by Larry Csonka on 09.13.2013

Brandon Vera started off his UFC career with four straight victories and the dream of winning titles in two different weight divisions, but has only won four of twelve fights since 2007. Is Brandon Vera one of the biggest busts in UFC history? The 411 staff takes a look!

ALL THE KING's MEN!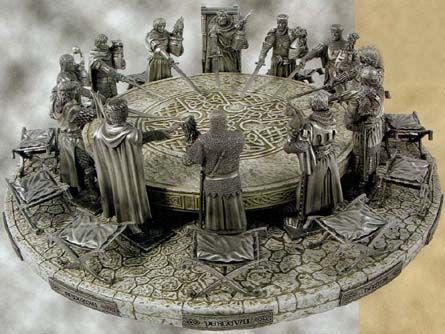 The Concept
The concept of the column is simple. As the "King" of the 411 Roundtable, I will pick a topic for discussion. The staff, or "Knights" of the old roundtable will then have the opportunity to state of they are FOR or AGAINST the week's topic, and then will have the chance to defend their position. Lets get to it…



BRANDON VERA: BUST?
Brandon Vera started off his UFC career with four straight victories and aspirations of winning titles in two weight divisions. But since 2007, he has gone 4–7-1NC. Brandon Vera is one of the biggest busts in the history of the UFC.

Jeffrey Harris - DISAGREE: I'd say at this point, Brandon Vera is far from the biggest. His career did turn out to be a disappointment, but at the same time it feels like there were far more disappointments in UFC for prospects that got way more hype than Vera did. I think one such person is Hector Lombard. Lombard came in a huge winning streak, he was the undefeated Bellator champion, and he signed a huge contract as well. People thought he could be a middleweight contender and potentially had the striking to challenge the likes of Anderson Silva. That did not come to pass and now he's going to try and make a run at welterweight after getting chased out of the middleweight division. And let's not forget Alistair Overeem. Despite having a pretty mediocre run in his storied history as a light heavyweight in Pride, Overeem had really reinvented himself as a heavyweight. He started destroying guys, even if they were tomato cans and collected a lot of belts outside the UFC. Many questioned his physique, but that didn't matter until the issue came out in full bore in the United States. The hype continued as Overeem came in and knocked out the former champion, Brock Lesnar and secured a heavyweight title shot. And from there everything went downhill. A failed drug test got him a suspension and got him pulled from the heavyweight title bout with Junior dos Santos. He did his time and people were ready to get excited about Overeem again only for him to get blasted by Antonio Silva. He came back and then was unable to finish the job with Travis Browne and got knocked out again. Overeem had the hype of being a K-1 kickboxing champion and a former Strikeforce heavyweight champion. Now in hindsight everyone is fine with calling him being overrated, but that wasn't really happening when he was on in his big heavyweight run and people were ranking him in the top 5 and talking about him beating everybody. But I'd say the disappointment and bust of Overeem's run in the UFC is bigger than what happened with Brandon Vera.



Robert Winfree - AGREE: It took me a while to decide if I was agreeing or disagreeing on this one, because there are solid arguments for either side. At the end of the day, for Vera to qualify as "one of" the UFC's biggest busts to me he needs to fall into the top five biggest busts in the company's history. So with that criteria in mind I thought back to who came into the UFC with the most hype, or got the most hype, and not only failed to live up to the hype, but fell rather flat on their faces.

The two that immediately come to my mind are Mirko "Cro Cop" Filipovic and Alistair Overeem. Both men came into the UFC with hype, with expectations, and both men failed in similarly dramatic fashion. With those two taking the number 1 and 2 spots, which order is pure opinion, the next one on the list is Hector Lombard. Huge winning streak, undefeated in Bellator, people thought he might be a title contender. Then he lost two fights and is now working on dropping to welterweight. But after those top three, who comes in at four? Well now we're getting into speculation and personal opinion, and for my money you can make a solid argument for Brandon Vera coming in at four or five.

Brandon Vera made his UFC debut and went on a tear, winning five fights in a row all finishes culminating with a vicious stoppage of Frank Mir. During this time Vera was quite vocal about his goal of winning the heavyweight title, then dropping down to light heavyweight and winning that title. Claiming that you'll be the first man ever, at the time, to hold two major titles in two different weight classes is a big deal. Having people think you might actually be able to do it, and there were people thinking that Vera could do it, that's also a big deal. Undefeated, possible title contender, possible two-division champion, tons of hype and the promotion solidly behind you, that's a lot of expectation, and Vera fell fast. Losing a boring decision to Tim Sylvia, stopped by Fabricio Werdum in the first round, dropping to 205lbs and being a sub .500 fighter over the next several years, that's a long way to fall, and given how far and how fast Vera fell I think you could qualify him as one of the UFC's biggest busts.



Jonathan Solomon - DISAGREE: Brandon Vera is not one of the biggest busts in UFC history, one of the most overhyped at a certain point, sure. But, you can look at his career for yourself and easily see how he came along when their heavyweight division was weak and fairly quickly, he fizzled out. Coming to the octagon in 2005, he reeled off four consecutive finishes to improve his record to 8-0. He stopped Fabiano Scherner (5-1, 1 NC at the time), the late Justin Eilers (9-4-1), Assuerio Silva (10-4, 1 NC) and Frank Mir (9-2). The fight with Mir was during that strange period when the former champion returned after his motorcycle accident (remember, he was also stopped by Marcio Cruz in 2006), so put things in the proper context. Where, in those wins, do you see a guy who can even remotely be considered great enough to possibly be labeled a bust after failing? After the win over Mir, he ended up losing to Tim Sylvia (which proved to be Big Tim's last win at heavyweight until 2011!!!) and Fabricio Werdum. Next up, Vera dropped down to 205-pounds and has bounced around ever since, until his return loss to Ben Rothwell a couple weeks back. The former member of the U.S. Air Force had been promoted like the next big thing at various points in his career and with the help of the UFC's marketing arm, for fleeting moments, he appeared to be just that. But, he'd go and lose consecutive fights at heavyweight or lose to Keith Jardine or get his face broken by Jon Jones, etc. None of that is anything to be embarrassed about, but in the grand scheme, Vera proved to be a mid-level fighter at heavyweight or light heavyweight. He had moments where he appeared to be amazingly skilled in the cage, but he never pulled off a win against a high level MMA fighter in their prime.


Evan Zivin - AGREE: This is one of those All the King's Men where it doesn't matter if we all agree or disagree because we're all still gonna crap on Brandon Vera. I'll go with AGREE just based off the wording of the statement. Were there bigger busts than Brandon Vera? Of course there were. Everyone else has already mentioned them. Was Brandon Vera a bust? I guess so. His designation as such is a little murky because it implies that the guy was a big deal at one point, which he kinda was. He built a name for himself in the UFC but it wasn't due to a reputation as a killer in other promotions like Cro Cop, Overeem, and Lombard. It was due to the Frank Mir fight. That was it. Sure, Justin Eilers had fought for the UFC Heavyweight Championship (technically an interim championship at the time) and Assuerio Silva was considered slightly decent in 2006, it was the 69-second thrashing of former champion Mir that made everyone take notice. Vera was even supposed to get a title shot against Tim Sylvia before contractual issues got in the way. It's too bad he didn't get that fight, since he would never come close to another title shot again. Vera would never get a win as big as the Mir one again. He would never even come close. The most impressive he's been since then was a fight against Randy Couture that he probably should have won but still lost and a thrilling contest against Mauricio Rua that says more about Rua's declining abilities than Vera performing better. Other than that, the dude's been absolutely atrocious. Every win he's had since Mir has been bad and every loss has been embarrassing. Why does he keep fighting when he performs so poorly? And he always says before every fight how focused he is and that he's ready to get back on track and win and be a two division champion and he still goes out and lays an egg every time. You couldn't be any worse unless you fought a guy who pretended to play bongos on your head and you did nothing to stop it. Even worse than that would be getting fired after that fight only to be rehired due to a technicality because the guy who demolished you pissed hot with a fake penis. Oh wait. Bottom line: Brandon Vera blows. I'm done.


Scott Kuczkowski - DISAGREE: So long as there are guys like Yoshihiro Akiyama, Jake Shields, and Hector Lombard still on the payroll, Vera is pretty safe from being considered the biggest bust in UFC history. Heck, as long as Alistair Oveem is still in the UFC, Vera can't even be considered the biggest bust in the Heavyweight Division. I mean, really; the list of fighters that the UFC banked on but that never went anywhere is sort of lengthy if you set your mind to it: Mirko CroCop, Rameau Thierry Sokoudjou, Kimbo Slice, Jason "Mayhem" Miller, Takanori Gomi, Kid Yamamoto, Gilbert Yvel, Miguel Torres, and Jorge Santiago are just a few. I don't consider someone like Uriah Hall a bust, simply because he is still so young in his career and aside from his hype coming off The Ultimate Fighter (for whatever that is worth these days) he wasn't some monster in the minor leagues that we couldn't wait to see fight in the octagon. The rest of those guys experienced a decent amount of success in other organizations and many people expected big things (or at least good fights) from them in the UFC. Some of them, like CroCop and Gomi, were simply on the downsides of their careers and were hampered by the wear and tear of injuries. Others, like Akiyama, Mayhem and Kimbo, were brought in more for their personalities than their fighting style. Despite whatever reason the UFC signed them, each and every fighter on this list had (or is having) disappointing UFC runs. And while I would gladly put Brandon Vera on this list simply because I think he sucks, I can't in good conscience say he is the worst of the bunch.


Wyatt Beougher - DISAGREE: As has been mentioned already, so long as guys like Alistair Overeem and Hector Lombard are employed by the UFC, Vera is safely relegated to simply being an "utter disappointment". Of course, since the statement is worded as "one of the biggest busts" and not "the biggest bust", I can't even disagree with my colleagues who have chosen to agree with the statement. To be fair to Vera (which, if you ever read Five Quick Rounds when I wrote it, you'll know is hard for me to do), he wasn't ever particularly hyped by the UFC; in fact, I can only ever remember Vera himself doing the hyping, claiming he'd be the UFC's first simultaneous two-division champion. (Obviously, I'm leaving Goldberg and Rogan out of this because they're horrible people who are horrible at their jobs and they constantly put Vera over no matter how poorly he fights.)

Unsurprisingly, after Vera made that announcement, he proceeded to...be incredibly average in both divisions. Sure, he wouldn't even be employed by the UFC right now if Thiago Silva hadn't used some combination of PEDs and urine adulerants, but the fact is that Vera has an 8-7 record in the UFC (with the no contest against Silva). Compare that with guys who came in with a ton of hype like Lombard (UFC record: 1-2) or Overeem (UFC record: 1-2, with an 0-1 record against drug tests in that span), Mirko Cro Cop (UFC record: 3-4), or even Vitor Belfort (who gets title shots based on being a champion in the promotion almost ten years ago in spite of being decided average today), and Vera doesn't seem quite so bad. He's probably a top ten bust in the UFC, but since I don't believe he falls in the top 5 (I'd put the four guys I listed previously, along with Sokoudjou, ahead of Belfort, and there has to be some consideration for guys like Keith Jardine and Houston Alexander as well), I have to disagree.



Paul Lapointe - DISAGREE: Brandon is not a bust, just an old guard talent that was/is wasted potential. Granted most of my fellow panel members have already bitched and moaned about all the missteps that Brandon has suffered through as his time as a mixed martial arts fighter. To each of their credit, pretty much everything uttered is right. I mean when you talk about a missed opportunity in the fight game you talk about Brandon Vera. His record his barely half and half, his victories in the last few years have been listless and his defeats are memorable for all the wrong reasons. Ben Rothwell went all gorilla man on him, a broken down Shogun took four rounds to drag him down with his sinking credibility as a threat at 205, he broke his arm at Elliot Freaking Marshall, got botten down by a roided up Brazilian who pees animal urine, felt the path of destruction that is Jon Jones (I will give him that one- hype deserved) and arguably beat old man Couture and that's going back only to 2009. I could go on with this but considering before the train of hype was no longer the little engine that could with stalled opportunities his only victories after his downing at the hands of Mega Power heavyweight, the Iowa proud gremlin beast that is Tim Happy Meal Sylvia is over the likes of Reese Andy (who?) since retired after the bout, Michael Patt (who?) since retired after the bout and journey man Krzysztof Soszynski who has seemingly retired.

Now I could analyze the rest of his Zuffa career but instead I am just going to opine about it. Brandon Vera was what the UFC wanted before MMA went mainstream. A marketable guy with gusto and a good sound byte, something that is obviously a lot more prevalent today then back then, when the UFC was looking for legitimacy. Vera, who was purported to be a potential Olympian brought that legitimacy in some forms. But this again was well about in 2004-5 almost 8 plus years ago when the UFC's heavyweight and LHW divisions were filled with the shallowest of talent. Heck even now though the talent is better, each of those divisions are still small packs with big fish in them compared to every other division in the UFC, period. So Brandon Vera is a failed experiment, a big bust? Hardly. Neither financially, historically or otherwise, Vera is not a bust, he is just a punch line. Heck, somebody has to go down in History for something, and though Vera may not want to ever hear that sound byte that got him that attention any time soon...its worth remembering for a laugh or two. Lastly...at least your remembered in the annals of MMA as maybe not a has-been but the first NEVERWAS. Hey, it's something, at least you're not a has-been.

In conclusion to use another Vera sound byte "C'mon ref, let me take my beating like a man" and for the foreseeable future, he will as his UFC days may soon be behind him at 35. But now that he has to pack his bags and go home at least he will be greeted by his hot wife Kerry, and it must be at least a little comforting that one of them can beat a Couture...haha, even if there name is not Randy, the first dual division champion of the Vera Era.





WHAT DO YOU THINK?





Have you checked out the Csonka Podcasting Network? If you haven't, you should We run anywhere from 15-20 shows a month, discussing pro wrestling, the world of MMA, the NBA, general sports, popular TV series of the past, bad movies, battle rap, interviews, MMA & Wrestling conference calls and more! Around 10 different personalities take part in the various shows, which all have a different feel; so you'll likely find something you like. All of the broadcasts are free, so go ahead and give a show a try and share the link with your friends on the Twitter Machine and other social media outlets! Running since May of 2011, there are currently over 330 shows in the archive for you to listen to.



Your heart is free. Have the courage to follow it…TO CSONKA'S TWITTER!

http://www.twitter.com/411wrestling
http://www.twitter.com/411moviestv
http://www.twitter.com/411music
http://www.twitter.com/411games
http://www.twitter.com/411mma



comments powered by