SPOTLIGHTS
Locked in the Guillotine MMA News Report 9.13.13 Friday the 13th Edition
Posted by Robert Winfree on 09.13.2013

News and thoughts on Overeem vs. Mir being booked, as well as Evans vs. Sonnen and Maynard vs. Diaz! Plus a look at why having Frankie Edgar and BJ Penn coach the next season of The Ultimate Fighter is a bad idea and more!

Hello everyone, and welcome back to the best weekly news article here on 411mania. There isn't a fight card to review, or preview this week, which is both a relief and an annoyance. It's a relief because I don't have to worry about possibly doing coverage and my week is totally free to do something other than watch MMA, it's an annoyance because reviewing or previewing fight cards is fun for me and I get to fill space with relative ease. But that doesn't mean stuff didn't happen, because it did, and I actually think I'll devote some time to Bellator this week. I don't have anything against Bellator, but I rarely go out of my way to watch an event or fight unless I've heard really great things about it. So there's that, and news, and plenty of stuff to get through. So without further ado, you're Locked in the Guillotine.

Before we get too much further, have you checked out the Radulich in Broadcasting network? If not, you definitely should, the network is home to the weekly 411 Ground and Pound radio show, The Long Road to Ruin series, The Casual Heroes wrestlecast, and my own contribution, Everyone Loves a Bad Guy. If you're unfamiliar with any of these shows, give them at least a test run.





Alright, shameless plug out of the way so let's get into the MMA stuff.




Frank Mir to fight Alistair Overeem: You know, I'd love to say this is a "Loser Leaves Town" match, but that's just unrealistic at this point. Frank Mir wont be cut, he's got too many good statistics which the UFC is suddenly oh so fond of to be cut. If he loses this fight, which is likely, he'll get dropped down the card but it will take at least another consecutive loss after this fight to get him cut. Overeem is a slightly different story, he has a higher price tag than Mir and unless the UFC decides it will enter the realm of renegotiating contracts before they're up he could very well be headlining a Bellator event in the near future. The fight is scheduled to take place at UFC 167 which will serve as the company's twentieth anniversary show. I have to imagine that Dana White would rather have Chuck Liddell, Matt Hughes, Rich Franklin, or one of their other big draws from the "good old days" to celebrate their big birthday, but Frank Mir was the best they could come up with. Given the deficiencies both men have, chin and cardio wise, I'm predicting the fight will unfold something like this...





Sonnen has another fight: Also added to UFC 167 is a light heavyweight clash between Chael Sonnen and Rashad Evans. Chael Sonnen had been campaigning hard to get onto that show, and since he actually won a fight his last time out he had a modicum of leverage in getting on it. Rashad Evans is in an odd spot, he was once a top draw in the UFC, his fights with Quinton "Rampage" Jackson and Thiago Silva both did solid numbers but his last few outings have been disappointments in terms of his performance and numbers. His last fight was against Dan Henderson in the main event spot and the card did about 150k buys, which is a horribly low number. Add into that the fight before his split decision win over Henderson was a really bad fight, a decision loss to Antonio Rogerio Nogueira, and his stock has dropped over the last several years. The two will likely occupy the co-main event slot below the much anticipated UFC welterweight title fight between champion Georges St-Pierre and challenger Johny Hendricks. Sonnen might also be getting PPV points for his appearances, and if so then hitching his wagon to the incredible drawing power of GSP is a smart business move.

Viewership slips: Last Wednesday the UFC offered eight straight hours of programming on Fox Sports 1, almost every fight from the Fight Night 28 card headlined by Glover Teixeira fighting Ryan Bader, and then the season premier of The Ultimate Fighter featuring both men and women competing and with UFC female bantamweight champion Ronda Rousey coaching opposite her rival Miesha Tate. The Fight Night card averaged just 539,000 viewers, which is easily the lowest rating in the history of the Fight Night franchise in the UFC. I suppose three fight cards within eight days might be pushing it a bit as far as what people are willing to look for on TV, and Fight Night 28 being the weakest of those three cards didn't help. The season premier of The Ultimate Fighter did a better number, it actually gained viewership up to about 762,000 over the two hour debut. Neither number is the end of the world, if anything the start of football season will help promote the upcoming Fight Night events as well as the rest of the season of TUF. If, despite the heavy promotion during what is likely the stretch of time when more American's watch television than any other time during the year, the numbers don't improve or keep sliding, then we've got a problem on our hands. For the time being, this was a weak card and the third event in eight days, I'm actually surprised the number wasn't a little lower.

Diaz and Maynard will meet again: A third fight between Nate Diaz and Gray Maynard has been scheduled as the main event of the upcoming TUF 18 finale. The two men have fought twice to date, once during the fifth season of The Ultimate Fighter when Diaz submitted Maynard in the first round and again at UFC Fight Night 20 where Maynard won via somewhat controversial split decision. Both men lost their last fights, both by TKO, so if either man wants to hope to remain relevant in the lightweight division they'll need an impressive performance out of this fight.

Riddle is done: Former UFC welterweight fighter Matt Riddle has announced his retirement from MMA following a rib injury this week. Riddle made more waves with his somewhat ridiculous arguments for the legalization of marijuana than he did in his fights, and he was cut from the UFC following two positive drug tests. Time will tell if this retirement holds, and we'll also have to wait and see if his claims that he needs marijuana to keep from assaulting his family.

UFC on FOX 9 gets some fights: The UFC's ninth show on FOX got a couple of fights announced, the first and only one officially signed is a bantamweight clash between two former title contenders, Urijah Faber and Michael McDonald. The winner likely takes a big step forward, in all likelihood they'd be the next title challenger after the situation between Dominick Cruz and Renan Barao is settled. I'd love to pick against Urijah Faber, and make no mistake that Michael McDonald has the power to finish Faber, but picking against Faber is a tricky prospect and I'm unlikely to do so here. Also on the table right now in the main event slot is, hopefully, a lightweight title fight between new champion Anthony Pettis and TJ Grant. Grant earned his title shot earlier this year by stopping Gray Maynard in the first round with strikes, and was set to take on Benson Henderson at UFC 164 before a concussion forced him out of the fight and allowed Pettis to come in and beat Henderson. If that fight comes to be, it will be a potentially great showcase for Pettis because he has all the qualities that could make him into a bona fide star for the UFC.




I'm actually glad this particular bit of news broke on Wednesday, because that gave me more or less a full day to process and think through the bit of revelation that I want to discuss here. The next coaches to be featured on The Ultimate Fighter will be Frankie Edgar and BJ Penn, which will lead to a third fight between the two, scheduled to take place at featherweight. I do not like this news, or this decision, partially because I've never been a fan of either man, but more for a couple of other reasons that I want to enumerate here.

I have no desire to see BJ Penn fight at featherweight. I'm perfectly fine never seeing him fight again at this point. Penn has just one win in his last six fights, a knockout victory over Matt Hughes. Around that lone win are losses to Nick Diaz, Rory MacDonald, a draw with Jon Fitch, and two losses to the man he's now supposed to fight again, Frankie Edgar. Penn's last two performances have been absolutely abysmal, Nick Diaz busted him up for two rounds and Rory MacDonald probably could have finished him if he'd wanted too. Penn's best days are behind him, which is just the nature of growing older as a person and the ever evolving sport of Mixed Martial Arts. It just seems that no one realizes that Penn should be a nostalgia act right now and instead the UFC clings to the notion that he's a top fighter, or that people want to see him taking on relevant fighters. I don't think people do. In his heyday Penn was actually a solid draw for the UFC, he's one of the more overlooked draws that the company has ever had, but that time has passed and I think the numbers for the next season of TUF and the event that features the third fight between those two will bear out that thought. Penn should probably be retired right now, he's got a young daughter at home and he's not exactly a young man anymore. If Penn were engaging in a nostalgia fight just for the payday and the novelty I'd feel different, but that isn't the case with this fight.

This is a waste of Frankie Edgar's next fight. Frankie Edgar established himself as one of the best fighters in the world at lightweight, at featherweight he's still finding out how to fight without a substantial speed advantage but remains a hugely talented fighter and the only guy to come remotely close to beating Jose Aldo in the last several years. Edgar's last fight was a win over Charles Oliveira, before that was a relatively close fight with featherweight champion Jose Aldo. Edgar should be fighting a contender, Cub Swanson, Chad Mendes, Ricardo Lamas, all of those fights make some sense for both fighters and the state of the division. Assuming the UFC is dead set on Edgar being involved in coaching the next season of TUF, Cub Swanson has a great come back story going on with his career right now and the chance to tell that story and build to a fight between Swanson and Edgar on weekly television would be a great choice. Chad Mendes has only lost once in his career, has finished his last four opponents with strikes, and trains with the notoriously douche heavy Team Alpha Male who came off as great heels when Urijah Faber coached against Dominick Cruz on TUF. The dynamic of the scrappy kid from Jersey facing off against the always smiling California surfer type is such a polarizing situation that you might actually get people invested in the fight. One of my favorite seasons of TUF was season five, which featured BJ Penn as a coach, and he didn't bring a whole lot to the table from either a coaching perspective or a viewers perspective. Now he's going to coach again, I mean if not for the coaching of Ken Shamrock on season three and the laughable coaching attempts from Rampage Jackson in later seasons Penn would hands down be one of the worst coaches in that shows history. In fact he may be in third place as it stands, behind Jackson and Shamrock, but I haven't seen enough of the later seasons of TUF to make a comprehensive list at the moment.

BJ Penn has already lost to Frankie Edgar. Twice. I'll grant you the first fight was close and could have, arguably even should have, gone the way of Penn. The second fight wasn't close. Frankie Edgar beat Penn in every aspect of MMA in their rematch, earning a unanimous 50-45 decision across all three judges scorecards. I don't think even Clucky could have given Penn a round of that fight. Now they're fighting again, apparently because the UFC seems to think it's a money making proposition. I've seen Edgar beat Penn twice already, I don't need to see it a third time unless I actually expect Edgar to finish Penn, which isn't going to happen. It's just a fight I don't feel the need to see another time, yet I'm going to "get" to see the "epic" grudge match between a man who hasn't beaten anyone but Matt Hughes in his last six fights and a guy who should be getting back towards a title shot.

You know, a bunch of the above issues might be tolerable, but the thing I am loathing more than any of that is the promotion. If anyone out there needs to get drunk in a hurry take a drink, or shot, anytime the UFC claims that "this is the best BJ Penn ever" or that "he's motivated and in shape", that "a motivated and in shape BJ Penn is a scary/dangerous fight for anyone", and if Joe Rogan doesn't bust out the "I truly believe that 145 is the best weight class for Penn's body" then I'll eat my hat. This is all stuff we've heard before about Penn, in fact at least two of those lines have been used in some form or another in the hype for each of Penn's last four or five fights. Personally, I'm not sure Penn will make weight. Penn is notoriously averse to training, hates cutting weight, and is now attempting to get down to a career low at 145. I wont be shocked at all if Penn gets on the scales at the weigh ins and hits more than 146, in fact I wouldn't be shocked if Penn reaches out before the weigh ins and requests the fight officially be changed to a catchweight bout. Assuming Penn is able to make weight, how do you think he'll look fighting at featherweight? Along with BJ Penn not liking training he seems to especially dislike cardio training, and it's showed in the majority of his fights, especially the ones not fought at his pace. Penn was visibly gassed in the second rounds of his fights with Nick Diaz and Rory MacDonald, their body work hurt his already questionable cardio, and his poor conditioning was what led to the draw in his fight with Jon Fitch. The weight cutting process saps your conditioning, and Penn wont just be cutting down to lightweight, he'll be going ten pounds lower. If Penn makes weight I think he'll look almost skeletal on the scale and wont have the stamina after the cut to last more than the first round before gassing out and mentally shutting down.

Perhaps even worst of all, no one will question the thought process behind these decisions to Dana White. Even if they do White will trot out his cliched answers that everyone will have to smile and accept if they want to keep getting press credentials. A major media news outlet needs to send a real reporter to question White, an outlet with a big name that the UFC would look foolish to "blacklist" and an outlet that will stand behind the reporter who would likely get White to go on several profanity laden rants having very little to do with the actual questions being asked.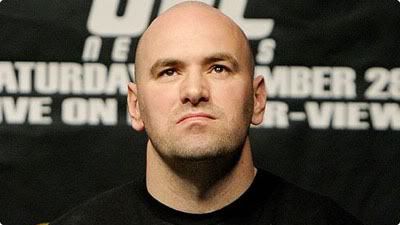 "Don't you question me!"



And on that note, you've escaped the Guillotine. I'll be back next week to break down the upcoming UFC 165 card featuring the light heavyweight title fight between champion Jon Jones and challenger Alexander Gustafsson. I'll be on the 411 Ground and Pound show on Sunday at 9pm eastern time, and I hope plenty of you guys listen in. I'll see you next week.
comments powered by