SPOTLIGHTS
Thoughts From Across The Pond. 09.16.13. TUF 18.2 – Ladies First
Posted by Alex Watt on 09.16.2013

The first team vs. team elimination fight results in the most dramatic and heated final 20 minutes of an Ultimate Fighter episode in years...

If you missed my in-depth review and analysis of The Ultimate Fighter 18, episode 1, you can read it here.

Also, 411mania's heavyweight aficionado Mark Radulich is live recapping each episode of TUF 18. You can check out his recap of episode 2 here.

And, on a side note, Jon Butterfield and I had the honour of attending BAMMA 13 in Birmingham on Saturday and we produced a detailed live report, which you can read here.


The Ultimate Fighter – "Ladies First" (S18 / E2)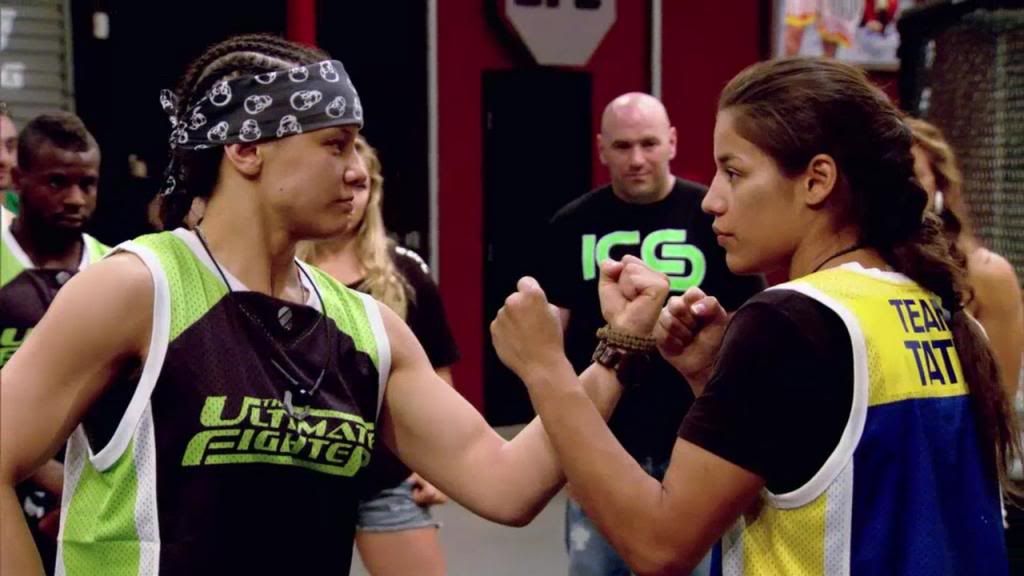 "All I have to do today is one 10-minute circuit that I can end whenever I want" – Shayna Baszler


Following an entertaining, if rushed, debut episode of The Ultimate Fighter 18, the series settled back into a familiar groove from the beginning of its second episode. The childlike eagerness of all the fighters wanting to secure the best bedroom is a recognizable TUF trope and it was no surprise that one of the male fighters – Tim Gorman (who else?) – discussed his archaic views of women training with men in the first ever co-ed season. The subsequent reveal of Gorman's hamstring injury was a surprise but still in keeping with TUF seasons past, as was Ronda Rousey's insistence that Team Tate vacate the gym immediately later in the episode.

So what elevated this episode above the vast majority of the series' output over the last few years? Simple; the final twenty minutes of "Ladies First" featured a cracking elimination fight and the drama and fallout from the bout's result produced some of the most powerful television in the show's near 9 year history.

Leading into the episode closing elimination fight, I felt a little underwhelmed. The issue permeating through this instalment of TUF 18, was that there was no doubt over who would win the fight. Shayna was so experienced and self confident, whereas the inexperienced Peña appeared to have little faith in her own abilities. As a matter of fact, my review notes prior to Baszler vs. Peña, were written in the full and unfaltering knowledge that "The Queen of Spades" was about to be the winner. I was already dreaming of an inevitable future showdown between Ronda Rousey and Shayna Baszler, which would serve as the "former TUF coach vs. former TUF winner" title fight that the UFC have been hoping for, ever since Chuck Liddell vs. Forrest Griffin looked like a possibility.

You would think I'd have seen enough episodes of The Ultimate Fighter to know better. With this show, you should always expect the unexpected. And when the episode has been edited in order to make one competitor look like the sure-fire victor, the underdog is almost sure to pull out the upset win.

Within seconds of the fight starting, it was clear that everyone – especially Shayna – had underestimated Julianna, to her peril. You see, while Julianna looks like Eva Mendes, she fights like Wanderlei Silva and Shayna was obviously unprepared for the berserker style that Peña brought.

Baszler, as expected, dominated the opening round but as Peña turned up the aggression and pushed for a finish in round two, Baszler failed to raise her game too. Baszler, as the veteran, should have slowed the pace down and prevented Peña from dictating the action. Instead, Peña seized her moment and attacked with a ferocity and intensity that every contestant on The Ultimate Fighter – present and future – should take note of. After cracking Baszler with some heavy punches, she dominated the grappling savvy veteran on the mat and locked in the fight winning rear naked choke to scenes of jubilation from her team and stunned silence from Team Rousey. The upset win of gargantuan proportions served as a reminder of what makes The Ultimate Fighter such compelling television when all the pieces fall properly into place.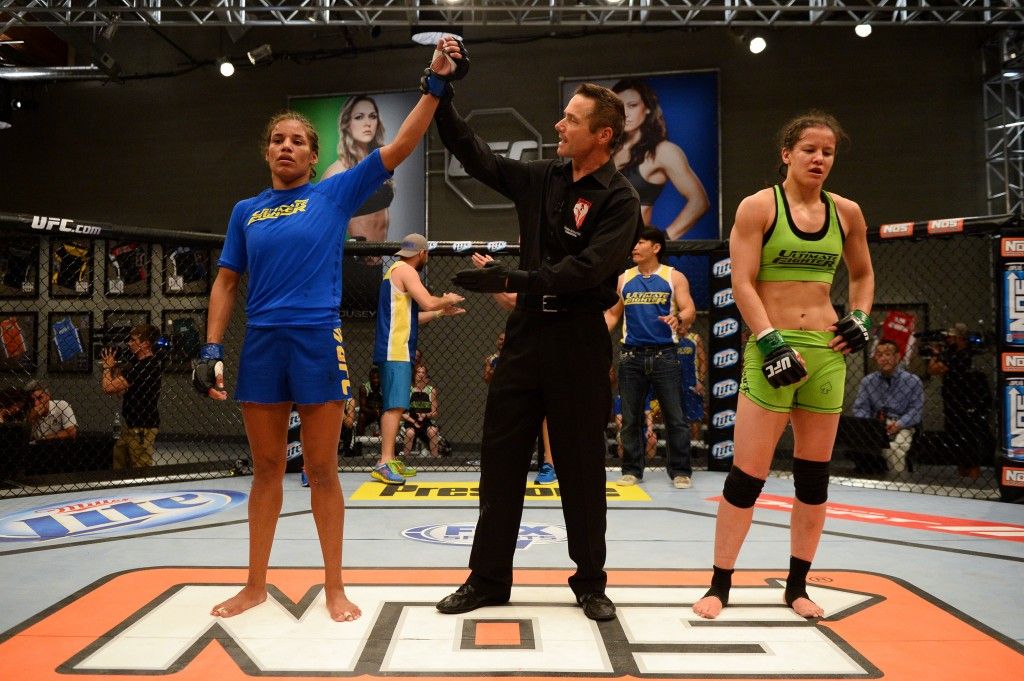 There are clearly two lines of thinking in response to this cracking second episode of The Ultimate Fighter. To some – perhaps those who are familiar with Baszler's extensive body of work and those who have the knowledge of how much of a trailblazer she is for women's Mixed Martial Arts – would have felt for such a talented competitor to lose in her shot at the big time, especially after "The Queen of Spades" had made clear her anger at being passed over when the UFC brought the women's bantamweight division to the Octagon. Others will feel that Baszler and Rousey, who both cockily saw Peña as a nobody who didn't deserve to share the cage with Shayna, both got their comeuppance in quite brutal fashion.

The elation of victory and the heart-warming moment of an underdog win was quickly offset with the image of a veteran's heartbreak and misery in defeat. This is an editing skill which The Ultimate Fighter has always excelled in and it was no different here.

Make no mistake, regardless of your opinion of either woman, Ronda and Shayna's post-fight talk was difficult to watch. A twelve year veteran and women's MMA pioneer devastated as her dreams fell through her fingers and a tearful world champion coach trying to console her, similarly crushed because she feels she's "failed" her charge? That's the kind of real emotion that an audience can invest in; the kind of raw realism that the X-Factor and countless other reality television shows wishes it could manufacture. If that single moment alone doesn't put across to an audience how important this season of TUF is for female fighters, then I don't know what else could.

I have no idea whether Ronda had her words prepared, whether it had been fed to her off camera or if she did indeed think it up in the moment, as the show would have us believe, but her speech to Baszler was perfectly judged.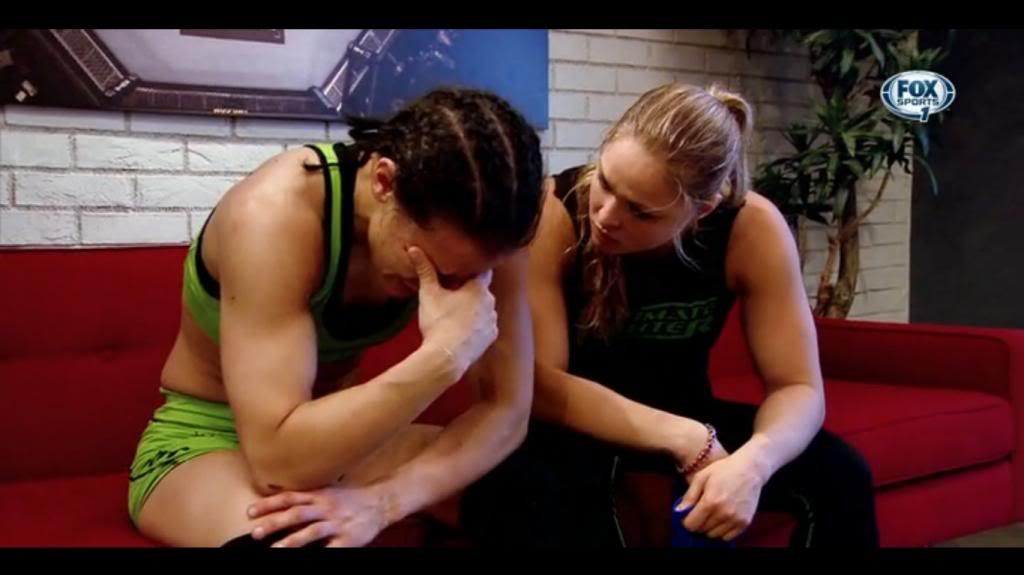 "What you would win from the show is not going to change your life. What you're gonna take away from the show is what's going to change your life. There are a lot of Ultimate Fighters before you that ended up doing nothing but there are a lot of people who were on the show that ended up being everything."



Some have chosen to read Ronda's emotional response to Baszler's loss as a spoilt brat not getting her own way and a sore loser who felt she and Shayna were entitled to an easy win. Ronda Rousey's stance following the bout could even be said to be hypocritical. After all, it was her who had chosen Peña as Baszler's opponent, with the intention of weakening Team Tate and instead that tactic backfired spectacularly and the reverse came to pass.

In some ways, her tearful anger seemed overblown and reactive, but that's who Ronda Rousey is; an emotional and intense competitor, who wears her heart on her sleeve. For me, I was taken aback by just how invested in the TUF process Rousey already is. For this writer, the reigning UFC champ's breakdown on camera demonstrated a burning competitive desire, which we already knew was present in Rousey, but also a surprising emotional bond with her team. Rousey may not have travelled the same road to the UFC as women like Baszler have, but she knows how important getting to the big show is, and she knows how much it means to each and every female 135lbs fighter. Ronda cares – maybe too much – and, for me, that's an endearing characteristic. I may well be in the minority from what I've read elsewhere in response to this episode, but I actually felt that this moment cast Rousey in a favourable light.

In fact, since the episode aired, Miesha Tate has been vocal in the media about how people are now seeing Rousey's "true colours" and noting that the "emotionally unstable" UFC women's champ is certainly no golden girl and some viewers already seem to be adopting this line of thinking. While this is perhaps unfair – as I noted last week, reality television can be edited to fit an agenda and viewers will read whatever they wish into certain moments, often based on their existing personal opinions of a person – the fact is that Rousey doesn't need to be an upstanding citizen. Consider this; boxing superstar Floyd Mayweather Jr. continues to reap the benefits of being positioned as an arrogant, loudmouthed, undefeated competitor. (And, on a side note, "Money" Mayweather is a great comparison for Rousey given their similarly jarring combination of self confidence within the ring and their clear insecurities outside it). Say what you will about Ronda Rousey's polarising personality (and people have and will), there is no denying that she is – as the term goes – absolute "money". If she needs to be emotional to fire herself up for a fight, then so be it. Lines like, "she's going to pay for every f***ing smile she smirks today" are the kind of soundbytes the UFC dreams of when promoting a fight. Ronda provided about three examples of these in this episode alone, and judging by next week's preview of an alcohol fuelled argument in the house between Rousey and Tate, there's plenty more where that came from.

Rousey's not-so-quiet final word to Tate said it all; "Just to let you know, you smiling at my girl's pain today, is one more reason why I'm going to f***ing destroy you again."

The heat just got turned up a notch.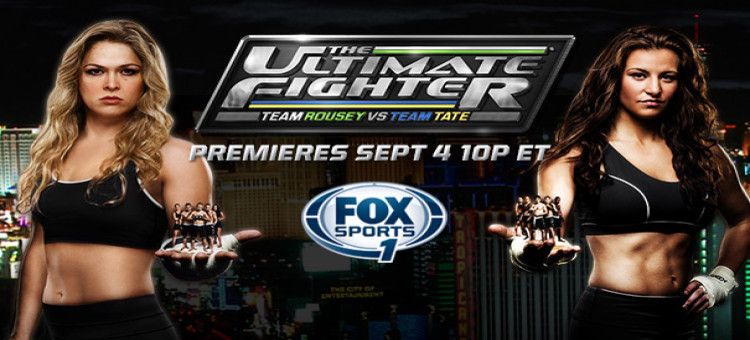 Elsewhere in TUF…
So next week it'll be Team Tate's Chris Holdsworth taking on Team Rousey's Chris Beale, with Tate noting that Beale was picked to fight due to him carrying a hand injury. All is fair in love and war, right? Or perhaps not; Ronda Rousey's measured response? "That's some p***y bulls***!" Training with the Diaz brothers has taught her well.


Rousey's one hundred percent certainty that Beale will defeat Holdsworth next week is a little disconcerting, considering how spectacularly that same confidence backfired in this week's fight.


With Tim Gorman's unfortunate injury (and credit to his desire to carry on competing – annoying or not, one cannot deny his heart or competitive spirit), Louis Fisette is back on the show. Fisette's return should have been no shock to those who saw Dana White's enthused response to his losing effort in last week's episode. He was welcomed back to the process with the quite brilliant graphic; "Louis Fisette. Team Tate. Lives With Parents."


So Tim Gorman is out of the competition and I'm sure those of you who had him marked out as the frontrunner for "Douche of the Season" award were disappointed. But, fear not, a new contender for the prize emerged early on in episode two, as Anthony Gutierrez proceeded to essentially proclaim how he was God's gift to women and his frequent flirting with the female fighters led him to the conclusion that they all wanted him.


Miesha Tate teaching armbar defence. Oh, the irony.


"I think Shayna's gonna win. But I'm hoping that Julianna just lays a beating on her so it's easier for us to win the thing." You've got to admire Sarah Moras' honesty.


I must admit that I was surprised to hear Shayna Bazler's "Queen of Spades" nickname comes from a sleight of hand card trick she performs. Since she's a Heavy Metal fan, I honestly thought that it was a play on the "Ace of Spades" by Motorhead.


I love that The Ultimate Fighter producers have had to compromise the "no contact with the outside world" rule for this season and allow a hairdresser into the house so that the girls can have their hair braided or cornrowed before their fights.


In this co-ed season, let's be glad that there have been no forced, awkward jokes about "ground and pound" or "rear naked chokes" yet. It's probably only a matter of time, though.


We should also mention that the coaches for The Ultimate Fighter season 19 were announced this week. Frankie Edgar and BJ Penn will take the helm and then complete their trilogy with a battle at featherweight. I like the decision; Frankie hasn't had an opportunity as an Ultimate Fighter coach yet and Penn was hugely entertaining during his stint on TUF 5 in 2007. I can't say I fancy BJ's chances in the fight itself though.


TEAM ROUSEY
Shayna Baszler
Jessamyn Duke
Peggy Morgan
Jessica Rakoczy
Chris Beal
David Grant
Anthony Gutierrez
Michael Wootten


TEAM TATE
Julianna Peña
Sarah Moras
Raquel Pennington
Roxanne Modaferri
Cody Bollinger
Chris Holdsworth
Josh Hill
Tim Gorman
Louis Fisette

And that's all for this week. I'll be back next Monday to review episode three of The Ultimate Fighter.

If you enjoy the column please do follow me on twitter at AlexWattMMA

Thanks for reading and if you have any comments or feedback please leave them below or message me on twitter. Cheers.
comments powered by