SPOTLIGHTS
The Greatest MMA News Column 09.17.13: Return of 'The Prodigy'
Posted by Dan Plunkett on 09.17.2013

News and thoughts on BJ Penn's latest return, Saturday's UFC 165, Mayweather, weekend results, Pettis vs. Grant on Fox, and more!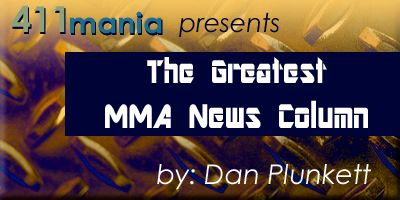 Penn Returns for Third Edgar Match



The old dog refuses go down.

Once a staple of pound-for-pound lists that had pundits in awe of his skill despite a perceived lack of dedication and at times significant weight disadvantages, BJ Penn has met an undefeated opponent: time.

The decline of Penn's powers came quickly after the peak. After a one-sided loss to Georges St-Pierre in January 2009, Penn returned in the best shape of his career and in turn delivered career best performances against Kenny Florian and Diego Sanchez before the close of the year. Feeling his focus on strength and conditioning was detrimental to his technique, Penn left behind his strength and conditioning coaches in the new year, and along with them went the Hawaiian's prime.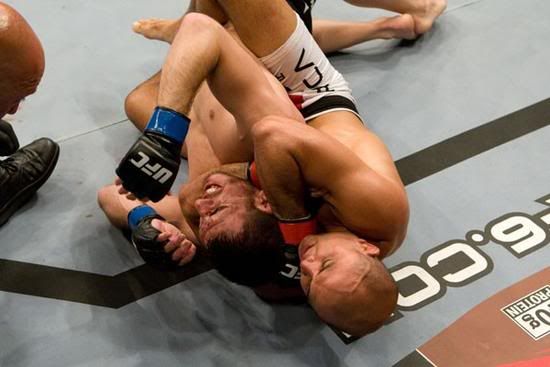 First he dropped a close decision to heavy underdog Frankie Edgar. Despite being noticeably softer compared to the Sanchez bout and at a speed disadvantage, many, if not most, felt Penn deserved the nod. A rematch was booked and Penn, who was quick to note going in how hard he was resting as opposed to training, was out-worked and dominated by Edgar.

A move up to welterweight initially proved successful with a quick knockout of Matt Hughes, and Penn even performed surprisingly well against then-perennial number-two Jon Fitch in his following fight. Penn won the opening round and the first half of the second stanza, but from that point on Fitch largely dominated the tired and smaller Penn. The bout resulted in a draw. Eight months later he was matched with Nick Diaz. After a solid opening round, Penn couldn't deal with the pace of his opponent and was battered with punches for the final two rounds – though he never did go down. The beating forced Penn to contemplate retirement, but thirteen months later he was back in the cage. Against the much larger and younger Rory MacDonald, he lost just about every minute of every round. Retirement seemed more certain than ever.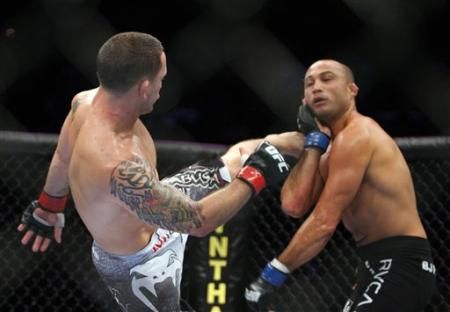 Nine months after just his latest one-sided defeat, Penn's return was announced. For good reason, it will not be at welterweight, where he scored his biggest career win nearly ten years ago but has since felt the reality of competing in a higher weight class. Nor will it be at lightweight, where he built his legacy as perhaps the finest fighter the division has ever seen. Instead, Penn, who has never shown any regard for weight class restrictions and competed against opponents weighing as much as 220-pounds, will drop to the 145-pound featherweight class for the first time in his career. His motivation doesn't seem to be chasing a would-be record of title wins in three different divisions, but rather an old foe he is determined to prove as his inferior.

Prior to Frankie Edgar, Penn had lost only once in the lightweight division – an early career decision loss to then-champion Jens Pulver. Until Edgar got in his way, Penn was this close to cementing his status as the top fighter the history of the lightweight division. It was Edgar who first made Penn look old and outmatched. Edgar delivered a one-sided loss that put Penn's title hopes out of reach for the foreseeable future and squeezed him out of the lightweight division.

In April of 2014, a 35-year-old Penn will look to reclaim some of the luster taken from his previously golden legacy by facing Edgar for a third time.

In many ways, the fight makes little sense. Penn should be retired. He hasn't been taking knockout losses like many former top fighters do towards the end of their career – he's never even been knocked down – but it's been years since he's left a cage without being bruised and badly beaten. Edgar, despite only recently breaking a stretch of three consecutive losses, is still a top fighter talented enough to beat or keep it close with any fighter at lightweight, featherweight, and probably bantamweight if he chose to go down there. He should be fighting top contenders like Cub Swanson.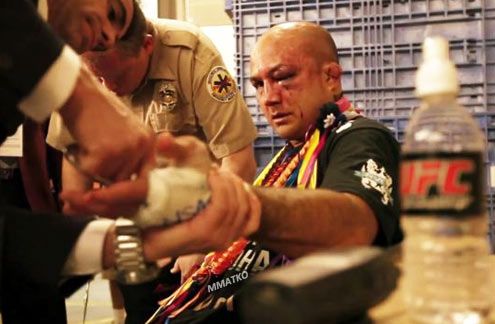 On the other hand, few stories have intrigued the MMA world over the years more than Penn's various attempts at reclaiming his spot as an elite fighter. As time goes by those attempts have become less and less successful, but it was his match with MacDonald that was looked forward to more than any other on a Fox card that featured a lightweight title bout headliner and light heavyweight legend in the co-main event. This is that same Penn redemption story with a key twist: the featherweight class.

Certainly, Penn has been fighting in the wrong weight class the past few years, but most would have assumed the lightweight division was a better answer than the featherweight division, considering his past success there. Will the extra ten pound cut force Penn to get himself into serious shape for the first time since 2009, or will it take too much of a toll on his body? At 35 and after more than a couple signs of aging, will either of those factors even matter?

There is a strong chance Penn is simply too long past his prime to compete with a prime Edgar and his speed edge, no matter what weight class. Odds are Penn, like so many pugilists before him, is chasing a glimmer of past glory that will fall out of reach and only move further away until it no longer exists. Many fighters only walk away long after that light of glory has long since gone away, further diminishing the legacy they were seeking to repair. Penn's legacy is largely set in stone: title wins in two different divisions, historic wins over some of the top fighters of his era, the first major star below 170-pounds, and a seeming unwillingness to believe weight could triumph over skill. Hopefully Penn hangs up the gloves before that legacy fades and his late-career struggles become more prominent.

---




NEWS!





UFC



UFC 165 is Saturday. UFC returns to Toronto for the fourth time on Saturday. Toronto started off as a super-hot market for them with 55,000 selling out their debut show at the Rogers Centre, but it cooled down significantly after a quick return and an initially lackluster card last time around (Jon Jones was added to the card after UFC 151 was cancelled). Really, they were only restricted by the building size and could have sold far more seats to the Rogers Centre show if the building was larger. Jon Jones headlines his third Toronto show against Alexander Gustafsson in the main event. I don't see Gustafsson as much of a threat to Jones, but I suppose it will be interesting to see Jones against a person of similar stature. In a weird note, UFC is promoting the match basically as two tall guys fighting, though height is statistically insignificant in fights. Reach is statistically significant, and Gustafsson's was about as long as Shogun Rua's and Brandon Vera's, neither of whom fared well against Jones. I say was, because the other day Gustafsson claimed his reach was actually 81.2", or about 5" longer than previously claimed. I guess UFC employees aren't skilled with tape measures.





The co-main event bout is flying completely under the radar. Renan Barao takes on Eddie Wineland for the interim bantamweight title and presumably the right to face Dominick Cruz in his return bout. Wineland is a good striker, but I don't think he's on Barao's level. Rounding out the main card are Brendan Schaub vs. Matt Mitrione, Costa Philippou vs. Francis Carmont, and Pat Healy vs. Khabib Nurmagomedov.

The show will likely be hurt coming just one week after the mega-show with Floyd Mayweather vs. Canelo Alvarez. Jones really shouldn't be pulling below 400,000 buys at this stage, but he may here because of the unusual circumstance of headlining a PPV just a week after what could feasibly turn out to be the biggest PPV of all-time. I don't think promotion for the show has been strong. The commercial didn't do much to convince me to buy the show. Jones should be promoted for his ridiculous talent, not for his size. I'm sure they could have gotten over Jones facing an opponent of similar size without "they have long arms and legs!" being essentially the sole selling point. I do like when they have Joe Rogan say Gustafsson is taller than Jones, only to show a picture of them face-to-face at an angle that makes Gustafsson appear slightly shorter than or just as tall as Jones.

UFC hopes to put big card on Fox December 14. UFC on Fox cards during football season will always out-rate non-football season cards (barring a major fight on a non-football season card), so UFC likes to stack the two cards during football season. December's card will be no different, with UFC hoping to book Anthony Pettis vs. TJ Grant for the lightweight title to headline. As I noted in this column immediately following Pettis' title win, I like the idea of his first title defense coming on Fox. Perhaps the Fox platform alone doesn't push a fighter towards becoming a PPV draw, but it ensures Pettis' name will be out there for a second consecutive fight. On PPV, Pettis vs. Grant doesn't do very well. On Fox on December 14, it would certainly find an audience. The only thing holding back the booking is Grant's concussion he suffered around early July. Grant would ideally like to take more time to recover from the head injury and return in early 2014, but he noted he would consider a December bout if approached by the UFC. It would really be a shame if Grant went into his biggest career opportunity anything but fully prepared, so if he wants to be cautious it's his right. There will very likely be another Fox show in January or February, so the fight could get pushed back there and it would be fine, but then there's the issue of finding a good main event for the December show.

The co-main event for the show is already signed. Urijah Faber will take on Michael McDonald, which is a very exciting matchup. McDonald looked excellent against Brad Pickett and a win against Faber should put him at the front of the line for a title shot. A win for Faber would be his fourth in a row, and he'd deserve a title shot at well, though there would probably still be stupid criticism of him getting handed title shots.

Quick news. Penn and Edgar will be coaching the next season of The Ultimate Fighter. I don't expect them to have a strong dynamic, but Penn is usually entertaining… UFC announced a seven city media tour between Sept. 23 and 30 with Chris Weidman and Anderson Silva. September 26 is an ESPN day, so look for them all over that channel that day. Tickets go on sale September 27 and are scaled below UFC 162, which is surprising. With the slightly lower prices and two major matches, the show should sellout, or at least be configured to a sellout… Shogun Rua vs. James Te Huna is signed for Dec. 7 in Australia… Pat Barry vs. Soa Palelei is slated for the same card… Ratings for The Ultimate Fighter jumped up to 870,000 for the second episode thanks to a major ad push during football. Thus far, the show has actually been very good.



Miscellaneous



Bellator 99 results. Patricio "Pitbull" Freire vs. Diego Nunes looked like a really good fight on paper, but Freire won with a quick knockout in the main event. He advances to the semifinals of the featherweight tournament with the win. Fabricio Guerreiro, Joe Taimanglo, and Justin Wilcox also advanced. Wilcox, a former Strikeforce lightweight, had a nice come-from-behind win in the second round. Vladimir Matyushenko won a decision over Houston Alexander in a terrible fight. The show did 660,000 viewers, which is pretty good.

WSOF 5 results. They did a really bad job of scheduling this opposite the Mayweather fight. A main card match between Elvis Mutapcic and Jesse Taylor (of TUF 7 fame) was scrapped when an NJSACB claimed to see Mutapcic consume unapproved prescription medication prior to the fight. That was scheduled to be a semi-final match in the middleweight title tournament. Kudos to WSOF for still paying both fighters. Andrei Arlovski beat Mike Kyle by decision in the main event. Many thought Kyle should have gotten the nod. Dave Branch advanced to the finals of the middleweight tournament, beating Danillo Villefort. Georgi Karakhanyan submitted Waylon Lowe with a guillotine in the first round. This show will be most remembered for Derrick Mehmen knocking out Rolles Gracie. Mehmen hit Gracie with a grazing punch and Gracie seemed to just turn his back and walk away. Gracie then collapsed in a Flairian display, giving Mehmen the knockout. The video of the full fight is below, with the knockout coming a few seconds after the eight minute mark.





Mayweather vs. Alvarez looks to have done huge business. As I'm sure you've heard, Floyd Mayweather routed Saul "Canelo" Alvarez to win a majority decision Saturday night. The show pulled in an astonishing gate of $20,003,150, which is the new high mark for combat sports. Closed circuit sales were 26,355 at $100 a pop. The pay-per-view has a legitimate shot of beating the record mark of 2,552,566 set by Mayweather's 2007 fight against Oscar De La Hoya. Due to an increase in the PPV price, Golden Boy estimates the fight would need only 1,982,000 buys to become the highest grossing PPV ever, depending on the split between HD and standard definition purchases. Early PPV numbers should be announced later in the week. The Mayweather-Alvarez match was put together after reportedly disappointing numbers for Mayweather's last bout against Robert Guerrero. When early reports indicated the show did under one million buys, Showtime fought back and noted sales would "definitely exceed one million buys." However, reports since then have estimated the show at 870,000 buys.

Quick news. Megumi Fujii, 39, perhaps the most accomplished female fighter of all-time, will rematch Jessica Aguilar in what is being billed as her retirement match. She's another fighter that's retired and come back a few times… The replay of Bellator 98 after TNA's Impact Wrestling drew 556,000 viewers, which is significantly more than the live show did... Jennifer Colomb will now face Cristiane "Cyborg" Justino in a Muay Thai match after Cyborg's original opponent, Martina Jindrova, withdrew with an injury. The fight takes place Friday night on AXS TV.

---
Thanks for reading; I hope you enjoyed it. Feel free to leave any feedback in the comment box or at the e-mail address below.
comments powered by