SPOTLIGHTS
411 MMA Fact or Fiction 09.18.13: Bellator's PPV Debut, UFC Cuts Neo-Nazi, More
Posted by Wyatt Beougher on 09.18.2013

Will Ben Askren escape Bellator and end up in the UFC? Is there pressure on Bellator's homegrown stars to deliver for their PPV debut? Was the UFC justified in cutting Benjamin Brinsa over alleged Neo-Nazi ties? 411's Robert Winfree and Alex Rella debate these topics and more!

Welcome one and all to another edition of 411's MMA Fact or Fiction. As you should expect by now, I'm your host, Wyatt Beougher, and we're back after a weekend chock full of smaller events. Last week, Jonathan Solomon and Evan Zivin faced off, and while I assumed it would be a close contest, I didn't expect it to be that close, as the result ended up as a draw. I'll mark this one down on my "rematch board" (disclaimer: it doesn't exist) and get these guys squared off again in the future. This week, we've got Robert Winfree stepping into the cage to take on reigning Fact or Fiction champion Alex Rella.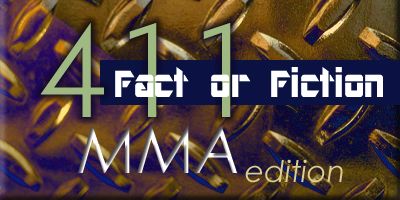 TALE OF THE TAPE

Red Corner
Robert Winfree
'The Last Rider'
Columnist, Locked in the Guillotine MMA News Report/Guest Host/Contributor, 411 Ground and Pound Radio Show
3-8-0

VS

Blue Corner
Alex Rella
'Cinder'
Columnist, The MMA Top 10
6-7-2

---

Did Matyushenko/Alexander put pressure on Bellator's young stars to deliver on their PPV debut?



1.) The fact that Bellator 99's most memorable fight was the Worst Fight of the Year candidate between Vladimir Matyushenko and Houston Alexander means that the pressure is on "homegrown" fighters like Pat Curran, Michael Chandler, and Eddie Alvarez to deliver on their PPV debut before the ex-UFC guys potentially stink things up in the main event.

Robert Winfree: FACT It's sad, but true that the most memorable fight came from Matyushenko and Alexander. Humans are multiple times more likely to talk about and remember something bad as opposed to something good, that's just something that's part of human nature at this point in time. It's sad also because there were a couple of other worthwhile talking points from the night, Justin Wilcox's come from behind victory over Akop Stepanyan, Rolles Gracie taking a simultaneous literal and figurative dive, Patricio Frerie knocking out Diego Nunes, and perhaps most overlooked the successful return to fighting of Blagoi Ivanov, you know who was stabbed in the heart and lung in February of last year. Alexander and Matyushenko were two names with some recognition because of their time in the UFC, putting them together seemed rather obvious, but there are maybe three fighters on the planet who I'd say can't have a bad fight and none of them are Alexander or Matyushenko. Does this put more pressure on "homegrown" fighters to perform at the upcoming PPV event? Possibly, though being featured on the first ever PPV for the company and defending titles will already have more than enough pressure on the fighters involved. As for Rampage and Tito, yeah that fight might very well suck, and the other Bellator guys will have to deliver to keep a good impression in people's minds if those two over the hill fighters do indeed suck the life out of the arena that night.

Alex Rella: FactOriginally I was going to say Fiction, but I changed my mind because Bellator is smart enough to at least know that they can't profit under a ppv model like the UFC's. Aside from the Attila Vegh nonsense, they've built up the ppv pretty much as best as they can. They've loaded it up with their best and most marketable fighters and running the occasional ppv in this format could bring in a decent amount of money into Bellator. In theory, Rampage-Tito in the main event should bring in some new casual fans or ones that haven't watched in awhile that want to watch two former greats finally fight. I think the fight should be ok as both will be looking to strike and they have above average chins. But regardless, the future of Bellator does rely on these other guys. Even if the Matyushenko/Alexander didn't suck it up, there was always pressure on any homegrown fighter competing on the ppv. While the legends get people in the door with their nostalgia, the younger guys need to keep them intrigued enough with their high level fighting that the fans tune in next week or even buy the next ppv. Especially if the main event does suck, these top guys need to show everyone that Bellator can create credible fighters on their own. Though all these guys need to do is keep doing what they've done so far in the company.

And as awful as Janitor vs Alexander was, I thought the most memorable fight was Justin Wilcox's Bellator debut.

---

Will BAMMA ever break into the US collective consciousness?



2.) In spite of putting on a good card overall that featured four (FOUR!) title fights, BAMMA will probably never catch on with the mainstream US fans.

Alex Rella: FACT BAMMA has carved out a nice place for themselves in the MMA world, but it's unlikely that they'll ever catch on in the US. I think I watch MMA more than most fans and I honestly don't know how to watch BAMMA live here in the US. I've watched fights after they've aired on Youtube or I've watched it on some sketchier websites. Now BAMMA consistently puts on good shows with the occasional older MMA veteran, but mostly with younger European prospects. They'll continue to put on solid shows that draw fairly well, but they won't gain traction in the US. Unfortunately for them, the UFC will continue to take their best fighters like Tom Watson and Gunnar Nelson which hurts their ability to hold onto real stars. A lot of US fans probably don't even know BAMMA exists. It also doesn't help that there are so many free televised MMA shows today. Between the UFC, TUF episodes, Bellator, and WSOF, MMA fans rarely go a week without having something to watch so they are less likely to go out of their way to watch fighters they aren't familiar with. BAMMA is unlikely to catch on with mainstream US fans, but I don't think they need to in order to be successful either.

Robert Winfree: FACT This speaks more to the market share that the UFC owns than anything else, because BAMMA has put on some good shows and their last outing was as good as anything they've done in my memory. The issue is that the casual mainstream US fans aren't necessarily fans of MMA, they're fans of the UFC and there is an important distinction there. Plus, as purely a technicality, determining just how mainstream MMA or the UFC is right now is highly debatable in and of itself. I like BAMMA and try to watch their events if possible, but I write for a website, contribute to podcasts, and do several other things associated with MMA in general. The general, casual, audience that the UFC has is unaware of other promotions, much less promotions from other countries. Bigger sports, at least in America, like American football don't draw well in the USA when they're hosted elsewhere, there's a Canadian football league and a European football league that don't have any circulation withing the states and American Football is easily the biggest sport there is as far as the States are concerned. A moderately popular sport like MMA, being broadcast from overseas, generally no matter how good the events are just aren't going to catch that much attention stateside. It sucks, but that remains the current landscape.

---

Is Elvis going to come out of this with a tidy sum of money?



3.) If Elvis Mutapcic's emergency room drug test (taken during the course of the WSOF show on Saturday night) proves that the fighter did not take any prescription medication and that his fight should not have been cancelled by the NJSAC, then his lawsuit against the NJSAC not only has merit, but should see him win both compensatory and punitive awards.

Robert Winfree: FICTION I feel for the guy, but if an athletic commission has a reasonable suspicion that something fishy is going on they should err on the side of caution and cancel a fight. If the test proves he didn't take any medication then he should absolutely be compensated, at the very least his show money and probably more because sponsors don't pay if you don't appear to fight. But really, we talk all the time about fighter safety, and that goes beyond the actual fights, if a fighter takes medication that either gives him an unfair advantage or puts him in an impaired state of mind or being, they have no business being in the cage and it is the responsibility of the athletic commission to make sure that fighters are protected. If he didn't take any then yes, he should be compensated because there was an error made, but that's far better than putting a fighter into the cage with diminished capacity or an increased pain tolerance.

Alex Rella: FICTION First off in a legal point of view, Mutapcic isn't getting anything. He won't get compensatory damages because he didn't actually lose any money missing the fight, the WSOF paid him and Jesse Taylor their purse for the show anyway. Punitive damages would also be impossible in this situation. The only way Mutapcic could win if he could prove there was actual intent by the NJSAC member to cause harm to him, which there wasn't.

There are fighters that don't win their cases against athletic commissions that have actually done nothing wrong, Mutapcic was dumb. He took unmarked pills before his fight which is against the rules. It was most likely just aspirin or vitamins, but they couldn't take that risk. It could have been pain killers or something else that could have given him an unfair edge over Taylor. There is the possibility that he didn't take any pills too, but even then he is unlikely to win his lawsuit.

---

Is the UFC going to get "Funky"?



4.) Ben Askren will actually escape Bellator's clutches and sign a contract with the UFC.

Alex Rella: FICTION I'm going with fiction on this one even though I could see it going either way. The UFC went out of their way to sign guys like Hector Lombard and Eddie Alvarez, because they were as exciting as they were dominant. Dana White was vocal about how he wanted them in the UFC. He doesn't really care about Ben Askren. Askren has finished two guys in a row, but he doesn't have the best record in the excitement department. White has openly said he doesn't like one dimensional fighters and I just don't see him offering a lot of money. Rebney has the right to counter any offer the UFC makes and he's likely to try and keep him as he is one of the best welterweights in the world and one of their better draws. The only way I see Askren going to the UFC is if White just decides to screw over Rebney and offer Askren a large amount of money they can't match just out of spite.

Robert Winfree: FACT The key to this one came out last week when Bjorn Rebney called Ben Askren "Shockingly one dimensional". Promoters, no matter the sport or event, always twist things to look good on themselves. Dana White spent years ignoring or trying to undermine the credibility of the best fighters from PRIDE because talking about them didn't make him any money, once he could make money off of them he sang their praises. Rebney has been very complimentary of Askren until he feels he can't benefit from him anymore, at which point he'll point out his flaws and likely make up a few as well because that's what promoters do. The UFC is the logical place for Askren to sign with, Bellator is bigger than WSOF so that would be a step backwards as would Legacy FC. I don't think Askren will be terribly successful in the UFC, but that's where he'll end up unless something big happens during his contract negotiations with one or both parties.

---

He's at least guilty of having bad taste in tattoos...



5.) If no substantive ties can be found linking Benjamin Brinsa with neo-Nazi activity in his native Germany, the UFC had no real reason to cut him.

Robert Winfree: FACT not that they really need a reason. The UFC can cut anyone at anytime, they've deliberately structured the contracts their fighters sign so that they can do that, much the way WWE structures the contracts their wrestlers sign. It allows them to cut their losses quickly if necessary, or carry on underpaying a fighter because he already has a contract. That's really just the way businesses like that work. That said, MMA and the UFC can still be portrayed in a very negative light, and a neo-Nazi fighter would only reinforce a bunch of the negative stigmas that in many ways are still associated with the sport and the UFC. Having a bald headed profanity spewing President doesn't help either, but I digress. The UFC didn't have much of a reason to release Brinsa, but they've been very careful to structure their contracts and selective in their hiring choices so they have minimal risk of exposure when it comes to a fighter or fighters with colorful pasts.

Alex Rella: FICTION I really hope Benjamin Brinsa can clear his name if he's innocent and come back to a top organization, but the UFC couldn't take that risk. The UFC has been looking to expand into Germany and they can use some of their top fighters, but having a fighter with Neo Nazi ties would kill these hopes. Those types of views are actually illegal there. It also hurts them as they try to become more mainstream and move into other new markets. It's hard enough to try and make MMA legal in NY, imagine if it got out that they knowingly had a Neo Nazi on the roster. The UFC was definitely justified in cutting him.

---


Who do you think won this week? Did Winfree usurp the champion, or did Rella demonstrate his championship form? Voting will be open until midnight EST on Saturday, so make sure you vote and make your voice heard!




---

Will fantasy MMA ever be a thing?



Bonus) Due to the fact that MMA doesn't follow a true season and it may be several months between an individual fighter's fights, there is very little chance that fantasy MMA will ever be as popular as its mainstream counterparts, regardless of the popularity of the sport itself.

Alex Rella: FICTION There could be other ways of doing it even though they don't have set seasons. It could be a year or a set number of months. You can do a draft or auction for like thirty or forty fighters and you can win points on how much win and bonus points for finishes and stuff like that. Or it could just be one where you pick who wins at every show. I've actually thought about this before and I wish I knew enough to get a league started.

Robert Winfree: FACT I don't personally play fantasy sports, I don't get the attraction and I'm not much of a sports fan in general. I use American football games, or European football games (read: Soccer) to help me sleep. I have nothing against those or any other sport necessarily, I'm just not a fan. That said, fantasy sports revolve around creating your own team out of a pool of players who are generally highly regarded from different teams. MMA is an individual sport. Boxing has been around much longer than MMA and there's no fantasy boxing that's popular, and wouldn't be despite the popularity of the sport itself. By the same token there's no fantasy tennis, fantasy wrestling, fantasy fencing, etc. if you're trying to make a fantasy sport it pretty much has to be a team sport at this point, individual sports don't make for great fantasy drafts or lend themselves to creating "teams". That being said, if the 411 MMA staff ever want to try and hash out some kind of fantasy system I'll be happy to try and help out. But the prospect of doing something like that is daunting, and even then it would just be us, fantasy sporting is focused around team sports right now, not individual sports and it will likely be that way for quite some time.

---


And that's it for this week! As always, if there's anything you'd like to see featured in a future edition, leave your statement in the comments and I'll add it in. Let us know what you thought in the comments, on Twitter, or on Google+.
comments powered by