SPOTLIGHTS
The Juggernaut MMA News Report 09.19.13: UFC 165 - The Looming Upset?
Posted by Jonathan Solomon on 09.19.2013

Both Jon Jones and Renan Barao are facing potential upsets this weekend at UFC 165! 411's Jonathan Solomon takes a look at whether either of them will leave Canada without their titles! Plus news on Anthony Pettis' first title defense and more!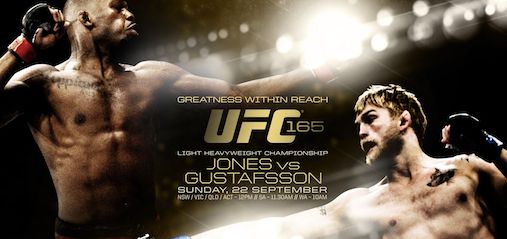 UFC 165: The Looming Upset?



Jon "Bones" Jones is arguably the most dominant champion in mixed martial arts today; has never been in danger of losing a fight; has viciously broken and choked out opponents and everything else you can imagine of a top fighter. So, is he finally walking into his final defense as UFC light heavyweight champion this weekend in Toronto? Can Alexander Gustafsson the man to make that a fact?

The 6'5" Swedish 26-year-old who goes by the nickname "The Mauler," Gustafsson has only one win over anyone you may consider a top ten light heavyweight. He bested Shogun Rua in December by unanimous decision, but whether you consider the legend up to that standard today is a realistic debate. In any event, the marketing push behind Saturday's main event is literally built around Alexander's height and reach (81.5"). It's not about him possessing elite knockout power or a killer submission game or any one crazily dangerous skill set, as a matter of fact.

Gustafsson does have strong technical skill as a boxer and he typically takes full advantage of that reach to frustrate opponents and wear them down. This happened in the war with Shogun last year, but as is the case when everyone steps in the cage with Jones, everything you expect can go out the window. Why? Bones is such a unique fighter when combining his own striking style with his wrestling. He absolutely crushed Matt Hamill, broke Brandon Vera's face and obliterated Quinton "Rampage" Jackson, Lyoto Machida and rendered Rashad Evans and Chael Sonnen ineffective, to put it politely.

If Jones will struggle Saturday, it's only happening if "The Mauler" is able to keep continuous pressure on him while staying off the ground. Take away wrestling, make it a boxing match or even a fight in the clinch and there's no reason to believe the European cannot hurt the champion. Those are some significant classifications to make, but that's how these fights go. Otherwise, whether it's at his own volition or at the first sign of trouble, Bones secures a double-leg or a low-single (or whatever he wants) and wins by devastating TKO with elbows or chokes out Gustafsson as Phil Davis did three years back (which remains his only defeat).

Of course, if the octagon mat acts like a fool again, perhaps Jon Jones isn't so lucky this time and loses because it bites off his toe.





Renan Barao may not have a 10" reach advantage over his opponents or freakish power, but at bantamweight, none of that really matters. What does, is the fact that Renan Barao has literally been unbeatable since his second professional fight over eight years ago.

Since he came to the attention of U.S. MMA in WEC, he's run over every challenger including Chris Cariaso, Brad Pickett, Scott Jorgensen and then some. We saw him hand Urijah Faber a loss after five rounds of action and we last saw him choke out Michael McDonald in February. He's a technically sound fighter out of Nova Uniao with a lethal grappling attack (evidenced by his 14 submission wins, nearly half of his 30 overall). I'm not the man's agent, but he's damn good.

Saturday, he will defend the interim bantamweight title for the second time. Staring him in the face is a potential unification bout with champion Dominick Cruz (if Cruz is able to return within the first quarter of 2014), but is it that easy to overlook his challenger at UFC 165?

Eddie Wineland is effectively a journeyman fighter. He's 29-years-old, has been fighting professionally for over a decade and has been champion at two occasions in that career, but has never been considered the top 135-pounder in the world. At 20-8-1 overall, the Texan boasts half of his wins by knockout and we saw a sample of that in June when he finished Scott Jorgensen.

The trouble I have seeing him stand against Barao, as I do with Gustafsson/Jones, he's going to have to be at his most optimum in the cage this weekend. He cannot sit back and point fight his way to a championship. Dictating the pace of the fight, forcing Barao into his action is how he would win. With 25-minutes available to them for fighting, that's easier said than done. He can just as simply find himself on the ground and at the mercy of the Brazilian whose jiu-jitsu typically closes fights like Mariano Rivera closed baseball games for forever.







---




- In an absolutely incredible (no hyperbole here) match-up, made official yesterday, welterweights Carlos Condit and Matt Brown will lock horns on Fox in December (more on that show below). Condit bounced back from consecutive losses to defeat Martin Kampmann this summer. Meanwhile, Brown is on a six-fight WINNING streak and now he's matched against arguably the third best 170-pounder in the world. A win for Brown almost requires him receiving the next title fight (unless Hendricks should beat Georges St. Pierre in November, naturally).

- The fight above is not the only mind bending announcement relating to UFC on Fox on December 14: Anthony Pettis main events in his first title defense against Josh Thomson. "The Punk" acts as a substitute for T.J. Grant who was unable to take the fight because he has not fully healed from a head injury (that forced him from competing in August). Thomson is fresh off his impressive finishing win against Nate Diaz in the spring and is the natural choice because of it.

So, yes. Because of the two fights mentioned above, the next Fox show can only be incredible.

- Heavyweights have been added to the UFC's year-ending show on December 28. Josh Barnett will take on Travis Browne at UFC 168 in Las Vegas. Barnett finished Frank Mir while Browne knocked out Alistair Overeem, both happening last month.

- As mentioned here some weeks back and now official, Scott Jorgensen has dropped to flyweight and debuts at UFC on Fox 9 on December 14 against Ian McCall. Jorgensen has been a bantamweight contender and is 1-3 since 2012. He was last seen being choked out by Urijah Faber in April and will meet "Uncle Creepy" who is 1-2-1 since debuting in the UFC. McCall defeated Iliarde Santos last month in a 'fight of the night' performance.

- A pair of featherweight fights have been confirmed for later this year: Chad Mendes will fight Nik Lentz on December 14 while Steven Siler challenges Dennis Bermudez at UFC Fight for the Troops 3 in November.

- Confirmed late yesterday is the main event of the TUF 18 Finale on November 30. After two contracts are decided in wake of the reality competition, one for the men and the other for the women competitors, the night will end with a UFC flyweight championship bout. Champ Demetrious Johnson will have a rematch with Joseph Benavidez more than one year since they last fought. Since then, the Alpha Male fighter has won three consecutive bouts while Johnson has beaten John Dodson and John Moraga.









TWITTER

http://www.twitter.com/411mania
http://www.twitter.com/411wrestling
http://www.twitter.com/411moviestv
http://www.twitter.com/411music
http://www.twitter.com/411games
http://www.twitter.com/411mma






comments powered by