SPOTLIGHTS
411's MMA Roundtable Preview - UFC 165: Jones vs. Gustafsson
Posted by Dan Plunkett on 09.20.2013

Jon Jones defends the light heavyweight title against Alexander Gustafsson in the main event of UFC 165! Plus the interim bantamweight title is on the line as Renan Barao fights Eddie Wineland and more! Check out the full roundtable for all the details and join 411 for LIVE coverage of the event Saturday night!




WELCOME:
Jon Jones looks to make his sixth successful title defense against Alexander Gustafsson in the main event of UFC 165! In the co-main event, Renan Barao defends the interim bantamweight title against Eddie Wineland. At heavyweight, Brendan Schaub and Matt Mitrione battle. Plus, Pat Healy faces Khabib Nurmagomedov, Costa Philippou vs. Francis Carmont, and more!

THE STAFF:


From MMA's 3R's, Jeffrey Harris!


He's 411's resident interviewer, Jon Butterfield!


He's the new guy from What's Next, Robert Practor!


From Five Quick Rounds, Evan Zivin!


From The 411 MMA Top 10, Alex Rella!


From Occupy the Throne, Jeremy Lambert!


From the Locked in the Guillotine MMA News Report, Robert Winfree!


From Forgotten Fights, Paul Lapointe!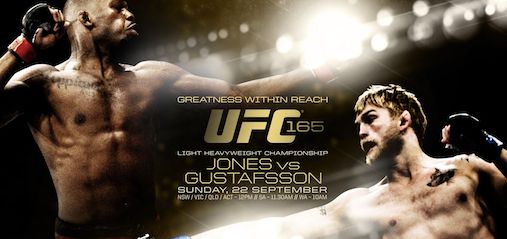 THE PRELIMINARY CARD:




First four prelims to air on YouTube, rest on Fox Sports 1.




Heavyweight Bout: Nandor Guelmino vs. Daniel Omielanczuk



Jeffrey Harris: Nandor Guelmino, Decision
Jon Butterfield: Nandor Guelmino, M-1-worthy Decision
Robert Practor: Daniel Omielanczuk, Submission, Round 2
Evan Zivin: Daniel Omielanczuk, Submission, Round 1
Alex Rella: Nandor Guelmino, Decision
Jeremy Lambert: Omeilanczuk, Submission, Round 0
Robert Winfree: Nandor Guelmino, Decision
Paul Lapointe: Danny Boy, Submission, RD1
The staff picks a draw, 4-4.


Bantamweight Bout: Roland Delorme vs. Alex Caceres



Jeffrey Harris: Roland Delorme, Submission, Round 2
Jon Butterfield: Roland Delorme, CFC-worthy Decision
Robert Practor: Roland Delorme, Decision
Evan Zivin: Roland Delorme, Decision
Alex Rella: Roland Delorme, Submission, Round 1
Jeremy Lambert: Delorme, Submission, Round 2
Robert Winfree: Alex Caceres, Decision
Paul Lapointe: Delorme, Decision, RD3
The staff picks Roland Delorme, 7-1.



Lightweight Bout: Jesse Ronson vs. Michel Prazeres



Jeffrey Harris: Jesse Ronson, Decision
Jon Butterfield: Michel Prazeres, Jungle Fight-worthy Decision
Robert Practor: Michael Prazeres, Decision
Evan Zivin: Jesse Ronson, TKO, Round 3
Alex Rella: Jesse Ronson, Decision
Jeremy Lambert: Ronson, Decision
Robert Winfree: Michel Prazeres, Decision
Paul Lapointe: Ronson, Decision, RD3
The staff picks Jesse Ronson, 5-3.



Note: I forgot to add this fight, so most didn't pick. –Plunkett




Lightweight Bout: John Makdessi vs. Renee Forte



Evan Zivin: John Makdessi, TKO, Round 2
Alex Rella: John Makdessi, Decision
Paul Lapointe: Mack Daddy ,Decision, RD3
The staff picks John Makdessi, 3-0.



Bantamweight Bout: Mitch Gagnon vs. Dustin Kimura



Jeffrey Harris: Dustin Kimura, Submission, Round 2
Jon Butterfield: Dustin Kimura, Submission, Round Three
Robert Practor: Dustin Kimura, Submission, Round 3
Evan Zivin: Dustin Kimura, Decision
Alex Rella: Dustin Kimura, Submission, Round 2
Jeremy Lambert: Kimura, Submission, Round 3
Robert Winfree: Dustin Kimura, Submission, Round 2
Paul Lapointe: Armbar (Kimura), Submission (Armbar), RD3
The staff picks Dustin Kimura, 8-0.



Welterweight Bout: Chris Clements vs. Stephen Thompson



Jeffrey Harris: Stephen Thompson, Decision
Jon Butterfield: Stephen Thompson, IFL-worthy Decision
Robert Practor: Stephen Thompson, Decision
Evan Zivin: Stephen Thompson, TKO, Round 3
Alex Rella: Stephen Thompson, Decision
Jeremy Lambert: Thompson, Decision
Robert Winfree: Stephen Thompson, TKO Round 2
Paul Lapointe: Wonderboy, (Safe) Decision, RD3
The staff picks Stephen Thompson, 8-0.



Bantamweight Bout: Ivan Menjivar vs. Wilson Reis



Jeffrey Harris: Ivan Menjivar, Decision
Jon Butterfield: Ivan Menjivar, Decision
Robert Practor: Ivan Menjivar, Submission, Round 1
Evan Zivin: Ivan Menjivar, Decision
Alex Rella: Ivan Menjivar, Decision
Jeremy Lambert: Menjivar, TKO, Round 2
Robert Winfree: Ivan Menjivar, Decision
Paul Lapointe: Reis , Decision, RD3
The staff picks Ivan Menjivar, 7-1.



Lightweight Bout: Mike Ricci vs. Myles Jury



Jeffrey Harris: Myles Jury, Decision
Jon Butterfield: Myles Jury, Decision
Robert Practor: Myles Jury, Decision
Evan Zivin: Myles Jury, Decision
Alex Rella: Myles Jury, Decision
Jeremy Lambert: Jury, Decision
Robert Winfree: Myles Jury, Decision
Paul Lapointe:Jury (And Executioner),KO, RD2
The staff picks Myles Jury, 8-0.

---




THE MAIN CARD:




Lightweight Bout: Pat Healy vs. Khabib Nurmagomedov



Jeffrey Harris: Pat Healy gets a shot at redemption after he pissed away the biggest win of his career and smoked a joint that cost him $130,000. He's got a tough fight ahead of him though in the rising prospect that is Khabib Nurmagomedov. Nurmagomedov has looked really impressive so far, and his takedowns and throws are nasty and have played the equalizer in many of his fights. Healy hasn't lost in over three years, and that loss is to former Strikeforce lightweight champion and soon to be UFC title contender, Josh Thomson. I see this is a good test for Nurmagomedov and an equally tough challenge for Healy. I'm predicting Nurmagomedov to dominate this one and use his takedowns and throws to secure another victory.

Winner: Khabib Nurmagomedov, Decision

Jon Butterfield: Without delving too deeply into the merits (or lack thereof) of smoking marijuana prior to a fight, I'm seeing little reason to deduct Healy any performance points (if such things existed) ahead of this, his second UFC bout. Yes, the first win of his UFC career was scratched from Healy's record, but in dominating Jim Miller, Healy showed just how dangerous he really is in spite of the 16 career defeats blighting his record (all but one of which came at 170 lbs). His size, his tenacity, his sheer wrestling and grappling ability all make him a fearsome opponent – but it's Healy's absolute relentlessness, durability and cardio that have seen him wear down even the most conditioned opponents. Few fighters can cut the kind of weight Healy cuts and still come in in stellar shape, but that's the prospect that faces unbeaten Russian starlet Khabib Nurmagomedov at UFC 165.

Khabib is now 4-0 in the UFC, having dismantled Kamal Shalorus, Thiago Tavares, Gleison Tibau and Abel Trujillo back-to-back. In that run, Khabib has exhibited extremely slick grappling, brilliant pressure-wrestling, a plethora of takedowns and suplexes, and has looked like the most legitimate prospect in the 155 lb division – yet none of his wins amount to beating a man of Jim Miller's unquestionable ability. If Khabib vs Miller isn't a mouthwatering prospect I don't know what is, but should Khabib overcome Healy, then Miller will likely be playing catch-up throughout the rest of 2013 and deep into 2014 – but I don't think Khabib will get it done.

Nurmagomedov is a top drawer fighter, and his sublime skills are not to be underestimated, nor is his sheer physicality that he's used in overcoming seasoned Brazilian veterans like Taveres and Tibau – but let's not pretend either of those men would be fancied against Healy either. The fact that Khabib is the favourite going into this bout is all about who's the more fashionable fighter, in my eyes – Healy isn't fashionable, he isn't always the prettiest fighter, he doesn't have the best record, but what he does have is this irresistible drive and determination that make him one of the most difficult opponents to face in the game today. Yes, Josh Thomson beat him in Strikeforce, and yes, Khabib is probably as gifted as Thomson – but we haven't seen Khabib pressured like Healy is going to pressure him, and that swings the balance in Healy's favour. If Khabib can win, then who knows where his ceiling is, but Healy is nothing like Khabib's previous opponents, and that includes the only other weight-cutting bully he's faced, Gleison Tibau.

Winner: Pat Healy, Decision

Robert Practor: Pat Healy looked great in his first UFC fight after the folding of Strikeforce. His bout with Jim Miller was a ton of fun. I'm sure Healy was elated with his double win bonus but all the fun stopped (unless your name is Bryan Caraway) when that drug test came back. Healy has said all the right things since that setback but the UFC has now matched him up against rising star, Mr. 20 and 0, Khabib Nurmagomedov. Both fighters are strong in a lot of areas and if this fight goes to the ground or stays on the feet, I see it being a real fun fight. Nurmagomedov has a nice mixture of wins by TKO and Submission and I see him winning this fight, shooting him higher up the Lightweight ranks, but I'm not sure he'll be able to finish Healy here.

Winner: Khabib Nurmagomedov, Decision

Evan Zivin: Oh man. What a way to start the main card. You have Pat Healy, who has gone undefeated since 2011 (unless you count a loss to marijuana back in April), versus The Khabib, who is undefeated period. The dude is 20-0. That is insane, especially at such a high level. Khabib has been successful due to his powerful takedowns and wrestling. He used them to success against tough opponents like Gleison Tibau and Thiago Tavares but I don't know if he'll be able to bully Pat Healy so easily. The guy has a 29-16 record, but he has improved remarkably over the last few years. His last loss was a fight against Josh Thomson that he was winning before Thomson choked him out. The dude is tough and a deceptively strong striker and grappler. If Healy comes in as aggressive as he did against Jim Miller, he should have no problem executing his gameplan and being the one to end the greatest undefeated streak by a man who comes to the cage wearing a blonde afro ever. Sorry, Ben Askren.

Winner: Pat Healy, Decision

Alex Rella: So one of the dumbest men in MMA returns to take on one of the quickest rising prospects in the sport. Pat Healy would be on a seven fight winning streak had he not smoked a 130 grand dollar joint, but he's still a top lightweight within reach of a title shot. Healy is very well rounded, but he takes on the undefeated Khabib Nurmagomedov. He got a questionable win over Gleison Tibau, but he's wrecked everybody else including his record 21 takedowns in his last fight. I wouldn't be surprised if Healy won, but I give the edge to the sambo champion.

Winner: Nurmagomedov

Jeremy Lambert: I'm pretty excited for this fight. Nurmagomedov gets a big test and Healy has a chance to continue to make waves in the UFC. Healy is an extremely tough competition who doesn't do anything great, but does everything well. He was very impressive against Jim Miller and shocked a lot of people with his performance and victory. Healy likes to make things dirty, so I expect him to get inside and use some dirty boxing. Nurmagomedov should have a speed advantage so he'll need to use that speed to keep Healy away. Healy is good on the ground, but his takedown defense is questionable and Nurmagomedov should be able to get him to the ground. Both guys are good in the scrambles but Nurmagomedov should have a slight advantage and if he's on top, Healy will be in a lot of trouble. Healy has outstanding cardio and is tough to finish, but Nurmagomedov is the better fighter and should win a close and competitive decision.

Winner: Nurmagomedov, Decision

Robert Winfree: More than any other fight on this card I've gone back and forth on how I see this fight going. Pat Healy will be coming in to prove his worth, especially after his boneheaded decisions around the time of his last fight with Jim Miller, and he's consistently proven that he's one of the better lightweight fighters in the world. His grappling is just smothering, crushing, and he's not afraid to go for a submission if you give him half a chance, that's a proven mix that leads to success in MMA. Across from him is someone that could very well be a future lightweight champion, Khabib Nurmagomedov is unbeaten in his twenty professional fights and seems to have almost no weakness. Khabib is good anywhere, clinching, grappling, striking, he's got a chance to beat you anywhere. If Khabib isn't ready to defend the takedown and isn't prepared to use his clinch game against the fence he could very well lose this fight, Healy is just that good if he gets into a good position. That said, I think Khabib is going to be better in the clinch, and that's where most of Healy's takedowns come from, and striking Khabib is much better than Healy. I think Khabib takes this one, but Healy winning wouldn't shock me at all.

Winner: Khabib Nurmagomedov, Decision

Paul Lapointe: Ah man,do I really have to pick one in this fight? I like both these guys, especially Russian Fro doctor after he took Abel Trujillo down like 24 times in one fight like a rag doll. And Pats last fight was killer fun against a game Jim Miller but puff the magic dragon showed up and poof! went the 100,000 dollars and potential title shot, one maybe given to him instead of Josh Thomson. But I digress as this guys will throw down, for 3 rounds back and forth as Jim Ross would say, Slobberknocker style and somebody is getting a check, FOTN all over this one. Healy is a gamer though and is the toughest test at this time for Khabib, and I think he has that last minute warrior mentality to stifle the Russian in the fading minutes (s) of the end frame and steals a victory with a 29 on the cards. He is a gritty SOB, it was a good run Khabib but ill still be there to support ya.

Winner: Healy, Three Rd. War of Attrition, RD3 (4-5 please?)

The staff picks Khabib Nurmagomedov, 5-3.

---




Middleweight Bout: Costa Philippou vs. Francis Carmont



Jeffrey Harris: An interesting, overlooked fight. Philippou is a very underrated fighter. He's quietly put together a five fight winning streak and he's now #7 in the UFC middleweight rankings. Carmont is 5-0 in the UFC and he hasn't lost since 2008. However a couple of his recent wins with Lorenz Larkin and Tom Lawlor were close squeakers that he arguably could've lost. Philippou has really good boxing and has demonstrated some incredibly impressive takedown defense especially against able grapplers. I think Philippou wins this one and dominates the fight standing up to secure another win.

Winner: Costa Philippou, Decision

Jon Butterfield: Francis Carmont is undoubtedly a talented fighter whose stand up skills have improved fight after fight. Known more for his grappling and wrestling credentials, this Tristar Gym product (and training partner of a certain GSP) has proved too much for Magnus Cedenblad, Karlos Vemola, Tom Lawlor and Lorenz Larkin – and it's likely that most fight fans have picked against him in the majority of those bouts. Still, Carmont is about to face a fighter whose strongest assets are his takedown defence and his boxing. Philippou's takedown defence isn't the most technical, and we've seen him fall to unbalancing single legs before, but shooting head-on is a no-no given Philippou's balance and natural power. Carmont is likely to come in with a solid gameplan, and will look for opportunistic takedown opportunities, but he won't forsake his own striking, which is certainly serviceable – but Philippou will be wary of becoming embroiled in close-quarters clinching, wrestling, and, ultimately, grappling, and will attempt to establish distance with his boxing and footwork. His power is key, because once Philippou hurts Carmont I believe the chances of Carmont dominating will decrease exponentially, after which Philippou will likely strike his way to a decisive win.

Winner: Costa Philippou, Decision

Robert Practor: Costa Philippou is on a nice five-fight win streak and has made it into many top 10 Middleweight rankings. Philippou was previously set to meet "Jacare" Souza and it may be a blessing in disguise that he was taken out of that fight because Jacare would have starched him. Costa is now matched up against Francis Carmont, who is on a five-fight win streak of his own, and is looking to play spoiler here. I see Carmont having some success with his takedowns early but Philippou perseveres and goes on to pick him apart on the feet for the next two rounds.

Winner: Costa Philippou, Decision

Evan Zivin: Here we have another fight between men with impressive winning streaks. Carmont is on a 10 fight win streak, which includes 5 UFC wins over such fighters as Chris Camozzi, Tom Lawlor (even though I thought Lawlor won that fight), and Lorenz Larkin back in April. After losing his UFC debut, Costa has won his last 5 UFC fights. He has victories over Jorge Rivera, Court McGee, and a TKO over Tim Boetsch that happened partly because Boetsch broke every bone in his body and was struggling to swim in his own blood. Both men are decent grapplers but I think Costa is the better, more diverse striker. I also think Costa will do a better job of pushing the pace and keeping the center of the Octagon. It could be close, though. Carmont may be able to press Costa against the cage for 15 minutes and win that way but I think Costa can prevent that and get the victory.

Winner: Costa Philippou, Decision

Alex Rella: This is a big fight for both men as they are on big winning streaks and the winner would break into that upper echelon of middleweights in the UFC. Philippou has been pretty impressive lately, but Carmont has gotten lucky on some questionable decisions while sucking the life of everyone that has watched them. Philippou has defeated better fighters in more impressive fashion lately, so I'll take him.

Winner: Philippou, TKO, Round 2

Jeremy Lambert: I can't imagine anyone caring about this fight. I know I don't. Carmount probably should've lost his last two fights and some people like Philippou because he beat Tim Boetsch like that means something. Philippou has solid takedown defense, which means we could see a lot of stalemates in the clinch as Carmount goes for a takedown and Philippou fends him off. On the feet, I think Philippou gets the better of things in a dull affair.

Winner: Philippou, Decision

Robert Winfree: You know, I've found that I have very little interest or patience for Francis Carmont lately, his last two fights have been close decisions that I don't think he should have got. Costa Philippou has proven himself a commodity at middleweight, but he's yet to face a wrestler like Carmont and this will help answer some questions about him. Philippou hasn't lost in his last five fights and those wins include two stoppage wins due to strikes. Philippou has a grinding style of striking, he's going to hit you as hard as he can anywhere he can until you can't take it anymore and then he's going to try and put you to sleep. My advice for Philippou is that he try to finish this, because Clucky will likely be on hand and he loves his Canadian fighters fighting at home.

Winner: Costa Philippou, TKO Round 3

Paul Lapointe: Costa its time to put up or shut up my man. I say this as a fringe 185lber that struggles to get game matche ups. You had your chance against Jacare and if your afraid of Alligators that's ok but Frenchman? I do not think so...remember you are in Canada and Carmont likes to steal victories in Canada, so my best advice is to clean his clock to get his respect in the first and then pistol whip in the 2nd and finish this Decision robber. You need this Mr. (Winnie The)Pou...You do not want to be matched up with Brad Tavares if this goes to the judges do you? Or heaven forbid, Bubba McDaniel if you lose that decision. Remember you are in Canada, be careful.

Winner: Costa, TKO, RD2

The staff picks Costa Philippou, 8-0.

---




Heavyweight Bout: Brendan Schaub vs. Matt Mitrione



Jeffrey Harris: I think this could be a fun little heavyweight fight. I enjoy watching both guys. People complain about Schaub's last win, but he was fighting a cheater and a juicer in Lavar Johnson. Still Schaub's chin has shown to be suspect in his recent UFC losses. Mitrione's takedown defense and grappling game is really weak, but I think his fast, heavy hands will work in his favor here.

Winner: Matt Mitrione, TKO, Round 1

Jon Butterfield: As well-pitched as this fight is, this clash between TUF 10 veterans doesn't scream "elite level fighting" – still, there's very little else on the undercard that appeals either. In any event, Schaub was seen as one of the hotter prospects from the TUF 10 cast, but his mediocre chin was exposed in back-to-back defeats to Nogueira and Rothwell, before he broke free from the rut with a sloppy, unappealing victory over dangerous striker (but generally under-talented) Lavar Johnson. The latter two fighters most closely resemble UFC 165 opponent Matt Mitrione, who again possesses good power in his fists, but also an unspectacular arsenal when unable to strike.

Had Schaub not been humbled by Nogueira and Rothwell, I would expect him to come out and try to utilize his boxing against Mitrione – technically, Schaub is probably the better striker, but he's not good enough defensively to take that kind of risk, and he knows it. I expect Schaub to instead try to trip or single-leg Mitrione, though that's not quite as easy as it would have once been. Still, for as quickly as Mitrione is improving, Schaub is learning even quicker that he not only has to play to his strengths, but also avoid his obvious weaknesses. Schaub can practice his boxing against less powerful and less able strikers, but against Mitrione, he'd be better served trying to drag this down where he should have the positional grappling to ride out a decision win.

Winner: Brendan Schaub, Decision

Robert Practor: I don't think very highly of either of these guys' abilities. Luckily for me, I don't see this lasting long due to Brendan Schaub's apparent lack of being able to take any blow to the face harder than a pillow.

Winner: Matt Mitrione, KO, Round 1

Evan Zivin: This could end up being a looooong fight, and I really hope it doesn't. The only thing going for it is that these guys hate each other. They've been talking smack back and forth since the fight was originally booked for UFC on FOX 8 in July before it was rescheduled due to injury. Mitrione enters this fight off a 19 second KO of Phil de Fries that snapped a two fight losing streak. Schaub enters the fight after his 15 minute hugging of Lavar Johnson that snapped a two fight losing streak. He also lost a grappling match to Roberto Abreu where he essentially refused to engage for the entire fight. Hmmm...I was originally going to pick Schaub to grapple Mitrione to death the same way he did to Lavar, but screw that. I have to go with my heart. Plus, Mitrione is pretty good on the feet. He has heavy hands and his takedown defense might be enough to stop Schaub from making this fight boring. Go, Meathead, go!

Winner: Matt Mitrione, Decision

Alex Rella: Like a lot of heavyweight fights between lower level fighters, this could be quick and exciting or long and painful. If Mitrione wins, it will likely be quick because of his fairly good striking and Schaub's crappy chin. If Schaub wins, it'll likely be a long fight since he abandoned his boxing in his last fight and did something to Lavar Johnson that I don't even want to call grappling. I think Mitrione will be able to get in a good shot and capitalize on it before Schaub tries to take him down.

Winner: Mitrione, KO, Round 1

Jeremy Lambert: If Schaub decides to mess around on the feet too much, he really runs the risk of getting knocked out because his chin is pretty bad and Mitrione has solid power. That's why I expect Schaub to be in wrestler mode once again. Mitrione's takedown defense isn't that great and Schaub should be able to consistently land takedowns. Mitrione is active off his back and really likes to throw his legs up for triangles and armbars, but they're predictable and Schaub would have to be pretty dumb to get caught in one of them.

Winner: Schaub, Decision

Robert Winfree: You know, there was actually a time when this might have been a good fight. Coming off of TUF 10 both Schaub and Mitrione had some skills and a bit of talk about them being fixtures in the heavyweight division. Flash forward and Schaub has been exposed has not having much of a chin or any finishing ability on the ground and Mitrione has just kind of fizzled out. That said, Mitrione's skill is superior to Schaub, and more importantly Mitrione has a chin and some decent power, so Schaub is in trouble.

Winner: Matt Mitrione, TKO Round 1

Paul Lapointe: Master Jiu Jitsu grappler Schaub Vs Homophobic lunkhead...oops sorry Meathead on the main card? Well,its no Rothwell Vs Vera but one can dream. Well light switch chin Schaub can scamper and smother with the best of him but surprisingly Mitrione has pretty decent defense so, I hope and pray, M&M just goes all clobbering time on Schaubs noggin and in a moment of infused adrenaline clarity realizes people are people man, as for Schaub...well you did not rant but...but...your still a douche.

Winner: Meathead, KO, RD2

The staff picks Matt Mitrione, 6-2.

---




UFC Interim Bantamweight Championship Bout: Renan Barao vs. Eddie Wineland



Jeffrey Harris: A really interesting fight between the man who should be considered the undisputed UFC bantamweight champion at this point and the former bantamweight champion of the WEC in their pre-ZUFFA era. Wineland is incredibly tough and packs a lot of power standing up for a bantamweight. However, Barao has very good boxing and MMA striking, and I don't see Wineland being able to catch him. Barao's grappling will also make the difference in this fight, and I think he eventually catches Wineland in a submission.

Winner: Renan Barao, Submission, Round 4


Jon Butterfield: Eddie Wineland is one of the best strikers in the lower divisions, and his tremendous work-rate, takedown defence, and versatility make him a nightmare for most opponents. He is, however, lacking when it comes to facing the absolute elite, of which Renan Barao is undoubtedly a member. Wineland is fast, has excellent footwork, and is double tough – but Barao is faster, varies his offence more, and is a master tactician. For my money, Barao is the better striker, but I don't necessarily expect him to evidence that here – Barao is just as likely to press for the takedown early, and should that tactic succeed, he will easily outgrapple Wineland – but should that tactic fail, it should ensure Wineland is put in the unfamiliar position of being on the backfoot. Michael McDonald has put in a similarly unfamiliar position by Barao, as before him was Urijah Faber, though in a different sense – and that's not coincidence, but design. Ultimately, the outcome was the same – both McDonald and Faber were comprehensively out-struck, and the key was always Barao asking questions. Against Wineland, Barao knows he's the better grappler, he knows he's the sharper striker – he also probably knows all about Wineland's takedown defence and his superior cardio – but it's not likely to make much difference to Barao's approach. Barao will ask questions of Wineland's ability to counter-strike and defend himself, both against takedowns and Barao's stellar kickboxing. Whether or not Barao gets this to the mat is academic, because he's quite simply the superior offensive force.

Winner: Renan Barao, Decision

Robert Practor: Renan Barao is a huge favorite coming into this fight and for good reason. While Eddie Wineland is a good fighter, Renan Barao is a great fighter who still seems to have not caught on yet with even the most diehard MMA followers. Barao convincingly defeated Urijah Faber and Michael McDonald and it seems like Wineland is simply the next best fighter they could find to keep Barao busy while waiting for Dominick Cruz to return.

Winner: Renan Barao, Submission, Round 3

Evan Zivin: This is, what should hopefully be, the last Interim Championship fight that takes place before UFC has Dominic Cruz either booked for his return fight or stripped to make Barao undisputed champion. Barao has done well as the top 135'er in Cruz's absence, defeating Urijah Faber to become Interim Champion and choking out Michael McDonald in a dominant performance. Wineland has done well for himself in the UFC. He has victories over Scott Jorgensen and Brad Pickett but he's been unable to defeat the best of the weight class, losing decisions to Faber and Joseph Benavidez. He kept the fight close in those losses but a strong grappler is all it takes to shut Wineland down. Barao should have the grappling to take Wineland out. He should also have the striking to hurt Wineland on the feet as well. Wineland hasn't lost by submission since 2009 but two extra rounds will give Barao more than enough time to pick Wineland apart, tire him out on the ground, and slip in an arm for a rear naked or a guillotine. Now either bring on the unification fight or just let Barao be champion. He already has been for over a year now. C'mon, Dana. Be fair.

Winner: Renan Barao, Submission, Round 4

Alex Rella: I've been looking forward to this fight for awhile and I'm really glad Eddie Wineland didn't lose his title shot when Renan Barao was injured before UFC 161. I know how great Barao is and he is the real UFC bantamweight champion at this point, but I just have this feeling that Wineland can pull off the upset. Barao has defeated all the top bantamweights, but Wineland has a certain set of skills that make him a tough matchup. He has good takedown defense and is a great boxer. Yea he is a powerful striker, but what makes it great is how deceptive he is with it and how he goads fighters in unsuspecting. But he'll have to catch Barao in the earlier rounds as his takedown defense faded in the later rounds against Faber and Benavidez and Barao should get an easy win the longer it's spent on the ground.

Winner: Wineland, TKO, Round 2

Jeremy Lambert: It's a shame that this fight is getting no promotion because it should be a really good contest. Wineland is coming off two good wins while Barao hasn't lost since his MMA debut. Wineland is a really good technical striker, especially his boxing, and has power as well. He's also an underrated wrestler, especially defensively, but he's not much of a grappler. Michael McDonald did well on the feet against Barao early before he gassed a bit and Barao was able to get him to the ground and I think Wineland can have the same kind of success with his hands, especially when it comes to countering kicks. However, as the fight goes on, those kicks will take their toll and Barao will really start to take over. If the fight goes to the ground, Wineland will be in a lot of trouble because Barao has an excellent top game and is really good in the scrambles. Wineland might be able to take the first round or two with his striking, but after that Barao will figure things out and cruise to a competitive decision victory.

Winner: Barao, Decision

Robert Winfree: At this point I think it's safe to call Renan Barao the real bantamweight champion, I have a ton of respect for Dominick Cruz, but the man hasn't fought in almost two years, and it will likely be over two years before he has one scheduled. Renan Barao is the champion, and he is the champion for a reason, he's just that good. Barao has a mixture of striking ability, wrestling skill, and submission prowess that is unmatched in the division. While the UFC talks up Barao like he's another Jose Aldo, the truth is very different. While Barao is certainly more than capable on the feet, on the mat he's a monster. The speed with which he can take a position is just scary, he's smooth with his transitions on the ground and his submissions are deadly. Eddie Wineland is a tough opponent, and his last two victories have been good. Wineland has power in his hands, and his takedown defense has vastly improved over the last couple of years. If Wineland can connect with Barao's chin Barao could be in trouble, that's the kind of power that Wineland has. That said, Barao is more diverse with his striking attack and is very good at moving forward, forcing his opponent to fight off the back foot which is something not many MMA fighters are adept at. Wineland's takedown defense will get sloppier as the fight goes on, and once Barao has him down it's just a matter of time.

Winner: Renan Barao, Submission Round 3

Paul Lapointe: Eddie Wineland is a trooper. There is no denying this. He is gritty, has great cardio, is not afraid to bleed and will bang with anybody. Saying that, he never dictates his fights as he tends to play into whatever gameplan his opponent wants and then guts out wins, unless an opening is given. Renan Barao does not leave openings. Ask Urijah Faber was stifled for 5 rds never able to really get off (it sucks right guys..haha) and Brad MacDonald who he gassed out and then just choked. Barao will not play any game but his and his is not a brawl or a slugfest its a methodical step by step process or wilting his opponents until he snatches them and can choke them. Wineland will make for some flurries but his night ends in a RNC

Winner: Barao, Submission, RD ¾

The staff picks Renan Barao, 7-1.

---




UFC Light Heavyweight Championship Bout: Jon Jones vs. Alexander Gustafsson



Jeffrey Harris: So many critics have complained about Jones being too big of a match-up for his recent opponents and him basically being a natural heavyweight. Well now he's fighting a guy who is just as tall. Gustafsson has definitely earned this shot and has come a long way since his first UFC loss, getting submitted by Phil Davis. Gustafsson has shown he's well rounded, having submitted James Te Huna and Cyrille Diabate and knocking out the likes of Vladimir Matyushenko and Matt Hamill, fighters that Jones also faced. Gustafsson dominated Shogun as well ahead of this win, the fighter Jones defeated to win the title. Jones still has a significant reach advantage going up against Gustafsson, and I think that will still likely make the difference here. Jones is really good at using elbow strikes offensively and just sneaking them in. Gustafsson probably packs more power with his standing punches, but Jones has some better kicks and terrifying ground and pound. I think Jones edges this one out.

Winner: Jon Jones, Decision

Jon Butterfield: The real question here isn't who is likely to win (we all know that Jon Jones is most likely to win), but what problems does Alexander Gustafsson pose that previous opponents haven't? For me, the answer is threefold – Gustafsson is the second-best pure striker Jones has ever faced (behind Machida), with the best footwork of any similarly-sized opponent Jones has ever faced, and he has the best takedown defence he's ever faced, including Sonnen.

Of course, none of those things count for much individually, when you consider Jon Jones has made it his business to try to out-strike the best strikers he's ever faced (Machida was the only opponent that ensured Jones had to change his strategy, and even then Machida only really connected with Jones once), and try to outwrestle the best wrestlers he's ever faced (and he annihilated Chael Sonnen at that game), but herein lies the interest in this fight. Jones is probably going to go in there to try to out-strike Gustafsson, at which he could have limited success, at least initially. As good as Jones' striking is, Gustafsson isn't likely to be overawed by either Jones' variety of offence or speed of execution – instead, he's going to continually back away and use his footwork to avoid getting cornered, unlike previous opponents, and fire back with jabs and one-twos for as long as he can. But the reason it's almost impossible to pick Gustafsson here is because should Jones want to, Jones can definitely out-wrestle and out-grapple the Swedish fighter. If ever Jones feels like he's losing the fight, even for a single round, he is so incredibly versatile that he can simply switch things up just like he did against Machida.

Machida, a better counter-wrestler than Gustafsson, found himself worn down by Jones, and eventually submitted up against the fence – Gustafsson, as good as his takedown defence is (and nobody should be using the Davis-Gustafsson fight as a marker here, since Jones has never been that narrow minded or straight ahead and will not be that obvious), just isn't equipped to deal with a Jones clinch-game or a Jones grappling-game. He might not even be equipped to deal with a Jones striking-game – but he certainly won't be easy pickings.

Winner: Jon Jones, Decision

Robert Practor: The two best fighters Alexander Gustafsson has faced are Mauricio "Shogun" Rua and Phil Davis. Gustafsson was submitted by a spectacular Anaconda choke by Davis and won a fairly uneventful decision against Shogun. I did not see much from Gustafsson against Shogun, who is rapidly declining and recently got man-handled by Chael Sonnen. Alexander Gustafsson is the recipient of good luck and good timing. He was scheduled to fight Gegard Mousasi a few months back and a good showing there could have shown him to be a true challenge to Jon Jones, but that didn't happen. I'm fairly certain the UFC was ready to book the super fight between Jon Jones and Anderson Silva but Silva went and got KO'ed by Chris Weidman. Those two things, coupled with the fact that Jones wants to disprove the theory that a lot of his success is due to his height and reach advantage, led to Gustafsson getting this title shot against Jones. Jon Jones is simply the number one pound-for-pound fighter in the world and Gustafsson has nothing to offer against him here.

Winner: Jon Jones, TKO, Round 2

Evan Zivin: It is the biggest challenge Jon Jones has ever faced, and when I say biggest, I am referring to his height. Alexander Gustafsson is 6'5. That's one whole inch taller than the champion. ONE INCH! Will it make a difference? Oh course it won't, no matter what UFC's advertising tries to claim. Seriously, if the only way they can make the Swede appear dangerous to the champion is by bragging about how he'd have to stand slightly closer to the center of a class picture than Jones, then there are going to be some disappointed casual fans come fight time. For one thing, Jones will still have an 8 inch reach advantage, which he will use. For another, Jones has destroyed every top light heavyweight fighter over the two years since he became champion, including 5 former champions. Gustafsson's best win was his last one, a decision over Shogun Rua, a man Jones finished by pummeling him mercilessly for two and a half rounds. As good as Gustafsson is, Jones is better. He is better than Gustafsson in every aspect of the fight game. I imagine that, after toying with Gustafsson on the feet for a round or two, Jones will make like Phil Davis did and take Gustafsson down and submit him. Then, it's on to Glover. That should be fun.

Winner: Jon Jones, Submission, Round 2

Alex Rella This fight can go two ways and it's really up to how Jon Jones wants to play it. Jones can choose to wrestle, take Gustafsson down, and finish it within the first two rounds. Gustaffson has improved his wrestling, but Jones is on another level. The fight could go longer if Jones chooses to stand with Gustafsson. Jones likes to beat fighters at their own styles and standing and boxing with the Swede would definitely make the fight go on longer. Gustafsson doesn't really have true knockout power, but there's always the possibility that he catches Jones with one good punch. Even if they stay standing, Jones should be able to win there too and break the title defense record.

Winner: Jones, TKO, Round 3

Jeremy Lambert: The one thing Gustafsson has going for him in this fight is that he's tall. He's a whole inch taller than Jones, but is still had a huge reach advantage. He's also had a disadvantage in every skill aspect of MMA. Gustafsson is a good boxer, a sneaky good uppercut, and solid power, but that's about all he does well. Jones is the better all-around striker, can keep Gustafsson at bay with kicks, and is better defensively. Gustafsson's best chance on the feet is to use his own kicks and look for small openings to counter Jones with his hands. Otherwise he's going to be lost and confused all fight as he struggles to land anything significant while Jones breaks him down with kicks, knees, punches, and elbows. Gustafsson is good in the clinch, but clinching up against Jones is just a one way ticket to be put on your back, and if you're on your back against Jones, you're going to eat plenty of elbows and probably get cut up. Gustafsson has improved his takedown defense since the Phil Davis fight, but I'm not sure anyone at 205 is good enough to stop Jones from taking them down, especially on the inside. Jones has become a lot more methodical since winning the title, which means he's left less openings as he's taking less risks and Gustafsson isn't good enough to capitalize on these openings. I expect Jones to take it slow in the first round as he looks to figure things out and then batter Gustafsson on the ground en route to stoppage by the second.

Winner: Jones, TKO, Round 2

Robert Winfree: Jon Jones is looking to set a new UFC record for most successful title defenses in the light heavyweight division, his thrashing of Chael Sonnen tied the record of Tito Ortiz and a win here would give him the new one. Standing in his way is Alexander Gustafsson, who's mere physical measurements guarantee a challenge to the seemingly unstoppable champion. At least that's if you believe the UFC marketing machine. In reality this is a really tough fight for Alexander Gustafsson. Gustafsson has decent power, but despite his long reach he actually excels in close quarters where he can land short range hooks and uppercuts, unfortunately for Gustafsson that's the danger zone with Jon Jones. In close quarters like that you're vulnerable to the clinch, and Jones has a monster clinch game, whether he's going for throws or trips, or transitioning to a traditional double or single leg takedown, the clinch is the second to last place you want to end in against Jon Jones. The last place is under him because he has the most violent ground and pound in the sport and he has proven that he doesn't need long to wreck you from top position. Adding to the dilemma is that any position on the ground is dangerous, he broke Brandon Vera's orbital bone from full guard, brutalized Shogun Rua from half guard, smashed Vladimir Matyushenko from side control and absolutely wrecked Matt Hamill from full mount. Again, the UFC hype machine has tried to sell this as a challenge for Jones based on the physical similarities between the two men, but in reality this a uphill battle for Alexander Gustafsson from the word go, and I just don't think he has what it takes to unseat the champ.

Winner: Jon Jones, TKO Round 3

Paul Lapointe: Man that Gustaffson Vs Mousasi fight could have been awesome, alas we have Nordic giant Vs Freak of Reach Jon Jones for the title. Now, I am currently in Sweden and train MMA myself and at my Gym people are batshit for this fight with banners and posters and all that crap, its kinda surreal. But, I have not drank the Kool-Aid in the water fountain...yet. Gustaffson is a good fighter with potential that I like to watch fight and with his skill set he could go far, but against Bones it should not really be past the 2nd or 3rd rd. Mauler for his biggest test tries to coast to decisions being happy and safe with his kickboxing and against a winded Brazilian and a slowly fading Ninja, no problem, Jon Jones? Big Problem. Bones will poke and prod with his front kicks disrupting any kind of rhythm one could muster and then pounce when ready. And like Phil Davis before him and Machida and O'Brien before him, close the distance apply the choke and watch the Swede drop.

Winner: Bones, Submission (Front Choke Guillotine) , RD 2

The staff picks Jon Jones, 8-0.

---
Remember to join 411's coverage of UFC 165 on Saturday night!
comments powered by