SPOTLIGHTS
All The King's Men 10.11.13: Week 70 – Bellator on PPV
Posted by Larry Csonka on 10.11.2013

Bellator has signed Tito Ortiz and Rampage Jackson, and the former UFC Champions will headline the debut PPV for the company. But has Bellator done a good job building to their debut PPV? The 411 staff takes a look!

ALL THE KING's MEN!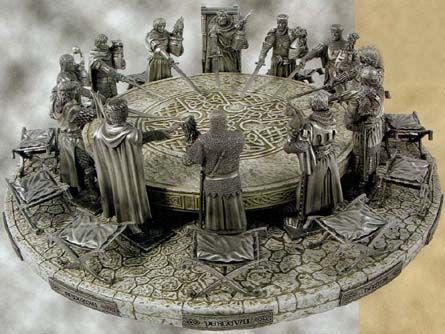 The Concept
The concept of the column is simple. As the "King" of the 411 Roundtable, I will pick a topic for discussion. The staff, or "Knights" of the old roundtable will then have the opportunity to state of they are FOR or AGAINST the week's topic, and then will have the chance to defend their position. Lets get to it…



BELLATOR's PPV DEBUT BUILD: GOOD?
Bellator has signed Tito Ortiz and Rampage Jackson, and the former UFC Champions will headline the debut PPV for the company. Up to this point, Bellator has done a very good job building their debut PPV event.

Jonathan Solomon - AGREE: I'm not sure how you can disagree here. Bellator's PPV debut is still more than a month out and they have a stacked card full of name fighters, long-anticipated fights and championships. Barring someone like Frank Shamrock or Randy Couture coming out of retirement, there's no way they could have built a stronger night of fights. What's left for debate is how they will get people's attention in the final two weeks before November 2nd. A great card means nothing if you cannot get people's attention and that's where the relationship with Spike and Viacom can be a huge asset. Put Rampage and Tito on a preview show, re-air the November 2011 war between Eddie Alvarez and Michael Chandler, get King Mo on camera somewhere and this can go a long way in bringing people on board to want to see the pay-per-view.

Each of the four official fights have some kind of pull for fans, though some are geared more towards hardcore viewers. But, that's alright because it's a positive to have a versatile card like this. Casual MMA fans know Quinton "Rampage" Jackson and Tito Ortiz. Hardcore fans went nuts for Chandler-Alvarez I and when people tune in, they'll see the second best featherweight in the world in Pat Curran and more. King Mo's attempt to avenge his loss to Emanuel Newton is an easy issue to get behind and should Newton pull off another win, he's earned more mojo behind his career than anyone could have anticipated. Remember, too, there will be at least another fight or two added to this PPV. Even if the buyrate comes back with a max of, say, 100,000 buys, it's a good place to start and see what Bellator on PPV can do with a main event filled with names. When you look at how the show is made up, as of now, they could have done a lot worse -- but how can you say they could do a lot better?



Alex Rella - AGREE: There's no way around it, Bellator has done the best job they possibly can when it comes to building up their debut pay per view. Say what you will about the main event, no other major promotion puts three title fights on one show. This show is actually better than some of the UFC pay per views (at least it's better than UFC 161). You've got two legends in the main event that should still have a solid fight. Yea they're both on losing streaks, but none of those fights were dull and they were both losing to elite fighters. Some people will make fun of them fighting (most of it is deserved), but still they're going to bring in some new viewers or people that would have been on the fence about buying a Bellator pay per view before. I'm a Tito Ortiz fan and I know his good days are behind him, but part of me still wonders if he can turn things around a little bit in a new company. The co main event should be Chandler vs. Alvarez and that's a great rematch. The first fight was one of the best ever and if the rematch is half as good as the original I think everybody will be happy. I've never been disappointed with a Pat Curran fight and he's the clear number two featherweight in the world right now. The interim light heavyweight title fight is a little sketchy, but it should still be good. There's room for one or two more fights on the main card and I expect somebody like Joe Warren to get a spot. They've done all they can so far and maybe the occasional PPV brings in some money to Bellator.



Evan Zivin - AGREE: I'd say so. The card only has four fights so far but in those fights, Bellator has managed to amass some of the most popular and exciting men fighting for the promotion today. Bellator has the biggest name the company has built up since the very first night the promotion has been in business fighting on this card, Eddie Alvarez, taking on the man who defeated him for the Lightweight Championship, Michael Chandler, in a rematch of one of the most exciting fights in company history. The rematch won't likely be as thrilling as the first fight but it will be good and is reason enough to order the show (assuming it doesn't cost too much). Add to that one of the best featherweights in the world, Pat Curran, a man who has been wrecking opponents since he dropped down to 145, defending his title against Daniel Strauss. Then you get an Interim Championship fight featuring one of Bellator's biggest signings, King Mo, avenging a loss against the man who knocked him silly to win the Season 8 light heavyweight tournament, Emanuel Newton. The top of the card features the two biggest names the promotion has ever had in former UFC champions Tito Ortiz and Rampage Jackson. It may not end up being an exciting fight, but it will, no doubt, bring in viewers who may not had been interested in the show otherwise. There may be another fight added to the main card but if those are your top fights, then that is a damn good card. It features almost every major fighter the company has under contract right now. They could add another champion to the card, like Alexander Shlemenko or Ben Askren, but there's already three big title fights on the show (and Askren's contract status is still up in the air). Maybe they'll add Joe Warren or Cheick Kongo if he wins his quarterfinal fight. Either way, it's a very good card as it is. I just hope the fights are good and that Bellator is prepared in case the fights go long. We all remember why UFC doesn't have three title fights on a PPV anymore *COUGH*UFC33*COUGH* So as long as these fights hold up and Bellator continues to promote the PPV on ESPN and Impact Wrestling and wherever they can afford to, the show should do all right. I know everyone will lambaste whatever buyrate the show gets because it won't be anywhere near what UFC pulls in on average but that's to be expected. I'm just wondering if we're going to see Ortiz and Rampage as TNA tag team champions before November. It'd be a dumb way to promote the event, but at least they'd be promoting it. Go for the gold!


Paul Lapointe - AGREE: Talk as much crap as you want with this ongoing season of Bellator...no really, bush league as it has been with it tourneys and all. The Has-been slash UFC washout league that is either losing fighters they did not have or having fighters they do crap all over them Bellator has been through the meat grinder. But they have still put on some quality frackin fights, Alexander Schelemnko Vs Brett Cooper anyone...that bout was bowling shoe ugly good and I want another few rounds until somebody gets sleepy. But on paper for there current PPV lineup its impeccable. I mean in the UFC they have a PPV every second week it seems and considering if Bellator even tried half of that kind of schedule it would be even closer to Viacom doing the Vamoose and us the fickle fight fan bitching and moaning then ever before. Bellator does not have a deep roster of dependable fighters just one offs and few mainstays and after this PPV they may not have another offering until next summer. So for a first attempt I would have to say, yes on PAPER this PPV is AWESOME, and even if it meets my expectations it will be more then good, it will be great. I even have expectations that Rampage Vs Tito will end up being an ugly fun bout. Should it headline...heck no, but they are names and they will sell, there is no precedent that homegrown will so its a safe bet, at least enough to risk a PPV gamble. For example TNA ran monthly PPV's with less backing for years and got like less then 10,000 buys and Bellator has better backing so the fight game is well and good. So just sit back and enjoy Pat Curran, Enjoy Hardcore and enjoy everything that odes not sucks about Bellator, I will be watching.



Scott Kuczkowski - AGREE: I like what Bellator has done so far with this card, especially featuring their home-grown stars and champions. The rematch between Alvarez and Chandler will hopefully be as epic as their first Fight of the Year encounter, and Curran versus Straus should be another good, solid fight. The Newton vs. Lawal fight should go a long way towards proving if the first win that Newton scored over Lawal was a complete fluke.

If I had to nitpick, there are really only two suggested changes I would make. The first is that I would have signed Ben Askren to one more fight and have that fight on the PPV. My reasoning behind this is that Askren, although technically having fulfilled his contract, has absolutely nothing else going on with him during that time. It would seem that with a little effort, Rebney could have signed him for one more fight for a nice PPV payday. Possible opponents could have been Josh Burkman or Paul Daley. Although both guys are signed to other promotions, I think a deal could be made for them to fight on Bellator's first PPV. The second suggestion would be to move the Tito vs. Rampage fight out of the Main Event slot and have it as the co-main event. The truth is that this fight will probably be a stinker, and that is the last thing you want fans to remember when they turn off the TV. And let's be honest with ourselves; when was the last time either Tito or Rampage had a really good fight? The odds are good that these two will circle and stare at each other for more time than they will actually fight. However, having Tito and Rampage as the co-main event and moving the Chandler/Alvarez fight to the main event nearly guarantees that the card will end on a high note.

Outside of those two suggestions, this card is about as good as Bellator can do.




WHAT DO YOU THINK?





Have you checked out the Csonka Podcasting Network? If you haven't, you should We run anywhere from 15-20 shows a month, discussing pro wrestling, the world of MMA, the NBA, general sports, popular TV series of the past, bad movies, battle rap, interviews, MMA & Wrestling conference calls and more! Around 10 different personalities take part in the various shows, which all have a different feel; so you'll likely find something you like. All of the broadcasts are free, so go ahead and give a show a try and share the link with your friends on the Twitter Machine and other social media outlets! Running since May of 2011, there are currently over 330 shows in the archive for you to listen to.



Your heart is free. Have the courage to follow it…TO CSONKA'S TWITTER!

http://www.twitter.com/411wrestling
http://www.twitter.com/411moviestv
http://www.twitter.com/411music
http://www.twitter.com/411games
http://www.twitter.com/411mma



comments powered by