SPOTLIGHTS
Five Quick Rounds 09.24.13: UFC 165, Bellator 100, The Mauler Sure Likes Bones, More
Posted by Evan Zivin on 09.24.2013

From the results of UFC 165 and Jon Jones's thrilling title defense against Alexander Gustafsson to Anthony Pettis's first title defense being announced and the results of Bellator 100, 411's Evan Zivin shares these stories and more in Five Quick Rounds!

Hey hey, fight fans, and welcome back to Five Quick Rounds! I am your host, Evan Zivin, and I am more excited than Rihanna watching Fox Sports Live last week!

Oh, Uncle Chael. We can't take you anywhere. Mr. Sonnen made an appearance on Fox Sports 1's nightly sports news show that is totally not trying to rip off Sportscenter *WINK* last Monday and he was talking about Floyd Mayweather's majority decision win over Canelo Alvarez. Chael was attacking Mayweather for padding his record by fighting cans and said that he's never seen someone get so rich and famous off of letting wimps punch them in the face other than Rihanna. Yeah. Was it in poor taste? It was. Was it funny? That I won't comment on that because I don't want 411 to have to apologize for my preference towards bad jokes that weren't even funny when they were relevant 4 years ago. Way to hit the low hanging fruit, Chael. You can do better than that, although it would have been funny if Rihanna did just happen to be watching the show that night and heard the joke and got upset despite the fact that she's been hearing jokes about the Chris Brown incident since it happened. Then again, I don't have to worry about that because no one is watching Fox Sports 1. Whew.

All right, so with fighter introductions out of the way, I have five more rounds of MMA news and opinions to throw at you. This week we look at the results of UFC 165 and the greatest light heavyweight title fight ever, the results of Bellator 100, and two big title fights set for the end of the year. Let's to it do it.

FIGHTER YOU READY!!!!
FIGHTER YOU READY!!!!

FIGHT!!!!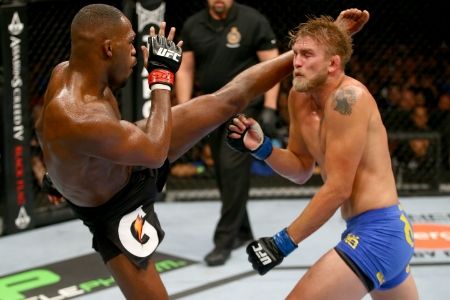 Round One: UFC 165 Main Event Quick Thoughts, Alexaander Gustafsson Sets UFC Record for Most Competitive Fights Given to Jon Jones

***TOUGH OF GLOVES***

Live, from the Air Canada Centre in Toronto, Canada (where they can get away with spelling it "Centre"), it was UFC 165 ON SATURDAY NIGHT!!!!!

Overall, it was a decent show. There were some bad fights on the card but there were also some good ones as well. The main event was, of course, the battle of size between UFC Light Heavyweight Champion Jon Jones and his hunky, Swedish counterpart, Alexander Gustafsson. The big selling point for the dominant champion's next challenge was that Gustafsson was an inch taller. AN INCH!!!! THAT AUTOMATICALLY MEANS HE'S GOING TO WIN!!!! CALL THE BOOKIE!!!! Gustafsson had been working his way up through the light heavyweight division, showing marked improvement with every fight. He even used his first UFC loss, a submission to Phil Davis, as a learning opportunity by traveling to Alliance MMA and training with Davis. That shows a dedication to bettering oneself that is an important component in a lot of the young, new age fighters that have been popping up in the UFC in recent years, including guys like Rory MacDonald and Jones himself. Gustafsson has improved so much since that Davis fight, but was he really ready to take on the best fighter on the planet? I mean, a win over Mauricio "Shogun" Rua is impressive and all (in 2005, HIYO!!!!) but would he really be able to offer anything to the champion that Jones hasn't already seen and picked apart with his crazy reach and even crazier strikes? Would Gustafsson's meatballs and fish be enough to tip over Jones's Gatorade? Is it in you? IS IT?

The answer is yes, because Alexander Gustafsson did the one thing that no one had been able to do to Jones in his entire career. In the first round, Alexander Gustafsson took Jon Jones down. He took down Jon Jones. Sweet baby Jesus in a white wine vinaigrette, that was amazing. Nevermind the fact that Jones got back up immediately, it was still an awe-inspiring moment. With that takedown, and his ability to work past Jones's length and hit him with straight punches, Gustafsson showed that he came prepared and was ready to go to war. Gustafsson kept up with Jones for 5 rounds of intense action, getting the better of him on a number of occasions by staying aggressive and beating Jones to the punch. Another thing that was impressive about Gustafsson was his takedown defense. It was amazing that Gustafsson managed to take Jones down once, but it was more incredible that Jones was only able to do the same to Gustafsson, taking him down once late in the fight. Gustafsson looked good early in the fight but it was when Gustafsson slowed down that Jones was able to take back rounds. All of Jones's standards strikes were there. The knees, the spinning elbows, the kicks to the thigh, all of which were thrown at crazy angles. The early rounds were close, with the championship rounds going Jones's way as he continued to outpace the Swede and hurt him with elbows and head kicks. Gustafsson is tough, though, and made it to the end of the fight, where Jones retained his championship by unanimous decision. The win also gave Jones the record for most consecutive title defenses at light heavyweight, but who cares about that. Alexander Gustafsson gave Jones a competitive fight. The fight was incredible, a definite Fight of the Year contender. I haven't had goosebumps like that since Chael Sonnen first fought Anderson Silva at UFC 117. It was a fight we needed because it gives us hope that, if this blonde-haired dreamboat could hurt Jon Jones, then somebody else will one day come along and defeat the dominant champion. Now we just have to wait for our light heavyweight Chris Weidman to appear. Might I suggest Chris Weidman?

***HORN SOUNDS***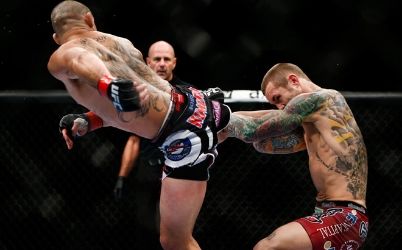 Round Two: UFC 165 Co-Main Event Quick Thoughts, Renan Barao Spinkicks Eddie Wineland, Just Make Him Champion Already

***TOUCH OF GLOVES***

The co-main event saw the first instance of an interim champion defending his championship in the UFC for a second time, which is aggravating enough, against Eddie Wineland. Wineland was the very first WEC bantamweight champion and, after initial UFC setbacks by Urijah Faber and Joseph Benavidez, has been steadily improving with each fight. Barao, though, has been pretty much unstoppable in his entire Zuffa career, which includes beating Faber and choking out a tough Michael McDonald in the first defense of his interim championship. The dude hasn't lost a fight since his very first one in 2005. He is unbeaten in 31 fights since then (with one no contest to ruin the fun). Could Wineland ever hope to contend with that? Actually, yeah. Barao is similar to his teammate, featherweight champion Jose Aldo, in that he likes to counter and tends to use the first round to hang back and get a feel for his opponent's timing and range. Wineland came ready to deal with that by bull-rushing Barao against the cage and using his speed and footwork to run in with quick punching combinations while stepping out to avoid taking any damage. Barao did get some hard punches and kicks in but after one close round, Wineland was off to a great start.

The second round might have been more of the same, of Wineland using his speed to box and outpace Barao. That didn't happen, though, because 30 seconds in, Barao nailed Wineland with a spinning back kick on the ear. The kick didn't appear to hurt Wineland but it knocked him down and allowed Barao to pounce and throw bombs until Yves Lavigne pulled him off. It was a good stoppage, no matter what Wineland says, and it reaffirms Barao as the best bantamweight in the UFC. That is, unless Dominic Cruz returns soon. Dana White said earlier in the week that this would be the last time Barao defends an interim championship, so that means they have to make a decision. If Cruz is ready to return, then a title unification fight will be booked for next year. If he's not ready to return, then....Dana was silent about what would happen then but it better mean that Cruz will get stripped of the championship and Barao will be promoted to full champion. Yeah, it sucks to take the championship away from Cruz, but it's kind of pointless to have him as champion when he can't defend the title, and Cruz has been unable to defend it in TWO YEARS. Holy crap. He hasn't defended his title in two years. MAKE THE FIGHT OR STRIP HIM OF THE TITLE ALREADY!!! It's not fair to have Barao defend a fake championship twice when he should be the actual champion. Just let Barao be champion. Then Cruz can put all his focus towards getting his zombie knee healed up and then he can come back and get a title shot when he's ready. Seriously, Dana. It's okay. Sometimes these decisions have to be made. Cruz will survive. If he takes the news bad, he still has Jay Glaser to console him during the post-fight show.

***HORN SOUNDS***




Round Three: Rest of UFC 165 Quick Thoughts, Gagnon Gets Submission Bonus Over Schaub, I Guess That Means No Coffee Then

***TOUCH OF GLOVES***

In other main card news, Brendan Schaub, a man who has become known for grappling guys who have no ground skills and running from those who do, succeeded in getting a first round submission over America's Meathead after Rob Reiner, Matt Mitrione. The start of the fight was fairly even, with both men cutting each other with glancing blows and Mitrione stuffing Schaub's takedown attempts. That all changed when Schaub decided to rush in with a flurry of punches and finished with a takedown. Schaub quickly worked to secure a D'Arce choke and Mitrione, despite giving a thumbs up to indicate he was all right, wasn't and went unconscious at about four minutes. Well, at least it ended quickly, unlike the fight that came before it. Really, the best part of Costa Philippou vs. Francis Carmont was hearing Georges St-Pierre yell at Carmont, his teammate, in French. Aside from that, the fight was mostly Carmont taking Philippou and controlling him from the top. Philippou did try to threaten with armbars from the bottom but he wasn't able to sink one in. Carmont was also able to handle Philippou's striking without too much trouble and took a unanimous decision victory. The opening fight saw Khabib Nurmagomedov...

NURMAGOMEDOV!!!!!!!

...bully Pat Healy in much the same way that Healy usually does to other opponents. Numagomedov threw all sorts of strikes at Healy, including uppercuts and flying knees, and had relatively little trouble taking "Bam-Bam" down throughout the three rounds. The biggest takedown in the fight came in the third, when Healy was trying to get up from under Nurmagomedov when the Dagastani fighter (it's in Russia, look it up) picked up Healy, ran him across the Octagon, and slammed him down in a very Hughesian fashion. Healy stayed in it the entire fight and even hurt Nurmagomedov early in the second, but Nurmagomedov was able to recover and take the round back with punches and kicks. In the end, the man in the furry, blonde hat took a unanimous decision, improved to 21-0 as a professional fighter, and is ready for another ranked fighter next. In prelim action, Mitch Gagnon got a huge submission win over Dustin Kimura. After taking a left hand to the liver, Gagnon immediately took Kimura down. Then, after they stood up, Kimura shot in for a takedown, allowing Gagnon to wrap up a tight guillotine and choke Kimura unconscious. A very impressive win for the Canadian. The same could be said for John Makdessi, who knocked out Renee Forte with some short punches and finished him on the ground in two minutes. Stephen "Wonderboy" Thompson cracked Chris Clements with some hard punches and sent him crashing to the canvas a minute and a half into the second round. And in other less interesting fights, Myles Jury got past Ryan Gosling's doppleganger, Mike Ricci, by split decision, Wilson Reis came out of nowhere and defeated Ivan Menjivar by unanimous decision, Michel Prazeres and Alex Caceres earned split decision wins in fights where the exact same judge scored the fight for the losing fighter both times (Conspiracy? Just really bored?), and Daniel Omielanczuk huffed and puffed and blew Nandor THE ANNIHILATOR away by third round knockout. It's too bad that Nandor isn't a better fighter because that first name is bitchin'.

And that was UFC 165. Next up is Fight Night 29: Maia vs. Shields, October 9 from Barueri, Brazil.

***HORN SOUNDS***




Round Four: Bellator 100 Quick Thoughts, Douglas Lima Didn't Kill Ben Saunders Hard Enough Before, So Does it Harder

***TOUCH OF GLOVES***

The first time that Douglas Lima and Ben Saunders fought was in the Season 5 Welterweight Tournament final in 2011. It was a fight of close striking and grappling exchanges that ended over a minute into the second round when Lima blasted Saunders with a counter right and finished with strikes on the ground. It was a devastating finish that gave Lima his first Bellator tournament championship. Fast forward about two years and the two men are fighting once again, this time to determine the winner of the Season 8 tournament. There was very little grappling in the rematch but it did feature lot of hard punches and kicks from both men. The first round saw Saunders as aggressive as ever, landing a few punches and leg kicks but eating counter kicks and body punches in the process. It was a close first round, as was the second, with the only action in the first minute of that round coming when Saunders realized that he had forgotten to put his mouthpiece back in. Considering his opponent, it was probably a good idea to get it back in because 50 seconds later, Lima caught Saunders with an uppercut that dropped him. Lima pounced to finish, bloodying up Saunders in the process, but Ben survived and even tried a heel hook before getting back up. We were really close to a repeat of the first fight, but don't worry, kiddies. You would only have to wait a few more minutes for Lima to floor Saunders with a head kick and send him to the Land of Unconsciousness. It was a hard, brutal shot. It definitely trumped the finish of the first fight but the result was still the same: Douglas Lima winning a Bellator tournament. Now he just has to wait to find out if he's going to fight Ben Askren again or get a shot at a vacant championship. For Lima's sake, I sure hope it's the latter option.

The Bellator 100 Super Tournament Spectacularrrrrrr saw the opening round of the Season 9 Welterweight Tournament. The featured fight of the tournament was War "Don't call me Jon Koppenhaver" Machine scoring a second round submission over Vaughan Anderson................Anderson. This fight was pretty much all War Machine, who was easily able to use his wrestling to control Anderson through most of the first round. Anderson did manage to roll Machine over but couldn't do much with the position. The second round saw Machine take the fight to the ground again, where he transitioned from a crucifix to a back mount and cinched up a rear naked choke. Machine had trouble keeping his grip but he was still able to choke Anderson unconscious to advance in the tournament. I'm sure he celebrated the win with Christy Mack. I just hope he didn't Tweet about it. A man looking to win his second Bellator tournament, Rick Hawn, moved one step closer to achieving that with a unanimous decision win over Herman Terrado. Hawn didn't get to use much of his famous judo with cheese, but he was successful in the clinch in the first round and used his striking in the second and third rounds to stay on the outside and damage an exhausted Terrado. There was some good back and forth action between Ron Keslar and Sergio Junior. I wonder if he has a son, he'll name him Sergio Junior, Jr. I hope he does. The fight had some back and forth moments, with Keslar dropping Junior with a right and fighting for a rear naked choke in the second round and Junior nailing Keslar with a knee and going hard for an arm-in guillotine choke. Keslar would end up taking a split decision victory. In the first opening round contest, Brent Weedman, a veteran of 4 Bellator tournaments and more than likely not made out of weed so stop asking, started his fifth tournament with a submission victory over Justin Baesman, who you may remember as the winner of the main event of the first WAR MMA card. Or maybe you don't. Baesman looked a little overmatched here, as Weedman had little trouble taking Baesman down. Weedman then worked towards an armbar and, after Baesman fought off the initial armbar attempt, Weedman was able to flip Baesman over, secure another armbar, and get the tap at 3:20 (off by one minute). Apparently Baesman didn't want to get his arm ripped off. Who knew.

And that was Bellator 100. Next up is Bellator 101 on Friday from Portland, Oregon. It will feature the opening round of the lightweight tournament. It will also feature, Joe Warren if he doesn't get knocked out before then.

***HORN SOUNDS***




Round Five: Pettis and Thomson are Gonna Get It On Because Grant Has a Headache, Johnson to Train in Joe-Jitsu Once Again

***TOUCH OF GLOVES***

And let's end with some title fights that have been booked for the end of the year. UFC announced last Tuesday that Anthony Pettis, the man who stole an innocent man's arm and all our hearts to become UFC Lightweight Champion, will have his first title defense on December 14 at UFC on FOX 9. Originally, UFC was hoping to give the shot to TJ Grant, the man who was supposed to fight Ben Henderson at UFC 164 before he suffered a concussion and was forced to bow out. The injury allowed Pettis to step in and win the championship so it's only fair that the man who made that possible get the first crack at the belt, but since Dana White won't compete for the championship (it's a conspiracy, I tell's ya!) then Grant should get the shot. Unfortunately, Grant is still not completely over the concussion yet and feels that he would not be ready for a December fight. So, instead of stringing the UFC along for a few months before revealing the injury days before the event, causing another UFC event to get cancelled due to not being able to find a replacement opponent in time (dammit, Dan!), TJ has already chosen to decline the fight. Obviously, it's a tough decision to turn down a title fight, not to mention a very risky one since there's the chance he might not get another one, but I can respect that he'd rather get himself back to 100% in the head (literally) before committing to such a big fight. Grant's decision doesn't bother me at all because in his place, the UFC has chosen Josh Thomson to be Pettis's first title challenger. I like that fight. Thomson, a former Strikeforce Lightweight Champion, is a wrestler with very good kickboxing who matches up well with Pettis and it should be a very explosive, very exciting title fight on FOX. This fight, along with Urijah Faber vs. Michael McDonald and Carlos Condit vs. Matt Brown, means this should be a damn good show on Fox in December. UFC isn't going to need any head exploding promos to get people to watch this show, although it wouldn't hurt. Life needs more explosions, decapitations, and exploding decapitations.


Also announced for later this year, two weeks before the Lightweight Title fight, will be a Flyweight Championship fight for the Ultimate Fighter 18 Finale on November 30. The main event of the card will see Demetrious Johnson, the littlest champion that could, defend his championship for the third time against the man he beat to win the belt, Joseph Benavidez. The two men fought for the inaugural championship back at UFC 152, with Johnson using his speed to land takedowns on the dominant wrestler and win a split decision and the championship. Since then, Johnson has successfully defended the championship against John Dodson and John Moraga. Hmmmm...with that trend, John Lineker better watch out. Since losing for only the third time in his career, Benavidez has won a decision over Ian McCall and wrecked both Darren Uyenoyama and Jussier da Silva. Benavidez has really shown improved striking since the first Johnson fight, which is in part due to Duane Ludwig joining Team Alpha Male as head trainer back in December. Ludwig has done wonders to improve the stand-up of the wrestling-heavy team, leading fighters like Benavidez, Chad Mendes, and TJ Dillashaw to huge knockout victories. As a matter of fact, I still don't think Alpha Male has lost a UFC fight since Ludwig joined the team. Wouldn't it be something if the team makes it all the way to the end of November, which would almost mark a year since Ludwig joined, and that's when they suffer their first loss? Wouldn't that be something? No? Well it might be what happens because for all the improvements Benavidez has made as a fighter over the last year, Johnson has improved as well. I mean, he finished his last fight. He hasn't done that in a while. Rematches are always fun because, since the two men have experience fighting each other already, it will interesting to see what they took away from that fight and see what adjustments both men make this time to either change or maintain the same result as last time. It should be good. Ludwig will bring brownies.

***HORN SOUNDS***

That's it for Five Quick Rounds. If you have any questions, comments, or suggestions, and it is always appreciated when you do, leave them in the comments section. I will be back in 7 for another Five Quick Rounds. Until then, remember to fight clean, fight hard, fight fair, and never leave it in the hands of the judges...




LATER!!!!!!!!!!!!!!!!!!!!!!!!!!!!
comments powered by