SPOTLIGHTS
Thoughts From Across The Pond. 09.24.13. TUF 18.3 – Stick and Move
Posted by Alex Watt on 09.24.2013

TUF 18 settles back into a familiar groove with the first men's elimination fight of the season...

First of all, a quick apology that my latest TUF 18 review reaches you a day later than usual. You can blame a busy week of packing, a weekend move and various internet connectivity issues for that one. The column will be back on Mondays as of next week.

My previous reviews of The Ultimate Fighter 18:

Episode 2 – Ladies First

Episode 1 – History In The Making

Also, 411mania's heavyweight aficionado Mark Radulich is live recapping each episode of TUF 18. You can check out his recap of episode 3 here.

It would be remiss of me to not mention quickly a tremendous UFC 165 event from this past weekend. The main event, in particular, is one which will live long in the memory and I don't think it's hyperbole to state that it is the fight of the year thus far and up there in the greatest fights ever. It was a classic, plain and simple. I was one of many people not sold on Gustafsson being a real threat to the dominant Jon Jones or his Light Heavyweight Championship and I am happy to say I was completely wrong on that front. The Swede gave the defending champ the toughest fight of his career thus far and unquestionably deserves a rematch. Some scored it for Gustafsson and some scored it for Jones; it was close enough to warrant this discussion and, for the record, under the 10-point must scoring system, I personally felt that Jones shaded it 48-47.


The Ultimate Fighter – "Stick and Move" (S18 / E3)


After the closing half of last week's dramatic second episode, this week's instalment of The Ultimate Fighter 18 felt very much like a chance for the viewers to catch their breath again and get to know some of the contestants – especially the men - a little better.

That's not necessarily a bad thing but it was perhaps inevitable that after such a classic episode last week, "Stick and Move" would always feel like a bit of a letdown as it settled into its familiar TUF groove.

If I was grading these episodes then episode one would have been (to quote Stephanie McMahon) "a solid B+" and last week's tremendous second episode a sure-fire A. Under those guidelines, this week's third instalment of TUF 18 would fall somewhere around the B- to C+ mark; a good episode, sure, but nothing amongst it which truly moved it beyond standard Ultimate Fighter fare.

Fallout from last week's fight? Check. Unrest and distrust amongst a team certain there's a rat in the camp? Check. People becoming irritated by one person in the house? Check. Emotional back-stories? Check. A fun show closing fight which doesn't go the way "everyone expected it to" and which Dana White raves about? Check and check.

Perhaps this is a slightly unkind assessment; after all, both Chris Beal and Chris Holdsworth recounting how their brothers were shot dead, as well as Beal discussing his sarcoma cancer battle ("I beat cancer, I can beat him") made for some compelling interview moments on this week's edition of TUF 18. Plus, the emotion was once more cleverly offset with some funny moments, such as Anthony Gutierrez's high pitched recounting of Julianna Peña's good luck letter to Holdsworth. Even so, this episode never really seemed to get out of second gear and although it was never dull to watch, it wasn't especially memorable and it was once more left to the coaches to carry the true drama of the third episode.

The centrepiece of the episode, naturally, involved Ronda Rousey and Miesha Tate arguing and posturing once more. Jessamyn Duke, who is quickly standing out as a bit of a quotable member of this season's cast, discussed how the latest moment of unrest between Tate and Rousey was "posturing, like you see in the animal kingdom. I was like oh s*** something's about to go down. Nobody cared about the fights on TV any more. Everybody cared about that."

Again, a lot of viewers seem to be favouring Miesha's more calm and collected trash talk over Ronda's brash style, if what is read elsewhere on the internet is to be believed. Certainly, it was Rousey who instigated the argument by purposely getting in the middle of Tate and Caraway and she got precisely the reaction she was courting. The moment was foreshadowed in Ronda's rousing (pun, intended) speech to her team early in the episode, in which she noted how Miesha was too emotional the first time the two ladies fought and it was something Rousey took advantage of, so she plans on riling Tate up again in every way she can muster.

Even so, it's hard to truly sympathise with Caraway and Tate on the fundamental issue of that tweet; yes Rousey and her team are lingering on it but, no matter how many times Bryan apologises for these actions, the words he used remain pretty indefensible and I can't blame Ronda or her coach Edmond Tarverdyan for still being angry about it. To be fair to Caraway – and for all my jokes about how he was sure to be "Douche of the Season" – he has come across well thus far this season and it is to his credit that he was smart and mature enough to sit in silence while he received a verbal lashing from Team Rousey.

I'm not sure that Miesha Tate's cry of "grab her a** Bryan, give it a good squeeze" was the most mature or, indeed, the most feminist way in which to approach the problem but at least Bryan had the good sense to just look horribly uncomfortable throughout the whole saga.

It seems friction was in the air this week in the TUF 18 process, as Team Tate were paranoid about "a rat" having revealed their fight picks to Team Rousey. This has become such a regular part of The Ultimate Fighter process now that it's almost a cliché but, I suppose stewing over trivia of this kind is inevitable when 16 athletes are deprived of television and conversation with their loved ones. Julianna Peña was singled out as the most likely suspect, I suppose because if you're a little bit irritating then you have to be disloyal too.

Leave it to Jessamyn again to point out that Team Tate turning against Julianna is somewhat ironic, when you consider that she eliminated the female fighter considered to be the favourite to win the competition and subsequently gained control for the entire team. It seems that with fighters – much like fight fans – prior achievements are quickly forgotten and it's very much a case of "what have you done for me lately?"

Elsewhere, this episode was certainly significant for one reality TV show reason, as the first inklings of romance reached our screens, which is surely what the producers were craving when male and female competitors were placed in the same house. Who knows whether the flirting between Chris Holdsworth and Julianna Peña as they sunbathed by the pool will amount to anything but that it was accompanied by the graphic "#FRIENDSWITHBENEFITS" would indicate how excited the TUF producers were about the potential development.

The show closing fight was a fun scrap as Holdsworth and Beal, two of the standout performers from the opening episode, went toe to toe for an entertaining 4 minutes. Considering that we were presented with a lingering camera shot of the "Don't Leave It In The Hands Of The Judges" mural in the training centre, it was a surprise to see that this week's contest didn't end in a controversial judges' decision. Rather than being a moment of foreshadowing, it seems that moment represented advice which Holdsworth heeded.

The manner in which that Holdsworth finish came about was surprising; although he picked up the win by submission, he proved his worth on the feet by striking with the heavy handed Beal and dropping him prior to latching on the fight ending guillotine. It certainly wasn't the way anyone was expecting the fight to play out, especially not Dana White who noted that the fight "was the complete opposite" of what he had anticipated, which seemed to me a rather liberal use of the term "opposite" from the UFC President.

Next week we're back on the female side of the equation as Roxanne Modaferri takes on Jessica Rokoczy. Dana White was quick to point out that it's grappler vs. striker again but remember that this week's fight didn't play out in a predictable manner and boxer Jessica showed she's no slouch on the mat either when she won her fight in the first episode via submission. Nevertheless, Roxanne enters the bout as the clear favourite, given her experience, but Shayna Baszler's fate will be a stern reminder that anything can happen in this sport.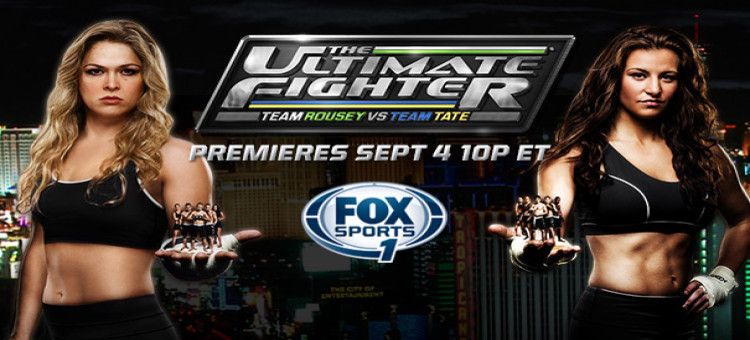 Elsewhere in TUF…
So Team Tate moves to 2-0. I'm sure that'll sit well with Ronda Rousey…


Could anyone else make sense of why a Team Tate member (it might have been Josh Hill) shouted "that's what you get for eating biscuits for breakfast!" when Holdsworth won? Maybe there was some unaired footage regarding Beal and a love of confectionary but, if not, then it's one of the more bizarre celebratory cries I've heard in a long time.


Anthony Gutierrez is really pushing for that "Douche of the Season" award now; "I like everyone in the house. Julianna's really the only one who was kind of bugging me but she's pretty good looking so she might be able to get away with it for a little bit longer."


"Business is business. That's not a big deal to me. Ronda took me aside and won me over with her post-fight stuff for me. When you lose, when you're down and out, you get to see who's really in your corner." - Shayna Baszler likes people who have her back. And chocolate cake.


"I just want peace and harmony in our team" – Roxanne Modaferri, looking to swoop in and steal Junior dos Santos' place as the nicest UFC fighter.


"Roxanne's a f***ing samurai so I wouldn't question her" – Cody Bollinger


"I'll give her the best two minutes of her life" – Chris Holdsworth. The old romantic.


"She'll break your f***ing arm again! Both your arms!" - Edmond Tarverdyan does not like Tate or Caraway, that much is clear.


"That's the stupidest f***ing thing I've ever heard" – Julianna Peña responds to accusations that she's the rat and indicates that she hasn't spoken to many conspiracy theorists or creationists.


There were a lot of F-bombs in this week's episode, huh? Dana White must have sent out a memo to the cast.


I don't think I've ever seen anyone so happy to receive a milkshake as Julianna was.


And, yes, as a Brit I suppose I should point out too that Julianna's English / British accent was something quite atrocious, not supercalifragilisticexpialidocious as she seemed to be hoping.


TEAM ROUSEY
Shayna Baszler
Jessamyn Duke
Peggy Morgan
Jessica Rakoczy
Chris Beal
David Grant
Anthony Gutierrez
Michael Wootten


TEAM TATE
Julianna Peña
Sarah Moras
Raquel Pennington
Roxanne Modaferri
Cody Bollinger
Chris Holdsworth
Josh Hill
Tim Gorman
Louis Fisette


And that's all for this week. I'll be back on Monday to review episode four of The Ultimate Fighter.

If you enjoy the column please do follow me on twitter at AlexWattMMA

Thanks for reading and if you have any comments or feedback please leave them below or message me on twitter. Cheers.
comments powered by