SPOTLIGHTS
411 MMA Fact or Fiction 09.25.13: Jon Jones, Mir/Overeem, Cruz, More
Posted by Wyatt Beougher on 09.25.2013

Did Jon Jones' get away with robbery in his UFC 165 win? Do Frank Mir or Alistair Overeem deserve to get cut from the UFC? Should Dominick Cruz relinquish his title? 411's Robert Cooper and Mark Radulich debate these topics and more!

Welcome everyone to the latest edition of 411's MMA Fact or Fiction. As you've probably come to expect by now, I'm your host, Wyatt Beougher, and after a wild game like yesterday's, I'm honestly missing the random anonymous commenter who would trash my Bengals while promoting the Steelers. Wonder if they've taken away that guy's belt and shoelaces yet? Speaking of emotionally charged sporting events over the weekend, the UFC got a little more than they bargained for with Saturday night's main event, as the normally dominant Jon Jones finally ran into a competitor who gave him fits. I'll admit that I had little faith in Alexander Gustafsson going into the fight, but Gus really impressed me with his effort. I scored the fight in favor of Jones, though only by a one-round margin, and I can certainly see the argument that the Swede won the fight, as the second and third rounds were incredibly close. But you're not here for my opinion on MMA-related happenings, so I'll let this week's competitors entertain you with their thoughts on UFC 165 and more.

But first, let's look back at last week, as Robert Winfree took on defending Fact or Fiction tournament champion Alex Rella. I'll be honest - the results of last week's contest really surprised me. Winfree does an excellent job every time he competes in Fact or Fiction, but for some reason, he just can't seem to connect with you, the readers (Jonathan Solomon is another guy who has this problem - phenomenal writers, but they can't catch a break in the voting), but last week, Winfree put a beating on the champion, taking 56% of the vote to Rella's 37%. Kudos to Robert, and I'm sure we'll see Alex back on his game in the near future. And for the two commenters who were interested in fantasy MMA, know that I'm trying to figure out the best way to make it work, and keep an eye on this spot in the future for updates. As for this week? Well, let's get to it, as the co-hosts of 411's only metal-themed podcast clash! Who will win, as the headbanger takes on the headshrinker?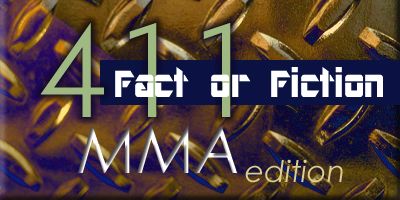 TALE OF THE TAPE

Red Corner
Robert Cooper
'Metalhead'
Columnist, The Hammer of Doom Music News Report/Co-Host/Contributor, Metal Hammer of Doom Podcast
3-4-1

VS

Blue Corner
Mark Radulich
'Headshrinker'
Host, The 411 Ground and Pound Radio Show (and various other podcasts)/Live Coverage Guru (seriously, huge thanks to Mark for taking over The Ultimate Fighter for me this season since I couldn't do it due to work-related complications - check out his latest recap here)
10-4-1

---

Was the Jones/Gustafsson decision controversial?



1.) Jon Jones' victory over Alexander Gustafsson, while certainly close, was nowhere near the robbery that the internet MMA community would like you to believe.

Robert Cooper: FACT Have in mind that I think Gustafsson won the fight, if only slightly, but I had it scored 48-47 for him. Perhaps that was just due to shock over how well he did against Jon Jones, but regardless I had it scored for him. Even though I feel Jones didn't win, I certainly don't think that it was some great robbery like a lot of the keyboard warriors think. I would honestly say that Jon Jones had a more convincing case for winning, with the two final rounds being much more in his favor than the other three rounds, which were very close. I think the reason so many people are so up in arms against this decision is that many people don't like Jones, I personally am not a huge fan of him as a person, but as a fighter, I love to watch him fight. I also think that this is just one of those things that happens pretty often, when you have a long time champion, people like to see them fall after a while to shake things up. But I think we'll see this matchup again pretty soon, so hopefully people will cool their jets on the outrage.

Mark Radulich: FACT A robbery or Clucky decision, if you will, is one where the majority of people agree that fighter A defeated fighter B but the judges score it for fighter B anyway. It's a situation where the vast majority of MMA fans, fighters, promoters, etc. all saw the fight for A but somehow the judges scored for B anyway. This is why I say that the only explanation for some of these terrible calls is that a giant chicken did it. However, in the case of Jones vs Gustafsson, there is no consensus as to who won or even which round was won by which fighter. It is the very definition of a close fight. One can argue that either fighter won and therefore by definition is not a robbery. This is the problem with judging ultimately, it is at the mercy of the individual's biases and competency levels. Those three judges all scored it for Jones but another three judges could just as easily scored it for Gus. It's hard to say when you are dealing with such a subjective situation like a fight, who won and who lost. When both fighters put forth the kind of effort Jones and Gus did, it's difficult to come up with a right answer. There was no robbery here.

---

Should Renan be the actual bantamweight champ?



2.) With another successful defense of his interim bantamweight title and still no clarification as to Dominick Cruz's return date (other than a vague "early 2014" from the champion himself, who has yet to receive medical clearance), Cruz should surrender the title to Barao, who has proven himself to be the best fighter in the division.

Mark Radulich: FICTION Let's give the man a chance before we go around stripping titles all willy nilly. Cruz has stated he'll be ready to return in early 2014. If he can't be ready by March at the latest then I would agree, strip him of the title. However, we are simply not there yet. Also, while the fight itself might not be a box office bonanza, it certainly sells better as Champion vs Champion rather than Champion vs Former Champion. There aren't any decent open slots to book Barao until next year anyway so what's the harm in holding off until the UFC knows for sure Cruz won't be back until after March of next year?

Robert Cooper: FACT I certainly think so, nothing against Dominick Cruz, because he's a great fighter, but there is a certain point where the division HAS to move on, because to keep the title on Cruz would be slowing the progression of the division down. Renan Barao has more than earned the official title in the Bantamweight division, he's been beating people left and right and feels more like the official champion rather than the interim anyways, he's fought as many times as the UFC champion as Dominick Cruz (now if we include his time as WEC champion, he would have defended the title 4 times, but still, Barao has defended it twice, and still had to win it). When Cruz comes back, he has an automatic title shot to get it back, and even if he doesn't, he can sell himself as the man who never lost his title, so it's a not a very bad situation for him. I just find it to be disingenuous for Renan Barao to continue fighting as an interim champ when he has done everything right, and deserves the official belt.

---

Is Lima deserving of the championship? (Also: Haters gon' hate)



3.) Depending on the Ben Askren contract negotiations, Bellator could do worse than to award the title to Douglas Lima based on his beautiful KO victory over Ben Saunders in the finals of the season 8 welterweight tournament.

Robert Cooper: FACT They could do much worse - they could pull names out of a hat, or award it to the fighter with the longest rap sheet - just spitballing really bad ideas here. I think they could do better, though - run another tournament, get a second contender, have an interim title crowned while Funky is negotiating his contract. But yeah, awarding it to your Number 1 contender isn't that bad, and it could be SO much worse.

Mark Radulich: FICTION I'm not wazooey over the idea of just handing someone a title. There's currently a welterweight tournament taking place and there's no reason why Douglas Lima can't fight the winner of that tournament for a vacated WW title at the onset of Season 10 next year. This is what actually happened when Hector Lombard left for the UFC. Alexander Shlemenko won a tournament and was scheduled to fight Lombard. However, he vacated the title when he split for the UFC and so Shlemenko fought the Season 6 MW winner instead for the title. I think this is preferable since Bellator didn't say the Season 8 WW winner would be declared champion. It might not seem important but it is. If they are going to make a tournament winner the new champion the fighters need to know this beforehand, not after the fact.

---

Is Dana actually making sense?



4.) Dana White actually suggesting that TJ Grant take as long as he needs to heal from his concussion before returning to action is as sensible as it is surprising to hear come from the UFC president's mouth.

Mark Radulich: FICTION It is sensible but I wouldn't say it is surprising. What was he supposed to say, "TJ Grant, you pansy! You stand up and fight right now and stop faking head injuries!" He's already gone on record saying that UFC fighters are examined by UFC approved physicians to make sure that they aren't faking their way out of fights. Anything less than, "Take as much time as you need to heal," would make him sound like a heartless monster. I give White a ton of crap but I don't believe he would recklessly put a fighter in danger, especially if they aren't particularly a draw on PPV. I mean, if this were GSP maybe I could believe he would attempt to cajole him into fighting injured but ultimately he can't force any of his fighters to step in the cage against their will, especially if they can prove they are injured. It's a lose-lose scenario for White every time this comes up. He tried to humiliate Overeem when he dropped out of the fight with Bigfoot during the Grand Prix and Overeem turned around and posted pictures up his broken ribs. White has no reason to rush TJ Grant back into the cage and every reason to remain, "sensible."

Robert Cooper: FICTION I'm not all THAT surprised to hear Dana say something that sounds like he cares about the wellbeing of his fighters. Concussions aren't anything to play with, and I think maybe Dana realizes that. Don't get me wrong, the guy is still a dumbass who runs his mouth too much and says things that no company head should say, but I don't think he is so big an asshole as to demand a fighter back who is obviously still suffering from effects from his concussion. Though I will say that I'm not sure if Grant's title shot will be there if he takes too long to come back, but I think what matters now is that he get healthy instead of rushing back and doing more damage than needed.

---

They're on the chopping block...but for how long?



5.) It's fitting that Dana White has intimated that Frank Mir/Alistair Overeem will be a "loser gets cut" fight, although it's doubtful that either fighter will stay unemployed for long.

Robert Cooper: FACT Neither guy will be unemployed for long, this is a fact. Overeem will get picked up by someone, whether it be a Japanese company, or Bellator, he's going to get picked up. Frank Mir, I could see getting cut as a fighter and getting brought back as a commentator, since he's competent at commentating. As a fighter, I feel like Bellator might pick him up as well, I feel like they're starting to have their business partners in TNA rub off on them, where they pick up guys who really don't need to be there, but they're there because they used to be in the big leagues. Pretty cut and dry here, I don't see them getting NOT picked up, because Cheick Kongo is in Bellator, and if the testicle sniper himself can get picked up following a release, you'd better believe two former champions in big promotions would get picked up in a heartbeat.

Mark Radulich: FACT If Mir loses he'll end up right alongside Jon Fitch in World Series of Fighting, headlining against Andrei Arlovski. If Overeem loses I suspect he'll head to One FC where he'll resume his diet of "horsemeat" and easy competition. Either way, as long as both fighters want to work, they will continue to find gigs outside of the UFC.

---


Who do you think won this week? Did Mark continue his overall dominance of Fact or Fiction competition, or did Coop score the win? Voting will be open until midnight EST on Saturday, so make sure you vote and make your voice heard!




---

Can Jones open the door to more "mainstream" sponsors?



Bonus) With a pair of endorsements in Nike and Gatorade usually reserved for athletes from "mainstream sports", it appears as though Jon Jones will have the opportunity to be the fighter who finally brings MMA out of the realm of beer and motorcycle sponsorships.

Mark Radulich: FACT It certainly seems that way. However, in Brazil, Anderson Silva is sponsored by Burger King so I think it would be more correct to say that Jon Jones will be the fighter that brings MMA out of the realm of beer and motorcycle sponsorships in America.

Robert Cooper: FICTION I originally went FACT with this, but I went back on it. The reason being is that Bones is a much bigger deal than a lot of the UFC fighters, as much as I hate to say it. Besides Anderson Silva (who I'm not sure if he's as big as I think he is in mainstream America), Rousey and GSP (who already has a Gatorade deal in Canada, if I'm not mistaken), who else is at the level of Jones? Not many people, and it's going to take a lot of people to get UFC officially out of the beer and motorcycles category. Though I would love to be wrong here, I REALLY would!

---


And that's it for this week! As always, if there's anything you'd like to see featured in a future edition, leave your statement in the comments and I'll add it in. Let us know what you thought in the comments, on Twitter, or on Google+.


comments powered by