SPOTLIGHTS
All The King's Men 9.27.13: Week 69 – Jon Jones vs. Alexander Gustafsson Rematch
Posted by Larry Csonka on 09.27.2013

Jon Jones got more than he bargained for at UFC 165 and walked away with a close decision victory against Alexander Gustafsson. But should the UFC do an immediate rematch of the fight? The 411 staff takes a look!

ALL THE KING's MEN!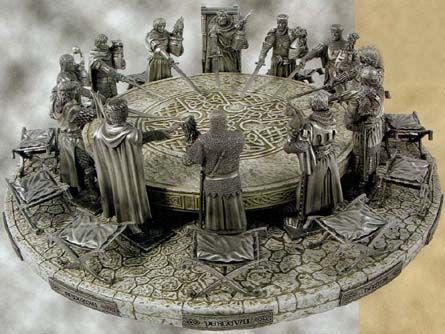 The Concept
The concept of the column is simple. As the "King" of the 411 Roundtable, I will pick a topic for discussion. The staff, or "Knights" of the old roundtable will then have the opportunity to state of they are FOR or AGAINST the week's topic, and then will have the chance to defend their position. Lets get to it…



Jon Jones vs. Alexander Gustafsson: Immediate Rematch?
Jon Jones got more than he bargained for at UFC 165, and walked away with a close decision victory. Some have called it the best light heavyweight title fight in UFC history, and some even thought that Gustafsson won. The UFC should do an immediate rematch of the Jon Jones vs. Alexander Gustafsson fight.

Jeffrey Harris - AGREE: Sometimes you have to strike while the iron is hot, and the iron right now scorching. Fans overlooked Gustafsson the first time as they probably expected another one-sided Jon Jones nomination, case in point Gustafsson being a +700 underdog. These two put together one of the most epic MMA battles of all time, and quite possibly the Fight of the Year. Both fighters still being very young and not having had tons of wars and knockouts could bode well for this being one of MMA's all time great rivalries in terms of the fights it delivers. The first fight was extremely close and it really could've gone either way. A rematch makes sense. It would be a big fight for say a Super Bowl weekend or could even likely draw big money in Sweden if they decided to go that route. No fighter previously came anywhere this close to beating Jones except Gustafsson, so that makes a Gustafsson rematch even more intriguing. Lyoto Machida wasn't even able to damage Jones this much. Physically, Gustafsson is now proven to be the toughest and closest match to Bones Jones. Both guys apparently came out of this fight without any broken bones or serious injuries, so give them a little vacation and let's get this done. Teixeira might be better served to get another fight say against Daniel Cormier who is constantly talking about a fight with Jones and a move down to light heavyweight. Well if Cormier is serious, he should have a fight at light heavyweight against a top contender to prove himself. Teixeira would really be the best choice to have a title eliminator to see who fights for the belt. It sucks for Teixeira but these days, the only guarantee you get your title fight these days is when the cage door closes.



Robert Practor - AGREE: The UFC absolutely should book an immediate rematch to Jon Jones vs. Alexander Gustafsson. It is very, very rare for there to be an immediate rematch to a title fight in which the challenger came out on the losing end but this case is different. This was possibly the best title fight in UFC history. Jon Jones vs. Alexander Gustafsson truly felt like Apollo Creed vs. Rocky Balboa, with the massive underdog challenger taking the dominant, unbeatable champion to the distance in a thrilling battle leaving both men bloodied and battered. Hell, the night ended with both men going straight to the same hospital, just like the movie. Gustafsson took the fight to Jon Jones in a way that no one else has, more than held his own on the feet against the champ, and stuffed 10 of 11 of Jones' takedown attempts while becoming the first person ever to take Jones down. The fight was also extremely close, with many people scoring the fight for Gustafsson. I personally scored the fight 48-47 for the challenger. When you take all of this combined with the fact that "#1 Contender" Glover Teixeira has arguably not even defeated a Top 10 ranked fighter, Jon Jones vs. Alexander Gustafsson Part II is definitely the fight to make. Glover's biggest wins are against a past-his-prime Rampage Jackson and Ryan Bader (in which he almost got knocked out in the first round), so I already felt that he needed another win before getting a title shot. Again, Jon Jones vs. Alexander Gustafsson II needs to happen, ideally on Super Bowl weekend and it should do huge business, while the UFC can match Teixeira up against Phil Davis or Daniel Cormier to give us a worthy, clear-cut #1 Contender.



Jon Butterfield - DISAGREE: Like my colleagues, I find myself a little torn over this one. On the one hand, the UFC is big business and one of the keys to big business is to strike while the iron is hot, so to speak, and that means NOT allowing Gustafsson the opportunity to lose all his momentum. Gustafsson, after all, has proved himself an immensely capable fighter (as I suspected he might) and posed Jones numerous difficulties during their five round affair, and a rematch is certainly one to whet the appetite. But if I'm going to bring in a wrestling-based analogy, let's consider that a Vince McMahon-style piece of booking, and that isn't necessarily a good thing in terms of long-term thinking.

Gustafsson is the most intriguing opponent for Jon Jones HANDS DOWN. He has the boxing, footwork, movement, and, yes, ever improving wrestling to draw Jones into the "dog fight" he had apparently long been searching for. But Gustafsson isn't, in anybody's mind, a guaranteed favorite going into a potential rematch. The Las Vegas odds will probably tell you that Jones was a favorite in the first fight, and he'd still be favorite in the rematch. You don't need immediate rematches unless there was an obvious foul on behalf of one of the fighters, the referee, or possibly the judges - why immediately rematch a guy who came a close second, save for sheer lack of ideas or options?

I say put Jones in there with the next in line, Glover Teixeira (though the fact he hasn't beaten a top ten UFC Light Heavyweight thus far and is perceptibly overrated undoubtedly tarnishes the bout), and go from there. Teixeira may not be a lock for number one contender status since none of Rampage, Te Huna or Bader are anywhere NEAR elite status at this point, but he's the guy with the hype, the momentum, and the finishing ability to claim four stoppages from five UFC bouts against respected opposition. He might not be the one everyone wants to see face Jones right now, but that's not always a bad thing. If Gustafsson is worth his salt, he'll bounce back with a win over his next foe (the only person I'd pick against him being Machida) and we'll get it one or two fights down the line, when we've all had the opportunity to accept that Jones and Gus are the JDS and Cain Velasquez of 205.

Oh, and, err, if the UFC could manage it, I'd sooner see Cormier vs. Gustafsson in a number one contender bout in the mean time...


Wyatt Beougher - AGREE: I'm in the pretty vocal camp that hates immediate rematches, but the simple fact is that Gustafsson is the first challenger who has actually made Jon Jones look beatable for more than five minutes. As much as I like Glover Teixeira, and as much I do think that he's earned his title shot, in this instance, I think that the UFC needs to strike while the iron is hot. If Jones somehow looks poor against Teixeira, or Gustafsson ends up losing a fight against someone like Machida, it would absolutely kill all the momentum the two men have coming out of their amazing fight at UFC 165.

I think the UFC should go ahead with the Jones/Gustafsson rematch, and then match Teixiera against Phil Davis or Rashad Evans with a title shot on the line (preferably on the same card), and then match the winners up. That way, Ryan Bader or Rampage Jackson isn't Teixeira's best win before getting a title shot, and you can still capitalize on the excitement stemming from the first Jones/Gus fight. I realize that Teixeira has already been promised a title shot, but this is hardly the first time a deserving challenger has been bumped due to circumstances surrounding a title fight, and the main guy that comes to mind in that instance, Anthony Pettis, seems to have acquitted himself rather well when he finally got his promised title shot.

I think if you look at the bigger picture, Alexander Gustafsson has done something that we didn't really think was possible while Jones was in his prime - inject a sense of excitement into the division. Since ascending to the championship, Bones has looked nigh-unbeatable, and while that aura of invincibility certainly extended from the time Gustafsson was announced as his next challenger all the way up until the main event started at UFC 165; however, if Zuffa announces a rematch, there's an immediate sense of "will he win?" that none of Jones' opponents has really been able to foster in the young champion's thus-far-dominant run. It's also something that Glover Teixeira could lay claim to after his immediate entry into the UFC ranks, but something that's faded as he's won less impressively. For that reason, I agree with this statement.



Evan Zivin - DISAGREE: I have no problem with immediate rematches when the opportunity calls for it but I absolutely HATE when someone who has been given a title shot gets it taken away from them so they can do a rematch or some other fight. Now, am I saying that Glover Teixeira is more deserving of a title shot right now than Alexander Gustafsson is? Not necessarily. Gustafsson is definitely deserving of a rematch. There's no question that the Swede gave Jones the toughest fight of his career and the greatest challenge Jones has been given since becoming the best light heavyweight fighter in the world. Gustafsson hit Jones more times than any other opponent has, and he even took Jones down, something that no other opponent has come close to doing to the champion. It was an amazing battle of skill and will between two men who are the embodiment of the new generation of fighter that will lord over MMA for years to come, but it was also a battle that Jones won. While many of the rounds were close and many people scored the fight for Gustafsson, Jones still landed more strikes and took over the second half of the fight. Besides, if you don't decisively win the fight, then, win or lose, you haven't really beaten the champion and you shouldn't be guaranteed an instant rematch because of it. If Gilbert Melendez wasn't given a rematch against Ben Henderson in a fight that was much harder to score than this one, then Gustafsson shouldn't get one. It's not a good trend to set. Look how many guys in the lightweight division were forced to wait for a shot so UFC could do rematch after rematch. Of course, not every division has as active a pool of contenders, but when someone has already been granted a title shot and they are waiting to get it, as Glover is, they should be allowed to get their shot. It's only fair. C'mon, Dana. Be a man of your word. Either that or stop promising title shots that you'll just end up taking away. This is why you're no longer on Lyoto Machida's Christmas card list.

It would probably benefit Gustafsson to wait for his rematch anyway. Aside from the fact that I don't want to see him a position where he could end up on a two fight losing streak, it would benefit his rise to a rematch if he gets another win or two before he's actually given it. Have him take on another former champion or two (or maybe the winner of Chael-Rashad) on a FOX main event and give him something to add to the highlight reel. Put him in a position to kick some ass and get as many eyeballs watching it as possible. The rematch will most likely do bigger business than the first fight but just imagine how much more business it will do with an added year of build-up to the clash that is inevitably going to happen again anyway. Waiting seemed to work pretty well for the Silva-Sonnen rematch. Actually, the Fight of the Year that took place last Saturday will probably help a Jones-Teixeira fight do better numbers too just because fans now know that it's possible for someone to give Jones a competitive fight if they are capable of executing the proper game plan. I don't know if Glover can do it but Gustafsson has created the blueprint and I definitely want to see if others can follow it. Maybe Gustafsson is the only one who can give Jones a proper challenger. That's fine. I still say let Glover get his shot first. Then Jones-Gustafsson II can happen. I mean, it's going to happen eventually and it's going to be nuts when it does, but it can wait.


Robert Winfred - AGREE: I really don't like immediate rematches. Yes there are circumstances that should lead to them, draws, major scoring errors, unintentional fouls that end the fight, things of that nature. Losing a close decision isn't grounds for an immediate rematch, though Frankie Edgar certainly feels differently. I generally find that immediate rematches don't do the division any favors, and the last couple of immediate rematches the UFC has done haven't done great business. The rematches for Henderson/Edgar and Edgar/Maynard three did lower numbers than the original fights. So why am I going contrary to my normal opinion here?

A couple of reasons, the first being that no one is really getting screwed here. Yes Glover Teixeira has been tapped as the next title challenger, but he hasn't earned his shot beyond a doubt. Glover Teixeira has become the number one contender after beating Ryan Bader, which speaks more to the state of the division than anything else. Glover Teixeira has yet to beat a legitimate top ten fighter in his weight class, and no I don't consider the Ulf's ranking system all that legitimate. Teixeira hasn't proven beyond a doubt that he's the next challenger, had he beat Rashad Evans or Phil Davis in his last fight my opinion would be different and I'd say he should get the next shot. Yeah it sucks to be told you've got a title shot and then not get it, but Teixeira isn't in a position to have an uncontested claim to the next shot so there's no harm in giving Gustafsson a rematch on that front. The other part of my opinion comes from excitement. Suppose Teixeira gets the next shot, Jones chokes him out in the fourth round and Gustafsson beats Rashad Evans via three round decision, does that scenario make me more excited to see Jones and Gustafsson fight again? In this case I don't think it does, I'm as excited to see those two fight again as I will ever be, having each take another fight doesn't build more anticipation and since this is MMA it's entirely possible that Gustafsson loses his next fight and the UFC has lost out on the opportunity to make more money, and the fans will have lost out on the rematch of an absolutely classic encounter.

With a couple of circumstances a little different I would be opposed to an immediate rematch just because the fight was closer than we thought it would be, but as things stand I don't see a problem with having those two get back in to fight each other as soon as possible.




WHAT DO YOU THINK?




Have you checked out the Csonka Pod casting Network? If you haven't, you should We run anywhere from 15-20 shows a month, discussing pro wrestling, the world of MMA, the NBA, general sports, popular TV series of the past, bad movies, battle rap, interviews, MMA & Wrestling conference calls and more! Around 10 different personalities take part in the various shows, which all have a different feel; so you'll likely find something you like. All of the broadcasts are free, so go ahead and give a show a try and share the link with your friends on the Twitter Machine and other social media outlets! Running since May of 2011, there are currently over 400 shows in the archive for you to listen to.



Your heart is free. Have the courage to follow it…TO CSONKA'S TWITTER!

http://www.twitter.com/411wrestling
http://www.twitter.com/411moviestv
http://www.twitter.com/411music
http://www.twitter.com/411games
http://www.twitter.com/411mma
comments powered by