SPOTLIGHTS
Thoughts From Across The Pond. 10.01.13. TUF 18.4 – Use The Force
Posted by Alex Watt on 10.01.2013

The focus is back on the female fighters for episode 4 of The Ultimate Fighter 18 and the show is better for it. Yes, it gets emotional again…

My previous reviews of The Ultimate Fighter 18:

Episode 3 – Stick and Move

Episode 2 – Ladies First

Episode 1 – History In The Making

Also, 411mania's heavyweight aficionado Mark Radulich is live recapping each episode of TUF 18. You can check out his recap of episode 4 here.


The Ultimate Fighter – "Use The Force" (S18 / E4)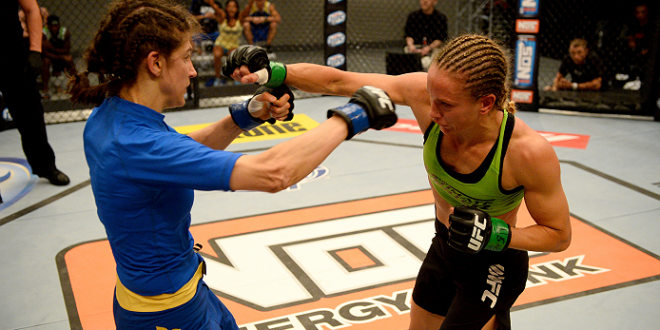 "Box the s*** out of her. Keep moving. Make her miss. Make her pay."


It's been said many times that nice guys finish last. The question is, does that same mantra apply to women? And if so, how do things play out if both competitors are nice guys / girls?

After last week's episode fell flat, leave it to the women to get a great eighteenth season of The Ultimate Fighter back on track.

It's only been natural that the guys have been forced to take a backseat to the women in this season of The Ultimate Fighter, given that it's the first to feature female competitors. Even so, just four episodes in and it's becoming apparent just how much more compelling the characters are on the women's side of the draw and how their stories, their personalities and their fights make for much more entertaining and emotional viewing than that of their male counterparts.

This week the show focused on women's MMA veteran Roxanne Modaferri and boxing veteran, turned MMA pro Jessica Rakoczy. Their stories were severe in their contrasts - the experienced, geeky, loveable and grounded Modaferri opposing the maternal, emotional Rakoczy with a dark past – yet what both women shared was a passion for their sport and both women were easy to connect to on a human level, from a viewer's perspective.

"Use The Force" was another demonstration of what this show can achieve when it is firing on all cylinders. You could be smiling from ear to ear one minute as the Star Wars, Power Rangers and Dragonball Z enthusiast Modaferri goofed around with a cast of men and women who all adored her, then the next be slapped with the sadness of Rakoczy struggling to recount the story of her abusive stepfather and of her mother's death while wearing a T-shirt emblazoned with the slogan "Fighting's In My DNA". These are the kind of contrasting emotions and life stories which define combat sports but also define reality television at its zenith.

This all meant that when the time for the elimination fight came, it was impossible to know who you were supposed to root for. For a show which has often been accused of trying to make heroes and villains of its subjects, it was to this episode's credit and strength that both athletes were allowed to come across so well on TV.

From a quality standpoint, Modaferri vs. Rakozcy may have been the weakest show closing fight of the season thus far, but drama-wise it was almost certainly the strongest. After a fairly pedestrian first round, in which Roxanne predictably dominated Jessica on the mat, all hell broke loose in the second. Modaferri looked exhausted and Rakozcy capitalised by pushing forward with a barrage of punches, dropping Modaferri with a left hook on two occasions before bravely diving into Modaferri's decorated jiu-jitsu guard. As Rousey and her team screamed at Rakozcy to stand up to avoid being submitted, the confident mother of one instead elected to pick Roxanne up and slam her to the mat.

Some follow up punches to a clearly dazed Modaferri resulted in the referee, eventually, stepping in to stop the contest. For me, the referee who was quick to admonish Jessica earlier for grabbing the fence was surprisingly slow to step in and wave off the fight despite the fact that Roxanne was clearly unable to intelligently defend herself.

In a season which is already becoming defined by featuring big upsets on the female side of the draw, we once more witnessed some powerful television as the real emotion of another female veteran losing in her shot at the big time came flooding out.




Arguably, this week's closing moments were even more emotional than episode two's, in which Shayna Baszler was defeated, because Roxanne Modaferri is a less divisive character. It was clear that everyone was devastated to see her lose and it was heartbreaking to see "The Happy Warrior" lying on her back, in tears as her dream fell through her fingers.

The post-fight scenes made for some powerful viewing. If you didn't at least get a lump in your throat at Roxanne tearfully asking for her "big sister" and a similarly emotional Jessica embracing her friend and helping her to her feet, then you must be made of stone. Similarly, Baszler and Modaferri breaking down as they hugged each other was tough to watch.

"More than anyone in the house right now, I know what she's feeling. It's like, eleven or twelve years of work and you just want the world to know that you're one of the best, because she really is. Roxanne truly is one of the pioneers." – Shayna Baszler

The implications in the two veterans' reactions to their losses are clear; this is more than just another season of The Ultimate Fighter, this is one of the most important TUF's in the show's history because of how much it means to women Mixed Martial Artists to make it into the UFC at last.

The maternal Rakoczy and the cheerful Modaferri contrasted drastically with the in-your-face personalities of this season's star coaches, especially the ultra-intense Ronda Rousey.

The intensity of Rousey and her coach Edmond Tarverdyan, unsurprisingly boiled over yet again in this week's episode, with more confrontations with Team Tate over that Bryan Caraway tweet. That the boss is now having to get involved to try and defuse situations and explain to Rousey and her team that their behaviour is starting to get out of hand, is slightly concerning, especially given that there is still weeks of the process to go.

It is already clear that Rousey's brash personality is grating on the majority of viewers and that issue obviously isn't lost on UFC President Dana White who, two weeks into the TUF process, is showing the concern of a company head worried that one of his main stars and the poster girl for his promotion's newest weight class may not be representing herself in the most intelligent manner. That White – a man whose brash personality and verbal f-word laden outbursts are now infamous – is the cooler head in this situation, is particularly telling.

"It's not good for the sport. It's not good for you. It's not good for him. It's not good for anybody. . . . All this drama and bulls*** will be settled when Ronda and Miesha fight." - Dana White

Still, if this isn't a lesson to every viewer of that old mantra; "loose tweets sink fleets" then I don't what else could be. Be careful what you say on social media, folks, lest an angry Armenian and his arm mutilating charge come seeking revenge.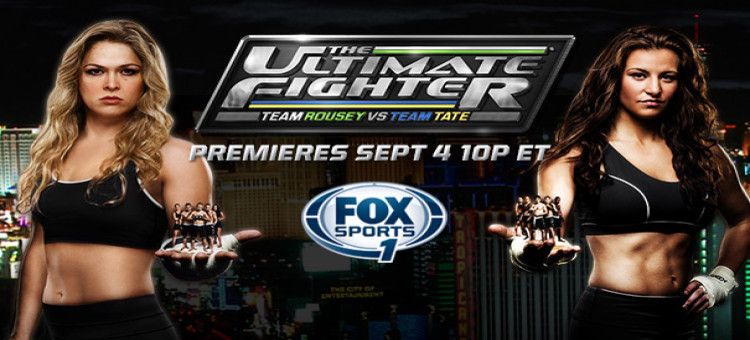 Elsewhere in TUF…
"She's throwing a p***-fit" – Miesha Tate eloquently describes Ronda Rousey's latest angry outburst.


"I've sparred in the past with a couple of girls and do I like it? Not really. I don't want to hit a girl as hard as I hit a guy but, at the same time, they're professionals, they're fighters, so they'll take it and they'll give it right back to you too." – Josh Hill discusses the men and women of Team Tate sparring for the first time.


"The guys going with the girls a bit more, like what I'm used to doing back home; it definitely opens up their eyes a bit and I think it brings us closer together as a team." Sarah Moras' ideas of team bonding probably opened up a lot of eyes for closed minded viewers as well.


"It was so typical Roxanne" – Shayna Baszler recounts the story from 2006 when she defeated Modaferri in Japan and her defeated opponent proceeded to leave the arena with her and show her around Tokyo.


"My parents always said, 'If you shoot for the stars, you might reach the sky.' I like that saying" – Roxanne Modaferri


Did you notice the very different reaction to Julianna's note of encouragement from the sweet Modaferri, as opposed to Chris Holdsworth and chums' laddish response in last week's episode?


"Is this a normal pre-fight ritual for you?" Jessamyn Duke asks as Modaferri creates a dummy called "Plato" from toilet roll tubes and paper plates.


"Plato, you dirty b******!" - Shayna Baszler questions the dummy's true motives with Roxanne.


A staredown featuring nunchucks and a water pistol? Wanderlei Silva would be furious with such a lack of intensity.


"What do I think about when walking to the cage? I just try to clear my mind. The Jedi code says, 'There is no emotion, there is peace.'" – Roxanne Modaferri


To her credit, Rousey didn't get overly emotional in celebrating her team's first win of the season. If she had, it would have been incredibly hypocritical given her infamous angry reaction to Miesha Tate in episode two.


"I'm Davey, look at my moonwalk." I hope we can delve further into both David Grant's dancing and Ronda's impersonation of the Brit next week.


Next week's episode gives us the inevitable appearance of Ann Maria Rousey DeMars; "A lot of people will understand me a lot more, I think, once they see my mom." Let's hope so Ronda.


So it's now 2-1 to Team Tate in the competition, as Team Rousey get their first win on the board. Can David Grant keep the ball rolling next week and even up the score, or will late replacement Louis Fisette (he lives with his parents, in case you'd forgotten) take back control for Miesha? Judging from footage in the season preview, I don't like Grant's chances, unfortunately.


TEAM ROUSEY
Shayna Baszler
Jessamyn Duke
Peggy Morgan
Jessica Rakoczy
Chris Beal
David Grant
Anthony Gutierrez
Michael Wootten


TEAM TATE
Julianna Peña
Sarah Moras
Raquel Pennington
Roxanne Modaferri
Cody Bollinger
Chris Holdsworth
Josh Hill
Tim Gorman
Louis Fisette


And that's all for this week. I'll be back on Monday to review episode five of The Ultimate Fighter.

If you enjoy the column please do follow me on twitter at AlexWattMMA

Thanks for reading and if you have any comments or feedback please leave them below or message me on twitter. Cheers.
comments powered by