SPOTLIGHTS
MMA's 3R's 10.02.13: Silva Confronts Sonnen, Jon Jones/Gustafsson Not Happening, More
Posted by Jeffrey Harris on 10.02.2013

From Wanderlei Silva going after Chael Sonnen at an expo and Nate Diaz's manager running damage control to Jon Jones saying no to a Alexander Gustafsson rematch and more, 411's Jeffrey Harris breaks down the Right, the wRong and the Ridiculous from the week in MMA!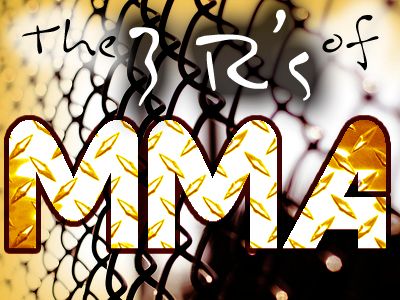 *The Column Concept*
Greetings loyal readers and welcome back to a brand new edition of The 3R's of MMA. The rules and format are still the same as I will be taking a look at the Right, the wRong, and the Ridiculous in the MMA world. The Right will be about the good to great fights or positive news items for the week or big fight announcements. The wRong will be the bad fights, showings or performances, and bad fight bookings. And the Ridiculous will be the worst of the world of MMA.

The 411 Ground and Pound Radio Show was back this week to review UFC 165:



Bellator was back this week. The Baddest Man on the Planet, and the man whose image this column is written around, Joe Warren, made a successful return to the cage and advanced to the finals of this season's bantamweight tournament. Some fighters like Yushin Okami got cut from the UFC. And Mark Munoz is now fighting Lyoto Machida in Manchester. So let's get to it.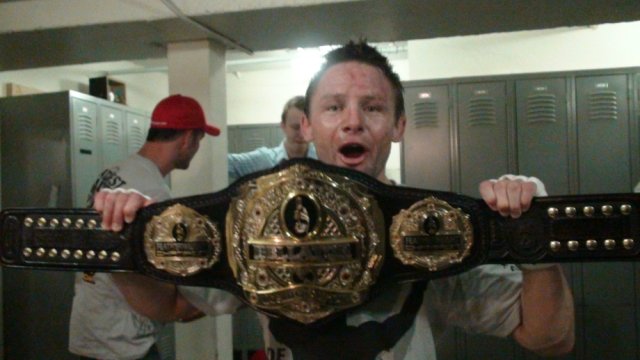 THE RIGHT:


Joe Warren vs. Nick Kirk: The Baddest Man on the Planet was back to wreak havoc on the Bellator bantamweight division at Bellator 101. Now under the tutelage of Greg Jackson, Warren looked better and crisper than ever, dominating Kirk on the way to the first submission victory of his MMA career with a reverse triangle of all things. Warren's last two opponents talked a big game about how Warren's "chinny" and is easy to knockout and get hit, and yet they were unable to pull this off. Warren might lose in spectacular fashion, but he always lands on his feet and bounces back in equally spectacular fashion. Warren now heads to the finals for the bantamweight tournament next.


Joe Warren submitted Nick Kirk at Bellator 101.

Wanderlei Silva Confronts Chael Sonnen at Mr. Olympia Expo: Wanderlei Silva put together another ECW and went after Chael Sonnen at the Mr. Olympia Expo in Vegas. He had his fight team document all of this, him getting in Sonnen's face as Sonnen's friends had to physically hold him back. As funny as all this was, it's pretty goofy Silva went through the trouble of doing this. If Sonnen ticks you off so much, just fight him? But regardless of the outcome at UFC 167, hopefully this fight will happen as I look forward to Sonnen taking Silva down and making him eat canvas and leather hammer fists.


Wanderlei Silva goes after Chael Sonnen at the Mr. Olympia Expo.




THE wRong:

Yushin Okami cut from the UFC: I'm hardly the biggest Yushin Okami fan, but his recent release from the UFC definitely took me by surprise. Now while you can still debate the validity of the UFC rankings, at the time of his cutting, Okami was still ranked No. 6 in the middleweight division. Okami leaves the UFC with a record of 13-5, and he was only 3-2 in his last five fights. Here is what UFC President Dana White said about Okami's release to Yahoo! Sports: "He's been with us forever. He was always a tough guy and was right up there, but it's almost like he'd become a gatekeeper. I like Okami, and you've heard me say this many times, that a win over Yushin Okami meant something. But he was never able to get over the hump and win one of those [significant] fights. We have a lot of guys coming in and I've been saying this all year: We have a full roster and there are guys who deserve opportunities. When you bring guys in, someone has to go. That's why these fights are so meaningful." Now his critique of Okami wasn't necessarily wrong. Okami was never able to win those significant fights and he had become a gatekeeper. Okami lost all the biggest fights of his career be it to Jake Shields at Rumble on the Rock or against Chael Sonnen or Anderson Silva. For years many fans bemoaned how Okami wasn't getting the respect he deserved or a title shot in the UFC despite his record. Injuries or losing significant fights would curtail that. The fight that ultimately got Okami a title shot though was a dull, execrable squeaker of a split decision win over Nate Marquardt. When he fought Anderson Silva for the title in Brazil, he basically froze and had nothing for him. This was after Okami's supporters years before complained that he had the last win in MMA over Silva, even though said win was a DQ two minutes into a fight he wasn't really "winning." So at this point, yes Okami had basically become a gatekeeper. He lost to Silva, got knocked out by Tim Boetsch, then he beat a few dudes, and then he got knocked out by Jacare. That definitely fits the bill of a gatekeeper level fighter. Not to mention, Okami had a grinding, seldom-exciting style. He didn't exactly have a rabid fanbase or people lining up to watch him fight. Again, his biggest wins were generally uninspiring performances. You can complain that Yushin Okami has more value than a 1-2 fighter like Hector Lombard, who some argue is overpaid despite not performing. And Okami beat Lombard via split decision. That being said, we don't know all of what fighters are being paid either. I think Okami shouldn't have been cut yet and deserved at least one more fight because he is still a top 10 middleweight. Okami might not be elite or a world beater. He is a gatekeeper. But I'm of the belief that you need solid, tough gatekeepers like Okami on your roster because when someone like Jacare comes along and beats Okami, which does mean something. When Sonnen dominated Okami, it was a big moment for Sonnen in his ascent to fight Anderson Silva. But ultimately it's the UFC's call. And I still do not mourn the passing of Jon Fitch's UFC career.


Yushin Okami finds himself out of the UFC after his most recent loss.

Jon Jones opts out of rematch with Alexander Gustafsson: So last week it came out that Jon Jones said he wants to move on from Alexander Gustafsson and won't grant him a rematch just now. So the next likely fight for Jon Jones is Glover Teixeira. Now I'm a little ambivalent about this. Say what you want about Teixiera, but he earned his title shot and he was basically declared to get the next title shot after his win over Ryan Bader. So I'm fine with the UFC going forward with this fight instead. No one expected Gustafsson/Jones to be the barn burner that it was anyway. So Teixeira/Jones has just as much potential to surprise us. That being said, the first fight was something really special, so a rematch would've been nice. This was the toughest fight of Jones' career and this was really the first time he ever really looked vulnerable in a fight. Going into this fight, everyone expected this to be another one-sided beat down by Jones and domination. That's not what happened. I'm not going to turn this into a Jon Jones bash fest. He also deserves credit for the absolute war he put on with The Mauler no matter who you think should've gotten the decision. Jones wasn't keen on a rematch with Machida either, and that was an obliteration. Yes, its convenient Jones believes the toughest matchup he ever had was decisive and he wants a different fight instead, but he's still the champion and even before this fight he went on a run unlike anyone else at light heavyweight before. Still, just disappointed it could be a long while before we see Jones/Gustafsson II.



Jon Jones' next fight will likely be against Glover Teixeira, rather than a rematch with Alexander Gustafsson.

Michael Bisping injured; bows out of Mark Munoz fight: Michael Bisping was forced to withdraw from his UFC Manchester main event bout with Mark Munoz due to a detached retina. Fortunately for fans, but unfortunately for Mark Munoz, Lyoto Machida has stepped up and taken Bisping's place in the fight. OK, so a decent enough replacement here, though the loss of Bisping in the main event will likely be bad for ticket sales for this UK event. Hopefully Bisping will be OK and this won't put him on the shelf too long, but as a fighter he doesn't want to risk going blind. This shuffle has now left Tim Kennedy without an opponent for the Fight for the Troops 3 card at the moment, causing Tim Kennedy to call out half the UFC roster on Twitter.




THE RIDICULOUS:

Let Diaz bang bro…in Sacramento: So it seems Nate Diaz started taking a few odd and incoherent pages out of his older brother Nick's book by going even further over the edge of crazy. So Diaz is set to face Gray Maynard in a rematch at The Ultimate Fighter 18 Finale. Maynard first tweeted out that he would fight Anthony Pettis instead of Maynard. Then he said on Twitter that instead of fighting Maynard he was going to attend his highs school reunion instead. Oy vey, this Diaz meshugganah. So his manager, Mike Kogan, in his latest bid of Diaz damage control (he previously defended Diaz's use of a derogatory slur against gays saying it has a different meaning in Northern California) explained that Diaz doesn't want to skip his obligation against Maynard. No, Diaz just wants to fight Maynard at UFC on Fox 9 in Sacramento instead. Sacramento is closer to Diaz's backyard. It's a bigger card, so Diaz will have more support there. OK, first of all that doesn't make any sense. If Diaz wanted to fight in Sacramento, why doesn't he just voice that? Now it's possible he could have, but if he wants to fight in Sacramento, he should've told Joe Silva or Sean Shelby that. What is this nonsense about Diaz's stupid tweet about going to a high school reunion really meaning he wants to fight at UFC on Fox 9? Also, this is not Diaz's call to make. His fight was made for The Ultimate Fighter 18 finale in Vegas. He's fighting a top ranked lightweight who he defeated before on TUF and he's down two wins and does not want to go three losses in a row. Or maybe Diaz is just scared of losing to another grind 'em out wrestler again. Either way, more silliness from the Diaz family.


Nate Diaz's manager explained that Diaz wants to fight Gray Maynard at UFC on Fox 9. He didn't really mean it when he said he wanted to go to his high school reunion instead of fighting Maynard at TUF 18 Finale.


That's it for the R's. But what else is going on at 411mania.com with yours truly, the 411mania Jack of All Trades?

Check out my new, exclusive interview with Mortal Kombat: Legacy and Hawaii Five-O star, Mark Dacascos.

Check out my official review of the directorial debut of Joseph Gordon-Levitt, Don Jon.



* TWITTER *
* http://www.twitter.com/411mma *
* http://www.twitter.com/411wrestling *
* http://www.twitter.com/411moviestv *
* http://www.twitter.com/411music *
* http://www.twitter.com/411games *
comments powered by