SPOTLIGHTS
411 MMA Fact or Fiction 10.03.13: Jones/Gustafsson/Teixeira, Bisping's Injury, Okami, More
Posted by Wyatt Beougher on 10.03.2013

Is Jon Jones fighting Glover Teixeira to duck Alexander Gustafsson? Is Michael Bisping's injury a blow to the UFC, even if his replacement gives a better fight? Was Yushin Okami's release surprising? 411's Robert Practor and Todd Vote debate these topics and more!

Welcome back to another edition of 411's MMA Fact or Fiction, and I'm your host, Wyatt Beougher. I'd insert something about the Breaking Bad finale in here, but seeing as I'm still catching up after joining the party late, I have no idea what happened (and no, you won't find a BB-related Bonus statement this week, for that simple fact). Of course, if you wanted witty discourse about television and/or film, you'd be in the Television/Movies section, wouldn't you? Also, my apologies for this running late, as there was some electronic communication issues between one of my competitors this week and myself.

Last week, Robert Cooper made the voyage from the Music Zone to take on his fellow metal-loving podcaster and resident MMA play-by-play man, Mark Radulich. And while Coop has enjoyed more luck in the ForF octagon than many of our MMA writers, Radulich was able to edge out the metalhead, picking up 24 votes to Coop's 19. Congrats to Mark on the win, and I know Coop will be back and ready to rumble in no time. This week, I've got another new MMA writer debuting in the person of one Robert Practor. He just started writing What's Next last week, and it's a fun mix of divisional analysis and fantasy booking that's both well-written and easy to digest. Opposing him in his Fact or Fiction debut will be none other than Todd Vote, the hardest working man on 411, who appears in no less than 83 different columns on 411 monthly (that might be a slight exaggeration, but Todd's contributions are all over the map). Todd's ready to welcome our latest addition to the 411 family, so let's get down to business!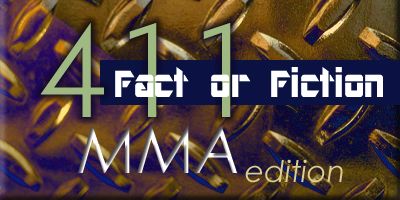 TALE OF THE TAPE

Red Corner
Robert Practor
'Osvaldo Menace'
Columnist, What's Next
0-0-0

VS

Blue Corner
Todd Vote
'The Man Without a Zone'
Contributor, 411-wide
7-10-1

---

Was Okami's release surprising?



1.) While it's not terribly shocking that the UFC cut Mike Ricci, releasing Yushin Okami was a much more surprising move for Zuffa.

Robert Practor: FICTION I am going to take issue with the wording of the question here. Releasing Okami was indeed a "much more surprising move" than cutting Mike Ricci, so to that I would say "Fact" but I am going to focus solely on whether releasing Okami was surprising or not. To that, I say "Fiction."

Okami has been in the UFC for over nine years, dating back to 2006. "Thunder" has a record of 13-5 during his time in the UFC, picking up a few decent wins, but he has failed time and time again in bids against top level competition such as Anderson Silva, Rich Franklin, Chael Sonnen, and "Jacare" Souza. I understand the UFC's rationale in cutting Okami. To put it bluntly, he has become a gate-keeper in the division. Being a gate-keeper is well and good, but when you command a six-figure payday per fight, combined with the fact that your style is not terribly exciting, you are on borrowed time with the company. UFC's release of Jon Fitch earlier this year set the precedent that if you fall to the very top competition, become a gate-keeper, make a ton of money, and are not exciting that a trip to Bellator or World Series of Fighting is a very realistic possibility.

Todd Vote: FICTION If they can cut Fitch, nobody is really safe regardless of previous successes. While it is a bit surprising that Okami was cut after winning 3 in a row and having just one loss, I can sort of get where they are coming from. Okami is not exactly known for having super exciting fights, and I wouldn't really consider him a draw as far as bringing in fans that want to see his fights. While I would have had no problem with Okami staying on board, as he is a solid fighter, the middleweight division is already full of so called 'gate-keepers', and on top of that it is a fairly stacked division. So no, I am not to surprised that he was cut. I'm sure the door is open for a return, as it is with most fighters.

---

Is the clock ticking for Warren?



2.) In spite of a dominant victory at Bellator 101, the same holes were apparent in Joe Warren's game, and it's only a matter of time before he suffers additional head trauma.

Todd Vote: FACT Just the way the guy fights. He is always go forward, go forward, go forward. Which is fine, as it seems to work for him. But an important part of employing a strategy like that is defense. Especially if you intend to have a long productive fight career. In my opinion, the man needs some serious work on his striking defense.

Robert Practor: FACT Warren looked okay in this fight and showed a little improvement on the feet, but look at who he was fighting. Sadly, like many others in Bellator, Nick Kirk is just not anywhere near a top-level fighter. I wouldn't even consider him middle of the line. Warren now meets Travis Marx in the four-man "tournament" finals and I see Warren getting the W there as well. Joe Warren will run into trouble if and when he meets Eduardo Dantas for the title. Regarding his removal from Bellator 98 last month, it has not been officially disclosed what the removal was for, and I'm not sold on the fact that it had anything to do with complications from concussions or head trauma. That being said, his stand-up game is still not great and when he gets in there with good strikers he is indeed susceptible to suffering additional head trauma. All fighters are susceptible to head trauma, especially if the referee lets you get pounded for a solid minute like in his fight against Pat Curran. He sustained a concussion from that nasty beating and let's all hope he can avoid sustaining such damage again.

---





Is a rematch in order?



3.) The UFC should schedule a rematch of the 2006 fight between Shayna Baszler and Roxanne Modafferi for this season's The Ultimate Fighter Finale.

Robert Practor: FACT Sure, why not? Shayna Baszler surprised Roxanne Modafferi in their fight in 2006 with that beautiful "chicken wing" submission. They're both likely to get a fight on the Finale so why not match them together?

Todd Vote: FACT Absolutely, why not? You have a built in history that immediately adds intrigue to the fight. "The Happy Warrior", unfortunately, will be in a must win situation. Modafferi has lost five straight going into the house on TUF, I can't see her getting a second chance if she should happen to fall to Baszler in her first UFC fight.

---

Is 'The Count's' injury a bigger blow than it seems?



4.) While Lyoto Machida/Mark Munoz is arguably a better fight than Michael Bisping/Munoz was, Bisping's injury is a still a huge loss for a UFC card that's set for England.

Todd Vote: FACT Having the hometown boy in a position where he has to bow out of a fight is never a good thing for a fight card. The hometown guy offers so much to a card, whether he is in the main event or not. It gives the fans someone to route for. In turn, that draws them into the show, which creates an overall better experience for the fans. Fans having a great fight night experience tends to make them want to see the show next time the UFC is in town. Pretty simple formula really.

Robert Practor: FACT Michael Bisping is arguably the UFC's biggest draw in the UK. It has been many years since Bisping has fought in his home country and the fans over there were finally given another chance to see their fighter perform in person. Like the question stated, taking on Mark Munoz is a great way for Lyoto Machida to make his Middleweight debut but the fact is the new main event is a Brazilian taking on an American, in England. The fans in Manchester purchased (likely very expensive) tickets hoping to see "The Count" in the main event and now they have to settle for something much less appealing to them. It's a tough break for those fans and definitely a huge loss for the UFC in that regard.

---

Is the champ ducking "The Mauler"?



5.) While Jon Jones requested a fight with Glover Teixeira prior to rematching Alexander Gustafsson, it's ludicrous to suggest that the UFC light heavyweight champion is ducking the Swede.

Robert Practor: FACT No matter which fight Jones took next, Teixeira or Gustafsson, people would claim Jones was ducking the other fighter. Many people out there (myself included) wanted to see an immediate rematch between Jones and Gustafsson but just as many people thought Jones was convincing enough in victory and should move on to the already-proclaimed #1 Contender. Jones was simply in the middle of a no-win situation and, along with Dana White, Joe Silva, and the rest of the decision-makers, chose Glover Teixeira as the next fight and that's all there is to it. Jones is on record as stating he has no problem taking the rematch against Gustafsson after the Teixeira fight and I believe him. Now it's on Gustafsson to pick up a win over a top contender to get himself to a second shot at the championship.

Todd Vote: FACT I would say so yes. Jones has already stated he plans to fight Glover, then fight Gustafsson again. If he stays on top, he will eventually have to fight them both anyways, so I don't see the issue. the thing is people love to hate Jon Jones. I've been guilty of it myself, his attitude since becoming champion has just rubbed me the wrong way. But to think that he is scared to rematch Gustafsson is pretty ridiculous. Gus did better against him than anyone else has, but it's not like Jones was almost finished. It was a very competitive fight.

---


Who do you think won this week? Did Todd school the newbie or did Robert acquit himself well enough in his first outing to pick up the win? Voting will be open until midnight EST on Saturday, so make sure you vote and make your voice heard!




---

Is Marvel's Agents of S.H.I.E.L.D. a harbinger of things to come?



Bonus) After scoring the highest debut of a television drama in nearly four years, if Marvel's Agents of S.H.I.E.L.D. can maintain interest and build on such a successful debut, it speaks well to the chances of other "second-tier" Marvel characters getting their own shows.

Todd Vote: FICTION I think they would be wise to perhaps not jump right into giving every second-tier character a show. If you want to feature second-tier characters, just have them show up on Agents of S.H.I.E.L.D. Use that show to gauge interest in other characters. I think Marvel will be in a position where they can use this show to show off other characters in the Marvel Universe, not necessarily just start giving them all their own shows though.

Robert Practor: FACT Certainly. I imagined Marvel's Agents of S.H.I.E.L.D. to draw a good rating but they drew some monster numbers, surpassing even the most optimistic projections. Like the question stated, being able to maintain interest and build on the success of the debut number is key. Reports state that the show has added onto their live debut ratings with 3.7 million DVR and On Demand viewers over the next three days, 4.7 million viewers for the Thursday repeat airing, and 1.6 million online viewers, bringing the total to over 22.1 million people who have watched the show. That is a great sign and the show is continuing to build momentum. I think it's only a matter of time before we start seeing other shows featuring Marvel characters being given the green light.

---


And that's it for this week! As always, if there's anything you'd like to see featured in a future edition, leave your statement in the comments and I'll add it in. Let us know what you thought in the comments, on Twitter, or on Google+.


comments powered by