SPOTLIGHTS
Five Quick Rounds 10.08.13: Bellator 102, Lil' Showtime is Coming/Adorable, More
Posted by Evan Zivin on 10.08.2013

From Cheick Kongo's successful debut at Bellator 102 and Serio Pettis signing with the UFC to Cat Zingano's UFC return being delayed and Megumi Fujii's retirement, 411's Evan Zivin examines these stories and more in Five Quick Rounds!

Hey hey, fight fans, and welcome back to Five Quick Rounds! I am your host, Evan Zivin, and I am as excited as Tim Kennedy getting a fight to be here once again!

So Mr. Kennedy, who made a successful UFC debut back in July at UFC 162 against Roger Gracie and also likes to dress up as Katy Perry, was all set for his next fight. He was to welcome Lyoto Machida to the middleweight division in the main event of the Fight for the Troops 3 event on November 6. It's quite a step up in competition but I'm sure Tim's extensive training in jazz tap and ballet would prepare him well for the fight. Well, at least it would have if Machida hadn't been pulled from the fight to replace a newly eye-patched Michael Bisping against Mark Munoz on October 26. It's a great replacement fight for the UK card but it left Tim without an opponent. So Tim responded to the ordeal the only way Tim can: by going on Twitter and picking fights with every UFC middleweight. He called Cung Le old, he made fun of Chris Camozzi's hair, he tempted Alastair Overeem with horsemeat, he even threw down a challenge to fight the entire United States Congress (they should take the fight, I mean, it's not like they're doing anything else right now). Eventually Tim's prayers were answered when Rafael Natal was announced as his new opponent. Yes. Rafael Natal. Try not to get too excited. At the very least, Tim's odds of winning went up considerably. So good for you, Tim. I would tell you to celebrate by posting creepy pictures of yourself online but you always do that. So yeah.

All right, so with fighter introductions out of the way, I have five more rounds of MMA news and opinions to throw at you. This week we look at the results of Bellator 102, Sergio Pettis signing with the UFC, Ben Rothwell's suspension and Matt Riddle's unretirement, Cat Zingano's UFC return getting delayed, and Megumi Fujii's retirement. Let's to it do it.

FIGHTER YOU READY!!!!
FIGHTER YOU READY!!!!

FIGHT!!!!




Bellator 102 Quick Thoughts: Cheick Kongo Tastes Godbeer, Says it's Not as Good as Kronenbourg Blanc

***TOUCH OF GLOVES***

While the ratings for Bellator on Friday nights haven't been the greatest so far, due to the fact that most people would prefer to spend their Friday night out at a local drinking establishment, consuming massive quantities of alcohol as a way to help them cope with the cards life has dealt them while also trying to forget, if only for a few hours, the choices they have made that has led them to the lonely, mediocre tedium that currently encapsulates their every waking moment from here until the unforeseeable future (HIGH FIVE!), Bellator 102 was pretty decent. That's--that's the point I was trying to make. Bellator had a little extra attention paid to it on Friday because of two debuting former UFC heavyweights, both of whom had nice careers in the Las Vegas-based company before getting cut because Dana White hates everyone who isn't a champion or in contention for a title (also, one of them was using synthetic testosterone and didn't think to mention it to anyone). So they left for a promotion with an equalvilant number of bald-headed people running it and made their official debuts as part of Bellator's Season 9 Heavyweight Tournament, which only features four fighters instead of the usual eight. Was it set up this way to make it easier for either Cheick Kongo or Lavar Johnson to win the tournament so Bellator has an identifiable name to challenge (and hopefully win) their Heavyweight Championship? It wouldn't be fair to Bellator to say that but I already typed it so I ain't taking it out. So the question heading into this tournament was a simple one: do these men have what it takes to be a champion in a smaller promotion or will they fall to the wayside like so many other UFC castoffs this season, which includes Diego Nunes, Marcus Davis, and one of the greatest UFC fighters of all time, John "The Natural" Alessio?

Well, 1 for 2 ain't bad, right? Kongo employed his usual gameplan against Mark Godbeer, which consisted of pressing Godbeer against the cage while everyone boos. This lasted until Godbeer kneed Kongo in the cup. This greatly upset the Frenchmen because Godbeer was clearly trying to steal his strategy, so Kongo went back to pressing Godbeer against the cage and even secured a takedown. Wait, isn't Godbeer also called ambrosia? Random thought. After a fairly routine first round, Kongo went back to clinching against the cage in the second. It was clear that Godbeer was out of his league here and, after creating space and landing a few knees to the head, Kongo managed to crumple Godbeer and get the finish two minutes into the second round. It was a typical Kongo win. It didn't say much about how he'd do against someone like Alexander Volkov, but he definitely has what it takes to be Bellator champion. Don't think I can say the same for Johnson, though. His opening round fight was against Vinicius Spartan, named because ring announcer Michael Williams can't say Queiroz or something. Well, Williams better learn to say Queiroz because we'll be seeing him again this season. Queiroz defeated Johnson by one punch knockout, and when I say "one punch" I mean it was the first punch that Queiroz threw in the fight. It was a right hand that caused Johnson to flop right on his face. Johnson recovered quick but it was clear that he was out and Queiroz advanced to the tournament finals after only 23 seconds of work. Nicely done. At least Johnson still has his job as The Rock's body double. Bellator also saw the finals of the middleweight tournament set as Brennan Ward fought back from a tough first round to submit Joe Pacheco with a tight front guillotine choke in the second round and Mikkel Parlo used his striking to negate Jason Butcher's grappling and badly hurt him en route to a unanimous decision. We also saw Rafael Silva defeat Anthony Leone by dominant unanimous decision to become Eduardo Dantas's next victim for the bantamweight championship. Good luck with that.

And that was Bellator 102. Bellator 103 takes place this Friday from exotic Mulvane, Kansas. It features the semifinals of the featherweight tournament (don't screw up, Pitbull), plus David Rickels return after getting hosed by Michael Chandler in July. Don't miss it! Or do. It doesn't bother me either way.

***HORN SOUNDS***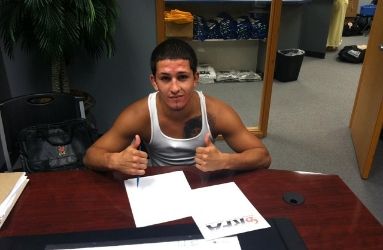 Sergio Pettis Signs with UFC, Will Be Given An Automatic Win Over Ben Henderson

***TOUCH OF GLOVES***

On September 28, the Milwaukee-based North American Fighting Championships held an event titled "Battle in the Ballroom." I miss the days when UFC would give their Payperviews silly names, but I digress (as usual). The main event was a battle for the NAFC bantamweight championship between 5-1 Shane Porter and 8-0 phenom Sergio Pettis. You may know of Sergio for two reasons, 1) he's the younger brother of UFC Lightweight Champion Anthony "Showtime" Pettis, and 2) HE'S SO ADORABLE!!!! OMGZ I JUST WANT TO HUG AND SQUEEZE HIM UNTIL THE REF FORCES US TO SEPARATE DUE TO INACTIVITY!!!! Sergio has been outstanding in his young career. In 8 fights, he has finished 5 of them, including 4 in the first round. Well, make that 5, and a 9-0 record, as Sergio dispatched of Porter by submission in 2 and a half minutes. The fight itself was quite interesting. There were a lot of parallels between it and his brother's championship fight against Ben Henderson back at UFC 164. Both fights saw Pettis getting pressured early and often by takedown attempts and, after spending some time stuck underneath their opponent, they managed to grab an arm and wrench the crap out of it to get the tap, the victory, and the belt inside the first round. It's been impressive to view these two brothers and see how similar they are in style and in success throughout their MMA careers. With all the accolades Anthony has earned in the UFC and how well Sergio has performed in smaller shows, we all knew it was a matter of time before Dana could ignore the dollar signs no longer and sign Lil' Showtime.

Well, the time is now upon us, as the UFC announced this week that Sergio has been signed to a contract. He will be making his promotional debut at UFC 167: St-Pierre vs. Hendrick's Beard (November 16, Las Vegas) in a bantamweight contest against Vaughan Lee, who will soon be notable for having lost to Sergio Pettis. The booking is interesting for the fact that the UFC has decided to add Sergio to their bantamweight roster instead of debuting him as a flyweight, a weight class that is home to 4 of his 9 wins. I guess Dana wants to see how he fares in the bigger weight class against bigger opponents. Plus, it's a much more established weight class that would offer more interesting opponents and would give him a much more impressive resume on his way towards title contention. Flyweight could use a recognizable star to help legitimize that weight class in the eyes of casual fans, but Sergio can always drop down when he's done wrecking the 135'ers. It will be interesting to see how far Sergio can go and how he'll match up against top fighters like Urijah Faber, Renan Barao, and the ghost of Dominick Cruz's knee. Will he find the same level of success that his brother did? Only time will tell but, considering the success he's had so far and the fact that he's only 20 years old, there's a good chance that we've got ourselves an MMA dynasty on our hands. Yay! Body kicks for everybody!

***HORN SOUNDS***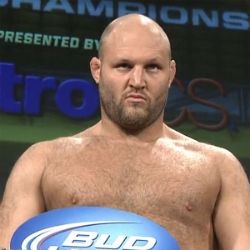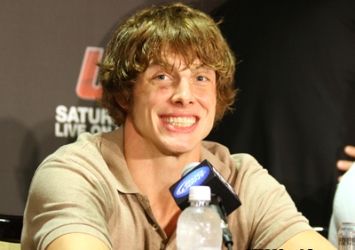 Ben Rothwell Rothed a Little Too Well, Matt Riddle Realizes Job Market Sucks and Unretires

***TOUCH OF GLOVES***

Let's look at some random comings and goings among top MMA fighters. Everyone remembers Ben Rothwell's huge clash with Brandon Vera back at UFC 164, right? It was only the most important fight on the card...after the lightweight title fight, and Josh Barnett's return, and Chad Mendes reasserting himself as a top contender, and Dustin Poirier getting his career back on track, and Ryan Couture attempting to prove he doesn't need his dad, and Soa Palelei making a successful debut, and I can go all day with this. Rothwell vs. Vera was a decent clash that was won by Big Ben after he started to malfunction and clobbered Vera with punches and knees to get the stoppage in the third round. It was a nice win that continues Rothwell's trend of alternating wins and losses in his UFC career. Unfortunately for Ben, though, it's going to be a while before he gets to follow up this win with a loss because the UFC has just suspended him for nine months for failing a drug test due to elevated levels of testosterone. What happened was Rothwell applied and was granted an exemption to use Testosterone Replacement Therapy for the Vera fight after being diagnosed with hypogonadism by Wisconsin athletic doctors. Now, even though Ben says he was being tested every week and was within the acceptable testosterone levels, apparently he wasn't because he still failed a drug test. The Wisconsin Department of Safety and Professional Services was only going to give Ben a warning but the UFC were all like, "screw that noise," and suspended him for nine months. I think it's fair. If you're going to have a hard stance on TRT, like the UFC now has, you can't show any leniency in cases where it may have been accidental. Ben failed a test and he has to suffer the consequences for it. You draw a line in the sand and you stick to it. It's the only way those kids and their ineffective testicles will learn.

At least MMA's second favorite pothead will still continue to fight. Well...maybe third favorite because I like Pat Healy. Actually, none of the Alpha Male guys have been caught but, with Duane Ludwig running the place, you know they have to be using. So I guess he's more like MMA's 12th favorite pothead, but Matt Riddle will fight again! Riddle had originally decided to retire about a month ago after a rib injury forced him out of his Bellator debut. Bellator officials told Riddle that they wouldn't be able to get him a fight until the next welterweight tournament early next year and, considering how little he was probably getting paid to take the fight at Bellator 100, he figured it wasn't worth dealing with when he can't pay his bills and support his family. So he said that he would have to get a real job and the MMA media laughed. Then he said "I'm serious" and the MMA media still laughed but knew they'd feel bad about it later. Well, feel bad no more, as Riddle is back and will be fighting at Bellator 109 on November 22. Apparently Bellator contacted Riddle after his "retirement" to say they didn't realize how bad his situation was (or they did but didn't realize such a big deal would be made out of it) and got him a fight. It's not like it should have been that hard. They're always struggling to find decent fights to fill up the later cards of the season when there's only one or two tournament fights to air per show. Riddle also said his retirement was nothing more than a "hissy fit" (his words) but that everything with Bellator is now "bodaciously bro-tacular" (my words). Congrats, Matt. Now you don't have to get a real job, unlike the rest of us. You bastard.

***HORN SOUNDS***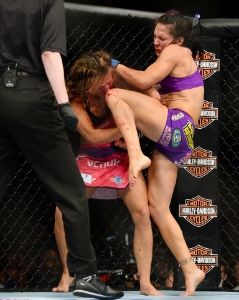 Cat Zingano's Knee is Doing Well, Too Bad She Messed the Other One Up

***TOUCH OF GLOVES***

Cat Zingano has so far had an amazing, but also unfortunate UFC career. She made her promotional debut back in April in a title eliminator bout versus The Cupcake of Hate, Miesha Tate. It was a great fight that Tate was winning through two rounds. Tides turned in the third round when Zingano started opening up with strikes against the cage and berated Tate with punches and knees until referee Kim Winslow stopped the fight. It's a decision that Tate still contests to this day but the fact of the matter is that Winslow stopped the fight and Zingano won by TKO, setting up a title fight against Women's Bantamweight Champion Ronda Rousey. Along witht that fight, Zingano would also get a sweet coaching gig opposite Rousey on the 18th season of The Ultimate Fighter, or she would have if a knee injury hadn't put an end to that. Zingano tore her ACL in training and would have to get surgery to repair it. This meant she wouldn't be able to coach on the show and get the title shot afterwards, which allowed Tate the opportunity to take Zingano's spot and give herself the chance to start her UFC career going 0-2. Now Zingano is stuck watching from the sidelines as Tate gets to buy her fighter's disgusting milkshakes, make fun of Edmond Tarverdyan's eyebrows, and smile at her opponent's pain even though Rousey does the exact same thing. Man, Rousey takes this show way too seriously. Anyway, it must really suck for Zingano to have to watch all this knowing that it should be her and also because bitching at a bar doesn't make for very good television.

Well, it must suck even more now because it's going to take Zingano a little longer before she'll be able to make it back to the Octagon. The reason is because, in the course of rehabbing her right knee, she ended up with a meniscus tear in her left knee. It's not nearly as serious as a ligament tear but it's still going to set her back even longer than she already has been set back by the initial injury. I'm sure Cat wanted to get this injury taken care of quickly and get back to her regular rehab schedule, so she underwent a procedure to fix it on Thursday. Apparently the procedure involved injecting stem cells into her knee, which can repair the damage without requiring arthroscopic surgery. It also allows for people to call her a baby murderer if they want, although I hope they don't. That would be mean and ignorant. I am not calling her a baby murderer. I am just making the point because I know at least one of you was thinking it. Or maybe it was just me. Man, I have a warped viewpoint. So with this injury, along with the other one that Cat is still rehabbing, it is looking like it won't be until March or April before we see Cat fight next. Again, it's an unfortunate situation but I don't think it will work out too badly for Zingano. With Rousey in need of fresh challengers, Cat will likely only need to win one fight upon her return to guarantee herself the title fight that was already hers. It will be an interesting fight when it happens, but for now, courage.

***HORN SOUNDS***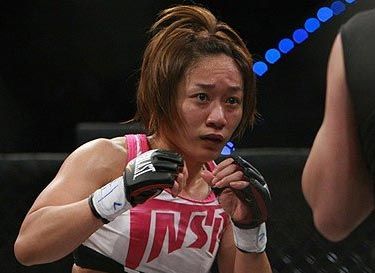 Round Five: Megumi Fujii Loses Retirement Bout, If Only She Could See How Good She Is

***TOUCH OF GLOVES***

Okay, in light of what happened, I'll admit that round name is probably one of the most tasteless I have come up with. I regret it but I can't think of anything better so it's staying. Anyway, the career of one of the greatest women to ever compete in the sport of mixed martial arts is over and, sadly, it didn't end on a very good note. Megumi Fujii competed in her retirement fight last Saturday at Vale Tudo Japan 2013 in a rematch against fellow veteran Jessica Aguilar. Fujii didn't get off to the greatest start in the fight as she got poked in the eye twice by Aguilar, the second time being quite serious and requiring the fight to be stopped for a few minutes while she recovered. Fujii, being as tough as she is, decided to press on despite what appeared to be a really bad eye injury. After the fight restarted, things didn't get much better for Mega Megu. Aguilar started dominating in the second round, further damaging the eye, and by the start of the third round the injury was bad enough that the ringside doctor decided to call the fight. It was Fujii's second loss in her last three fights, and three losses in her last seven, which also are the only losses she suffered in her entire career. Yeah, she was a beast.

It's kind of depressing that a career as great as hers has to end the way it did and it's depressing for a few reasons. The first one is, obviously, who wants to have their fight stopped for something that is out of one's control? She wasn't knocked out. She wasn't submitted. She just got injured due to illegal strikes that should have led to a point deduction and the fight being declared a no contest since the injury was caused by the eye pokes. That's the second reason this is depressing. The fight shouldn't be a win for Aguilar but, unfortunately, that's what it's going to end up being. As bad as Fujii's eye was, I know she would have continued to fight because she's a fighter and that's what she do. Fighters fight. Fujii never gave up and she never had to because of how good she was at dominating fights without putting herself in danger of getting knocked out or submitted. This last fight was the only time she was stopped in her career and the only other losses were two decision defeats to Aguilar and Zoila Frausto Gurgel that were very controversial and probably should have gone in Fujii's favor. So Fujii didn't really lose a fight until now and she loses it because of an illegal strike. The last reason this is depressing is because Fujii will retire without getting the full recognition that she deserves from the general MMA audience because she spent most of her career fighting in Japan and in small shows in America (no offense, Bellator). It would have been cool to see her get a fight in the UFC but, considering she didn't fight at 135, she would have had to wait a long time before that opportunity would ever come, much longer than veterans Shayna Baszler and Roxanne Modafferi have had to wait to get a shot at the recognition they deserve. People will remember Gina Carano. People will remember Ronda Rousey. Will people remember Megumi Fujii? I hope some people do. I know Japan will. They bought her a cake and everything. Cake is awesome.

***HORN SOUNDS***

That's it for Five Quick Rounds. If you have any questions, comments, or suggestions, and it is always appreciated when you do, leave them in the comments section. I will be back in 7 for another Five Quick Rounds. UFC Fight Night 29: Maia vs. Shields is tomorrow night. Go check out the fights and until next time, remember to fight clean, fight hard, fight fair, and never leave it in the hands of the judges...




LATER!!!!!!!!!!!!!!!!!!!!!!!!!!!!!!!!!!!!
comments powered by