SPOTLIGHTS
Thoughts From Across The Pond 10.07.13: TUF 18.5 – Redemption
Posted by Alex Watt on 10.07.2013

The visit of Ann Maria DeMars to The Ultimate Fighter Training Center this week explains a lot of Ronda Rousey's personality traits, so why do viewers continue to turn against the UFC Women's Bantamweight Champion?

My previous reviews of The Ultimate Fighter 18:

Episode 4 – Use The Force

Episode 3 – Stick and Move

Episode 2 – Ladies First

Episode 1 – History In The Making

411mania's heavyweight aficionado Mark Radulich is live recapping each episode of TUF 18. This week, however, analyst extraordinaire Dan Plunkett has taken the reins and you can check out his recap of episode 5 here.


The Ultimate Fighter – "Redemption" (S18 / E5)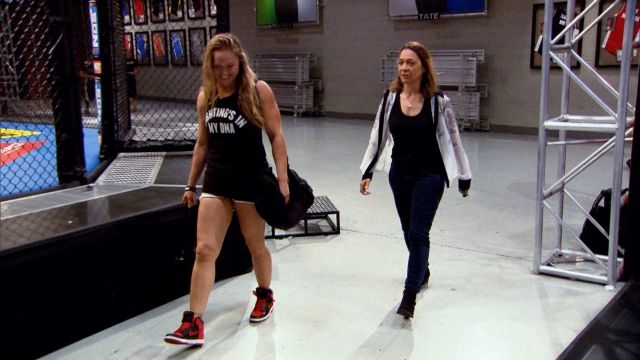 "You're not training to be the best in the world. You are training to be the best in the world on your worst day."


In reality television, there is nowhere to hide.

That point was viscerally hammered home in the image of Roxanne Modaferri lying behind a wall in The Ultimate Fighter house sobbing. In a moment where she needed to privately get out her emotions, the camera still found her and showed her pain to the world.

Similarly, this season there has been nowhere to hide for TUF coach Ronda Rousey. Her intensity, her brashness, her emotion, her passion; it's all been there on the screen. We've seen the UFC Women's Bantamweight Champion's flaws in often aggressive detail, and it's caused a lot of viewers to turn against her.

That's why it was an opportune time in the process for Rousey to bring her judoka mom, Ann Maria DeMars, into training to help teach the contestants.

The choice to title this episode "Redemption" is an interesting one. On first glance, one assumes that it refers to Louis Fisette who was receiving his second crack inside the TUF Octagon, despite the fact that he actually lost his fight to get in the house. On reflection though, the title could just as easily be referencing the difficulties that Ronda Rousey has had in presenting her personality to viewers this season and how the appearance of her mom to help place a lot of her behaviour into context might just redeem her yet.

"The woman, the legend that I am constantly referring to; this is my mama."

As Rousey states; "Everything I know, comes from my mom." DeMars' knowledge and passion for Martial Arts is clear to see, even in the brief training footage the episode affords the viewer. But, more significantly, as DeMars discusses the need to be tough and Rousey recounts tales from her youth of how her mother would send her to grappling tournaments whilst she was carrying an injury and against opponents who were bigger than her, or whom the judges were more likely to favour, all in order to make Rousey stronger as a competitor, all the pieces start to fall into place. This is why the reigning UFC women's champ has such a drive to win, but it's also clear in how close the two women are (every camera shot of the two together in the gym showed Rousey staring at her mother with a look of real love and admiration) that it has instilled in Rousey those qualities she displayed in episode two; a real closeness to the people she is coaching. All of a sudden, it should have become obvious exactly why Rousey was so wounded by Shayna's loss; because of the bond she develops with her students.

Once again, leave it to the quotable Jessamyn Duke to sum up the thoughts of everyone who was paying attention;

"Ronda makes a lot more sense. Her intensity, her competitiveness – all of those things are very clear once you meet her mom."

Almost too predictably, however, the internet backlash against Rousey continues. It doesn't matter that DeMars' appearance on the programme has shed more light on Rousey's personality; first impressions are often hard to break.

To those viewers who are getting an in-depth look at the UFC's poster girl for the first time – perhaps those who haven't invested their time in watching the numerous Showtime and FOX documentaries that have already given a fascinating insight into Rousey and her background – it seems that their ill-informed opinions of a hugely significant figure in women's sport are unlikely to change anytime soon.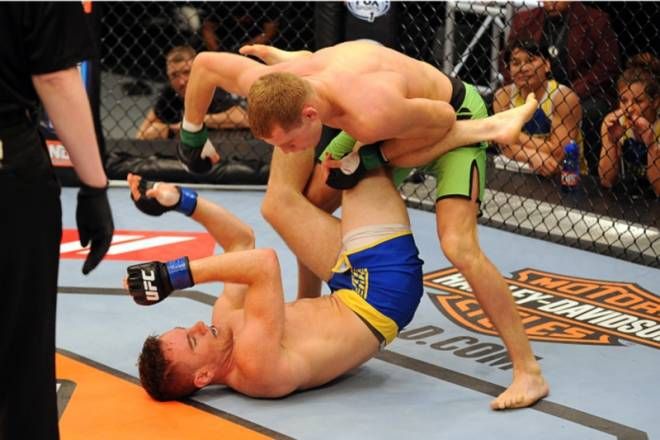 That's a great shame. I expect though these are the same people who actively applauded Dan Henderson dropping a flying fist on a clearly unconscious Michael Bisping, simply because the Brit said a couple of mean things about the American on TUF 9.

That is not to say I approve of everything Rousey and her team do. Far from it. Their melodramatic reaction to Team Tate's rather rubbish "The Count monobrow" prank shows that perhaps they all need to dial it back a tad (especially Edmond). Even so, that Team Tate move smacked of manipulation; a prank rooted in passive aggressive, behind-your-back sneakiness, with the intent of getting a hot-headed coach kicked out of the TUF process. It was smart from Team Tate, if nothing else. According to some of the contestants' blogs surrounding this season, this wasn't the only devious prank that Tate and her team pulled to try and stir the pot.

Ultimately, context is king – if the TV show you're watching spoon feeds you the knowledge of how hard Rousey has worked and why she's so competitive, don't continue to claim that she's "entitled" and "spoilt". It's clearly not true.

The visit of DeMars was the centrepiece of a fun fifth episode of The Ultimate Fighter.

The rest of the episode focused on the upcoming elimination fight between roommates and friends David Grant and Louis Fisette. The show particularly hammered home the notion that Fisette – who was receiving a second crack in The Ultimate Fighter training centre due to Tim Gorman's early injury – was an "underdog" and was being "underestimated" since he had already lost once during the TUF process.

The second chance albatross around Fisette's neck was referred to throughout the episode and was something which seemed to motivate the young fighter, not least Anthony Gutierrez's assertion that Fisette was the weak link on Team Tate. Conversely, UK competitor David Grant found his motivation from his family, whom he discussed frequently.

After an episode in which it was constantly reiterated that few expected Fisette to stand much of a chance against the heavily favoured Grant, it was almost a shock to see the fight itself play out in opposition to the TUF law of averages. As we've seen on the female side of the draw this season, when the point is made that one fighter is the clear favourite and one the underdog, it is almost a certainty that the underdog will emerge victorious. Instead, this fight went exactly to script; Grant was simply too big and too skilled for the young Fisette.

Fisette had his moments in the first round but Grant dominated the fight on the feet and, after taking Fisette to the mat, the British fighter opened up a cut on Fisette's forehead with an elbow and overwhelmed the American to the point where he was, to quote Ronda Rousey, "saved by the f***ing bell!" Going into the second, Fisette was clearly exhausted but, to his credit, charged forward looking to reverse his fortunes in the fight. It didn't work. Fisette was quickly taken down and submitted with a rear naked choke, as Grant confirmed his status as one of the favourites to win the tournament from the male half of the draw.

As entertaining as Fisette and Grant were as protagonists, the obvious issue lingers that the male competitors are nowhere near as compelling as their female counterparts. It seems that I'm not alone in noticing this either, as ratings were down again from last week's episode. It's becoming a theme – and an encouraging one for the continued growth of women's MMA in the UFC – that the episodes featuring a female elimination fight are proving more popular than those focusing on the male competitors.

With that in mind, Miesha Tate's turn of phrase near the episode's conclusion was an interesting one. Regarding Louis Fisette's valiant loss, she noted that, "He lost like a man". In this season of The Ultimate Fighter, losing like a man is good but winning like a woman is better.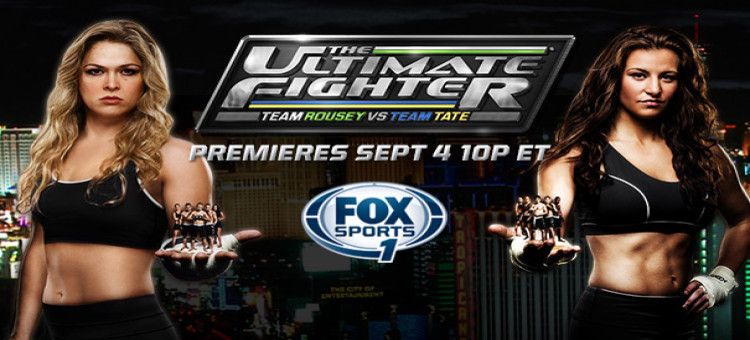 Elsewhere in TUF…
"I just wanted to tell you, like, I'm really bummed that I lost but I think I wouldn't have minded…like, I'm glad it's you" – Roxanne Modaferri with yet more kind words for Jessica Rakozcy, who was tending to Roxy's battle wounds.


I haven't even mentioned the almost inevitable guy and girls game of Truth or Dare, which resulted in some of the funniest lines of the season so far.


Former model Josh Hill selected "dare" (and said his choice in a very Randy Marsh fashion) and was tasked with using a cheesy pick-up line on Roxanne. He, quite hilariously, went with, "Nice shoes. Wanna f***?" I think that moment is going to go viral.


"Gross! He's the ugliest guy in the house. He's not ugly, don't get me wrong, whatever, but his personality just makes him so 'little boy'. If that's your cup of tea that's fine but it's definitely not mine." – Julianna Peña doesn't approve of Sarah Moras' taste in men.


"She's 5-foot-2 but she can look at a 6-foot-5 man in a way that'll make that guy scared" – Ronda Rousey discusses her mom.


"She's got that intensity about her. It's funny, like, I'm the nice one. I'm totally the nice one! Everyone's like, 'Wow, your mom's pretty intense, how did you end up being so nice?' I'm like, 'Only because I'm standing next to her. When I'm over here, I'm a b****!" – Ronda Rousey actually spelling things out to viewers now.


"I want you to break everyone in this house. You have that s***, right?" – Seriously, Edmond, chill out!


"I feel all cuddly and warm inside now. Good speech!" – Louis Fisette responds to Chris Holdsworth's "dude" laden pep-talk.


In contrast, David Grant received a motivational speech from Ann Maria DeMars. I know which I'd prefer.


"Do I respect his skills? Absolutely. He puts himself through the same s*** that I put myself through on a daily basis. That I can respect. But respect is a lot different than fear. I will not fear anybody. I refuse to fear anybody." – Louis Fisette delivers the kind of soundbyte the TUF producers dream of.


"I can't thank her enough . . . To get the chance to actually follow your dream; there's not many people doing that. A lot of people are stuck in dead-end jobs and I'm following my dream" – David Grant says he owes everything to his fiancé.


"See you out there. Stay safe, buddy" – Louis Fisette to his opponent David Grant. He was aware they were about to have a cage fight, right?


"It's all you baby! It's all you Louis. Hey, your hair looks awesome!" – Miesha Tate with one of the more bizarre motivational speeches.


"We started off with two really solid victories and then Ronda's team got two victories. So we're kind of neck and neck for the victories" – Miesha Tate, mathematician.


So it is indeed 2-2 now. Next week sees Muay Thai fighter Jessamyn Duke take on Boxer Raquel Pennington. Word on the street (and by "street", I mean internet) is that this is the best fight of the season. I suppose we'll find out whether or not that rumour is accurate next week.


TEAM ROUSEY
Shayna Baszler
Jessamyn Duke
Peggy Morgan
Jessica Rakoczy
Chris Beal
David Grant
Anthony Gutierrez
Michael Wootten


TEAM TATE
Julianna Peña
Sarah Moras
Raquel Pennington
Roxanne Modaferri
Cody Bollinger
Chris Holdsworth
Josh Hill
Tim Gorman
Louis Fisette


And that's all for this week. I'll be back on Monday to review episode six of The Ultimate Fighter.

If you enjoy the column please do follow me on twitter at AlexWattMMA

Thanks for reading and if you have any comments or feedback please leave them below or message me on twitter. Cheers.
comments powered by