SPOTLIGHTS
411's MMA Roundtable Preview - UFC Fight Night: Maia vs. Shields
Posted by Dan Plunkett on 10.09.2013

Demian Maia battles Jake Shields in the main event of UFC Fight Night 29! Plus Erick Silva faces Dong Hyun Kim, Thiago Silva and Matt Hamill collide and more! Check out the full roundtable for all the details and join 411 for LIVE coverage of the event Wednesday night!




WELCOME:
Demain Maia looks to move one step closer to a title shot when he battles Jake Shields in the main event! In the co-main event, Erick Silva takes on Dong Hyun Kim. At light heavyweight, Thiago Silva faces Matt Hamill and Fabio Maldonado fights Joey Beltran. Plus, Rousimar Palhares debuts at welterweight against Mike Pierce, Raphael Assuncao vs. TJ Dillashaw, and more!

THE STAFF:


He's 411's resident interviewer, Jon Butterfield!


From the Locked in the Guillotine MMA News Report, Robert Winfree!


From MMA's 3R's, Jeffrey Harris!


From Five Quick Rounds, Evan Zivin!


From Forgotten Fights, Paul Lapointe!


From The 411 MMA Top 10, Alex Rella!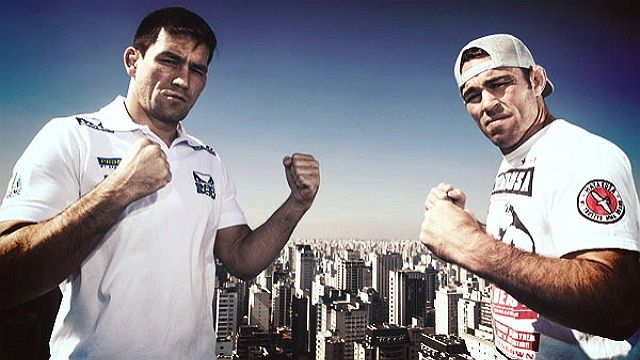 THE PRELIMINARY CARD:




Prelims on Fox Sports 1.




Lightweight Bout: Allan Patrick vs. Garrett Whiteley



Jon Butterfield: Allan Patrick, Decision
Robert Winfree: Allan Patrick, Decision
Jeffrey Harris: Allan Patrick, Decision
Evan Zivin: Garrett Whiteley, TKO, Round 1
Paul Lapointe: Patrick, Decision, RD3
Alex Rella: Whitely, TKO, Round 1
The staff picks Allan Patrick, 4-2.



Flyweight Bout: Iliarde Santos vs. Chris Cariaso



Jon Butterfield: Chris Cariaso, Decision
Robert Winfree: Chris Cariaso, Decision
Jeffrey Harris: Chris Cariaso, Decision
Evan Zivin: Chris Cariaso, Decision
Paul Lapointe: Cariaso, Decision, RD3
Alex Rella: Cariaso, Decision
The staff picks Chris Cariaso, 6-0.



Welterweight Bout: Yan Cabral vs. David Mitchell



Jon Butterfield: David Mitchell, Decision (Butterfield's Banker of the Week!)
Robert Winfree: David Mitchell, Decision
Jeffrey Harris: David Mitchell, Decision
Evan Zivin: Yan Cabral, Submission, Round 3
Paul Lapointe: Cabral, TKO, RD2
Alex Rella: Mitchell, Decision
The staff picks David Mitchell, 4-2.



Welterweight Bout: Ildemar Alcantara vs. Igor Araujo



Jon Butterfield: Igor Araujo, Submission, Round Two
Robert Winfree: Ildemar Alcantara, Decision
Jeffrey Harris: Ildemar Alcantara, Submission, Round 1
Evan Zivin: Ildemar Alcantara, TKO, Round 1
Paul Lapointe: Ildemar Alcantara, Submission, RD3
Alex Rella: Alcantara, Submission, Round 2
The staff picks Ildemar Alcantara, 5-1.

---




THE MAIN CARD:




Bantamweight Bout: Raphael Assuncao vs. TJ Dillashaw



Jon Butterfield: These two have both finished Vaughan Lee and Issei Tamura, so it's easy to see where this fight comes from – but I have no idea how TJ Dillashaw comes in as a moderate favourite. Assuncao is one of those underrated Brazilians who appears to be underrated because he's regarded as a 'pure' BJJ fighter – but Assuncao has strong wrestling, outstanding grappling, and a monstrous top game, and assuming Dillashaw will simply take him down and dominate is nonsense in my eyes. Dillashaw may be favoured to wind up on top initially, but Assuncao can easily weather such a storm and pick up a come from behind win. It may be 29-28, but I have to favour the Brazilian here. If Dillashaw wins, colour me impressed, but I think Assuncao is the better grappler AND striker.

Winner: Raphael Assuncao, Decision

Robert Winfree: For as much as I find this card underwhelming, this is actually a pretty decent fight on paper. Both Assuncao and Dillashaw are on nice win streaks, Assuncao hasn't lost since dropping to bantamweight while Dillashaw hasn't lost since being KO'd by Jon Dodson. While Dillashaw has a slightly more recognizable name I think Assuncao is the better fighter. Assuncao may specialize in submissions, but his wrestling is actually quite good and his striking has legitimate power to it. Dillashaw is part of Team Alpha Male, which in this case means he has the weight of a 42 or so fight winning streak since Duane Ludwig came in to help train their striking. I think that streak gets broken here, Assuncao is a legitimate force at bantamweight and he's likely better everywhere than Dillashaw.

Winner: Rafael Assuncao, Decision

Jeffrey Harris: Really interesting fight for both guys. Assuncao has been very impressive since moving down to bantamweight in the WEC. Dillashaw himself has been on a nice streak since he lost his season of The Ultimate Fighter in the finals to John Dodson. Assuncao poses a fairly sizable threat with his grappling to Dillashaw. However, Team Alpha Fighters are incredibly successful in dealing with solid grapplers and BJJ blackbelts. Dillashaw's friend and training partner, Urijah Faber, previously submitted Assuncao when they fought. I think Dillashaw is going to use his wrestling to dominate Assuncao and eventually secure the submission and ascend the bantamweight ranks.

Winner: TJ Dillashaw, Submission, Round 2

Evan Zivin: Duane Ludwig's spotless coaching record at Team Alpha Male will definitely be in jeopardy in this fight (please note I have no clue if he is actually still undefeated or not). Both fighters come into this fight on a four fight winning streak with five finishes between them. None of the opponents they have faced have been all that impressive (Vaughan Lee? Issei Tamura?) but both are excellent fighters who have improved dramatically with each fight. It will be a close one but I'll give the edge to Dillashaw. If TJ comes out aggressive and immediately goes for takedowns, I think he has the ability to stay on top and dominate. It will be tough to do for 15 minutes and he likely won't manage to do it the entire fight but he also has heavy hands and can land well from range. Just don't get caught, TJ. You do that and you'll probably lose. And that's why I'm so good at fight strategy.

Winner: TJ Dillashaw, TKO, Round 2

Paul Lapointe: I have grown to like TJ since his time on TUF and though he is just that, tough I am unsure if he is ready for the cream of the crop just yet. Though his striking is leagues better then Raphael's his aptitude to rush in could cost him as opposed to Assuncao who himself is more of a methodical fighter. He is calculated and deliberate and sometimes that is a much better tool then aggression and striking. TJ is flashier and has a better highlight reel but Raphael is underlooked and very experienced and a very thick and strong lighter weight fighter and his jiu jitsu is slick. So it depends on gameplan really and with that in mind and the recent interview that has had TJ mentioning he wants to fight in Sacramento with his Alpha Male counterparts it just seems Dillashaw's head is in the clouds or up his ass. Alpha male has not lost since Duane Ludwig has stepped in but eventually the dial has to turn and though I can see TJ winning this my gut says Raphael opens some eyes with a W.

Winner: Raphael Assuncao, Decision, RD3

Alex Rella: While this show isn't filled with big names, it does have a bunch of fights that should be fun to watch and this is a good one to start the show. Both fighters come into this one on a four fight winning streak and the winner would start put himself in the title picture. Assuncao was a good featherweight, but he's undefeated since cutting down to 135 lbs. Dillashaw has also looked awesome of late and is one of the rare TUF alumni that is actually somewhat relevant. Both guys are very strong grapplers so I don't think we'll see either one finish the other on the ground. Assuncao is a good striker, but Dillashaw has made huge improvements there in recent fights and I think he's only going to get better. I expect Duane Ludwig's alphas to stay undefeated a little while longer.

Winner: Dillashaw, TKO, Round 2

The staff calls it a draw, 3-3.

---




Welterweight Bout: Rousimar Palhares vs. Mike Pierce



Jon Butterfield: In contrast to the Assuncao-Dillashaw fight, this is one where I don't see the American losing. Palhares has heavy hands, but his real skill is locking on submissions, generally leg-oriented. While he can lock them on at a moment's notice, Mike Pierce is a horrible prospect for anyone whose preference involves ground 'n' submit or ground 'n' pound. Pierce is a physical fire hydrant who has faced the best of the best in terms of welterweight wrestlers and rarely come up short, and that doesn't bode well for Palhares. If Palhares can't take him down, which he almost certainly can't, it's all about striking – and I doubt he can achieve the separation he needs to evidence his stand up skills, so I'm picking Pierce to win with a clinch-heavy strategy that saps his opponent's desire. Mike Pierce rarely dominates this kind of fight to the extent he picks up a clear decision win, but expect a win nonetheless.

Winner: Mike Pierce, Decision

Robert Winfree: Rousimar Palhares makes his welterweight debut here, and unfortunately he's got a very tough test in front of him. Mike Pierce has only lost twice, both were somewhat debatable split decision losses to Johny Hendricks and Josh Koscheck. Pierce isn't a terribly exciting fighter, but he also doesn't lose and is a legitimate top ten if not top five guy in the division based on skill. Palhares' strength is his leg locks, which are nasty, but if he can't get one quickly in the first round he tends to mentally crumble. Mike Pierce is a tough grinding wrestler who will not break mentally, he's also showed some legitimate power in his hands in his last couple of fights. If Palhares can get a quick leg lock he could force the tap, but Pierce is the smarter pick here, I think Palhares mentally breaks after he can't get the quick tap and Pierce finishes with strikes.

Winner: Mike Pierce, TKO Round 1

Jeffrey Harris: Mike Pierce might not be anyone's favorite fighter. And say what you will about him, but he's incredibly tough to beat. Believe it or not, he's on a four-fight winning streak. He's 9-3 in the UFC with his only losses being to title contenders in Jon Fitch, Johny Hendricks, and Josh Koscheck. Big similarity with all those guys? They are wrestlers. At one point, it looked like Palhares could've been a hot prospect and rising prospect at middleweight. Now "Paul Harris" is trying his hand at welterweight after getting run out of the division and a recent drug test failure. Palhares has too many mental weaknesses holding him back from furthering his MMA career. He's had moments where he basically freezes or stops short if a fight isn't going that way. He tends to panic if he's unable to pull of that nasty leglock submission. Pierce has never been submitted in his career, though granted he's not faced any top level BJJ guys in the sport. Still, I don't think Palhares gets a hold of Pierce. Pierce eventually puts a stop to Palhares.

Winner: Mike Pierce, TKO Round 1

Evan Zivin: It certainly has been a while since we last saw Mr. Paul Harris. He's currently on a two fight losing skid after getting TKO'd by Alan Belcher and then getting knocked out outright by Hector Lombard last December, which was followed by a drug suspension. Pierce is on a four fight win streak with victories over Aaron Simpson, Seth Baczynski, and David Mitchell. Pierce is pretty good at controlling fights. He uses his strikes to bully fighters against the cage and has the grappling acumen to keep them there the entire fight. Pierce will have to be careful about taking Palhares down, as Rousimar still has some of the most vicious submissions in the UFC, but I think Pierce can keep the fight standing and avoid any dangerous situations, taking home a fairly uninteresting decision win.

Winner: Mike Pierce, Decision

Paul Lapointe: The constant disrespect when it comes to the booking of Mike Pierce continues. Sure maybe in real life he is not that nice a guy and he has rubbed Joe Silva the wrong way or maybe its bad luck and to stay active he is stuck taking the leftovers in the division but it still stinks. It takes an injury for Mike Pierce to even get on a main card and for it to be even hard enough to do so on a fight night lineup is mighty sad. So For a guy who has arguably beat Koscheck and Bigg Rigg and his only true loss was to Jon Fitch to be given some respect he needs to kill all the lambs dead put in front of him as viscerally as possible to get the tag off of him that he is a boring fighter. That is a very hard stigma to get off, its a mighty stench. But I digress, Mike Pierce is a quality fighter and to be given a bout against David Mitchell made no sense a bout against a guy on a losing streak and who was caught cheating in his home country makes even less. Its like the brass want him to just snap and go all primal before a contender gives him a shot. Now with that, Palhares is dangerous but a mental midget so if Pierce bogs him down for a round I think Palhares get's reckless like Mitchell and Simpson before him and get's pounded out. Of course Mike should be very careful about his heel, I hear Rousimar takes them home and makes necklaces out of them. Of course in the back of my mind a win here for Mike and a win for Stun Gun would put them at odds and even with that matchup both guys are stranded on an island of Rodney Dangerfield....no respect.

Winner: Pierce, TKO, RD2

Alex Rella: Rousimar Palhares makes his welterweight debut against the most underrated fighter in the division. Palhares was once a rising prospect in the middleweight division, but his stock has fallen considerably and his biggest wins are against Dave Branch and an older Jeremy Horn. He's very one dimensional when it comes to how he gets his wins, but at least he is pretty good at getting those heel hooks. But I don't think he stands a chance against Mike Pierce. Pierce is one of the best wrestlers in the division and his only losses in the past couple years were questionable split decisions to Josh Koscheck and Johny Hendricks. And Pierce's striking has made huge improvements as of late as he's gone from just being a boring wrestler to someone with legit knockout power. I don't Palhares submitting Pierce, so we either get a less than exciting decision by Pierce grinding out a victory on the ground or Pierce knocks him out standing. I'm hoping for the second.

Winner: Pierce, TKO, Round 1

The staff picks Mike Pierce, 6-0.

---




Light Heavyweight Bout: Fabio Maldonado vs. Joey Beltran



Jon Butterfield: If you looked at the records, I'd forgive you for picking Beltran – but the number of times his chin has saved him from defeat is certainly palpable here. That doesn't help him against a boxer with the ability of Maldonado, however, as the brawler Beltran is liable to get picked apart by the talented Brazilian. Maldonado doesn't stack up very well against a number of UFC fighters, but against Beltran, he has an outstanding chance because, simply put, he's the better striker – and neither men are great at anything else.

Winner: Fabio Maldonado, Decision

Robert Winfree: This one isn't for the purists, or the technical fans, but there's almost no chance this fight isn't fun to watch. Both men are strikers who have severely limited skills in the other areas of MMA, so matching them up makes a degree of sense. Beltran had a good fight his last time out, until he tested positive for steroids after the fight. Maldonado has some of the best boxing in tight quarters, and his body work is painful. Both men have great chins, but good body work has been the downfall of plenty of guys with great chins. I think Maldonado closes the distance and wrecks Beltran's body leading to a stoppage.

Winner: Fabio Maldonado, TKO Round 3

Robert Winfree: This one isn't for the purists, or the technical fans, but there's almost no chance this fight isn't fun to watch. Both men are strikers who have severely limited skills in the other areas of MMA, so matching them up makes a degree of sense. Beltran had a good fight his last time out, until he tested positive for steroids after the fight. Maldonado has some of the best boxing in tight quarters, and his body work is painful. Both men have great chins, but good body work has been the downfall of plenty of guys with great chins. I think Maldonado closes the distance and wrecks Beltran's body leading to a stoppage.

Winner: Fabio Maldonado, TKO, Round 1

Evan Zivin: This could be a do-or-die fight for both guys here. Maldonado won his last fight against Roger Hollett after losing three straight fights and getting his face turned into hamburger meat by Glover Teixeira. Beltran lost to James Te-Huna and then beat Igor Pokrajac before having the decision overturned after getting popped for steroids. I'm not expecting much from this fight. It's a match-up of two sloppy strikers trying to see who can last the longest before gassing out. I figure that, come the second round, neither guy will have much left in the tank, but Beltran is tough to finish and I think he'll be able to muster enough energy to take over the latter half of the fight and get his hand raised in the end. Either that or he gets his face smashed in. Only one of the two scenarios is possible.

Winner: Joey Beltran, Decision

Paul Lapointe: This is going to be bowling shoe ugly and I mean that in a good way. Fabio can take a blitzkrieg of shots and Joey is no slouch at proving he can get hit a bunch so this is going to be a clinic of sloppy boxing and heavy breathing. Maldonado fights like a boxer as he uses punches that are half measures to hit his opponents everywhere to weaken them for the death blow but in an MMA fight the bell sounds to end the bout before he can bring down the axe. A grinder is a good word a fun little grinder he is. Joey himself is not a technical worker he walks in and bangs and the guy with the better tech IE Fabio should be able to counter the Mexicutioner enough to sway the judges, granted he probably will throw double the amount of punches. These guy's are hosses and will give it there all but its either going to be a spirited little slugfest are a gassed out bar brawl, I am going to be optimistic here. Though with a loss Joey's job security I cannot be as optimistic about.

Winner: Fabio, Decision, RD3

Alex Rella: At least this will be a slugfest. Joey Beltran has one official win in his last seven UFC fights and Maldonado's biggest win is against James McSweeney. Both guys occasionally have fun fights, but they're usually just punching bags for better fighters. Unlike others, I'm not a fan of Maldonado. His boxing style hasn't really transferred well over to MMA. He gets the occasional good shot in, but his body work is very overrated. Anyway, he is still better than Beltran is most aspects but a win for Beltran wouldn't be too crazy either. I'll take Maldonado, at least he pisses clean.

Winner: Maldonado, Decision.

The staff picks Fabio Maldonado, 5-1.

---




208-Pound Catch-Weight Bout: Thiago Silva vs. Matt Hamill



Jon Butterfield: It's hard to fancy Matt Hamill here, though Hamill has never really been embarrassed in MMA competition by anyone but the best. Hamill is definitely the better wrestler, and he'll probably try to employ a relatively uninspiring wrestling-heavy strategy, but that will only work if Silva doesn't light him up early. Frankly, I fancy the multiple-time cheat to win, and win well. Of course, nobody will care too much either way.

Winner: Thiago Silva, TKO, Round Two

Robert Winfree: I have a hard time thinking Matt Hamill has much of a chance here. Hamill hasn't evolved as a fighter, he's still primarily a wrestler who has a hard time winning if he can't get you down. I think Hamill still has a job with the UFC because his story is interesting and he was on The Ultimate Fighter which carries a hugely disproportionate amount of weight in the eyes of the UFC brass. Thiago Silva is better than Hamill everywhere, he hits harder, his ground game is more diverse, his wrestling is actually very good. Silva's biggest weakness comes from drug testing, and that's the only chance Hamill has here.

Winner: Thiago Silva, TKO Round 2

Jeffrey Harris: I like Hamill and he has an amazing story for the sport, but when he came out of retirement for his last fight against Roger Hollett, it looked like that decision for him was a mistake. And that's even in a fight that turned out to be a winning effort for him. Thiago Silva despite his immaturity and past errors is still one of the tougher and meaner light heavyweights out there. Two of Silva's last three wins were overturned due to drug test failures, so that's a recurring issue with him. Still that being said, Hamill's cardio and stamina in his last fight looked horrible. Hopefully it will be better because you cannot come in that poorly conditioned against a fighter like Silva. Silva will likely have his way with Hamill and put him away quickly.

Winner: Thiago Silva, TKO, Round 1

Evan Zivin: Thiago is finally back on the right track after spending 18 months out of the last 2 and a half years dealing with drug suspensions (one for submitting a fake urine sample, the other for marijuana). He came back in June to violently knock out Rafael Cavalcante in front of a Brazilian crowd and he looks to do the same thing again against everyone's favorite deaf fighter. Hamill bounced back from losses to Quinton Jackson and Alexander Gustafsson with a win over Roger Hollett. Yeah, one of those things is not like the other. I love Hamill but I don't see him winning this. He has the wrestling to take Thiago down and keep him down but I don't think he'll get Thiago down. At most, he can hope to keep Thiago pressed against the cage but it will only be a matter of time before they separate and Thiago starts pummeling Hamill with hooks and overhands. The fight will come down to how much punishment Hamill can take at this point in his career, which I don't think is much. It won't be pretty.

Winner: Thiago Silva, TKO, Round 2

Paul Lapointe: The slow build up to legitimacy for Thiago continues as he is looking to put down a rarely seen and less respected Matt Hamill. This is the definition of a scrap yard fight. One guy who is a respected vet but nothing more is asked to jump the junkyard fence and stare down the dog protecting its yard with the expectation that the dog has rabies. Its not fair but after coming out of retirement last year, The hammer's return bout was not all that scintillating to get back on his soap box. Now Thiago is a guy I just do not like, not because he is not a gifted athlete when he is not mating with other animals or on juice or getting more asinine tattoos but he is just not likable. His highlights, yeah sure but as a person I would just not like to see him succeed because he reminds me of that jock asshole HS guy that never learned that HS was over and hard work trumps drugs and big biceps. He is the work in progress the UFC wants because he is young enough, hits hard, is brazilian and is not Vitor but they will use the same method to bring him back up the ladder. Keep him in Brazil, avoid scrutiny on his drug past and feed guys he can blast in the face. The Hammer can come down but the gavel says, a one two to the mush puts out Matt's lights like fate took out his hearing.

Winner: Thiago Silva, KO, RD2

Alex Rella: I'm looking forward to this fight as I've always liked watching Matt Hamill fight, even in his less than exciting fights. Neither of these guys are top light heavyweights, but to their credit they only really lose to championship caliber fighters. Silva is clearly the better striker and he is pretty good on the ground too, but I think Hamill can win this. He has a great chin and his wrestling is still pretty good. His striking is slow, but strong and he occasionally catches someone good.

Winner: Hamill, Decision

The staff picks Thiago Silva, 5-1.

---




Welterweight Bout: Erick Silva vs. Dong Hyun Kim



Jon Butterfield: Erick Silva has beasted numerous opponents, easily finishing four very capable foes well inside round one since joining the UFC. Of course, Silva lost the bout with Prater due to "illegal" strikes, but be that as it may, he still looked by far the better fighter. Now, however, he faces Dong Hyun Kim who is an exceptional spoiler who has lost only to Carlos Condit and Demian Maia – the latter fight ending with a freak injury. Assuming Silva doesn't end things early with an unforeseeable blitz, I don't really see how Kim loses – Kim is exceptional at using his range, has by far the better takedown offence and defence, and is more than capable of defending himself in a grappling exchange.

Winner: Dong Hyun Kim, Decision

Robert Winfree: Of all the fights this is actually one of the hardest to pick. Erick Silva has shown a ton of potential and a great skill set, his only legitimate loss since 2006 is to Jon Fitch. Kim has a similar style of winning fights to Fitch, he grinds you down with excellent top work and a solid takedown game. That is coupled with a good understanding of how to use his reach to avoid most dangerous situations standing. If Silva learned anything from his fight with Fitch he'll have to show it here because this is another really tough fight against a similar opponent. That said, Silva is incredibly explosive on the feet and has power, plus he has a good submission game from top position. I think Silva is able to catch Kim standing, similar to what Carlos Condit did to him, but Kim is a tough out and could easily win this one.

Winner: Erick Silva, TKO Round 1

Jeffrey Harris: Silva gets a nice step-up in competition here. His last loss was a fairly close battle with Jon Fitch where it was Silva's carelessness but also takedown defense against Fitch that ultimately lost him the fight due to points. Kim is a solid fighter and a very underrated welterweight. Most of Kim's game focuses on on out-wrestling and out-grappling his opponents, getting them to the mat and just grinding away. He recently humiliated Siyar Bahadurzada who many thought was going to be a hot prospect at welterweight. Silva in his wins definitely looks like has all the tools to be a scary contender at welterweight, which makes me curious to see how he will do against a fighter like Kim. It looks like Silva has learned a lot from the Fitch loss, so I don't think he will make those mistakes again. Silva brings the much better power to this fight, and I think that makes the difference here.

Winner: Erick Silva, TKO, Round 2

Evan Zivin: The big question leading into this fight is does Erick Silva have what it takes to be a title threat in the UFC? He showed promise in wins over Luis Ramos, Charlie Brenneman, and Jason High but none of those fighters really say much about Erick's potential (no offense). This fight against "Stun Gun" Kim will really tell us where Erick is at. Kim has done very well in the UFC, securing wins over TJ Grant, Nate Diaz, Paulo Thiago, and a decision over Siyar Bahadurzada in his last fight. Kim hasn't been good enough to reach contender status but he isn't someone to sleep on either. Erick certainly has the striking to take Kim out but I'm not confident he'll get a chance to land the finishing blow. Kim is good at moving in and out of range and sticking to his opponent to keep them from mounting any offense. Erick got dominated by Jon Fitch and, while I don't see this fight being that one-sided, I do think that Kim will have little trouble avoiding danger and controlling the fight like he always does. Well, except when Carlos Condit is flying-kneeing him in the face, but it's hard to prepare for that.

Winner: Dong Hyun Kim, Decision

Paul Lapointe: Silva will try to Rock Kim down to his core, can he? Yes he can but will he be able to restrain himself long enough to tactically pick apart Kim or will he rush in? Kim was blasted by Carlos Condit sometime ago and has since learned from that mistake as evidenced by his handling of dangerous striker Siyar last time out. So if Kim can withstand a flurry to start the fight can he make this a dog fight against a feral and primed prospect like Erick? Lots of questions indeed. Silva has much better ground then people realize and Kim is a very strong grappler and one dimensional kickboxer so with the pros and cons Silva should take this. But I believe he is mentally unable to contend with adversity on the ground over the course of a full 15 minute fight if this bout indeed does go that far. For the first round he can be a bullet train and if Kim can withstand it, his mechanics of sweeping and tripping guys down to the mat and killing them slowly with constant position changes could eke out a decision. I just cannot say Stun Gun is not the smarter fighter and it being in Brazil and being a known decision guy he needs to be as conservative as possible to take down this guy. It may not be the most exciting fight but for all we know it could be another Silva/Fitch and that scrap surprised alot of folk, the only caveat to that match is Erick lost as he should here.

Winner: Stun Gun, Decision, RD3

Alex Rella: This is a litmus test for Erick Silva. Kim has consistently been a top fifteen welterweight over the years and has only lost twice in the UFC. Silva has been a top prospect for a little while now and this is his chance to truly prove himself. He failed against Jon Fitch last year and Kim has a very similar style to Fitch as he uses Judo to grind down fighters. Silva is a great striker and has had some nice submission victories so far as well. I think Silva can win as Kim is sometimes too willing to stand and strike and he could catch him with a good clean shot. But maybe Silva shows the same mental mistakes he did against Fitch. I'll take Silva, but I really wouldn't bet on this one.

Winner: Silva, TKO, Round 2

The staff calls it a draw, 3-3.

---




Welterweight Bout: Demian Maia vs. Jake Shields



Jon Butterfield: I see this as an "Anderson Silva vs Rich Franklin"-type affair, where the American is supposedly "world class" in his chosen field. Unfortunately, just as Franklin was a million miles away from being the kind of striker Anderson was, Shields is nowhere near as talented a grappler as Demian Maia. Maia is also displaying a frightening level of competency in wrestling, with neither being a particularly awesome striking prospect. Some will anticipate Shields winning with his jab, but that's just not likely. For as good as the boxers at the Skrap Pack are, Shields isn't competent and has almost nothing going in his favour in this bout.

Winner: Demian Maia, Submission, Round Three

Robert Winfree: You know, if this were just a three round fight I'd be a little happier with it. Why you might ask? Well because I see this one playing out a lot like Maia's fight with Jon Fitch. Shields is good on the ground, but Maia might be the best submission fighter in the UFC. I don't think Maia will submit Shields, but Maia will likely be able to get a dominant position and hold it while making Shields work to defend himself. On the feet I think Maia has more power, and Shields isn't exactly known for being proficient on the feet. Shields does have a very good chin, and Maia doesn't have the finishing speed or power of Jake Ellenberger. I'm hoping for a good grappling battle, but I think Shields is going to find himself in bad positions and play it defensively to ride out a decision loss.

Winner: Demian Maia, Decision

Jeffrey Harris: A bit of an odd main event looking at both guys places in the division right now. Shields recently made a return to welterweight after trying his hand at middleweight in the UFC. Maia has quickly become a potential contender at welterweight coming in and rattling off impressive wins against Dong Hyun Kim, Rick Story, and Jon Fitch. Shields' return to welterweight was a bowling shoe ugly snoozer with Tyron Woodley he barely edged out by walling and stalling. Both fighters are incredibly strong and tough grapplers. But whereas Shields generally uses his grappling and BJJ to take guys down, control them, and shut down their offense, Maia poses much greater threats on the ground with his attacks. I like Maia for this bout because in the Fitch fight he did a great job of playing the other fighter's game and using it against them. Though this fight being five rounds could be a difference maker. I find it highly unlikely that Maia will be able to submit Shields, but he'll be able to edge this one out in the grappling department.

Winner: Demian Maia, Decision

Evan Zivin: Two of the greatest jiu-jitsu grapplers to ever compete in mixed martial arts are about to go toe-to-toe with each other in a fight where the Brazilian crowd will be chanting for the death of at least one of the participants (as usual). Aw yeah. Excitement is in the air. Since dropping to weltweweight, Maia has been outstanding, ripping Rick Story's head off and Jon Fitching Jon fitch. Shields returned to welterweight at UFC 161 in a rather close (read: boring) split decision win over Tyron Woodley. It will be interesting to see what will happen when these two hit the ground but I think Maia will be the aggressor and take Shields down and get on top before Shields has a chance to defend or reverse. Maia will then use his grappling expertise to stay out of danger and hurt Shields with punches from the top. That is, of course, if the fight goes to the ground. I think there's a good chance that the fight stays standing, as Maia has much more powerful and accurate striking than Shields has. If Maia can stuff Shields's takedowns, which he most certainly can, Maia should have no problem picking Shields apart on the feet until Shields drops, which may happen sooner than a lot of people think. This fight will put Maia in a good position to get the next welterweight title shot and I hope he gets it.

Winner: Demian Maia, TKO, Round 2

Paul Lapointe: Now though this fight is getting looked over by the general public I think a bit too much, this is a bout I am very much looking forward to myself. Albeit that I personally am a more trained grappler and if a fight does spill to the ground a good tete en tete to me is as entertaining as a slugfest if both guys are technical and aggressive. I am hoping beyond hope that due to the booking of these two guys that unlike a Shields/Woodley stall tactic fight we do get what brought these guys and that is a struggle to prove who is the better ground specialist. I think this is what could happen as Maia is re-invigorated at 170 and has that killer instinct again that he failed to maintain after he first entered the UFC. Now Shields has never had that killer instinct but if Maia is slapping sub attempts every which way good ole Jake will have to try and finish and you can only hold Maia down so long. Both these guys as well have mediocre kick boxing and wrestling base offense and with that I believe they both cannot rely on either as a cornerstone during the fight, it will become sloppy and exhausting on both gentlemen. So after all the prattling what's the end result? If Shields is as conservative as he tends to be I think eventually as the fight wears on he realizes he cannot hold down Maia and with one angle or another Maia grabs an arm, leg or whathaveyou and cranks, sub city in Brazil. If Maia does not cut himself too early and the fight drags he can grind out Shields and I just hope the clinch is used sparingly. I am hoping for a clinic but we shall see.

Winner: Maia, Submission, RD ¾

Alex Rella: At first this matchup didn't make sense to me as both fighters are at different places in the rankings, but it actually does kinda makes sense. Maia is still fairly new to the welterweight division and the welterweight title picture is very convoluted at the moment. Shields is a former UFC number one contender, Strikeforce and Elite XC champion, and has only lost twice since 2005. One was to GSP and the other was to Jake Ellenberger when he really shouldn't have been fighting. The two men are some of the best when it comes BJJ, so we could see some really high level grappling. There is also the possibility that fight is completely boring. I don't think either fighter will be able to submit the other, but Maia is the larger and stronger of the two. Shields should be looking to keep this fight standing up, but even then Maia might end up being better there too. I expect Maia to win this one in similar fashion to how he beat Jon Fitch.

Winner: Maia, Decision

The staff picks Demian Maia, 6-0.

---
Remember to join 411's coverage of UFC Fight Night 29 on Wednesday!
comments powered by